My Team USA At 2017 World Baseball Classic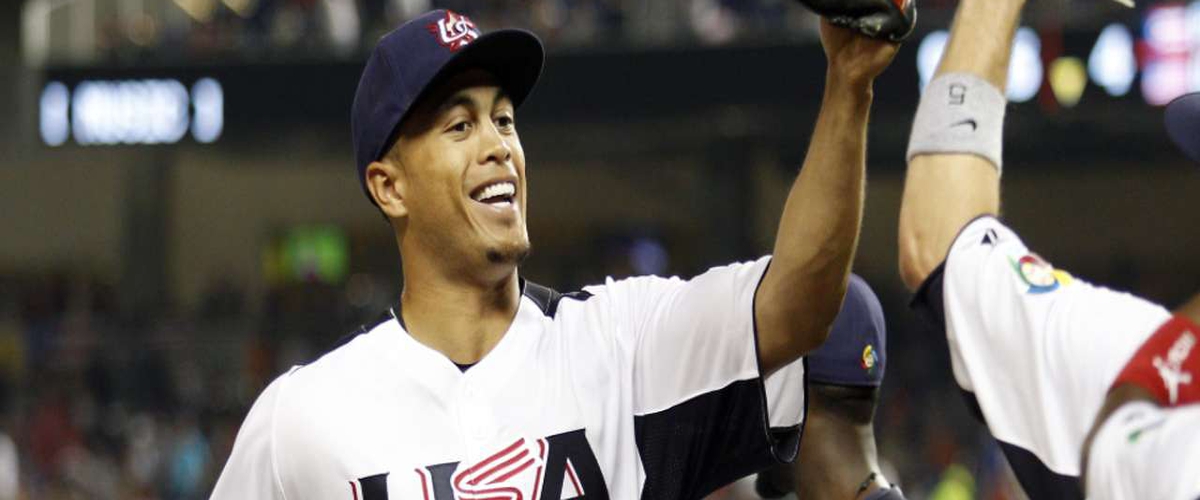 The United States baseball team is about to suit up very soon in taking on Japan in the Semi-Finals of the World Baseball Classic tonight in what is essentially a game seven type contest. However, before the game starts, I thought about releasing my perfect USA team roster. Of course this will never ever come to fruition as lots of stars don't want to play because of either interest or its not in their club's interest. But anyways, here is my roster.
Rotation
Clayton Kershaw
Chris Sale
Madison Bumgarner
Max Scherzer
Jake Arrieta
Kershaw is the absolute best pitcher in the game especially with his devastating curveball. Sale might be the second best pitcher in baseball, but he's certainly the best in the American League as he has a literally unhittable slider. Bumgarner is a work horse who has good movement on his breaking balls and just throws hard on his fastball. Scherzer just throws hard and does it consistently, plus his curve ball is really hard to pick up on. He's a strikeout machine. Arrieta throws hard, but he relies more on his breaking balls to strikeout batters. Also, when he gets hot, he becomes impossible to beat. These five pitchers here are probably the five best in baseball, but you could make good arguments for the others I considered.
Bullpen
Zach Britton
Mark Melancon
Wade Davis
Sam Dyson
Luke Gregerson
Andrew Miller
Jake McGee
This bullpen right here is probably end game. Of course we are only thinking of when they are pitching up to their ability, but this makes any offense, including the powerful Dominican Republic lineup, have a hard time getting hits or runs. Britton was the best closer in baseball last season as his ERA was below 1.00 and was perfect in his save opportunities. Melancon is one of the best closers in the game. Davis throws really hard and was just unhittable for the Royals in their magical 2015 World Series championship run. Dyson has a nice power sinker in his repertoire that makes it hard for batters to pickup where it hits in the strike zone. Gregerson is a reliable closer for the Astros who always has consistent outings. Miller was at his absolute best in the postseason last season and is probably the best closer in the game. His sweeping breaking ball is just filthy. McGee throws really hard from the left side giving USA a third left handed option in the 'pen. It would have been nice to have a long reliever in here, but with this talent, I feel confident they would shut down offenses.
Catchers
Buster Posey
Jonathan Lucroy
I really don't have to say much here as these two are hands down the two best catchers in the game. Posey is probably better, but Lucroy can put up MVP type numbers as well.
Infielders
Manny Machado
Brandon Crawford
Nolan Arenado
Paul Goldschmidt
Matt Carpenter
Dee Gordon
Machado sadly decided to play the Dominican Republic in this event, but if he had been picked, he would have played some third base, shortstop, or designated hitter. Crawford is one of the best defensive shortstops in the game, but his bat has developed into a lethal threat. Arenado has driven in the most runs in baseball the past two seasons, but he also is probably the best defensive third baseman in the game. Goldschmidt is one of the best bats in the game and isn't too shabby with the glove. Carpenter is a very versatile player as he can play essentially every infield position. He's also one of the best players in the game. Gordon got the last spot because of his ability to play second base and also be a pinch running option off the bench. Eric Hosmer was considered because of his bat and being the best fielding first baseman in baseball as well as Billy Hamilton for his speed and defensive prowess (even though he's an outfielder).
Outfielders
OF Bryce Harper
OF Mike Trout
OF Giancarlo Stanton
OF Lorenzo Cain
OF Andrew McCutchen
Harper is one of the best hitters in the game, but he also can play every outfield position as he has some speed and a great arm. Trout probably is the best player in baseball, just edging Harper, but he's faster and plays an awesome centerfield. He's also a great hitter, though Harper has the edge in that department. Stanton is the most powerful hitter in the game as he can hit balls a mile. He also just hits balls really hard in general. Cain got a spot because not only is he a great hitter and base runner, but he can play all over the outfield. McCutchen is an MVP type caliber player every year despite a disappointing 2016. He is moving to right field for the Pirates, but he can play anywhere in the outfield as evidenced in this World Baseball Classic.
It was tough to leave out a player like Adam Jones as he clearly has been the MVP for this team this World Baseball Classic and is a veteran, but with Cain's versatility and having the propensity of winning, it was a tough call and Jones sadly just barely missed the cut. However this is the team I think could absolutely dominate the World Baseball Classic. Thoughts?