NFL Mock Draft: FINAL EDITION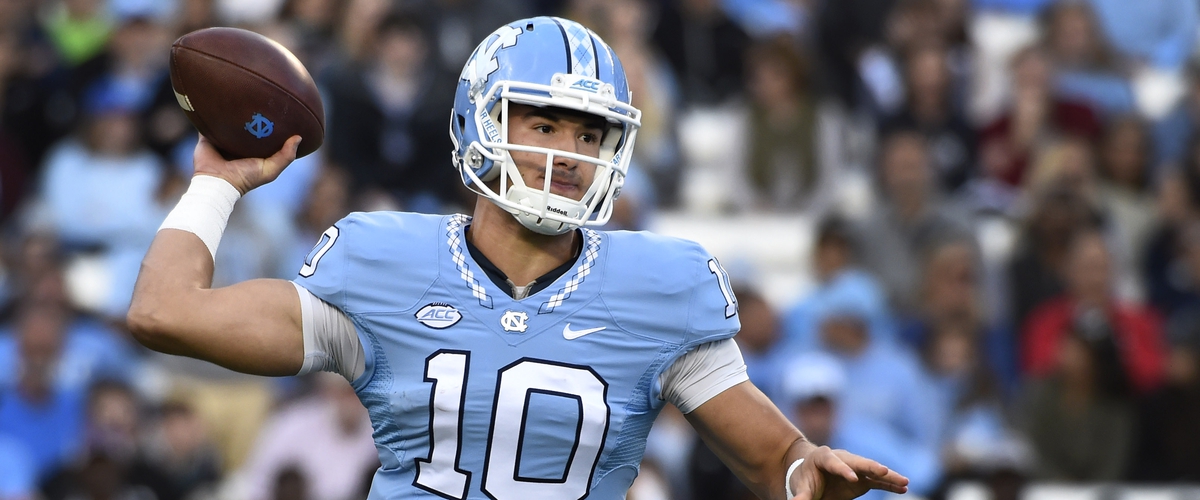 2. San Francisco 49ers - Myles Garrett DE Texas A & M: San Francisco pounces on the opportunity to select Garrett and help build up their defense. Who could be a bookend Defensive End in the league for years to come. QB could still be in play, but I still see Cousins ending up in the Bay Area before everything is all over, whether it be through trade or Free Agency next season.
3. Chicago Bears - Solomon Thomas DE Stanford: Chicago selecting Thomas here will drastically improve a defensive unit that wasn't impressive at all last season. Chicago could still look at Adams or Allen here, however pass rush is at a premium in today's NFL.
4. Jacksonville Jaguars - Deshaun Watson QB Clemson: Jacksonville needs to pull the plug on the Blake Bortles experiment. He just doesn't have it. All early comparisons to Ben Roethlisberger have been completely wrong and with the new coach and management, they will want their guy.
5. Tennessee Titans -OJ Howard TE Alabama: If Tennessee wants to take the next step forward in their offensive attack, a dominant Tight End is required. Delanie Walker has gotten the job done for the Titans, but we all know what he is, Howard has the potential to be special.
6. New York Jets - Jamal Adams S LSU: The Jets seize the chance to take a big impact Safety in Jamal Adams. He could solidify the back end of their defense for years to come and help improve the play of the Cornerbacks who are now without Darrelle Revis.
7. Los Angeles Chargers - Jonathan Allen DT Alabama: The Chargers nailed it last year with selecting Joey Bosa, now it is time for them take their Defensive Line to the next level. Allen and Bosa would be a force to be reckoned with and could stop opposing offenses in their tracks.
8. Carolina Panthers - Christian McCaffrey RB Stanford: Christian McCaffrey can play behind the line of scrimmage and flexed out wide. Another threat to carry the ball out of the backfield in addition to Newton and Stewart would help them out tremendously. Combo packages with Stewart where McCaffrey can make plays in space will create headaches for opposing defenses.
9. Cincinnati Bengals - Haason Reddick LB Temple: Reddick's draft stock has never been higher, which has me concerned about his actual ability. Fast risers this close to draft sometimes seem to flame out, (Aaron Curry anyone?). However, Cincinnati needs a contingency plan for Vontaze Burfict, in cast that ticking time bomb does something to get himself suspended.
10. Buffalo Bills - Marshon Lattimore CB Ohio State: Letting Stephen Gilmore walk could have been a smart move, however they let him go to New England, also known as, he will haunt you for years to come. A replacement is now needed and Lattimore could be the answer for their secondary which suddenly has holes.
11. New Orleans Saints - Mike Williams WR Clemson: Williams is a dynamic playmaker, and if we have learned anything about the Saints offense the past decade, it this. Give Drew Brees someone who can run a route and catch the ball and watch them dominate. Willaims paired with Thomas from last years draft could make New Orleans a playoff contender this season.
12. Cleveland Browns - Malik Hooker S Ohio State: Cleveland selected their QB of their offense, now it is time to select the QB of their defense. Hooker is an elite talent who has drawn comparisons to the legendary Ed Reed. For once Cleveland would like to be on the right side of dominant Safety play.
13. Arizona Cardinals - DeShone Kizer QB Notre Dame: Arizona has some defensive needs, however they need a succession plan for Carson Palmer if/when he retires. Kizer projects to be a high draft pick and Palmer has been a very good pro for his career. Let Kizer learn from Palmer and address defense later in a draft that has quality defensive players throughout.
14. Philadelphia Eagles - Taco Charlton DE Michigan: Philadelphia needs some pass rush help and Taco Charlton can be a disruptive force that Philly desperately needs. He can be their successor to fellow Michigan Man Brandon Graham and take the Eagles defense into the next generation.
15. Indianapolis Colts - Derek Barnett DE Tennessee: Barnett could be one of this drafts best pass rushers and Indianapolis needs some help rushing the passer. Additions of Sheard and Mingo are beneficial, but we have seen that they are not full time guys, only rotational.
16. Baltimore Ravens - Cam Robinson OT Alabama: Baltimore seems to always let Offensive Lineman go and never replace them. Whether that is because of Joe Flacco's awful contract, I am not sure, but they need to help their offensive unit block better for Flacco and their running game.
17. Washington Redskins - Corey Davis WR Western Michigan: Washington just signed Terrelle Pryor to help offset the losses of Pierre Garcon and Desean Jackson, however they will still need help at the receiver position. Davis could help take pressure off of Reed and Pryor.
18. Tennessee Titans - Gareon Conley CB Ohio State: Tennessee looks to bolster their secondary with Conley. Conley is a very highly rated and could be an elite corner for a Titans secondary that really needs it.
19. Tampa Bay Buccaneers - Leonard Fournette RB LSU: Doug Martin seems to be on his way out in Tampa and they need a Running Back. Fournette has the potential to be special, and could flourish in an offense featuring Winston, Evans and Jackson.
20. Denver Broncos - David Njoku TE Miami: Denver has lacked a difference maker at the Tight End position ever since Julius Thomas left to go to Jacksonville. Njoku could be great addition to the great group of pass catchers Denver already boasts. Now whoever ends up throwing them the ball is a different story.
21. Detroit Lions - Jarrad Davis LB Florida: Detroit has nothing but holes at the Linebacker position. Davis could come in and solve the seemingly never-ending linebacker problem in Detroit. Selecting Davis here could give the Lions good playmakers at all 3 phases of their defense.
22. Miami Dolphins - Kevin King CB Washington: King's stock continues to rise, he can be a solid addition to a secondary that added Xavien Howard last year. In a division that
23. New York Giants - Forrest Lamp G/C Western Kentucky: Time for New York to solidify that Offensive Line. They are still in play (like most of the NFL) for Adrian Peterson and Jamaal Charles, so Running Back is unlikely here.
24. Oakland Raiders - TJ Watt LB Wisconsin: Oakland's main weakness is their Linebacker play and here is how they fix it. Watt is versatile to play inside or outside, and in today's NFL versatility is key in the front seven.
25. Houston Texans - Marlon Humphrey CB Alabama: Humphrey is slipping and Houston takes full advantage. The Texans will take who they hope is a shutdown corner from one the Nation's best College defenses.
26. Seattle Seahawks - Ryan Ramcyzk OT Wisconsin: Seattle has giant question-marks everywhere on their offensive line. Time to address this with a quality Tackle in Ramcyzk. He will be able to protect Russell Wilson and be a cornerstone of their line for years to come.
27. Kansas City Chiefs - Adoree' Jackson CB USC: Jackson is an intriguing prospect. He is quick and elusive and has good coverage skills. Kansas City needs another Defensive Back to truly contend in the NFL and Jackson could be that guy.
28. Dallas Cowboys - Malik McDowell DT Michigan State: Dallas still needs to improve their Defensive Line. Their D-Line play has been their Achilles Heel and it shows. McDowell starred for a lackluster Michigan State team last season, but has shown flashes of great potential.
29. Green Bay Packers - Zach Cunningham LB Vanderbilt: Green Bay still has Clay Matthews, who is great. But every great player sometimes needs help. Cunningham could be an absolute defensive stud in Green Bay's defense.
30. Pittsburgh Steelers - Patrick Mahomes QB Texas Tech: I strongly believe the Steelers will be finding the guy who they think can be the heir to Ben Roethlisberger at this pick. He only has so much time left and has hinted at retirement. Pittsburgh extended Antonio Brown and is looking to extend Le'Veon Bell. They have the future figured out the at the skill positions, now time to figure it out for the Quarterback position.
31. Atlanta Falcons - Takkarist McKinley LB/DE UCLA: McKinley could instantly help a defense that clearly ran out of gas during the Super Bowl. I am not the biggest fan of McKinley, however I do believe he could be a contributor on the defensive side of the ball.
32. New Orleans Saints - Reuben Foster LB Alabama: Foster has fallen due to character concerns, but his playmaking ability can't be ignored. New Orleans desperately needs another playmaker on the defensive side of the ball and Foster could be it. Selecting Foster at 32 would be a huge steal for New Orleans and their future.
Follow Me on Twitter @Jimmmitude