The Beginning Of The End For Miguel Cabrera?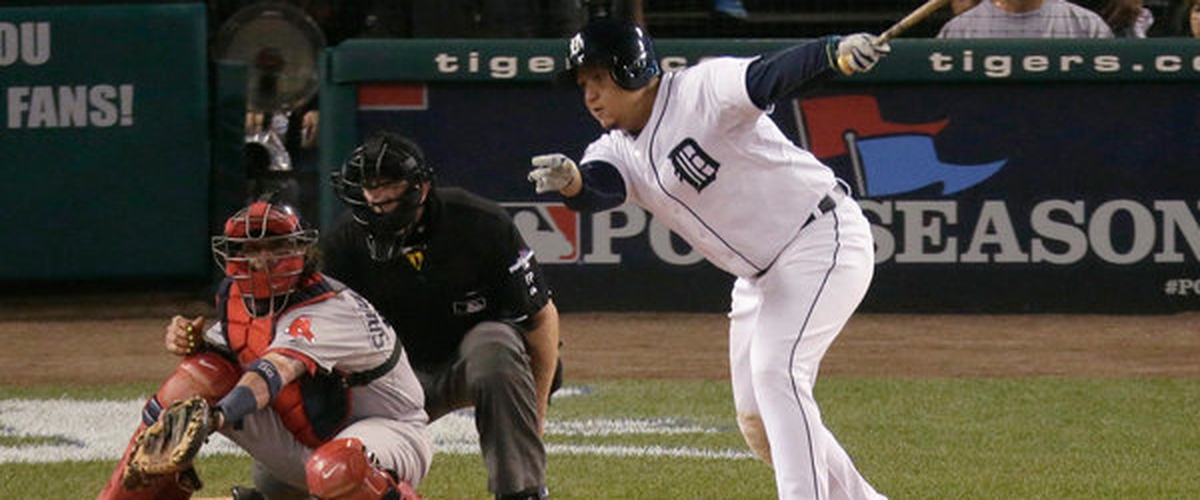 Detroit Tigers First Baseman Miguel Cabrera has been one of the best hitters in baseball over the past decade. Yet he has stumbled out of the gate for the second consecutive year. Entering April 9, he is 0-12 with 6 Strikeouts. Not encouraging numbers for the Tigers or the fans. One has to wonder, is this the beginning of the end?
Miguel Cabrera will be turning 34 on April 18, and it is commonly accepted that around that age, is when a player begins the down-slope of their career. Granted the sample size for this season is very small, only 12 at bats, but given this happened last season as well, it may be time to worry.
In 2015, in his first 63 at bats, Cabrera batted a lowly .206 with only 1 Home Run, 3 Doubles and 6 RBI. Now Cabrera was able to turn it around and have a typical Miguel Cabrera season batting .316 with 31 Doubles, 38 Home Runs and 108 RBI. Sooner or later, he won't be able to turn it around and will have a poor statistical season and by then it will be all over for him and The Tigers.
Now it is very possible and likely that Cabrera turns it around again, he has in the past why not now? The problem is that Cabrera is another year older and it is statistically proven that older players have a harder time coming out of slumps and having seasons like Cabrera does year in and year out.
Here is what is working against Cabrera, his age. At 34 his hands will be just a little bit slower and he will have to start swinging just a bit earlier to catch up to fastballs. Pitchers will be able to take advantage and start throwing him breaking balls and off-speed pitches. This will cause decreased batting average, power and increased strikeouts.
The potential downturn in production not only affects Cabrera, but could impact the future of the Tigers as well. If the team is hovering around .500 and sitting on the outside of the playoffs near the trade deadline, the front office could look to move him along with other players.
With the recent death of Tigers owner Mike Illitch, one has to think the front office will be taking a different approach to how they handle the roster and potential trades. In recent years, Detroit has handed out massive contracts and acquired players at the cost of exhausting the farm system and a massive payroll. Players such as: Prince Fielder, David Price, Yoenis Cespedes, Justin Upton among others. Mr. I wanted to win a World Series really badly, making the cost of potentially winning one of no concern. But since he has passed away, a change of the way of doing business could be in order.
The Tigers have players of potential value they could move at the deadline to shed payroll and replenish their farm system. Players such as; Miguel Cabrera, Victor Martinez, Justin Verlander, Francisco Rodriguez, Ian Kinsler, Justin Upton and J.D. Martinez. If the Tigers are out of contention they at least have to consider moving these players to cut payroll and acquire quality prospects to make the team better in the future.
Whether or not Detroit decides to start moving players hinges on the shoulders of Miguel Cabrera. If he has able to turn it around and beat father time for another season they will contend for the playoffs and keep the team together for another season. If not, Detroit could be headed for a massive fire sale and some disappointed fans in "The D".
Follow me on Twitter @Jimmmitude