The Warriors Were Not The Reason The Cavaliers Had No Shot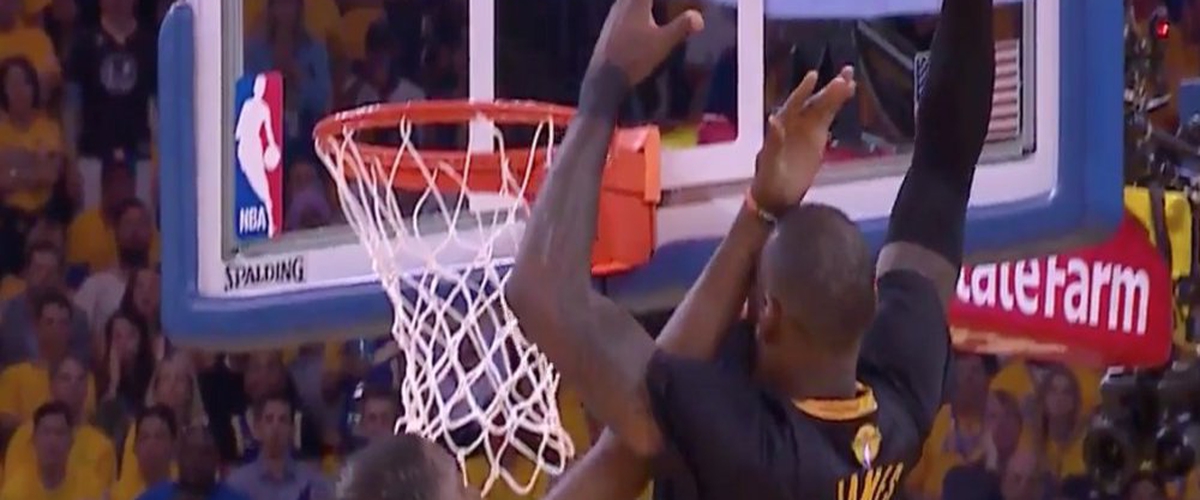 The Golden State Warriors defeated the Cleveland Cavaliers four games to one in the 2017 NBA Finals. Throughout the season and post-season, there was much conversation about the Warriors being the best team ever and potentially sweeping the playoffs. However the reason they won the NBA Finals has nothing to do with their ability, it has everything to do with the last NBA Finals.
During the 2016 NBA Finals, Warriors forward Draymond Green was suspended for Game 5 of the NBA Finals. The Cavaliers ended up winning games five six and seven to win their first NBA Championship. All season long their have been complaints coming from not only Warriors fans, but the players themselves mentioning this ejection. Stating that it cost them the NBA Finals and that was the only reason Cleveland won. Completely ignoring that LeBron James had the greatest NBA Finals series of all time. Did the Green ejection help Cleveleand win? Absolutely, but it is not the only reason they won. The NBA could not put themselves in a situation similar to last year when this happened. Let's flash forward to the 2017 NBA Finals.
Throughout The Finals, Golden State managed to consistently set illegal screens and commit loose ball fouls that were not called. When a Warriors player did commit a foul, it was a "crime against humanity" as Green would shout at the officials without being reprimanded. I have never seen so many players yell directly at officials and continue to do so while on the bench without receiving a technical foul.
Early in the series, Kevin Durant was going back on defense and managed to draw a charging foul against LeBron James. Durant was moving, not square to the defender and his feet were definitely not set. The very next game, Kevin Love made sure he was out of the restricted area, set his feet, squared himself and seemed to draw a charge against Stephen Curry. Curry somehow managed to get a blocking foul called. What is noticeable here is that both fouls were called wrong and both were in favor of the Warriors.
The mess with Game 4 does not help matters. A technical foul was assessed to Green early in the game only to have it seemingly wiped away when he was assessed as second. One has to think why would this happen? This is a near identical situation last year where Green got ejected and subsequently suspended for Game 5. However this did not happen.
Leading up to Game 5, an interview with former NBA Official Tim Donaghy stirred some controversy. "No doubt in my mind they would love this to go to a Game 6. They are going to show (the refs) a lot of plays that should've been called against Golden State that weren't,". Donaghy continued, "I think they are going to concentrate on Draymond to make sure he isn't able to be in any physicality, or roughhouse in any way, shape or form. You are probably going to see him in foul trouble again. It's a situation where they are going to try and get a Game 6 and open things up so they can create more revenue for the league." (Interview courtesy of KNBR in San Francisco).
In a league where they have struggled to battle the accusations of the Draft Lottery and games being rigged, there had to have been pressure to completely do the opposite. Donaghy rigged games and served a 15 month prison term for his crime completely questioning the legitimacy of the sport. Separating themselves from anything remotely close to what Donaghy described is exactly what the NBA needed to legitimize itself. Not only separating itself from Donaghy, but from last year's NBA Finals.
During Game 5, fouls were being called tightly and culminating in a fight between Warriors forward David West and Cavaliers center Tristan Thompson. West shoved Cavaliers guard Kyrie Irving before getting into a pushing/shouting match with Thompson. An initial technical was called on West with two technicals being called on the Thompson and guard J.R. Smith. Essentially what happened is that West started fighting and the Warriors got to shoot a free throw because of it. Granted an ejection of West doesn't necessarily mean that Cleveland wins the game, however it doesn't hurt. There was a reason JaVale McGee wasn't playing in Game 5, he became ineffective in defense. The Cavaliers managed to find a pick and roll play that exposed McGee and essentially kept him on the bench. An ejection of West would result in McGee getting more playing time and potentially allowing them to win the game.
Warriors center ZaZa Pachulia has been under harsh criticism throughout the playoffs. First it was against the Spurs when he made a dirty play by sliding under Kawhi Leonard essentially ending his season. Every analyst said the play was clean, however every former player acknowledged it was dirty. Considering the players said it was dirty, I would side with the players. Let's move on to The Finals.
Throughout The Finals, Pachulia committed non-stop loose ball fouls. The only seemed to be called during Game 5, for what reason no one is sure. Finally the officials were calling the game correctly, however it was too little too late. If the series was officiated correctly from the start, Pachulia's effect on the series would be non-existent.
The Warriors are notorious for their illegal screens that are set on nearly every single play. They never have their feet set and are always moving. This is the definition of illegal screen. Some were called during Game 5, however they were entirely missed in Games 1-4. The illegal screens got some of their key players in foul trouble early and allowed Cleveland to take advantage.
Moving on to the play that changed the game in favor of the Warriors. Durant got away with hitting James in the face on a dunk. The play should have resulted in an additional free throw and Duran'ts third foul of the game. Cleveland had complete control of that game until that point. Durant not receiving his third foul resulted in Golden State going on a run that essentially won them the game. However if the foul was assessed correctly, it is without a doubt that Cleveland wins Game 5 and we are looking forward to Game 6 back in Cleveland.
Let's get one thing straight, this isn't complaining about the officiating during one game, this about the entire league essentially looking to protect themselves from accusations of games being rigged. With how the last Finals ended, the NBA couldn't be caught in a similar situation this year. Everything was done to avoid any controversy regarding Green and technical fouls being assessed against the Warriors. The Cavaliers were fighting an uphill battle they were never going to win. Not because of the Warriors ability, but due to the league looking to protect itself against more controversy. The Finals weren't a battle between the Warriors and the Cavaliers. It was a battle between the NBA and legitimacy. Unfortunately the NBA won.
Follow me on Twitter @Jimmmitude
Jim Mastrucci is the Managing Editor for cover32 Houston Texans coverage, and Cavs Editor for Roto Den.
For Texans news and coverage follow @cover32_HOU on Twitter
http://cover32.com/texans/
Follow Roto Den on twitter @rotoden
Website launching June 2017