2018 Predictions: Who's Wearing UFC Gold a Year From Now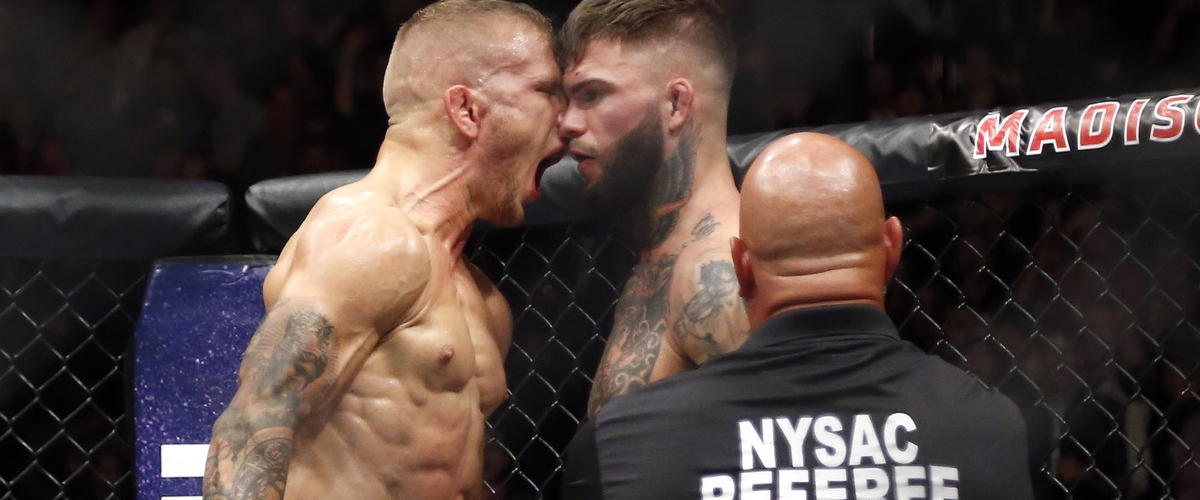 2017 was altogether a strange year for the UFC. Despite what Dana White says that it was the company's most successful year yet - which it very well may have been from a financial sense - UFC fans, media and fighters alike can generally agree that WME and White went deep into their gimmick bag.
Between MayMac; the addition of a women's featherweight division; GSP's return, followed by his subsequent disappearance, and rivalries, both notorious and unforeseen, coming to a head, 2017 was truly unique for the Ultimate Fighting Championship.
While these occurrences weren't necessarily bad for the company, the mixed martial arts fan in me would love to see the world's premier MMA organization get back to its roots: The best fighting the best. Here's to hoping 2018 can provide just that. These are my predictions for who will be wearing UFC gold in January of 2019:
Flyweight
With the talk of TJ Dillashaw moving down in weight to take a super fight with Demetrious Johnson in 2018, it has become more conceivable than ever that 'Mighty Mouse' may be without a strap this time next year. While I agree that Dillashaw is an extremely tough matchup - the toughest DJ will have faced at 125 pounds - I can't pick against the 2017 fighter of the year. Even if this fight does happen, which there is no guarantee, one would have to imagine DJ would find a way to get the job done like he always has. Other potential threats to Johnson's throne in 2018 are Henry Cejudo and Joseph Benavidez, both of which 'Mighty Mouse' has already disposed of.
Champion: Demetrious Johnson
Bantamweight
The 135-pound division has the potential for a lot of intriguing fights in 2018. TJ Dillashaw is the current champion, having knocked off Cody Garbrandt, and that leaves a lot of questions as to who should be next to fight for the belt. As I mentioned above, Dillashaw seems ready to make his next fight at 125 pounds, which means that he may only have one bantamweight title fight in the next calendar year. My guess is that Dominick Cruz gets back into the fold with a rebound win against a top five opponent, but that he falls short in a rematch with TJ.
Champion: TJ Dillashaw
Featherweight
I think when you finish the best 145er of all-time in back-to-back fights, you are without a doubt the king of the division. That is exactly what Max 'Bless' Holloway is. While there will be some legitimate challengers for his belt in 2018 like Frankie Edgar and Brian Ortega, I would be surprised if Holloway wasn't still wearing gold on his waist a year from now.
Champion: Max Holloway
Lightweight
Since Conor McGregor became lightweight champion over a year ago, the progress of the 155-pound division has stalled. The UFC did add an interim belt, which Tony Ferguson holds right now, but there has been no developments in the UFC's plan to unify those belts. Add to the mix Khabib Nurmagomedov, who might just be the most talented of the three, and the title picture becomes that much more unclear. My best guess is the UFC targets Tony vs Khabib with the promise that the winner gets McGregor. However, Conor will aim for a super fight with GSP instead and subsequently drop the belt, making the winner of Ferguson and Nurmagomedov the undisputed champion. In my opinion, that's 'The Eagle.'
Champion: Khabib Nurmagomedov
Welterweight
After Rafael Dos Anjos dominated Robbie Lawler over the course of five rounds, he secured himself the next title shot. The problem is that Tyron Woodley recently underwent shoulder surgery, and could be out of commission for a few months. Even still, I think the UFC will wait to make that fight, being as there are no other clear contenders. Say the champ defends his belt for the fourth time against RDA, like I think he will, there are no other clear fights to make. Woodley has already fought Stephen Thompson twice, and the UFC will be in no hurry to make a third tilt. Beyond that, there are a few up-and-comers like Colby Covington, Darren Till and Santiago Ponzinibbio - all of which could be in title contention come the end of 2018 - but I think 'T-Wood' handles all three, thus opening the door for him to remain champion for at least one more year.
Champion: Tyron Woodley
Middleweight
Finally the middleweight division is back on track after a tumultuous 2017. Robert Whittaker is booked to defend the belt against Luke Rockhold in February, which will allow ample time for progress to made throughout the rest of 2018. Whoever comes out of this fight will have no shortage of challengers. Yoel Romero, Jacare Souza, Chris Weidman, Kelvin Gastelum and Derek Brunson all have legitimate chances at fighting for the belt in the next twelve months. All of the top contenders besides Weidman and Gastelum are booked as of now, so it is unclear who is next in line. I am going to put together some hypotheticals here. In my opinion, Rockhold will best Whittaker at UFC 221 to regain his belt. He will successfully defend the title against the next challenger, either Romero or Souza, which means he will be ready for another defense at the end of the year. If Chris Weidman can take care of business against one more top contender, he should finally get his rematch with Rockhold. He does. And this time, he drags Rockhold into deep waters and comes out victorious.
Champion: Chris Weidman
Light Heavyweight
The 205-pound division is one of the weakest divisions in the UFC. Daniel Cormier is set to square off against Volkan Oezdemir at UFC 220. As long as he avoids the big shot, he should be okay there. That sets up for a rematch with Alexander Gustafsson - a fight that Cormier will win for the second time. After those two, there is a short supply of viable contenders, so I think Cormier finishes the year with the belt. It all comes down to whether he has gotten past the Jon Jones loss. If he has, he won't have any problem reigning as champion for another twelve months. The only person besides Jon Jones that can take the title off DC is DC himself. That very well may happen a year from now with Cormier mulling retirement.
Champion: Daniel Cormier
Heavyweight
The heavyweight matchup between Stipe Miocic and Francis Ngannou might be the most promising bout in the division's history. Stipe is looking for the record number of heavyweight title defenses, 3, and Ngannou is as exciting a fighter we have seen in a long time. Although I love Stipe, Ngannou doesn't have to be the better fighter on January 20th; he just needs to connect one time - a feat I think he will accomplish. After that, I don't think Werdum or any of the other immediate contenders will be able to slay the giant. Perhaps if/when Cain Velasquez comes back, he will be the man for the job, but I doubt that fight will take place in 2018.
Champion: Francis Ngannou
Women's Strawweight
The biggest upset of 2017 came via Rose Namajunas' knockout of Joanna Jedrezjczyk at UFC 217. No one thought that outcome was even a possibility. 2018 will no doubt see a rematch between these two foes, but I feel Joanna Champion will not be able to get over the mental hurdle of defeating the woman that just cleaned her clock. That will then set the stage for Jessica Andrade to get her second attempt at a title, and I like her style against Namajunas. I see her riding the momentum of the brutal Claudia Gadelha beatdown to a championship win.
Champion: Jessica Andrade
Women's Flyweight
The women's 125-pound division doesn't yet have its full complement of fighters, but being that it is the middle-ground between strawweight and bantamweight, it will have plenty of formidable challengers. Right now the champion is Nicco Montano, who won the belt by defeating Roxanne Modafferi at the TUF Finale. Unfortunately for Montano, she will not be holding the belt come year's end. That will be Valentina Shevchenko, who will make the drop from 135Ibs.
Champion: Valentina Shevchenko
Women's Bantamweight
This division is currently lacking true contenders. Shevchenko just fought for the belt and lost in a disappointing affair. Holly Holm has only won once in her last five fights. Raquel Pennington would have had the next shot, but she broke her leg. Perhaps that is why Dana White said that he is targeting current champion Amanda Nunes to face off with fellow Brazilian, and featherweight champion, Cris Cyborg. That fight, if it happens, will take place at 145Ibs, however. I have a gut-feeling that Dana will push for Germaine de Randamie's return towards the end of the year in a title fight against Amanda Nunes - a fight she has already lost in the past. This time, though, I sense a shocking upset, and the former Women's featherweight champion becomes the fifth fighter in UFC history to hold belts in two different weight divisions.
Champion: Germaine de Randamie
Women's Featherweight
There is really not much to say here. If the Nunes fight happens, things could get interesting, but after seeing Cyborg outclass Holly Holm for five rounds, I can't imagine her losing any time soon.
Champion: Cris Cyborg
---