Then and Now: A Quick Trip Down Memory Lane. 2009-2010 Season-2017-2018 Season
To say that the Minnesota Timberwolves have come a long way since their 15-67 season back in 2009-2010 is an understatement. From the front office, to the players on the court, the Timberwolves have made many changes to hopefully rid the team of their NBA leading 13 year playoff drought. Here is a look at the transformation the Timberwolves have made to become a true playoff contender in an already stacked Western Conference.
Front Office Mix-Up: David Kahn, the Timberwolves former general manager from 2009-2013 thought that he could make a contending team through draft picks. He might have been correct but the Timberwolves were a victim to the stacked 2009 draft by picking around some of the top players in the NBA today.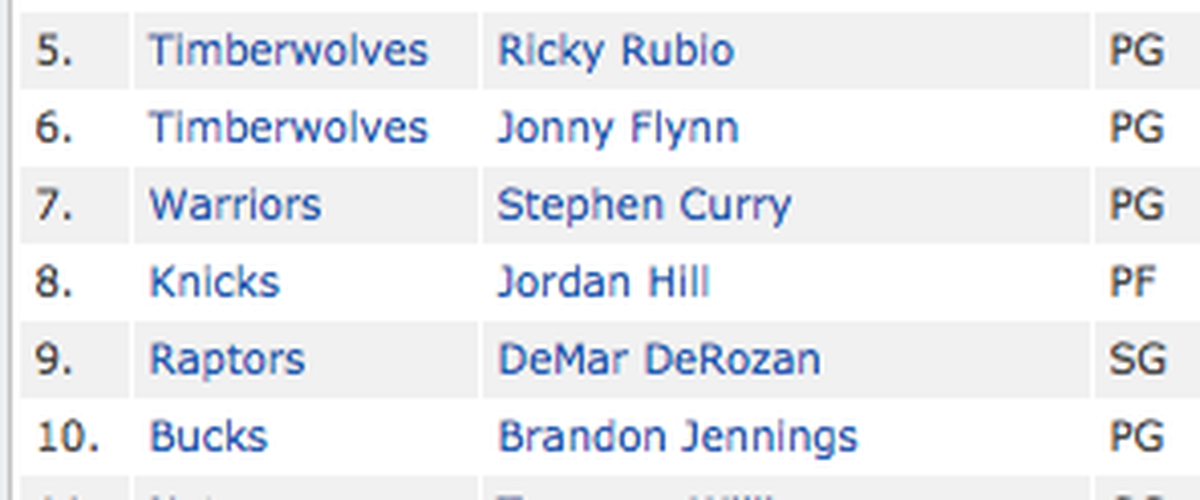 2009 NBA Draft Picks 5-10. Other notable picks from the 2009 Draft: Jrue Holiday (17th), Ty Lawson (Draft 18th by Timberwolves but traded immediately to Denver), Jeff Teague (19th).
I am not saying that drafting Rubio and Flynn back-to-back was complete bust, but when you pass up on Stephen Curry and several other NBA talented point guards, it puts a big damper on an already young organization. Most teams who are playoff contenders will have veterans not only in their starting five but also coming off the bench as well.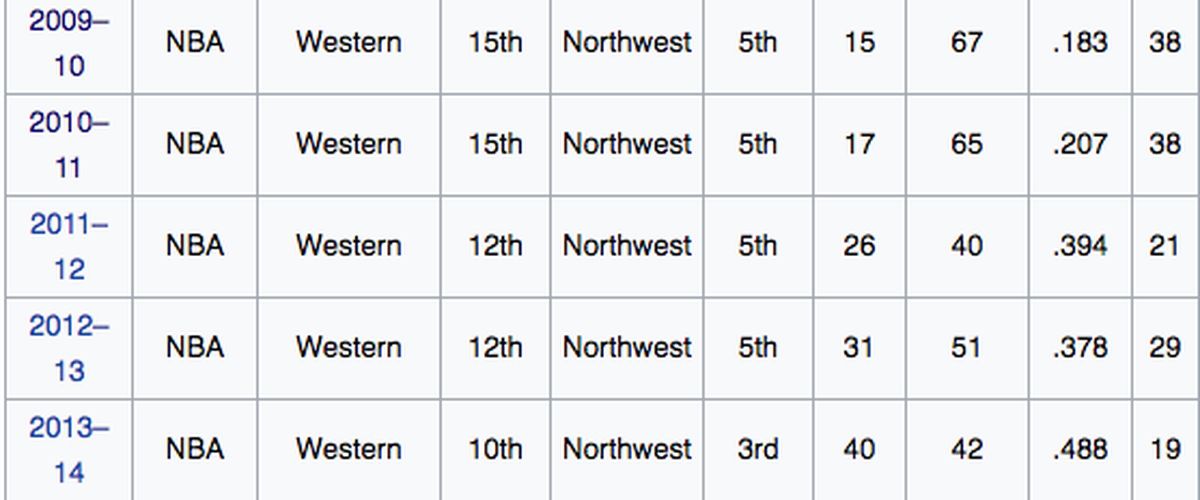 5 Year Record Sheet for Minnesota Timberwolves. Improvements were made but no sign of playoffs.
Al Jefferson, Kevin Love and Ricky Rubio can only do so much for a young vulnerable team such as the Timberwolves in a veteran driven Western Conference. The struggle was real for the organization and sooner than later, had to make some front office changes and some player personnel changes as well.
Insert Tom Thibodeau and Scott Layden into the Timberwolves Head Coaching position and General Manager spot and watch the team grow into a young, yet experienced team.
Thibodeau has had much success around the NBA both as a defensive guru for the Boston Celtics when they won the title in 2008 or as a head coach for a consistent playoff contender in the Chicago Bulls from 2010-2015. Thibs brings a hard-nose defense mentality to the young roster that will have to rely more on their defense as the NBA gets more offense friendly.
Layden has been around the NBA longer than the Timberwolves have been an organization. He was the mastermind of drafting John Stockon and Moses Malone in 1984 and 1985 that created a very renowned Utah Jazz team throughout the 90s. He was also under the Spurs organization before coming to the Timberwolves in 2015 to take over the general manager spot to compliment Thibs. So you could say these two have a knack for creating successful teams in the NBA.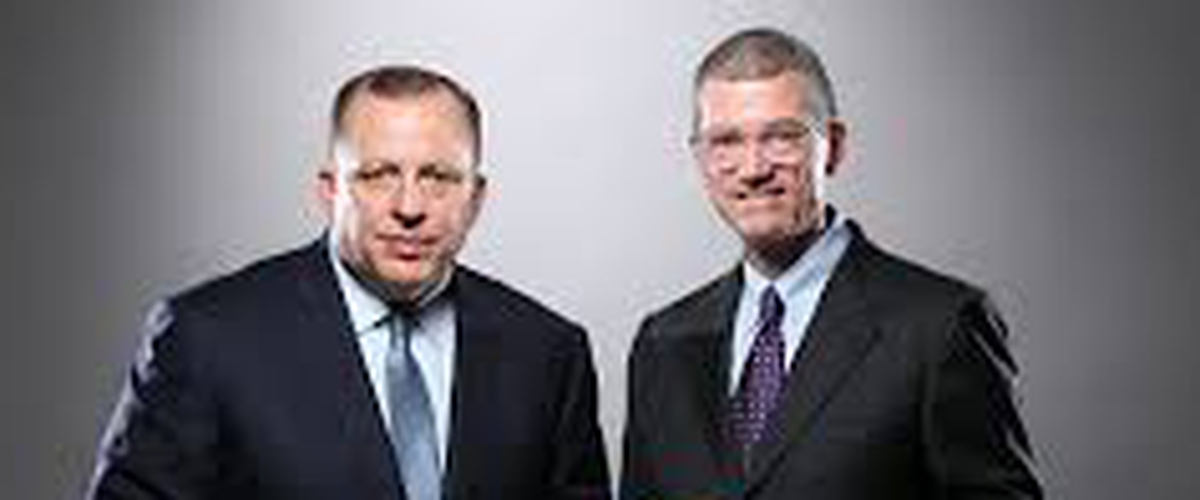 Left: Tom Thibodeau
Right: Scott Layden
The Timberwolves have made some stellar moves in the front office to get the Timberwolves back into playoff contention in the upcoming season even with the recent poor parody in the NBA conferences with the Western Conference being much more superior than the Eastern Conference.
Front Office Grade (2009-2010): D+: Poor draft picks and couldn't bring any veterans to the young and unstable Timberwolves. In effect, it led to a massive drought in any relative success in the organization.
Front Office Grade (2017-2018): A: Great trade to get Jimmy Butler and still getting a valuable draft pick in Justin Patton (16th pick). Also did a great job in signing veteran free agents to fill in key spots in a young core of Timberwolves.
Free Agent Additions: Taj Gibson 2 year /28million, Jamal Crawford 2 year /8.9 million, Jeff Teague 3 year /57 million
Player Impact (2009-2010 Season):
Starting 5:
PG: Johnny Flynn: Rookie with a solid college career at Syracuse. Rubio wouldn't come to the NBA until the next season.
SG: Corey Brewer: College standout at Florida. Good defender. Needs work on the offensive end.
SF: Ryan Gomes: Fill in player who can stretch the floor
PF: Kevin Love: Second year player who is still developing into a solid offensive threat. Great rebounder.
C: Al Jefferson: Came over from Boston in the Kevin Garnett trade. Very good player but shows nothing but personal accolades.
Bench Players: Darko Milicic, Wayne Ellington, Ramon Sessions.
Grade: C-
Reason: The Timberwolves finished the 2009-2010 season as the fourth least effective team on offense and ranked the worst in defensive efficiency. It was a hard year to watch as a Timberwolves fan but it seemed it could only go up from here.
Player Impact (2017-2018 Season):
Starting 5:
PG: Jeff Teague: A veteran that has been to the playoffs every year he has been in the league. Shooting point guard who will make the defender pay if they go under the pick.
SG: Jimmy Butler: A veteran super star who has played under Thibodeau. He is a stopper on defense and is very good on the offensive end as well.
SF: Andrew Wiggins: A young talent who needs to fill into his body. Can score anyway he wants on the floor but needs to add more dimensions to his game.
PF: Taj Gibson: Another veteran who has played under Thibodeau who can either come off the bench or can start and put up value minutes.
C: Karl-Anthony Towns: Another super star on the team that can compliment Butler well and will work well with Teague in the pick and roll game that Thibodeau loves to run. Hopefully will be awarded his first all star appearance this year.
Bench Players: Gorgui Dieng, Jamal Crawford, Tyus Jones, Justin Patton.
Grade: A-
Reason: A very good starting five with some valuable depth coming off the bench with a three time six man of the year player in Jamal Crawford. Still remains to see how well the Timberwolves will handle their defensive woes but it makes for a very exciting season coming up.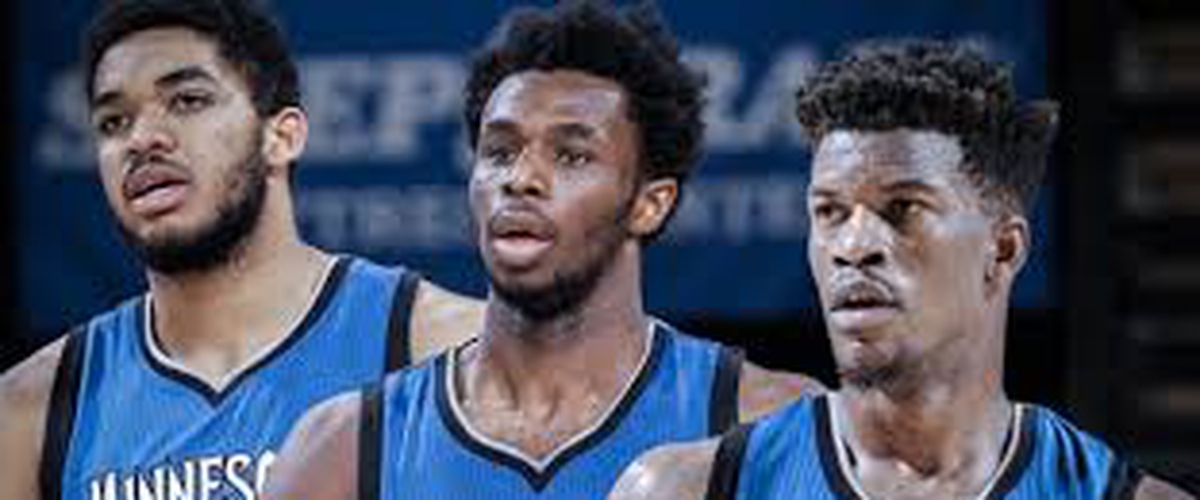 Left to Right: Karl-Anthony Towns (22 yrs old), Andrew Wiggins (23 years old), Jimmy Butler (27 yrs old). The future core of the Timberwolves.
Bold Prediction: The Timberwolves will have home court advantage going into the playoffs this upcoming year. With added veterans who will help carry the team into the playoffs, the Timberwolves will become the new team to watch out for in the 2017-2018 NBA season.
"You can only run along side the bandwagon because it (the bandwagon) is already full"-Tyus Jones
What a great time to be a Timberwolves fan!
-TimberwolvesJB
---