Thud......
The above sunset over Tucson from atop the University of Arizona Stadium was probably the nicest view all night for ASU as the Sun Devils finished their season 5-7 on a six game losing streak as they fall to the Wildcats from UofA 56-35. In what was a uniform match-up of a Christmas ornament versus a primer paint booth in an auto body shop, the Sun Devils were thoroughly embarrassed throughout the evening.
Riding a five game losing steak coming into to the tonights game for the Territorial Cup ASU knew that UofA was going to run as their passing attack was non-existent. With that knowledge, the Sun Devils proceeded to give up a school record 511 yards on the ground. To make matters even worse was the fact the Wildcats didn't even attempt to throw the ball ONCE in the second half. Their 23 offensive plays in the second half all consisted of a run play. Three players for the Wildcats had over 100 yards rushing tonight with Brandon Dawkins leading the way with 12-187 2 TDS. Former wide receiver Samaje Grant was right behind with 19-184 and three TD's. Zach Green had a feeble 126 yards on 14 carries. Coach Todd Graham was pretty blunt in the post game. "I have no excuses, we played atrocious". "We had poor discipline on defense". If the sheer numbers of yards wasn't startling enough, it was the massive gashes of huge plays that reared its ugly head again tonight. Scoring runs of 71, 63 and 56 were littered throughout the evening. None of these big plays should come as a surprise as ASU leads or is near the lead of allowing scoring plays from 40, 50, 60 and 70 yards in the entire nation. After this game ASU will be very close to 128 place for total defense.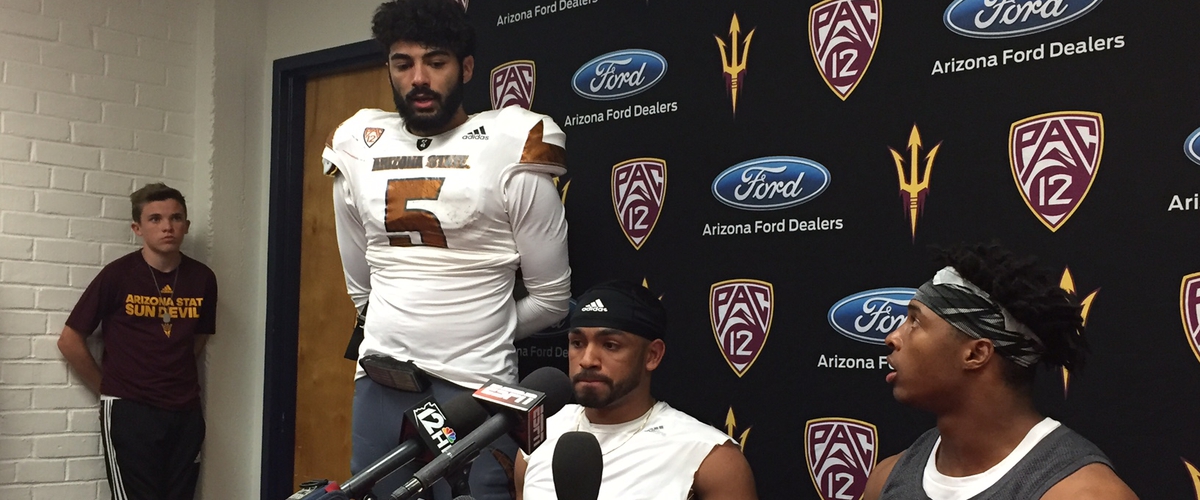 Manny Wilkins, Fred Gammage and Tim White address the media. (No defensive player representation)
In what has become more standard than the exception this year were the penalties and turnovers that plagued the Sun Devils this evening. Tonights contest was the third straight game with at least eight penalties. Combined with the two turnovers, ASU's defense was behind the eight ball even more than ever. The penalties were evenly distributed as the offensive ones stalled drives and the defensive ones prolonged UofA drives. "Having the turnovers, it hurts us, but we had a really good opportunity to go out there and win that game", WR Tim White stated. "We just have to do better". Obviously White's view from the sideline has a different prospective from the press box, but when the game got into a Texas Tech type game ASU never had a chance.
There were several features of tonights game i thought contributed to the beat down. The ejection of DB Armand Perry combined with the injury to Kareem Orr effectively left gaping holes in the back field. Albeit, with only eight passing attempts it was more of a lack of run stoppage. ASU OC Chip Lindsey and ASU was 1-6 on fourth down plays. And three of them was a yard or shorter. How can you expect success when you can't call AND run a play to get you a yard. And my final contributor to the loss was of course QB Manny Wilkins. Coach Graham mentioned in the presser that he's still coming back from the injury as well as learning, but at this point in the season you have to expect better. His decision making on when to throw and when not to throw needs tremendous work and hopefully will develop if he wants to continue to start for this team. There are many other young QB's in this conference managing to hold their own and Manny needs to follow them in their learning curve.
Coach Graham refused to point fingers tonight at any one thing. "To give up that many yards rushing is just absolutely ridiculous. We haven't done that since I've been here". "That starts at the top with me, we obviously got some things we need to get straightened". Although Graham didn't point direct fingers, you could finally tell the defensive struggles have been wearing on him all season with these quotes. The week after week of big plays and mounting yardage totals were wearing on Graham as seen during every post game presser. And tonights comments finally exposed those feelings. "No excuses, but that was very difficult to watch. We let our university down, we let our program down, and that was difficult".
Thinking about tonights match-up and the discussion I've had with my fellow media types over the last week or so all led to this loss as not coming as any surprise. ASU's motivation to get into a very low tier bowl was overmatched by UofA's need to finish the season with at least one conference victory. How these teams only finished one game apart in the conference is mind boggling as ASU at one time sat at 5-1 while UofA enjoyed an 8 game conference losing streak. But as we always say this time of year, when it comes to this rivalry you can always expect the unexpected. When Graham was asked when he'll start working on next year? His reply was, "As soon as I get on the bus".