2020 NFL Mock Draft: First and Final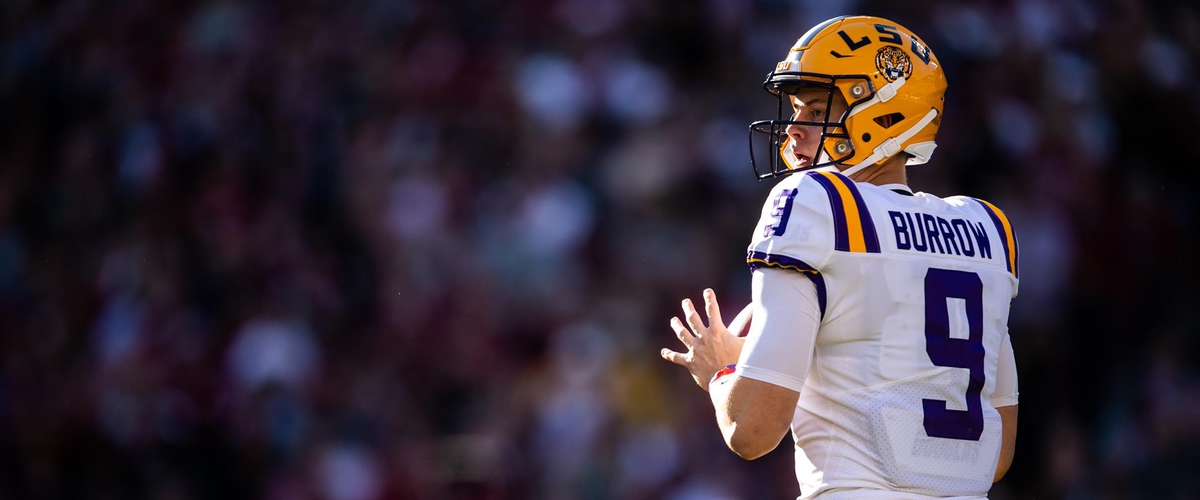 "Nothing was promised to him here [at LSU]. He came here with faith and built a championship team. And I don't see why he couldn't do it at Cincinnati." - Ed Orgeron
Cincinnati Bengals - Joe Burrow, QB, LSU
Five quarterbacks have been drafted by the Cincinnati Bengals in the first round, all five have losing records. Can Joe Burrow be the savior this franchise is desperate for? We'll see, because the recent reports confirm what we have all known, and that is that Joseph Burrow is the next quarterback for the Cincinnati Bengals.
Washington Redskins - Chase Young, DE, Ohio State
If Tua was healthy this might be a different conversation, because I think we can all agree that Dwayne Haskins was a failed attempt. The Redskins instead stay put, despite trade rumors, and take arguably the best player in the draft. Ron Rivera has always built solid defenses, and the trend continues drafting Chase Young.
* Trade Alert * Los Angeles Chargers (via Detroit Lions) - Justin Herbert, QB, Oregon
The first of several trades starts here with Los Angeles, who moves up to draft who they hope will replace Phillip Rivers. They applaud Tyrod Taylor publicly, but we all know Tyrod Taylor is not a franchise quarterback. Tua is just too scary to fully sign off on. So now a game of chicken between the Dolphins and Chargers.
New York Giants - Tristan Wirfs, OL, Iowa
Here I am, two nights before the real show, changing my pick again. Isaiah Simmons is my favorite player, and as picks go on it will be hard to watch so many teams pass by, but here is where you invest in your franchise. Do Saquan Barkley and Daniel Jones a solid, invest in the sure tackle to keep your franchise faces safe.
Miami Dolphins - Tua Tagovailoa, QB, Alabama
I could be right, and I certainly could be wrong, but in 48 hours we all find out who believes in taking the risk on Tua and his health. The Dolphins once had a chance at Drew Brees, and like Saban recently said "You can't pass on Drew Brees again." I think that even though the risk is high, Miami takes that leap of faith with Tua here. Reports today, April 22nd, say the Dolphins are trying to move into the top three, for a tackle.
* Trade Alert * Detroit Lions (via Los Angeles Chargers) - Jeff Okudah, CB, OSU
If you're asking why I picked Los Angeles over Miami in landing Detroit as their trading partner, simple. Miami has picks to offer, and LA has players. Could Hunter Henry or Desmond King lure Detroit into choosing them? We'll find out what they get, but without knowledge I take the replacement to Darius Slay.
Carolina Panthers - Derrick Brown, DL, Auburn
Based on reports around the league, front offices are saying that they find Derrick Brown to be a sure thing, and someone that could land in the top five of this draft. I think Detroit goes with Okudah, which in return leads me to the Panthers landing a steal with the 7th overall pick in the draft. Derrick Brown is a great fit.
* Trade Alert * Atlanta Falcons (via Arizona Cardinals) - Isaiah Simmons, LB, Clemson
Here's where things get interesting. It's said that Atlanta is very interested in moving up the board to draft one of many big name defensive players. Who bigger than who I believe to be one of the best players in the entire draft, Isaiah Simmons. This would be the ultimate steal if Atlanta can move up and draft Simmons.
* Trade Alert * Tampa Bay Buccaneers (via Jacksonville Jaguars) - Jedrick Wills, OL, Alabama
Keep the trades coming. Tampa Bay now has Rob Gronkowski, which doesn't even feel right to say out loud. This means their two year window with Tom and company to get this thing right, or forever hold regret, is underway. Tom Brady is most successful when he is not under constant duress. Give up whatever it takes to keep him standing up right. Future picks mean nothing when you have a window this small.
Cleveland Browns - Andrew Thomas, OL, Georgia
Starting with Tampa Bay's pick of a lineman the chain reaction begins. Between picks 9-11 I have three lineman going, and to be honest any could fall in any spot. But based on reports the Browns are more likely to go after Andrew Thomas. OBJ could be traded, but for the sake of my own sanity let's keep it simple and not show player trades.
New York Jets - Mekhi Becton, OL, Louisville
If you're looking for a monster lineman that has been from top to bottom in mock drafts, look no further. After a failed drug test we could be looking at another Laremy Tunsil situation. The Jets, a team that could certainly go high profile receiver here, need to protect Sam Darnold at all costs. Get the 6'7/368 pound lineman here and go receiver in later rounds.
Las Vegas Raiders - Jerry Jeudy, WR, Alabama
In my eyes you can't go wrong picking between Jerry Jeudy and Ceedee Lamb. Jeudy might be the safer of the two, but even Lamb draws comparisons to DeAndre Hopkins. Who wouldn't want someone that draws comparisons like that? You take Jeudy, you'll have no regrets. Jerry Jeudy will be the first receiver taken.
San Francisco 49ers - Ceedee Lamb, WR, Oklahoma
When the first one falls, expect the others to fall shortly after. Kyle Shanahan gets the most out of every player he coaches, and expect the same here. Ceedee Lamb looks to be a great fit lined up with Deebo Samuel and George Kittle. You can't go wrong with either Jerry Jeudy, Ceedee Lamb, or Henry Ruggs III.
* Trade Alert * Jacksonville Jaguars (via Tampa Bay Buccaneers) - CJ Henderson, CB, Florida
The Jaguars have a new regime, and when you look at the organization from top to bottom, they are rebuilding. Yannick Ngakoue and Leonard Fournette are as good as gone (again this mock will not show player trades), and the Jalen Ramsey divorce is still fresh. This incredible shutdown SEC corner should help the healing process and start the rebuild.
Denver Broncos - Henry Ruggs III, WR, Alabama
This is another one of those picks that seems like it has already happened. Henry Ruggs III has been tied to the Denver Broncos, and the only way I think that falls apart is if another team falls in love with him first. They've given up Demaryius Thomas and Emmanuel Sanders in consecutive seasons. It's time to focus your build around Lock and Sutton.
* Trade Alert * Arizona Cardinals (via Atlanta Falcons) - Javon Kinlaw, DL, South Carolina
This is one of those picks that I'm a bit shaky making, but for Kinlaw to slip this far, many believe it would be a good pick up for Arizona. I originally had an offensive lineman for Arizona early, but when Atlanta called with picks they find themselves in a spot where most of the top offensive lineman are gone.
Dallas Cowboys - K'Lavon Chaisson, DE, LSU
This could be one of three picks for the Cowboys in my eyes. CJ Henderson (who was taken 3 picks earlier), K'Lavon Chaisson, or Xavier McKinney. Do they continue to give Xavier Woods the opportunity to win the safety job? I believe they do, and instead go with one of the better defensive talents still on the board.
Miami Dolphins - Xavier McKinney, S, Alabama
I originally had the Crimson Tide safety falling to pick 26, which is again Miami, but with his stock rising I don't think Miami lets him slip. He's not only one of the top safeties in the draft, but his ability to play other positions is what should have Brian Flores chomping at the bit to land him here.
* Trade Alert * Philadelphia Eagles (via Las Vegas Raiders) - Justin Jefferson, WR, LSU
If you think moving up two picks is crazy, ask the Chicago Bears how they feel after moving up one pick for Mitch Trubisky. My point, crazier things have happened. Philadelphia wants a receiver, and I believe this could be the next one off the board. I like Tee Higgins a little more, but this is who they like.
Jacksonville Jaguars - Denzel Mims, WR, Baylor
This is going to be another weird pick that comes out of left field, but could the Jaguars go receiver here after passing up on the first wave? They need to get Gardner Minshew II, if that's truly who they believe in, some help at receiver, and I think Denzel Mims high ceiling could fill a void here. They just cut Marqise Lee.
* Trade Alert * Las Vegas Raiders (via Philadelphia Eagles) - Kristian Fulton, CB, LSU
In moving two picks back, the plan remains the same for the Raiders. I would love to see them draft Kenneth Murray with this pick, but I think the true need is cornerback, and Kristian Fulton is the best left. I wouldn't be surprised to see Murray go this high, or even higher, but I think the Raiders rightfully are looking at their secondary here.
Minnesota Vikings - Yetur Gross-Matos, DE, Penn State
Take a second to think about all of the lost pieces in Minnesota this offseason. Stefon Diggs, Everson Griffen, Xavier Rhodes, and Trae Waynes just to name a few. These two first round picks are going to be vital in replacing those pieces. I like the defensive end from Penn State to start off with replacing Everson Griffen.
* Trade Alert * Indianapolis Colts (via New England Patriots) - Jordan Love, QB, Utah St.
This could be the biggest stretch of my entire mock draft, but imagine the possibilities if it were to play out. I think New England would love Kenneth Murray, if he even falls this far, but the Colts know how quick the Saints will jump on Love right behind them. So the Patriots do as they usually do and trade out of the pick to collect more capital.
New Orleans Saints - Patrick Queen, LB, LSU
A safe pick would have been another receiver, but they went out and covered that by picking up Emmanuel Sanders to pair with Michael Thomas. For a team that is in pretty good shape all over the board, Jordan Love would have been the ideal pick, but falling one pick short hindered that from happening. Instead they take the Louisiana kid who stays home.
Minnesota Vikings - A.J. Terrell, CB, Clemson
Like I mentioned a couple picks back, the Minnesota Vikings have lost a lot of key pieces this offseason, and mainly at the cornerback position. So this pick only makes sense to be spent on a cornerback to fill those voids. You could go with a few different candidates here, but I think A.J. Terrell is the better fit for Minnesota over Jeff Gladney and others.
Miami Dolphins - Josh Jones, OL, Houston
Originally this was my pick for Xavier McKinney, but with his stock rising he is taken earlier. Instead the Dolphins invest in protecting Tua and get an offensive tackle to end off their first night. He's amongst the second tier of tackles, but any support for a quarterback who is as fragile as Tua helps.
Seattle Seahawks - A.J. Epenesa, DE, Iowa
You can only wait and wager with Jadeveon Clowney for so long before you have to move on and turn to the draft. An offensive lineman wouldn't hurt here, but I don't think you can go wrong with Epenesa at the same time. Months earlier he was talked about as being a top 10 pick. Not the best athlete, but strong.
Baltimore Ravens - Kenneth Murray, LB, Oklahoma
There is no better home for someone like Kenneth Murray than Baltimore. If you're a linebacker looking for an organization that idolizes your position and gives you everything needed to be a leader, then Baltimore is your place. He should never be on the board this late, and Baltimore might have to trade up to get him, but they must find a way to pull this off. Could possibly be the best connection in the draft.
Tennessee Titans - Austin Jackson, OL, USC
This might come off as a boring pick for the city of Nashville, but remember that you have just franchise tagged Derrick Henry, signed Ryan Tannehill, and lost Jack Conklin. This pick makes sense in many more ways than one. He is another second tier lineman, but still a player the Titans need to invest in.
Green Bay Packers - Michael Pittman Jr., WR, USC
For the first time in months of watching mocks and updating my own, I have Michael Pittman Jr. in my first round. I've had the chance to not only watch his game, but I've spent time listening to his interviews as well, and he is sharp. He doesn't drop passes, and he's big and physical. Wherever he goes he is going to make an impact, and I can't wait to see where that is.
* Trade Alert * Dallas Cowboys (via San Francisco 49ers) - Cesar Ruiz, OL, Michigan
My final trade involves the Dallas Cowboys moving up to fill the void that their recently retired center created in March. They seem to like who they have, but Ruiz is the best center in the draft, and he likely won't be falling anywhere near pick 51. Remember, the 49ers are all about moving picks and creating more draft capital. This could be it.
Kansas City Chiefs - Trevon Diggs, CB, Alabama
In the offseason they were able to maintain most of their roster, but unfortunately lost cornerback Kendall Fuller to Washington. Looking to fill that position gives me three names to watch; Trevon Diggs, Jaylon Johnson, and Jeff Gladney. Diggs is generating the most noise as of late, but who knows!
Teams without a first round pick in the draft:
New England Patriots (Pick 34) - Cole Kmet, TE, Notre Dame
Houston Texans (Pick 40) - Brandon Aiyuk, WR, Arizona State
Pittsburgh Steelers (Pick 49) - Justin Madubuike, DL, Texas A&M
Chicago Bears (Pick 50) - Noah Igbinoghene, CB, Auburn
Los Angeles Rams (Pick 52) - J.K. Dobbins, RB, Ohio State
Buffalo Bills (Pick 54) - Josh Uche, DE, Michigan