2019 NFL Mock Draft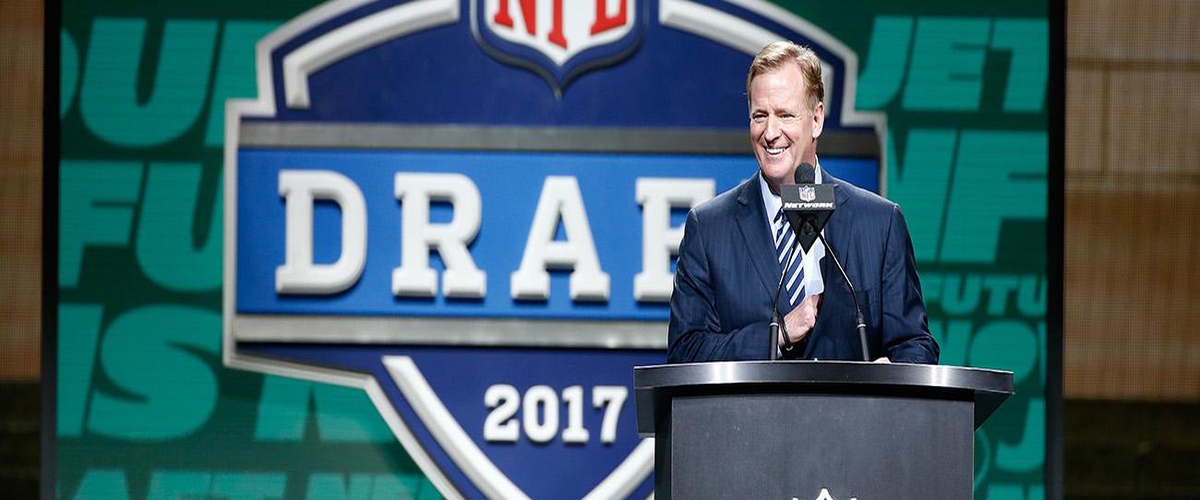 With exactly two days to go, here is a look at where I believe the top prospects stand on draft night.
1. Arizona Cardinals: QB Kyler Murray, Oklahoma
It seems like a foregone conclusion that Murray is going number one, as the Cardinals are officially shopping Josh Rosen. While it isn't foregone that Rosen will leave before OTA's in May, it's clear that Kliff Kingsbury and GM Steve Keim love Murray whose stock has only risen since his incredible pro day.
2. San Francisco 49ers: EDGE Nick Bosa, Ohio State
Arguably the best player in the draft, the 9ers have the ability to boost a huge area of need immediately. One of the weakest pass rushing teams in 2018 should get an immediate boost and create a deadly tandem alongside new arrival Dee Ford.
3. New York Jets: DL Quinnen Williams, Alabama
The Jets have added a lot of solid pieces to their defense over the past few years, but adding a once in a generation defensive stopper like Williams would be incredible alongside Leonard Williams inside.
4. Oakland Raiders: EDGE Josh Allen, Kentucky
The Raiders had the worst pass rush in the NFL by far, but if they took the best edge rusher available, and someone who I think can be an elite sack artist from day one, then their defense is in much better position than last year. Josh Allen is the real deal, he has the moxie and explosiveness to put 10+ sacks his rookie year.
5. Tampa Bay Buccaneers: LB Devin White, LSU
The Bucs have a desperate need at linebacker, even before Kwon Alexander left in free agency. White is by far the best linebacker in the class, and moves from side to side better than anyone in the draft. He was the captain of the defense in Baton Rouge, and he has the same fiery ability and character to do the same under Bruce Arians in Tampa.
6. New York Giants: QB Dwayne Haskins, Ohio State
The Giants say they aren't going to rush to find a quarterback, but drafting Haskins makes almost too much sense. They could get a top 2 QB in the entire class at 6, and then pick up a defensive end in the same tier of pass rushers that they would select from if they went pass rusher at number 6 overall. Dave Gettleman knows that the Giants need a new quarterback just to fill the stands next year, and Haskins makes too much sense.
7. Jacksonville Jaguars: OT Jawaan Taylor, Florida
Taylor is an incredible pass blocker, which would be huge for new addition Nick Foles. The offensive line was a weak spot for the Jags, but Taylor has the technique and power to fend off the great edge rushers in the AFC South for years to come.
8. Detroit Lions: DE Montez Sweat, Mississippi State
The Lions need dire help on their defensive line, especially because Ziggy Ansah, their best pass rusher for the past few years, is on the free agent market. Sweat has skyrocketed up people's draft boards during the pre-draft process, and is one of the most electric speed rushers in the class.
9. Buffalo Bills: DL Ed Oliver, Houston
The Bills suffered a major loss when Kyle Williams retired this past offseason, and could really use some help in the interior of their defensive line. The Bills addressed a lot of their needs in free agency, but left the defensive line as a major need coming into the draft. Enter Ed Oliver, one of the most exciting athletes in the entire draft class, who can fill in at nose tackle, or play off the edge in a pass rushing role. He is the versatile lineman the Bills need to take another step forward in their rebuild.
10. Denver Broncos: TE T.J. Hockenson, Iowa
The Broncos had some decent stopgap tight ends last year, but getting a guy like Hockenson who can be a great receiver and a solid blocker would do wonders for the offense, especially because we know how much Joe Flacco loves his tight ends.
11. Cincinnati Bengals: ILB Devin Bush, Michigan
The Bengals could go in a lot of different directions, especially with the amount of solid defensive players available. However, their linebacker corps are lacking a serious punch. If they can add a guy who is extremely similar to Vontaze Burfict in the way that they both are hard hitting linebackers that enforce the middle of the defense, it would do wonders for a disappointing defense in 2018.
12. Green Bay Packers: EDGE Rashan Gary, Michigan
I believe Rashan Gary is a perfect fit in Green Bay. He can add depth and power on the inside like he did in college, or they can use his power and footwork along the edge to pair with Za'darius Smith on the outside. The Packers did a solid job of adding depth in the front seven during free agency, but Gary could be the edge rusher the team has been missing since the days of prime Clay Matthews.
13. Miami Dolphins: QB Drew Lock, Missouri
The dolphins can go a multitude of different ways in the draft, but one thing they can't deny is that they need a quarterback. Drew Lock is one of the best players available in the draft at this point, and even though they have their eyes set on 2020, why not draft another quarterback the team can groom into a starter? Lock's arm would do wonders for a team that has a lot of vertical weapons like Albert Wilson and Kenny Stills.
14. Atlanta Falcons: CB Greedy Williams, LSU
The Falcons need to rebuild their defensive secondary after a terrible year defensively last season. Williams is an elite corner who has the athleticism to stick with the faster receivers in the league. He is a specimen that, with a little bit more coaching, can turn into an electric playmaker like other current LSU defensive backs in the NFL.
15. Washington Redskins: OLB Brian Burns, Florida State
The Redskins need to add play makers on their defense, and Burns is exactly that. He was an electric pass rusher with an incredible burst and the length to disrupt pockets with his block shedding moves. He would be great alongside power rusher Ryan Kerrigan.
16. Carolina Panthers: OT Jonah Williams, Alabama
The Panthers are desperate for help in their offensive line, and if Jonah Williams falls in their lap at 16, it would be a dream scenario. The Alabama tackle has the size and technique to play anywhere along the offensive line, which is really big for a team lacking talent along the line.
17. New York Giants (via Browns): DE Clelin Ferrell, Clemson
The Giants get their quarterback of the future at #6, and then they shore up the pass rush with the best guy available. Ferrell was a great pass rusher in college, and he's a guy that could potentially be a corner stone with his athleticism and length repelling off tackles.
18. Minnesota Vikings: OT Andre Dillard, Washington State
The Vikings' offensive line couldn't give any protection to Kirk Cousins last season, and Andre Dillard would be a huge upgrade. One could say he is a pass blocking specialist, but with the incredible footwork and strength at the point of attack he possesses, he can easily get better and should fit well with the Vikes.
19. Tennessee Titans: WR D.K. Metcalf, Ole Miss
The Titans need to give Marcus Mariota some play makers, and there are probably none better than Metcalf among wide receivers. While there has been rumors of him slipping, it makes too much sense for the Titans to draft him and turn him into a vertical threat they haven't had in a long time.
20. Pittsburgh Steelers: CB Byron Murphy, Washington
The Steelers have had a lot of under performing corners last year, and they need to change that to stay as a contender in the AFC. Byron Murphy is a great play maker who can defend passes with the best of them, and is the definition of a dog during game time. I think he would fit really well in the Steelers' organization.
21. Seattle Seahawks: OL Chris Lindstrom, North Carolina State
Arguably the best interior offensive lineman in the draft, Lindstrom would help the Seahawks after losing JR Sweezy in free agency this spring. Without any top edge rushers worth taking here, it makes sense to beef up the interior of the offensive line.
22. Baltimore Ravens: DT Christian Wilkins, Clemson
The Ravens could go a multitude of ways to address the huge offseason losses they just had. However, one place where they clearly lost the most punch was along their defensive line. Since most of the elite edge rushing prospects have been taken, it makes sense for the Ravens to beef up the interior with the leader of the Clemson defense that stuffed Alabama's high powered offense in the National Championship game. Although he isn't mainly a pass rusher, he has enough explosiveness to still wreak havoc on opposing The passers and stop the run effectively.
23. Houston Texans: OT/G Cody Ford, Oklahoma
The Texans desperately need help on the offensive line as evidence of Deshaun Watson getting sacked 62 times last season. Cody Ford makes a ton of sense at this spot because of his versatility and power. He has a chance to quickly become the anchor of the Texans line while providing versatility for a line that needs fillers at every position.
24. Oakland Raiders (via Bears): CB DeAndre Baker, Georgia
The Raiders continue to build their defense by adding their future featured cornerback in DeAndre Baker. He has incredible ball skills and is great in coverage, which is exactly what the Raiders need. He may not be the fastest guy, but he has a great motor and consistently makes plays.
25. Philadelphia Eagles: CB Rock-Ya Sin, Temple
The Eagles were a revolving door in their secondary, and adding stability in that area of the defense would be a huge help for a team that was 30th in passing yards allowed last season. Rock-Ya Sin is one of the toughest one-on-one corners in the class, and would be great to build some character in the Eagle's secondary.
26. Indianapolis Colts: WR Marquise Brown, Oklahoma
The Colts are an offensive superstar away from being an elite contender, and they may get that in Marquise Brown. Cousins with Antonio, he has the same confidence and electric play making ability to become a future star at the wide receiver.
27. Oakland Raiders (via Cowboys): RB Josh Jacobs, Alabama
The Raiders complete the first round by taking their future featured back, a man who has the heart and the explosiveness to be an elite running back in the NFL. He has been on my radar for a while, and I think he would help boost the offense quite a bit by adding a second dimension to their attack besides the rapport of David Carr and Antonio Brown.
28. Los Angeles Chargers: DT Dexter Lawrence, Clemson
The Chargers have more pressing needs on the offensive line, but the opportunity to take a dominant Clemson defensive tackle who will provide both depth, and a foundation on the defensive line when Brandon Mebane retires, or becomes ineffective.
29. Seattle Seahawks (via Chiefs): EDGE Jaylon Ferguson, Louisiana Tech
After trading Frank Clark, the Seahawks are in desperate need to find an impactful edge rusher. Some people think Ferguson isn't a first round pick, but he holds the FBS record for most career sacks. It's hard to argue with his production, plus he has a high motor and great hands to get off of blocks quickly.
30. Green Bay Packers (via Saints): TE Irv Smith Jr., Alabama
The Packers need to add more dimensions to their offensive attack and supplement Aaron Rodgers. Jimmy Graham is not what he used to be, but if they could get a guy in Irv Smith who is an excellent red zone playmaker and a solid run blocker, it would be great for the Packers.
31. Los Angeles Rams: C Garret Bradbury, North Carolina State
The Rams need to beef up the interior of their offensive line after the serious losses of Roger Saffold and John Sullivan. Bradbury seems like a perfect fit because he is a versatile interior o-lineman with great balance and footwork.
32. New England Patriots: TE Noah Fant, Iowa
It's obvious that the Pats need a replacement for Gronk, and Fant would be a great replacement who has the athleticism and ball skills to be a really solid NFL tight end.
---