Stat Padding or Team Carrying? An Analysis of Russell Westbrook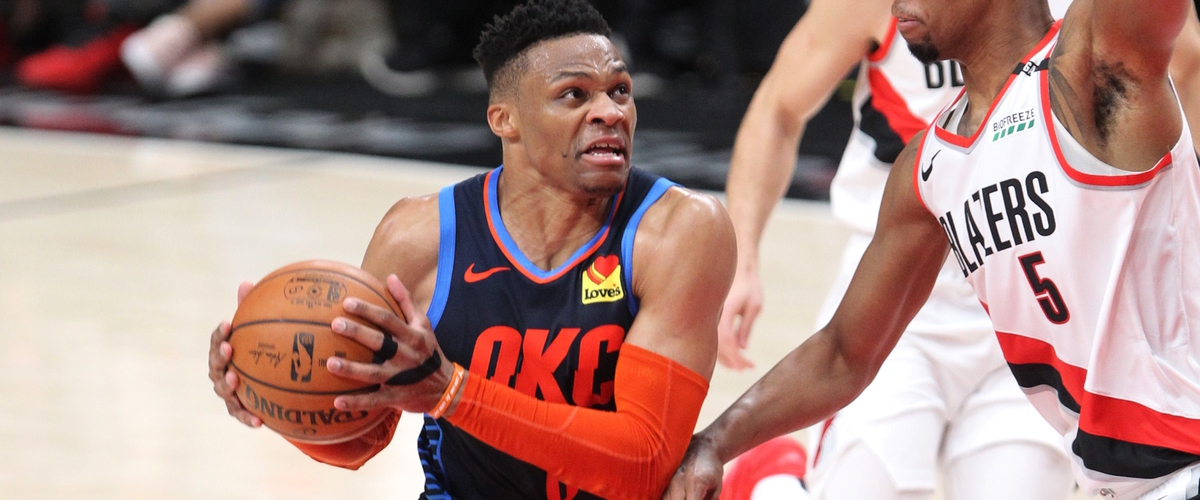 Russell Westbrook is without a doubt the most polarizing basketball player in the league. Basketball experts and fans around the league have lambasted him for his aggressive and almost reckless style of play, stating that Westbrook has been egged on by his MVP winning season to continue to average triple doubles despite his team's lack of success in the playoffs.
People have criticized Westbrook for his woeful shooting, which makes him a hindrance to the Thunder offense, supposedly. This is especially apparent in the playoffs, as the Thunder have not made it past the first round of the playoffs since 2016, Kevin Durant's last year in Oklahoma City.
Is Westbrook responsible for his team's postseason failures due to his style of play? I wanted to find that out. I was curious to see whether or not Westbrook's bad habits made a discernible difference in the Thunder's play. Most of the information I get for this article will come from Basketball Reference and Thinking Basketball on YouTube, both I will link at the end of the article for reference.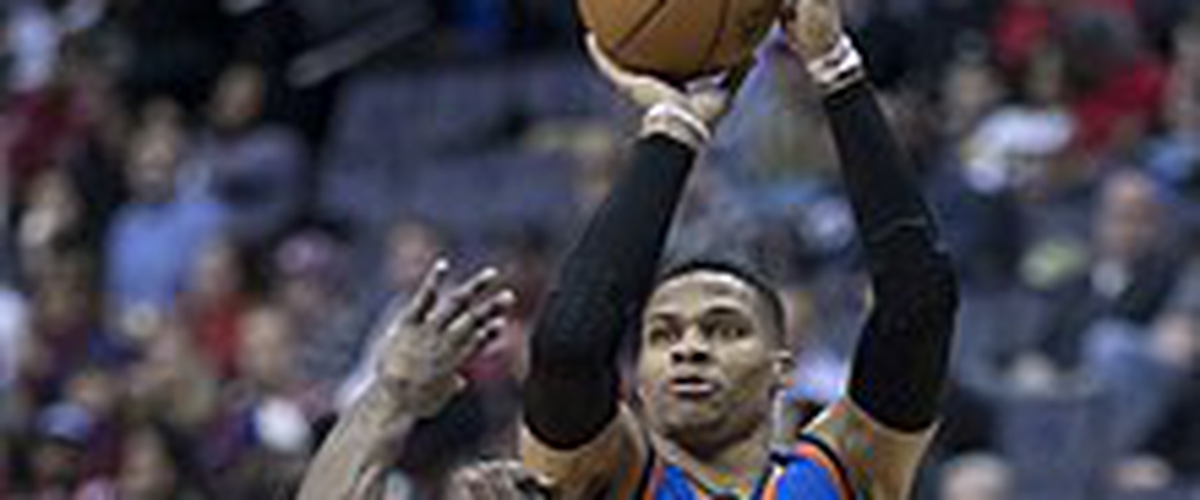 Let me get some of the bad out of the way first; Russell Westbrook is an extremely erratic shooter. Although he has never been a good shooter from three, he posted his worst three point shooting season since 2010 (his second year in the league) shooting just 29%. His free throw percentage does not fair much better, as he shot a career worst 65.6% from the foul line last season. Part of that may be due to the fact that the NBA made a rule change where players must be ready to shoot their free throws quicker. Considering that he is a career 80.1% shooter from the charity stripe, it seems unlikely that Westbrook should repeat that abysmal percentage next year.
Now Westbrook, at first glance, does have a decent overall field goal percentage, shooting 42.8% from the field last year, which is close to his 43.4% career average. However, a large volume of his attempts came within three feet of the basket. As you can see here: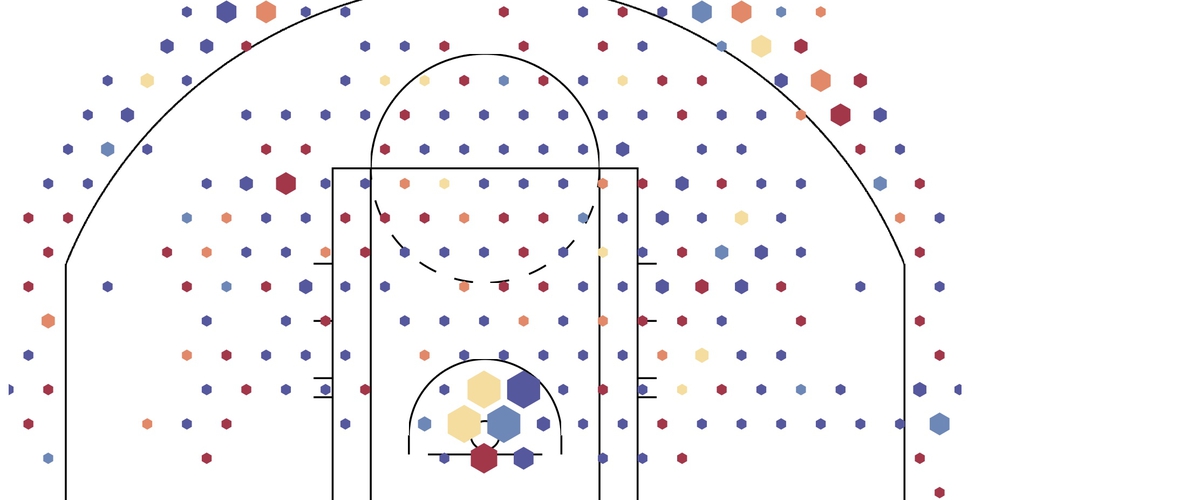 The hexagonal shapes indicate the frequency of shot. The largest hexagons are well within three feet of the rim, while he seldom settles for shots at the top of the key and beyond the arc. His shooting percentage from 0-3 feet was a whooping 65%, from 3-10 it was 20.8%, 10-16 it was 33.3%, and from 16-3 point line it was 35.8%. Without his frequent bull rush to the rim, his true shooting percentage could have been well below the 50.1% mark he posted last season.
Now what about his passing? Although it is rarely mentioned, Westbrook is arguably the best passer in the league. He has not lead the league in assists for the past two seasons by accident. I'm serious. He's able to make every single pass because he attempts every single pass imaginable. Last season, Westbrook ranked #1 in Basketball Index's Points Generated by Assist (1950), Assist Points Over Expectation (7.8), and Potential Assists (1586). His shot creation ranked in the 97th percentile of all NBA players and his play making abilities last season earned a "A" grade from Basketball Index.
On the other hand, his high turnover rate raises concerns from many NBA fans. He's always been known to be careless with the ball and it shows in his stats. He has lead the league in total turnovers three times since his rookie season, and was second last year in turnovers/game with a hot potato like 4.5/game. He ranks in the 27th percentile in terms of how well he handles the ball, well below league average.
He is also an elite defender. His quick hands allow him to make reads and anticipate passes at an elite level. Last season his 5 Defensive Win Shares was the highest of his career while his Defensive Box Plus/Minus was at 3.9, which is the second highest of his career and good for fifth in the NBA. His 265 deflections ranked in the 99th percentile in the league last season while his 1.95 steals per game ranked 4th in the NBA (ahead of players such as Jimmy Butler and Kawhi Leonard). Furthermore, his opponent RIM field goal percentage places him in the 61st percentile in the league, slightly above league average.
His rebounding is also tremendous for a guard his size. His 11.1 rebounds per game led the Thunder and also made him good for 10th in the NBA. Now many people may call him a stat padder for accumulating so many rebounds as a guard, however it usually ends up benefiting the team. Thunder big man Steven Adams has stated in the past: "As long as our team gets a rebound, it doesn't matter." Westbrook's tendency to get rebounds overall lead to a higher offensive rebounding percentage for the Thunder as a whole.
In terms of overall efficiency, Westbrook is certainly a mixed bag. His Player Efficiency Rating (PER) last year was 21.14, above league average of 15.00, but only 46th in the NBA. (He is ahead of players like Ben Simmons, D'Angelo Russell, and Jimmy Butler but also behind players like JaVale McGee, Jusuf Nurkic, and Boban Marjanovic. Basketball is so weird.)
His Value Over Replacement Player (VORP) last season was 5.6, certainly not his best but still good for 6th in the league. And for RPM (player's impact on team performance) he ranked 42nd in the NBA. (Ahead of players like Donovan Mitchell, Bradley Beal and Luka Doncic but behind players like Kevon Looney, Davis Bertans, and Joe Ingles. I reiterate, basketball is so weird).
In terms of offensive efficiency, he is nowhere to be found in the top 20 In both Offensive Win Shares (the ever intimidating Dwight Powell of the Mavericks sits at #20) or Offensive Box Plus/Minus (Danilo Gallinari and Buddy Hield both crack the top 20). However, in terms of defense he is 4th in Defensive Win Shares (5.0) and 5th in Defensive Plus/Minus (3.9).
So what does this all mean? From what I've been able to collect, Westbrook is the biggest mixed bag in the league. His defensive prowess and tremendous passing abilities should make him the best point guard in the league. But, his offensive inefficiency says that he's a worse offensive player than Dwight Powell (I promise I'm not picking on you Dwight Powell, if you for some reason ever read this).
If Westbrook is able to produce more offense at an efficient rate, his playmaking and defensive ability make him a well rounded point guard that will be able to fit into any system. If he can overcome those offensive inefficiencies, then maybe, just maybe, we can see Westbrook lead a team to the NBA championship.
After all, with the league wide open, anything can happen.
Links
https://m.youtube.com/watch?v=8zhBVMAjAmA
https://www.espn.com/nba/stats
https://www.basketball-reference.com/players/w/westbru01.html
https://www.bball-index.com/player/russell-westbrook/#