Ten Things I'm Thankful For This Week.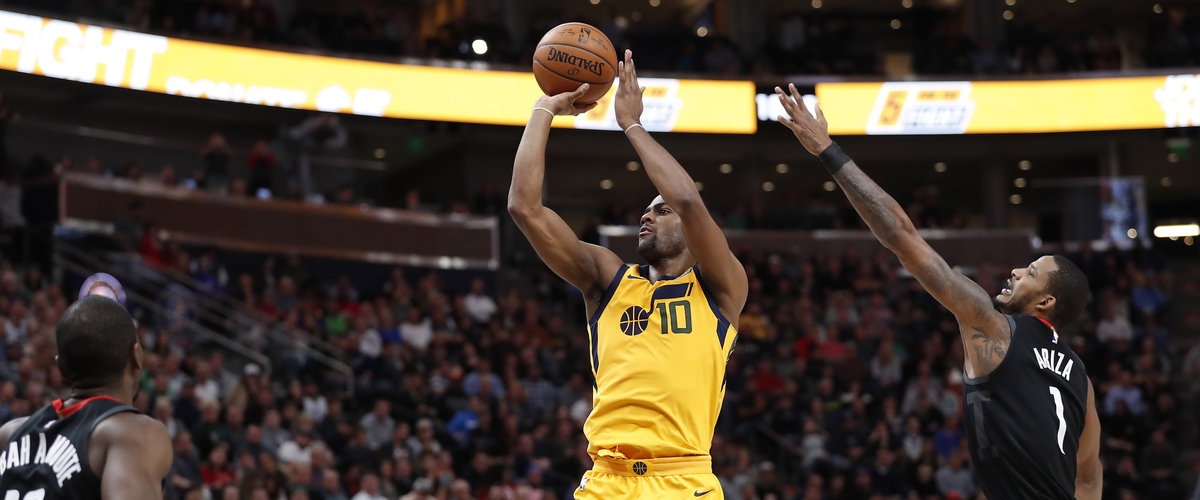 This is the introduction of a new weekly segment called "Ten things im thankful for this week". Every week there's 100 fun and exciting stories happening in the world of sports and I've decided to breakdown my ten favourite.
1. The return of Alec Burks.
Though the NFL is more commonly known as "the next man up" league, the NBA has it's moments. The concept behind "the next man up" is that when one player gets injured another gets his chance to make it. That's exactly what happened in Utah. This goes without saying but no one wishes injury on anyone and it's saddening to see when a player does get hurt. Although, when Rodney Hood went down with a left ankle injury Alec Burks slide right in.
Having only played 100 games in the last three years Burks was free falling down the depth chart. Burks seven year career has seen its fair share of injuries which have prevented the 2011 12th overall pick to reach his potential. He's finally getting his chance this year even though he isn't starting. He's been tasked with playing heavy bench minutes while quarterbacking the second unit. This has lead to dominance in which the last six games Burks has averaged 20.1 points per game, coupled with 2.8 assists per game and an overall plus/minus of 70.
With both Hood and Dante Exum injured for the foreseeable future I'm excited to see what heights Burks might be able to reach. With the way Donovan Mitchell is playing I don't see Burks becoming a starter but is it possible he contends for 6th man on the year?
2. Jahlil Okafor gets another chance.
Moving on to Brooklyn, where Brooklyn Nets General Manager Sean Marks schemed his way into flipping Trevor Booker for Jahlil Okafor (former 3rd overall pick), Nik Stauskas (former 8th overall pick) and a conditional 2nd round pick.
While most average basketball fans know that both Okafor and Stauskas have vastly underperformed, this Brooklyn move gives them a chance to reinvent themselves. For the last three years Okafor had been quickly falling out of favour with the Sixers even after putting up a solid rookie year. All the way up until this year fans have been questioning the Sixers motive in not allowing Okafor the chance to play, only allowing him to play in two of the teams 24 games.
Brooklyn has proven they're willing to give the chance for players to prove themselves looking back at the Anthony Bennett project (spoilers that didn't end well) and most recently the Spencer Dinwiddie case in which he has shown to be an extremely valuable player for the Nets. There is going to be a learning curve for Okafor as he is integrated in the high pace, fast moving Brooklyn Nets, but I believe if he puts the effort in he might become a centering piece to this Nets roster.
3. Teaming up in LA?
The NBA wouldn't be the NBA weekly outbursts of "where is LeBron James going next season?". This weeks is probably my favourite thus far. As per the majority it is rumored that LeBron will be planning to join the Lakers come the offseason and normally LeBron plans to be accompanied to a couple of superstars Russell Westbrook, Paul George, Chris Paul, etc. But this one is a little different. This time around it's rumored that LeBron will be pairing up with none-other than *Drum roll*... Nerlens Noel. The same Nerlens Noel that has played 18 games this season averaging 12 minutes per game with a staggering average of 4.0 points and 4.1 rebounds per game.
Noel is still young (24 years old) so the possibility of him becoming a solid 2-way player is still in the books. He's already seen as an above average defender thanks to his length and agility, but has yet to truly find himself on the offensive side of the floor. This is also partially due to the fact that head coach Rick Carlisle refuses to play him. Noel needs to find a team willing to let him play and develop.
All that being said there is absolutely no chance that LeBron is planning to go to the Lakers with the sole intention of teaming up with Nerlens Noel. The young man may eventually become a good player in the NBA, but he is nowhere near qualified enough to become the reason LeBron leaves Cleveland.
4. Cousins vs Durant.
In a year where Kevin Durant has fully embraced the "super villain" role that comes with being a part of the Golden State Warriors on Monday night Dec. 4th he might have taken it a step too far. Earning his league leading 3rd ejection of the season Durant nearly risked his life. In the 4th quarter of the Warriors & Pelicans game both DeMarcus Cousins and Kevin Durant were ejected, earning each their second technical foul of the game. Though things didn't stop there, the two had to be separated each being courted into their respective dressing rooms. Even after the fact it was said that security had to get involved keeping the two separate as they had continued to jaw at each other in the hallway. Even after all that a video from last year had surfaced showing Cousins staring at Durant during an interview and then proceeding to shake his head and walk away.
As a fan its always enjoyable to watch the players argue/fight but I'm not too certain how fair the fight between Cousins and Durant would have been. Cousins is listed at 6'11 and 270 lbs while Durant lists as 6'9 (even though he's about 7'0) and 240 lbs. It's clear that Cousins would have folded Durant in-two had they started fighting.
5. Battle of the Brothers.
Turning over to the NHL, Friday Dec. 9th marked the first time PK and Malcolm Subban played each other in the NHL. PK being the elder has been in the NHL for nine year now and he's been able to establish himself as one of the best defencemen in the league.
In the absence of Marc Andre-Fleury, Malcolm has managed to hold his own going 7-2-0 in ten games played (left one game with injury). Malcolm has impressed the league putting up solid numbers thus far, hes got the 8th best save percentage at .924% among goalies who have played 10 games or more this season.
Friday night was no different for Malcolm, having put up a beast of a performance stopping 41 out of 44 shots leading his team to a 4-3 shootout victory over Nashville. PK managed to go plus 2 on the night, but wasn't able to collect a point versus his brother.
Their father Karl Subban was in attendance supporting both brother while wearing a Malcolm Subban Golden Knights jersey. After the game PK told the media that he was proud of his brother which put a nice bow on the entire evening.
6. Winnipeg Jets Take over the NHL.
Years past it was projected that the Winnepeg Jets would soon dominate the NHL, with their unlimited supply of new up and coming rookies it was only a matter of time. While a lot of the league though that time would have been last year they were wrong. The Jets managed to find themselves 7 points removed of a playoff spot even after having won 7 games straight. Their push was too little too late. Though, out of that year emerged a handful of dominant young players who had taken the first step to superstardom. Lead by Mark Scheifele the Jets' offense set the NHL ablaze, the only thing holding them back was their goaltender.
Connor Hellebuyck was always projected to be the goaltender of the future and now he's finally arrived. So far this year Hellebuyck has managed to amass himself a 15-3-3 record with an astonishing 2.44 goals against average and a rock solid .921% save percentage. Add that to a solid defensive core lead by younging Jake Trouba and a red hot offense containing players like Blake Wheeler, Mark Scheifele, Nicholas Ehlers and Patrick Laine you have the recipe for a 17-8-4 Jets team that's only getting better.
A big difference this year has been the Jets' goal differential which has gone from -7 to +17. Goal differential is calculated by using the number of goals scored in all matches and dividing it by the number of goals conceded in all matches. It's shown that the Jets have managed to solidify themselves defensively while not losing any offense.
7. Artemi Panarin Reaches New Heights.
Friday night was a big night for a lot of players. The best performance came from Columbus Blue Jackets left winger Artemi Panarin. He managed to put on a show helping lead the Blue Jackets out a 2-0 deficit and then lead his team to a 5-3 victory over the New Jersey Devils. Panarin did so by being the 25th player in NHL history to register 5 primary assists in a game.
A primary assist is awarded to the player who last passed the puck to the goal scorer while the secondary assist goes to the player who passed the puck to the primary assister.
Panarin was brought over to the Blue Jackets with offense in mind, he put up two 70 + point seasons while playing with the Chicago Blackhawks. Thus far, Panarin has slightly underperformed, but fans and teammates hope that this 5 point outburst will help kick start Panarin's offensive game.
8. Michael Thomas silent but deadly.
Thursday night color rush is always an exciting game, especially when it's between two of the strongest teams in the NFC. Saints vs Falcons the name alone would bring in a crowd, the Saints who have been dominating all season long, against the Falcons who are looking for that last playoff spot.
The game and most notably the Saints offense took a sharp turn when their young stud rookie running back Alvin Kamara left the game with a concussion. It was clear that the absence of Kamara had a big effect on the Saints and their game plans. On the first drive of the game Kamara managed to amass 25 receiving yards, lining him up for a big night. Without him in the line up the Saints were left scrambling, which eventually lead to Michael Thomas. Thomas has had a solid year but below average when it comes to catching touchdowns.
Coming into the game with only three TDs on the year Thomas came out hunting. He managed to link up with Drew Brees 10 times over the game recording 117 yards, also hauling in his longest catch of the year at 35 yards. Not only did he collect 117 yards but he also managed to get himself a TD in the process.
This was Thomas's best game of the year so far, even though the Saints ended up losing 17-20. The Saints and their fans will look for a couple more games like this from Thomas during the regular season, here's hoping he keeps the production up.
9. Snow day In Buffalo.
The average fan would have looked at the match-up of the Buffalo Bills being quarterbacked by Nathan Peterman as must miss television. In his first start ever the quarterback managed to throw 5 interceptions in one half, tying the record for most interceptions thrown by a quarterback in his first start. Add in a poor Indianapolis Colts team and you have a recipe for disaster.
With so many other watchable games going on why would you ever even waste time thinking about this game? Well, one reason might have been for the white out. Word quickly spread across twitter addressing the fact that the game was being played in the middle of a blizzard.
Tuning into the game gave you the opportunity to watch the absolutely enjoyable spectacle of running back versus running back, Frank Gore versus LeSean McCoy. The names alone might give you an indication as to who won the match-up, McCoy and his Bills managed to topple Indy thanks to a game winning touchdown from Kelvin Benjamin.
All in all, this game might not have been the most exciting, or the quarterback showdown to watch but the blizzard made for great hijinx, leading to an entertaining afternoon of football.
10. Is DeAndre Hopkins Undervalued?
After what can only be considered an off-year last year for DeAndre Hopkins it seems like he is back. All year long he has managed to dominate team after team, largely due to the fact that he finally had a reliable quarterback in DeShaun Watson… Or so we thought.
After Watson had suffered his season ending injury most fans speculated that it was also season ending for Hopkins. Hopkins and Watson had become one of the league's best duos, as Watson leaned on him to make the big plays. Once Watson had gone down the Texans had no choice but to rely on Tom Savage. It took a little bit of time but Hopkins had seemed to find his rhythm with Savage in which he continued to pull down touchdowns and big yardage.
Although, today against the 49ers Savage hit his head off the ground resulting in what appeared to be a seizure, not long after Savage was replaced with TJ Yates. Once again, Hopkins fans looked at this as the end of his season, but the change of quarterback seemed to energize Hopkins. This resulted in a total of 11 catches, 149 yards and 2 touchdowns. Hopkins managed to blow the doors wide open.
All of that to say, I believe that DeAndre Hopkins is currently one of the best receivers in the National Football League and I believe he deserves the recognition. Fans will look for Hopkins to continue having one of the best years of his career, no matter what quarterback in under center.
That's all for this week! Hope you enjoyed it. Excited to see what next week brings.
---