Week 11: Start 'Em/Sit 'Em Review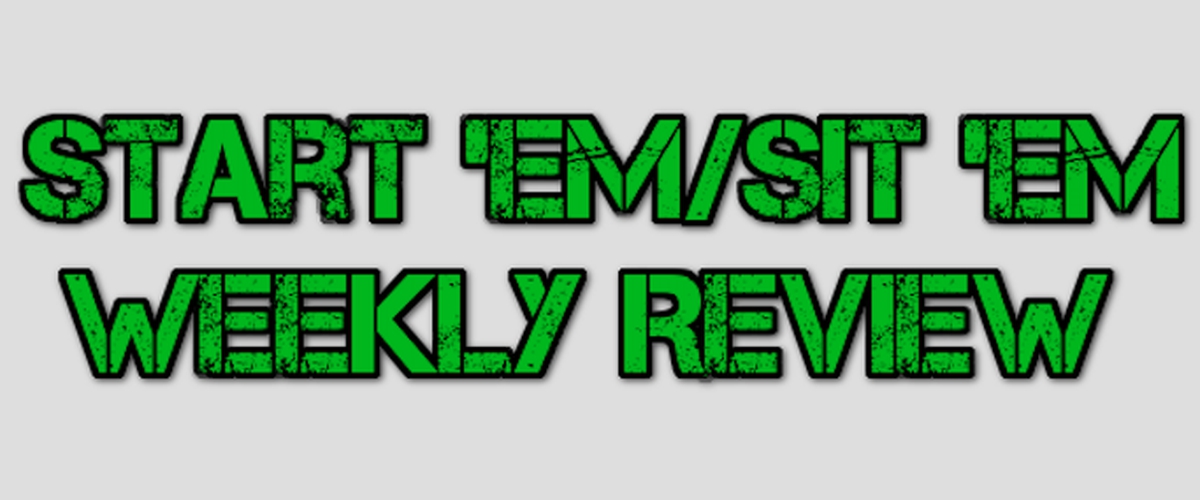 Alright we're back with another weekly review, hopefully everyone had a winning fantasy weekend. I think we had a pretty solid week of picks so I'm excited to jump right in and find out exactly how we did:
*QUARTERBACK*
-START-
Dak Prescott (14.8 points): 22/32, 208 passing yards, 0 TD, 1 Ru TD
Jared Goff (35.1 points): 31/49, 413 passing yards, 4 TD, 0 INT, 1 Ru TD
Carson Wentz (0.8 points): 19/33, 156 passing yards, 0 TD, 3 INT
Our start section had some good, bad, and ugly in Week 11. Jared Goff finished as the second overall fantasy quarterback in that fantastic Monday Night shootout between the Rams and Chiefs. Dak Prescott had an alright day, but didn't throw for any touchdowns which really would've helped his fantasy output. Carson Wentz had one of the worst fantasy performances of the season, weird week.
-SLEEPERS-
Marcus Mariota (3.1 points): 10/13, 85 passing yards, 0 TD, 1 INT
Lamar Jackson (15.7 points): 13/19, 150 passing yards, 0 TD, 1 INT
Not a very good day for the quarterback picks here, Mariota had an absolute stinker and Lamar Jackson played alright but wasn't able to find the end-zone which really hurt his day. Jackson also added an NFL record 27 rushes by a quarterback for 117 rushing yards.
-SIT-
Kirk Cousins (17 points): 30/46, 262 passing yards, 2 TD, 2 INT
Philip RIvers (19.6 points): 28/43, 401 passing yards, 2 TD, 2 INT
Andy Dalton (19.3 points): 19/36, 211 yards, 2 TD, 0 INT
Absolutely awful picks for us this week at quarterback and we paid for it in our daily fantasy leagues. Poor effort here team!
Week 11 QB Score: 50% (Week 10 QB score: 75%)4/8
*RUNNING BACK*
-START-
Alex Collins (7.8 points): 7 carries, 13 rushing yards, 1 TD
Doug Martin (6.8 points): 10 carries, 52 yards
Philip Lindsay (26.6 points): 11 carries, 79 rushing yards, 2 TD
Lindsay's big day saved me from utter humiliation here, Collins was able to score a touchdown but had a miserable day other than that while Doug Martin was absolutely shut down all day.
-SLEEPERS-
Dion Lewis (4.2 points): 10 carries, 24 rushing yards
Theo Riddick (8 points): 5 catches, 30 yards
Neither sleeper was able to score a touchdown or really do anything. Another disappointing round of sleepers.
-SIT-
Adrian Peterson (17.1 points): 16 carries, 51 rushing yards, 2 TD
Austin Ekeler (8.9 points): 6 carries, 29 yards, 2 Rec, 40 yards
Royce Freeman (10 points): 7 carries, 23 yards, 1 TD
Adrian Peterson was able to score two close touchdowns and other than that he had a miserable day only gaining 51 yards on 16 carries. Royce Freeman's day was salvaged by a touchdown, but other than that he didn't contribute much to the Broncos. Exactly how we predicted, Ekeler didn't see much action again this week.
Week 11 RB Score: 38% (Week 10 RB score: 50%)3/8
*WIDE RECEIVER*
-START-
Amari Cooper (6.6 points): 3 catches, 36 receiving yards
Robert Woods (17.2 points): 4 catches, 72 receiving yards, 1 TD
Larry Fitzgerald (16.3 points): 2 catches, 23 receiving yards, 2 TD
Woods was the highest performing, but most disappointing outing in this section. The Rams receiver was targeted 11 times and was only able to haul in four catches. Fitzgerald salvaged his day with two red-zone touchdowns, but that's good enough for anyone who played him this week. The Cowboys let us down big time in a prime matchup against the Falcons and Amari Cooper was no exception. We won't be trusting those Cowboys again this season. Cooper's back to the bench.
-SLEEPER-
Alshon Jeffrey (7.3 points): 4 catches, 33 receiving yards
Tre'Quan Smith (31.7 points): 10 catches, 157 receiving yards, 1 TD
Another 50/50 split on sleepers, the Eagles were another disappointment from the NFC east this week as the Saints held them to a measly seven points. On the other hand after recording zero catches last week Tre'Quan Smith burst back on the scene with a massive game against Jeffrey's Eagles.
-SIT-
Demaryius Thomas (0 points): 0 catches, 0 receiving yards, 1 target
Michael Crabtree (1.7 points): 1 catches, 7 receiving yards
Calvin Ridley (6.7 points): 3 catches, 32 receiving yards
We finally have a perfect section here as Thomas and Crabtree both did next to nothing. Ridley only saw four targets come his way and didn't find the end-zone which made him a huge bust this week.
Week 11 WR Score: 75% (Week 10 WR score: 50%)6/8
*FINAL WEEK 11 CONCLUSIONS*
Another slight improvement this week, but our goal is to be in the 75% accuracy range for our picks. We've been weak on quarterbacks and strong in receiver picks the two weeks which is unusual because we're almost always better at picking quarterbacks. The fantasy football season is sadly coming to a close, its an exciting time if you're fighting for a spot or already heading to the playoffs so stay tuned for next week's Start 'Em/Sit 'Em!
Total Week 11 Score: 54% (Total Week 10 Score: 53%)
---