Week 3: Start 'Em/Sit 'Em Review
We're starting something new this week, every Tuesday we'll be reviewing our Start 'Em/Sit 'Em picks from the weekend to find out how good (or bad) our picks were.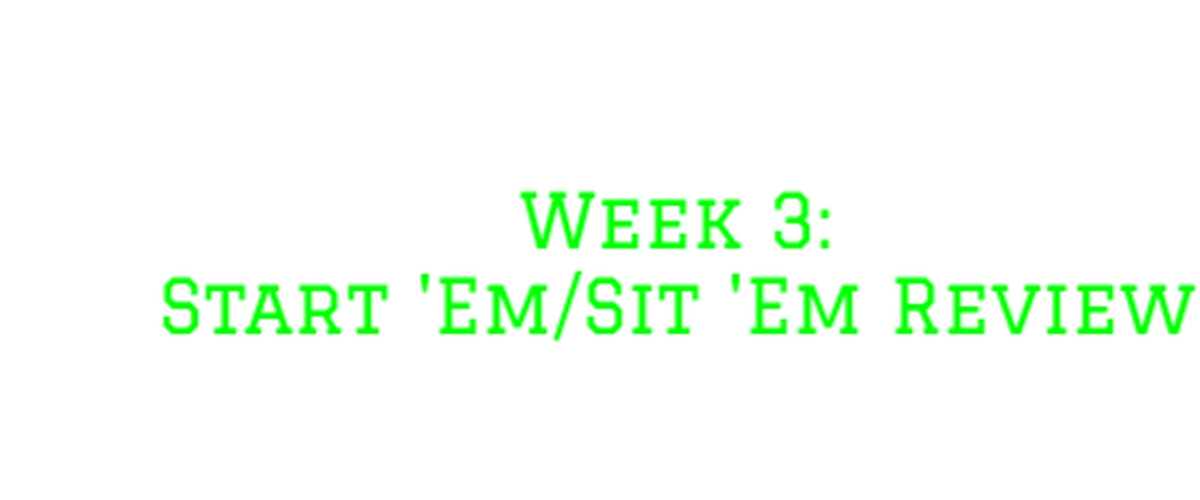 *QUARTERBACK*
-START-
Kirk Cousins (10 points): 40/55, 296 passing yards, 1 TD, 1 INT, 2 Fumbles
Matt Ryan (40.2 points): 26/35, 374, passing yards, 5 TD, 0 INT
Ryan Fitzpatrick: (25.1 points): 30/50, 411 passing yards, 3 TD 3 INT
Well, Kirk Cousins was about as big of a miss as we possibly could've had this week. The Vikings didn't show up to play at home and in the NFL you have to come to play every week. Fitzpatrick didn't have as stellar of a game as we thought, but he still finished as a Top-10 fantasy quarterback this week. On the other hand, Matt Ryan had an incredible day at home finishing as the number two overall quarterback in Week 3.
-SIT-
Carson Wentz (11.2 points): 25/37, 255 passing yards, 1 TD, 1 INT
Andy Dalton (14.1 points): 29/46, 352 passing yards, 2 TD, 5 INT
Case Keenum (5.7 points): 22/34, 192 passing yards, 0 TD, 1 INT
We were pretty spot on with our Sits this week as none of the three guys above finished in the Top-15 of fantasy quarterbacks this week. Wentz didn't have a terrible game, but you can tell he's still working his way back. Dalton and Keenum each faced tough road tests and fared exactly how we predicted, poorly.
-SLEEPERS-
Jimmy Garoppolo (22.3 points): 20/30, 251, passing yards, 2 TD, 0 INT
Mitchell Trubisky (5.6 points): 24/35, 220 passing yards, 0 TD, 1 INT
Our sleepers were exactly opposite performers this week, they both played fantasy-friendly defenses, but only Jimmy G took advantage. Garoppolo finished in the Top-10 of fantasy quarterbacks while Trubisky finished Bottom-10. Bad news for Garoppolo is that he's out for the season with a torn-ACL. Time to hit the waiver wire..Baker anyone?
Week 3 QB Score: 6/8
*RUNNING BACK*
-START-
Jordan Howard (16.1 points): 24 carriers, 61 rushing yards, 1 TD
Tevin Coleman (12.7 points): 15 carries, 33 rushing yards, 1 TD catch
Sony Michael (5.9 points): 14 carriers, 50 yards
Definitely not our strongest week with the running back predictions as Jordan Howard was the only one to finish in the Top-20 of fantasy running backs. We had Sony Michael as a boom-or-bust option this week and he was surely a bust. We'll do better next week!
-SIT-
LeSean McCoy (0 points): Did not play
Phillip Lindsay (2 points): 4 carries, 20 rushing yards
Royce Freeman (12.8 points): 13 carries, 53 rushing yards, 1 TD
Derrick Henry (5.7 points): 18 carrier, 67 rushing yards
We nailed the Sit portion of running backs this week as LeSean McCoy sat out, Phillip Lindsay got ejected in the second quarter (couldn't have seen that coming), and Derrick Henry was massively ineffective. Due to Lindsay's ejection, Royce Freeman got all the carries and ended up having a decent week mostly salvaged by a touchdown.
-SLEEPER-
Lamar Miller (14.1 points): 10 carries, 10 yards, 5 catches, 41 yards, 1 TD
Matt Breida (14.7 points): 10 carries, 90 yards, 3 catches, 27 yards
Our running back sleepers were middle of the pack this week finishing in the Top-25 with almost identical totals. Breida would have had a really nice game had he been able to find the end zone.
Week 3 RB Score: 7/9
*WIDE RECEIVER*
-START-
DeSean Jackson (6.7 points) 3 catches, 37 yards
Adam Thielen (24.5 points) 14 catches, 105 yards
Stephon Diggs (5.7 points) 4 catches, 17 yards
Julio Jones (14.6 points): 5 catches, 96 yards
There wasn't a single touchdown caught by one of the guys we had as a start, and that'll hurt. Thielen finished as the number six overall wide-out in Week 3, but other than that our picks here were ugly!
-SIT-
Corey Davis (5.4 points): 2 catches, 34 yards
Randall Cobb (4.3 points): 4 catches, 23 yards
JuJu Smith-Schuster (20.6 points): 9 catches, 116 yards
We were pretty spot on here with Cobb and Davis having predictably bad weeks against tough defenses. JuJu Smith-Schuster saw his targets cut in half this week as we predicted, but he still took advantage of the 11 balls thrown his way catching 9 of them.
-SLEEPER-
Allen Robinson (8 points): 3 catches, 50 yards
Tyler Lockett (18.2 points): 4 catches, 77 yards, 1 TD
It seems like our sleepers have been a split almost every time, Robinson failed to take advantage of a soft Cardinals defense while Lockett was able to beat the Cowboys over the top for a 52-yard score.
Week 3 WR Score: 4/9
*TIGHT END*
-START-
Jared Cook (8.1 points): 5 catches, 31 yards
O.J. Howard (13.2 points): 6 catches, 72 yards
After a blistering Week 1 Jared Cook has had two mediocre games in a row while O.J. Howard finished the week with another Top-10 fantasy performance. Howard could've had a stellar week had he been able to score a touchdown on Monday night.
-SIT-
Tyler Eifert (13.4 points): 6 catches, 74 yards
Eric Ebron (8.3 points): 5 catches, 33 yards
We would have been spot on had we switched Eifert with Cook! Eifert is a great fantasy option if he can stay healthy, but we just have a hard time believing he will be. Meanwhile, Ebron saw 11 targets and was only able to haul in 5 of them.
Week 3 TE Score: 2/4
*FINAL WEEK 3 CONCLUSIONS*
Week 3 didn't go as well as we hoped, we put a lot of weight into the Vikings crushing the Bills which ended up being a massive disappointment (unless you're from Buffalo). We got some good insights from doing this review and hope you did from reading it. Until our Week 4 Start 'Em/Sit 'Em comes out on Thursday feel free to tweet us any fantasy football questions! @LastPlaceFF
Total Week 3 Score: 19/30
---