2020 NFL 3-Round Mock Draft: Post NFL Combine
With the 2020 NFL Combine in the books, it is much easier to get an idea of what players have made the move to increase their NFL Draft stock. There is still a lot still to happen in NFL Free Agency that will certainly affect this NFL Mock Draft but with what we know currently, here is how I think things will shake out in late April.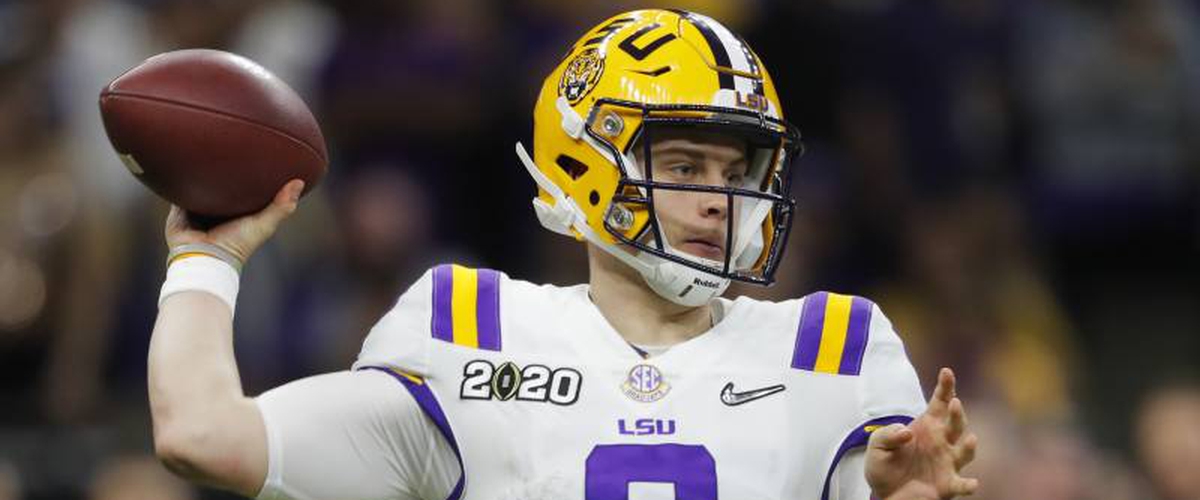 (photo credit: Bleacher Report)
1. Cincinnati Bengals: Joe Burrow QB - LSU
Go ahead and put this one in Sharpie. The Bengals have talent on the offensive side of the ball. Burrow can help younger players like Tyler Boyd and Joe Mixon reach their full potential. There really isn't much to knock on his game. We all know that Burrow had one of the greatest seasons in college football history last year. He won the Heisman Trophy, undefeated season, National Championship, etc... Burrow will give Head Coach, Zac Taylor, exactly what the team needs. Burrow may not have the strongest arm, but he is a winner and his awareness of the game is elite. Bengals fans rejoice that they no longer have to spend Sunday's watching the Red Rifle command the offense.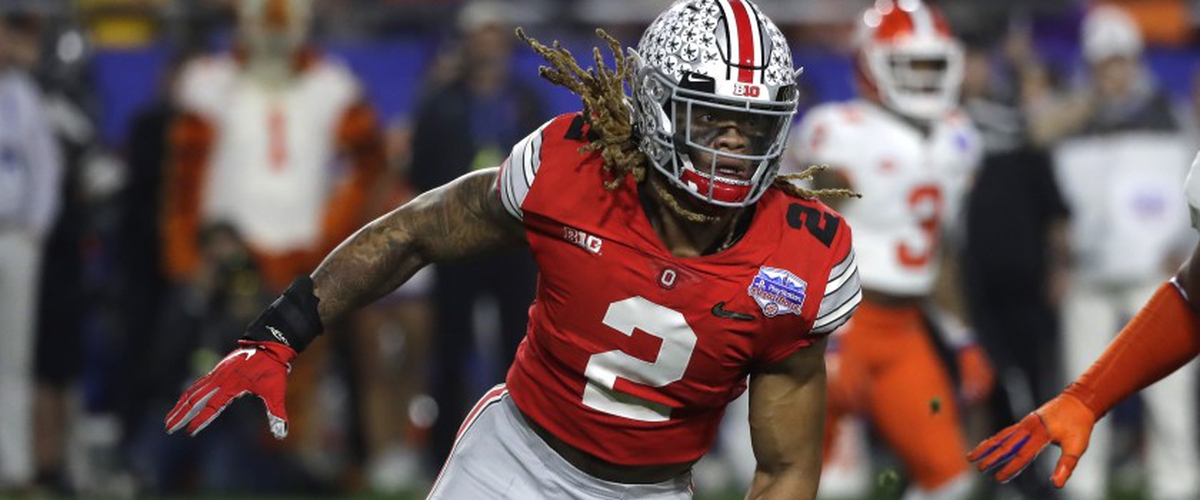 (photo credit: LA Times)
2. Washington Redskins: Chase Young EDGE - Ohio State
This one you can put in pencil. A lot of speculation has recently come up regarding Washington's interest in Alabama quarterback, Tua Tagovailoa. Is it smoky in here? It is prime smokescreen season. My personal belief is they are putting that report out there to get a team to try and offer a ransom to draft Tua at #2 overall. At the end of the day, Washington stays put and drafts the man they call, "The Predator." My #1 prospect in the NFL Draft adds to an already-stout defensive line. If Chase Young reaches anywhere close to his full potential, Washington will have the most terrorizing edge rusher in the NFL in a few years. Predator, Terminator, Machine, whatever you want to call him, Young is going to put Washington as a top tier defense for years to come.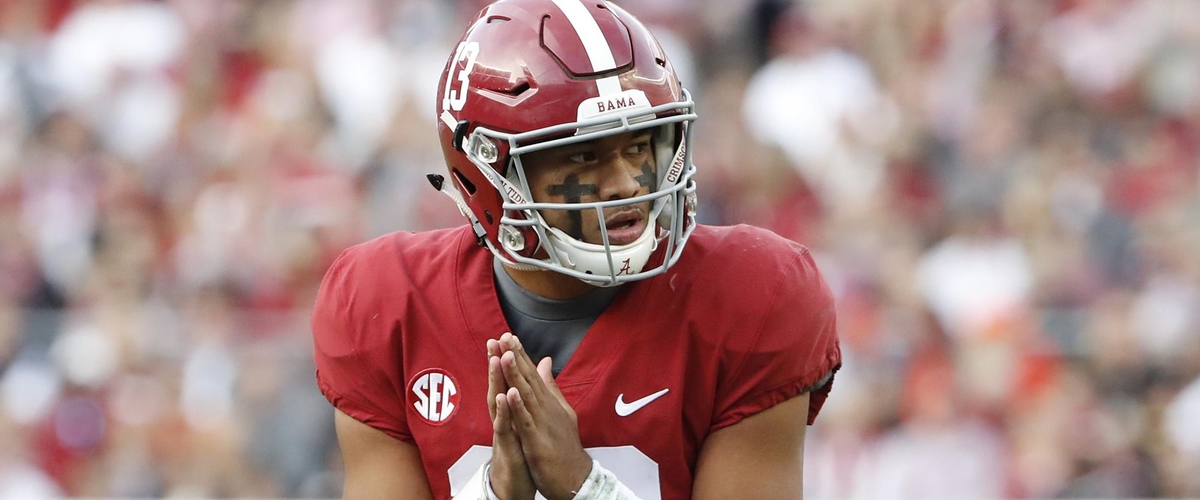 (photo credit: University of Alabama)
3. *TRADE* Miami Dolphins from Detroit Lions: Tua Tagovailoa QB - Alabama
Let the chaos ensue! Not even 3 picks in before the Dolphins make the first big splash and trade up to get Tua. Knowing they might not get him if they wait until the 5th pick, they jump up and get their guy. Now, some may bring up that I have been on record thinking Miami sits back and takes Justin Herbert at the 5th pick. In my opinion, Miami has Tua and Herbert graded out pretty equal. However, as it gets closer to the draft, I am beginning to believe that Miami gained all of their current draft capital for this exact reason. To go trade up and get their franchise guy. Tua's talent is ELITE. The biggest question with Tua since his season-ending injury has been his health and how his body is healing. Tua received great news at the combine giving him a timeline that would allow him to participate at his Pro Day in April. A mix of Drew Brees & Russell Wilson, what more could you ask for?
TRADE COMPENSATION
Dolphins receive: #3 Overall
Lions receive: #5 Overall, #26 Overall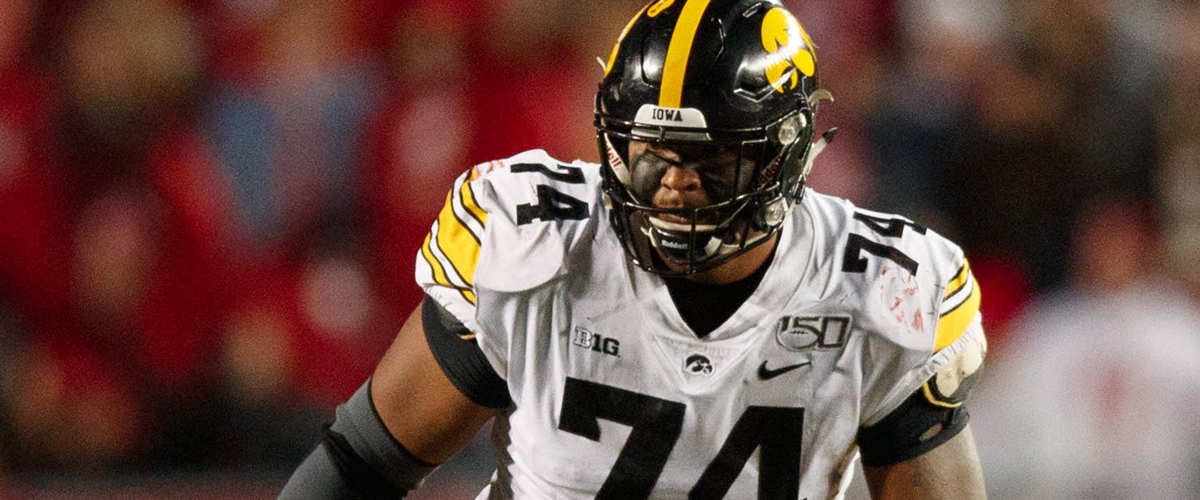 (photo credit: Sports Illustrated)
4. New York Giants: Tristan Wirfs OT - Iowa
The first of many Offensive Tackles that will be taken in the 1st Round of the 2020 NFL Draft. Why Wirfs over Wills/Becton/Thomas? Wirfs put on a clinic at the NFL Combine and showed his elite athleticism. He is a monster in the weight room and also a former All-State wrestler in high school. The Big Ten Offensive Lineman of the Year will come in and be an immediate starter for Joe Judge's new team. The Giants will be elated with the impact he will bring in providing protection to Daniel Jones and creating running lanes for Saquon Barkley. Judge's new hardnose attitude will fit perfect for Wirfs and his bully mentality.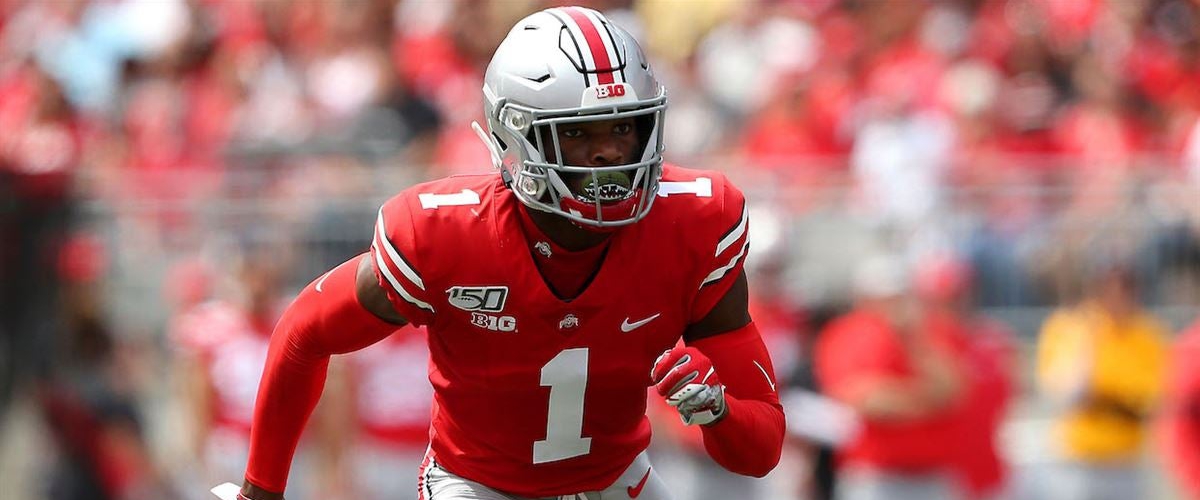 (photo credit: 247Sports)
5: *TRADE* Detroit Lions from Miami Dolphins: Jeff Okudah CB - Ohio State
Detroit with a phenomenal trade picking up an extra 1st for a guy they were going to take all along at their original pick. Now let's not forget, Detroit was miserable against the pass last season and "miserable" is pretty generous. They were dead last in the NFL in defending the pass. Even worse is that they're likely losing their stud cornerback, Darius Slay, to Free Agency. Okudah is a must for Detroit. He is a lockdown corner who is a master at his craft. Okudah can be a Jalen Ramsey/Patrick Peterson type corner that can allow Detroit to eliminate the opposing team's top WR. Detroit will have some interest for this pick from other teams trying to trade into it, however, the compensation won't be enough for them to potentially miss out on Okudah. Okudah also ran a 4.48 40-yd dash and had a 41-inch vertical in this year's combine, which just put the icing on the cake.
TRADE COMPENSATION
Lions receive: #5 Overall, #26 Overall
Dolphins receive: #3 Overall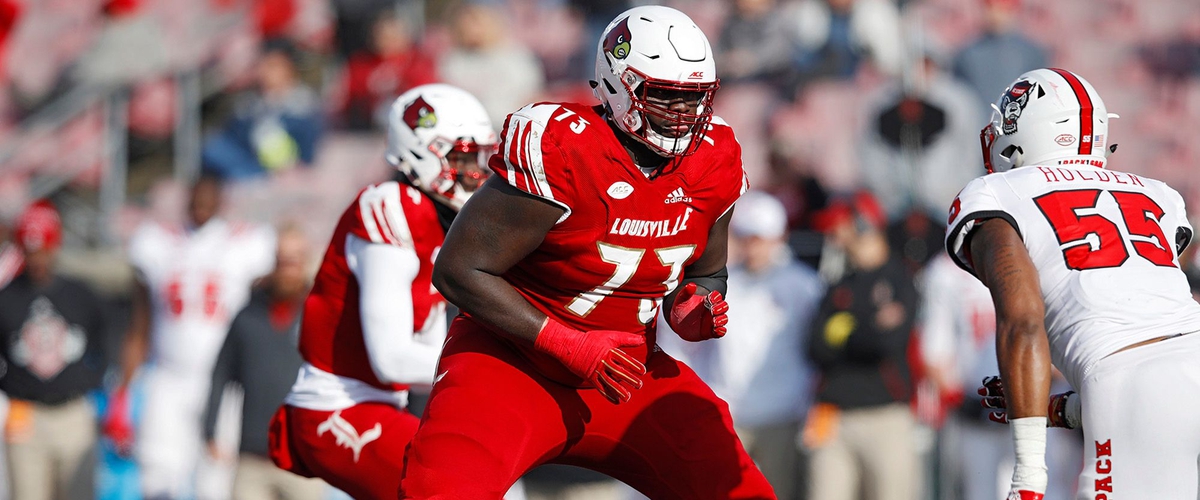 (photo credit: New York Post)
6. Los Angeles Chargers: Mekhi Becton OT - Louisville
The Chargers have a huge decision to make here. Do they take their quarterback of the future or continue to build in the trenches? In a recent trade of OT Russell Okung to Carolina in return for OG Trai Turner, it shows that the Chargers are trying to get younger on the offensive line. However, with that trade, they now have no legitimate offensive tackles on their roster. Mekhi Becton fixes that problem in a heartbeart. Becton's stock has also risen exponentially over recent months and to be honest, I wouldn't be shocked at all if he's off the board by this pick. Becton is the size of a mountain and he moves extremely well for his size. He has expressed that he feels he is the most dominant tackle in this class and while I don't agree with that. I look for the Chargers to address the quarterback position in free agency or possibly in the 2nd Round.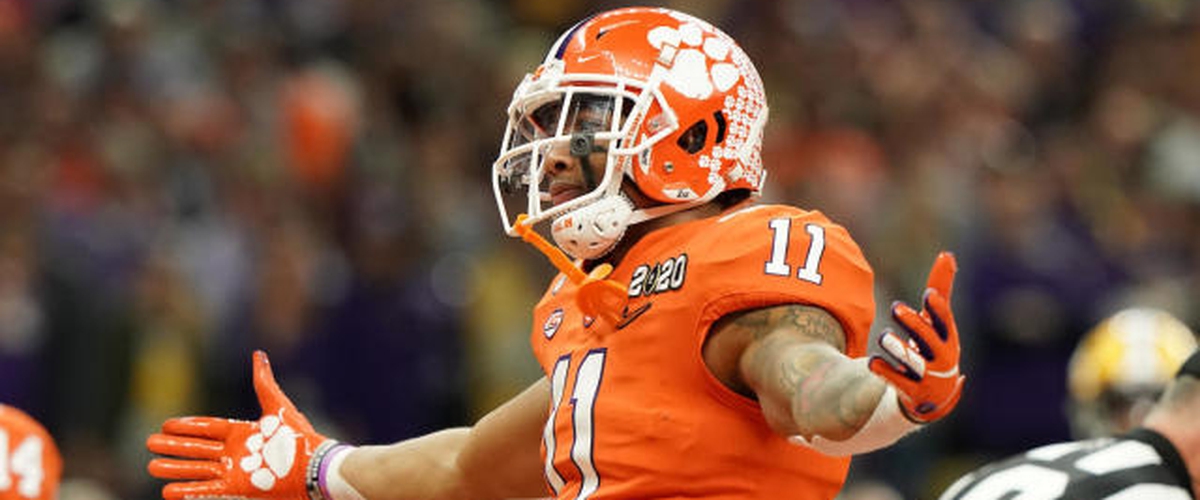 (photo credit: CBS Sports)
7. Carolina Panthers: Isaiah Simmons LB/S - Clemson
Could the Panthers make a move for a QB after getting new Head Coach, Matt Rhule, and Offensive Coordinator, Joe Brady? Absolutely, but it doesn't seem likely. The Panthers were hit with a bomb with the unexpected retirement of the Luke Kuechly. While it will be nearly impossible to replace the All-Pro Linebacker, they are getting the most versatile player in all of college football. Simmons is the ultimate chess piece. He lined up at every defensive position last season for the Tigers. The guy might as well have been built in a lab. At 6'4 238lbs, he went and ran a 4.39 40-yd dash at the combine. Simmons is going to take the Panthers' defense are bring them back to the top of the league in no time at all. He is the guy that offenses have to account for on every play. Panthers are on the rise now with the most versatile offensive (Christian McCaffrey) and defensive player in the NFL.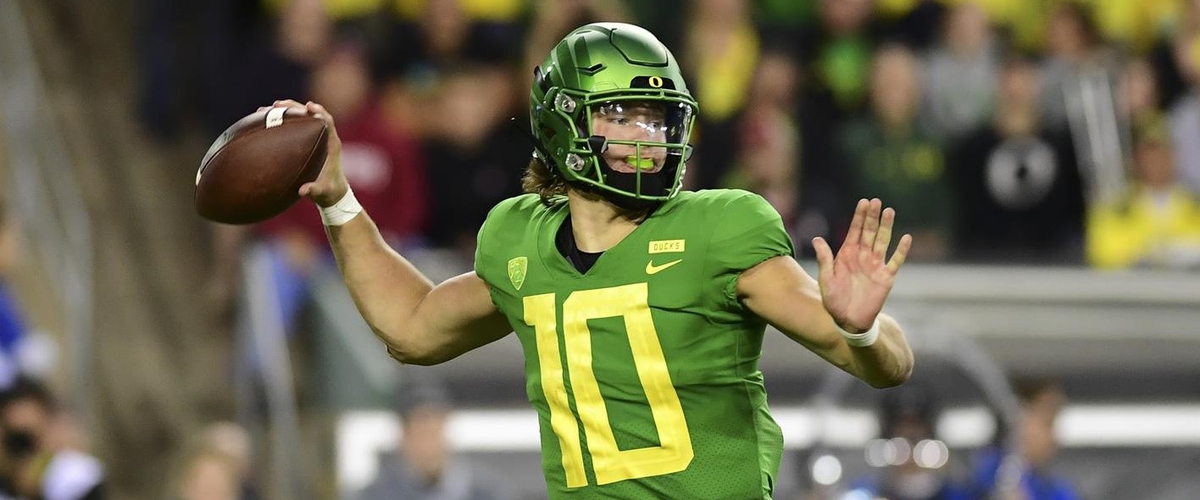 (photo credit: GoDucks)
8. *TRADE* Indianapolis Colts from Arizona Cardinals: Justin Herbert QB - Oregon
This is quite the splash! I love Justin Herbert and I mean it when I say that. Herbert looks the part and his right arm might as well be a bazooka. At the NFL Combine, he showed off his arm strength, athleticism, and his leadership skills. Acing interviews with flying colors, Herbert showed teams that they can rely on him to become a franchise QB for any team. Indianapolis gave Jacoby Brissett a shot last season and he did fine, but this team wants to win now. I love Frank Reich and with a good quarterback, I think that they can compete for that division. The Colts have some solid pieces in place with TY Hilton, Eric Ebron, and Marlon Mack. Now they need a leader under center to take this team over. Jacoby was a phenomenal backup to Andrew Luck, and he'll continue to be one for Justin Herbert.
TRADE COMPENSATION:
Colts receive: #8 overall
Cardinals receive: #44 overall, 2021 1st Rd pick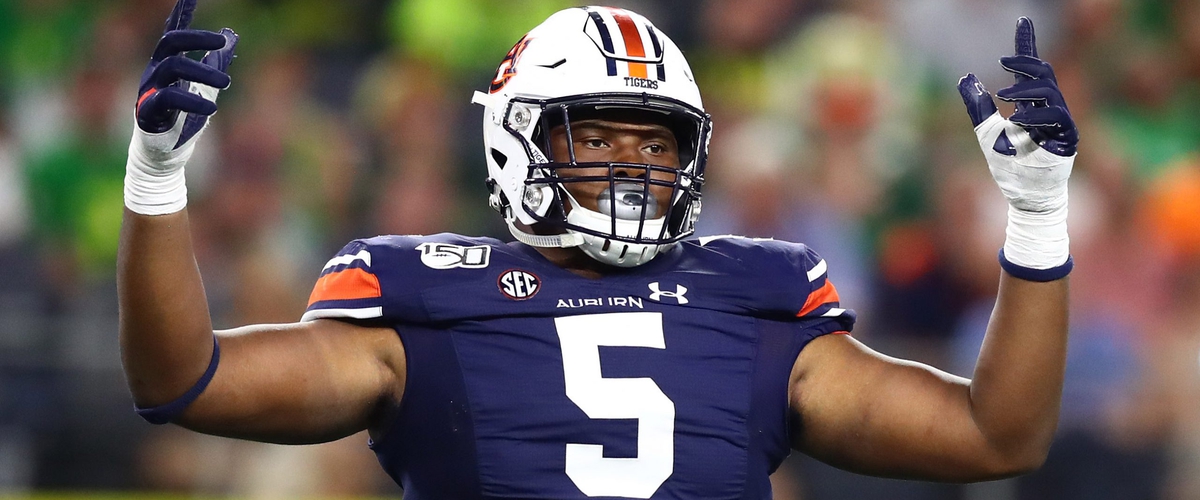 (photo credit: Pro Football Network)
9. Jacksonville Jaguars: Derrick Brown DT - Auburn
With the first of their two 1st Rounders, the Jags bolster their defensive line with Derrick Brown. Several SEC offensive lineman at the combine were asked who the best player they faced in their careers was and there seemed to be a common denominator. That was Derrick Brown. He was a force inside for offenses, constantly requiring double teams. The Jaguars recently hired Trent Baalke as their Director of Player Personnel. You may recognize that name because he was San Francisco's General Manager from 2011 to 2016. Baalke was the man who drafted Arik Armstead and DeForest Buckner, two of the 49ers top defensive players on that stout defense. I could see Baalke bringing that same mentality to Jacksonville and build up the trenches. I do think quarterback is sneakily in play here, but ultimately, the value of Brown is too tough to pass up.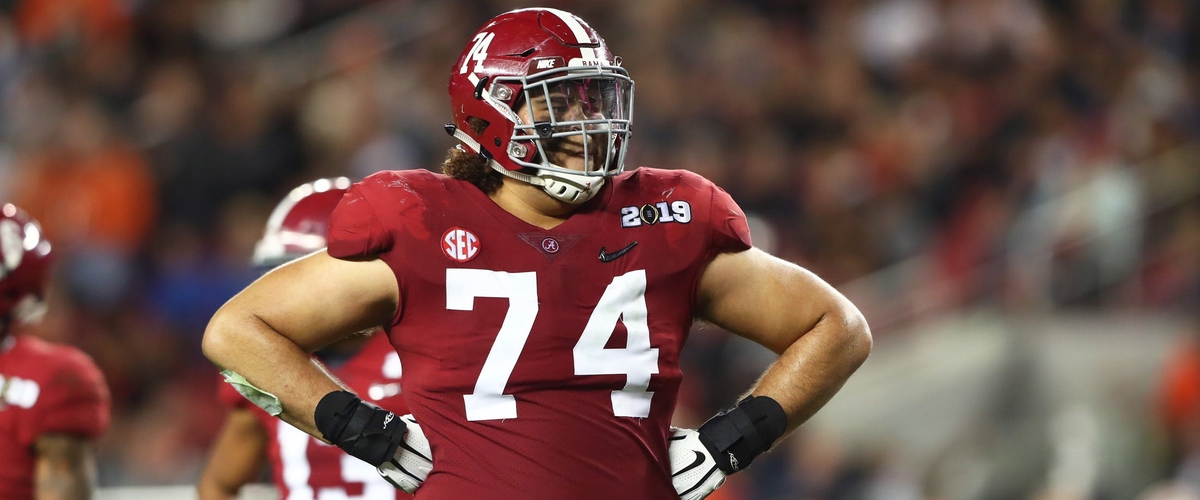 (photo credit: Sports Illustrated)
10. Cleveland Browns: Jedrick Wills Jr. OT - Alabama
It's pretty safe to say that the Browns didn't meet expectations last season. A lot of people around the NFL seemed to think they could take over the AFC North with the weapons the team had on offense. I think the issue was more in the coaching staff than the players. I think new head coach, Kevin Stefanski will do a much better job than Freddie Kitchens did. The first step needs to be to get Baker more protection to have the opportunity to get the ball to their star weapons. Jedrick Wills Jr. is a steal at the 10th pick. This is a guy that has risen up the draft boards since declaring. Wills is quick off the ball and plays very loose. He's one of the most impressive and well-rounded Offensive Tackles in the draft because of his athleticism and size. He also plays with a mean streak, which will be tailor-made for Cleveland.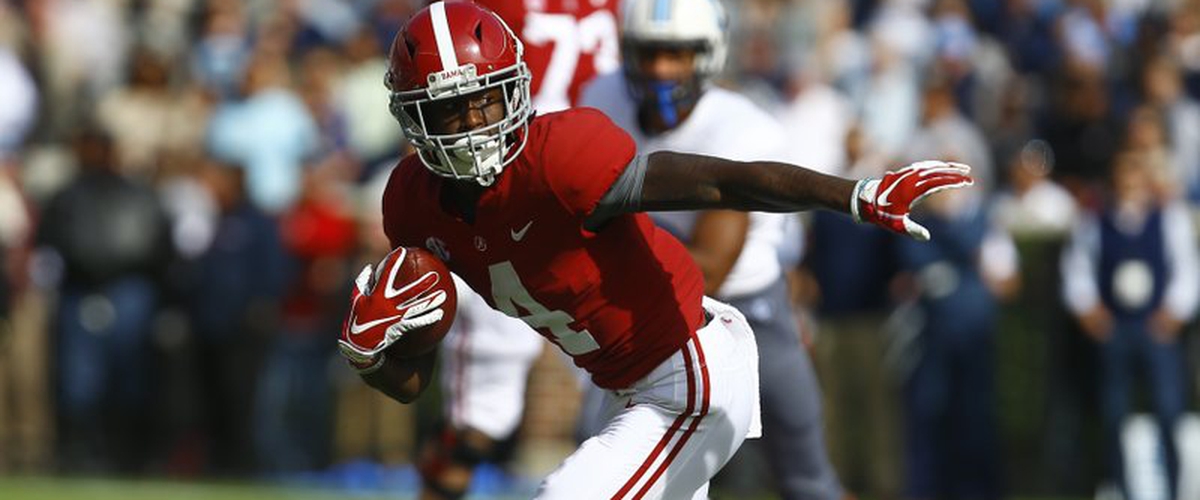 (photo credit: AP News)
11. New York Jets: Jerry Jeudy WR - Alabama
Back to back Bama players. This is straight highway robbery. The steal of the draft, in my opinion. Jerry Jeudy is a top 5 player in this draft. Jeudy glides when he runs. No one is smoother than this guy. His route running is to the likes of Amari Cooper and he's as explosive as Odell Beckham Jr. He dominated college football in a conference full of NFL-ready cornerbacks. The Jets have been linked to adding offensive tackle, Jack Conklin, in free agency. That move would allow them to make this move. They could most certainly take Georgia offensive tackle, Andrew Thomas, with this pick and protect Sam Darnold, but I think they give him the top playmaker in the draft instead. Jets will most certainly build on the offensive line in the coming rounds but when a player like Jeudy falls into your lap, you take your shot.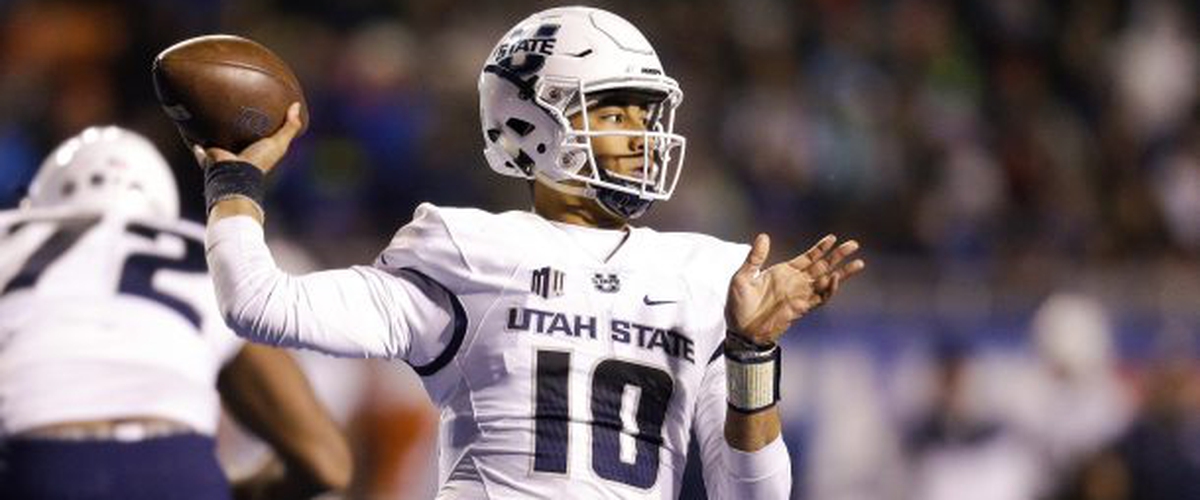 (photo credit: College Football Talk)
12. Las Vegas Raiders: Jordan Love QB - Utah State
What?! A quarterback?! Yes. I think the Raiders are over the Derek Carr era. Now, Jordan Love is sitting there on the board. I think he may remind the Raiders of a special someone they happen to play against twice a year *cough Mahomes cough*. Do I think Love is going to be Mahomes? No, but he has all the tools. He has a strong arm, he's athletic, and I think Gruden would love to mold a guy like Love. Let's not pretend like the Raiders don't have other massive needs, because they do. However, if you can get a guy that can change your franchise at the most important position in the game, you have to shoot your shot. With the Raiders moving to Las Vegas, they may need to hit the refresh button to get fans excited and sell tickets. Jordan Love will bring excitement and the matchups in the AFC West between him and Mahomes.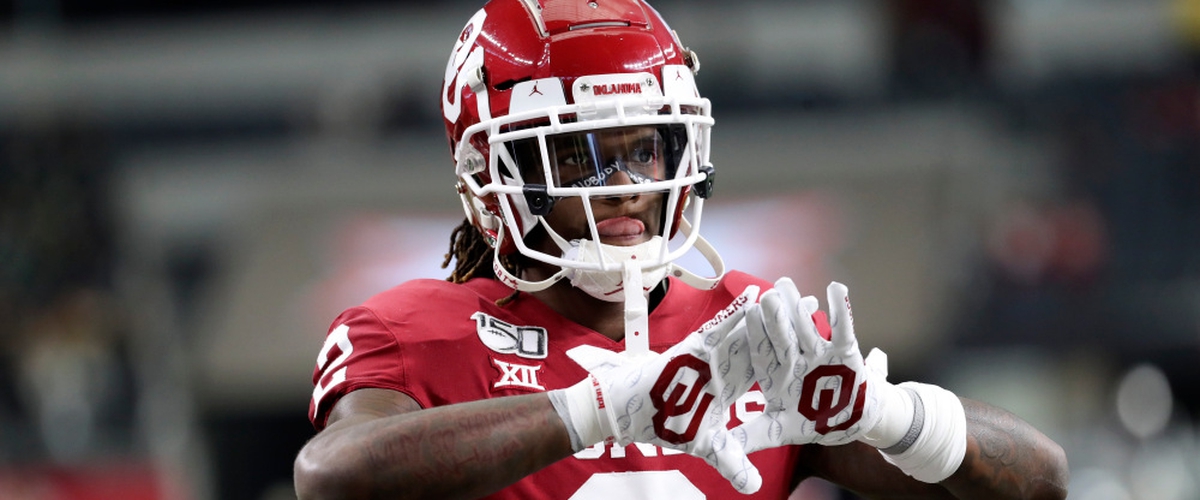 (photo credit: Sooners Wire)
13. *TRADE* Arizona Cardinals from Arizona Cardinals: CeeDee Lamb
How could you not love this fit? Kliff Kingsbury said that if the Cardinals' first pick were up to Kyler Murray, he would take former teammate, CeeDee Lamb. Well, like his quarterback, Kingsbury is also in the same mindset. While Christian Kirk is promising, Larry Fitzgerald is getting older, and Kyler needs a true #1 wide receiver. Lamb posted nearly 2,500 yards and 25 receiving touchdowns in the past 2 seasons at Oklahoma. He was virtually unstoppable and is consistently receiving comparisons to DeAndre Hopkins. While I don't exactly see that comparison, I think he can evolve into a human highlight reel in Kingsbury's offense. The addition of Kenyan Drake gave Arizona another dimension of the offense that they were searching for with David Johnson banged up. An offense with Kyler Murray, Kenyan Drake, and CeeDee Lamb will be a nightmare for opposing teams.
TRADE COMPENSATION:
Cardinals receive: #44 overall, 2021 1st Rd pick
Colts receive: #8 overall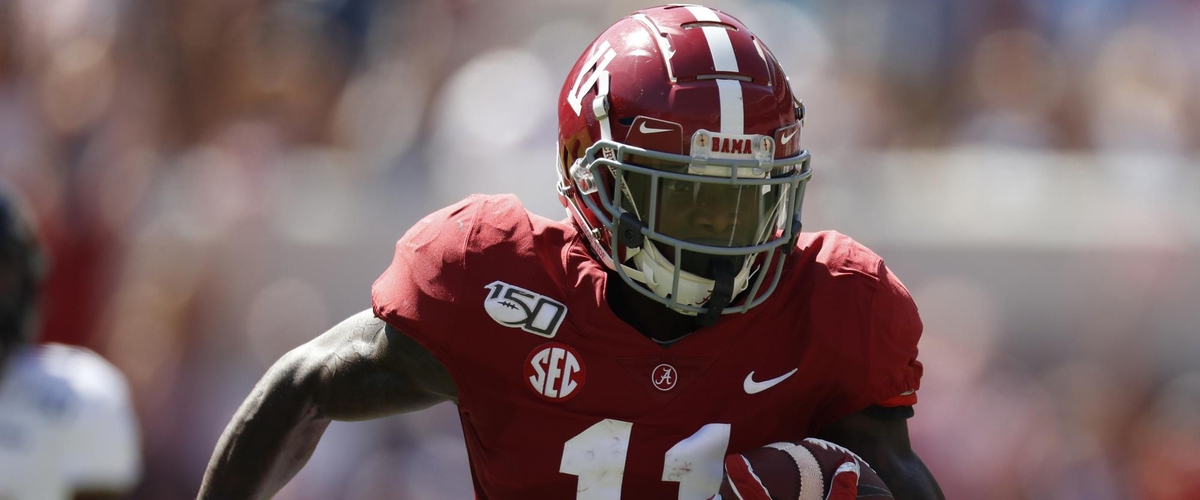 (photo credit: University of Alabama)
14. *TRADE* Philadelphia Eagles from Tampa Bay Buccaneers: Henry Ruggs III WR - Alabama
Another splash! This one is much needed as well for a team that was decimated at the wide receiver position last season. The Eagles trade up right in front of the Broncos to steal the speedster Henry Ruggs III. I don't think I've ever seen a player where everyone was somewhat disappointed after running a 4.27 40-yd dash. Oh, he also had a 42-inch vertical jump as well. This guy is a freak and can change the entire complexion of a game. Everyone wants to throw out the Tyreek Hill comparison, but a lot of people have recently compared him to DeSean Jackson, which is spot on. What a coincidence, Jackson also played for the Eagles. Wentz desperately needs weapons for him to get back to MVP form and they can begin that process with giving him the most explosive wide receiver in the draft. That offense would be downright scary with the speed of Ruggs and running back, Miles Sanders.
TRADE COMPENSATION
Eagles receive: #14 overall, #195 overall
Buccaneers receive: #21 overall, #53 overall, 2021 2nd Rd Pick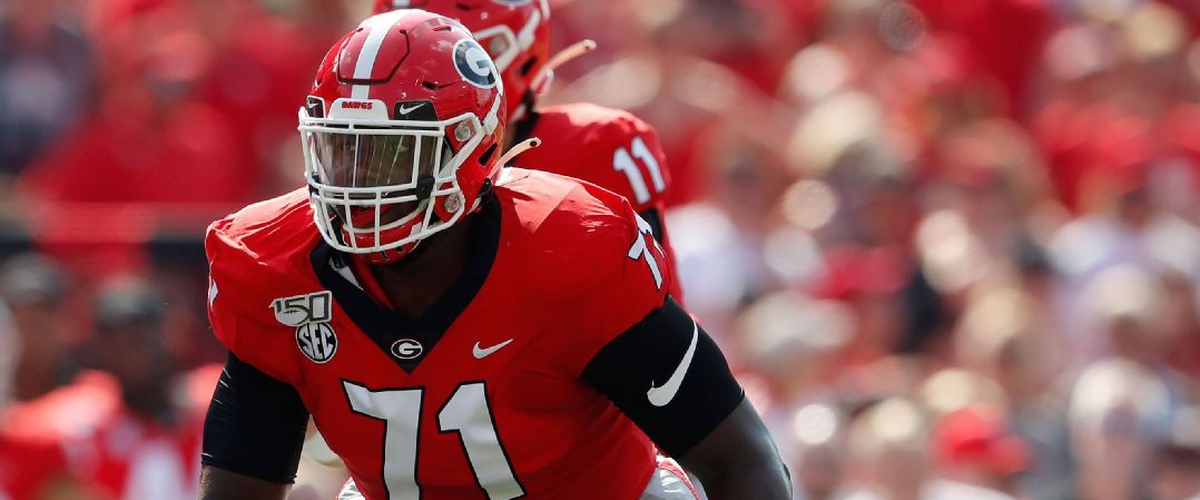 (photo credit: ESPN)
15. Denver Broncos: Andrew Thomas OT - Georgia
Denver had Henry Ruggs III draft day jersey stitched until the Eagles pulled the robbery and stole him in a draft day trade. However, this might be a good thing for Denver. It was a bit of a disappointing year from their offensive line with Ju'Wuan James only playing 63 snaps due to injury. Denver also announced they're waiting until after the draft to make a decision on the 5th year option for Garett Bolles. Andrew Thomas is a freak athlete and was widely considered one of the top offensive tackles in college football for the last two seasons. Thomas is massive at 6'5 315 lbs and has long 36-inch arms. He has great footwork for a big man and has excelled in both the pass and run blocking department at University of Georgia. If Thomas is still on the board with Ruggs gone, this is truly an easy decision.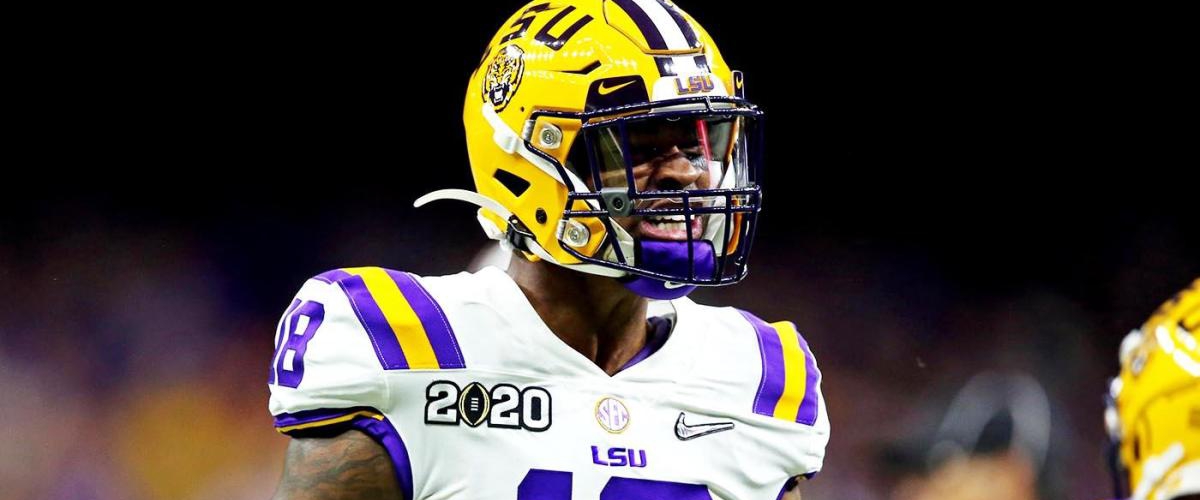 (photo credit: CBS Sports)
16. Atlanta Falcons: K'Lavon Chaisson EDGE - LSU
Only one team in the NFL had less sacks than the Falcons last season. Atlanta is desperate for a edge rusher and they have a plethora to choose from in this draft. While the class is deep at the edge position, Chaisson can give the Falcons that speed rusher they haven't been able to find. It seems they are letting their former 2015 1st Rd pick, Vic Beasley, walk in free agency. Their 2017 1st Rd pick, Takk McKinley, only has been able to muster up 16.5 sacks over 3 years. Chaisson is as explosive in his first step as any edge rusher in the draft. My only concern is that the production hasn't been there with only 9.5 sacks in his career at LSU. However, with his versatility, he is worth the gamble and I think he'll make an immediate impact in the NFL with his speed and ability to bend around NFL offensive tackles.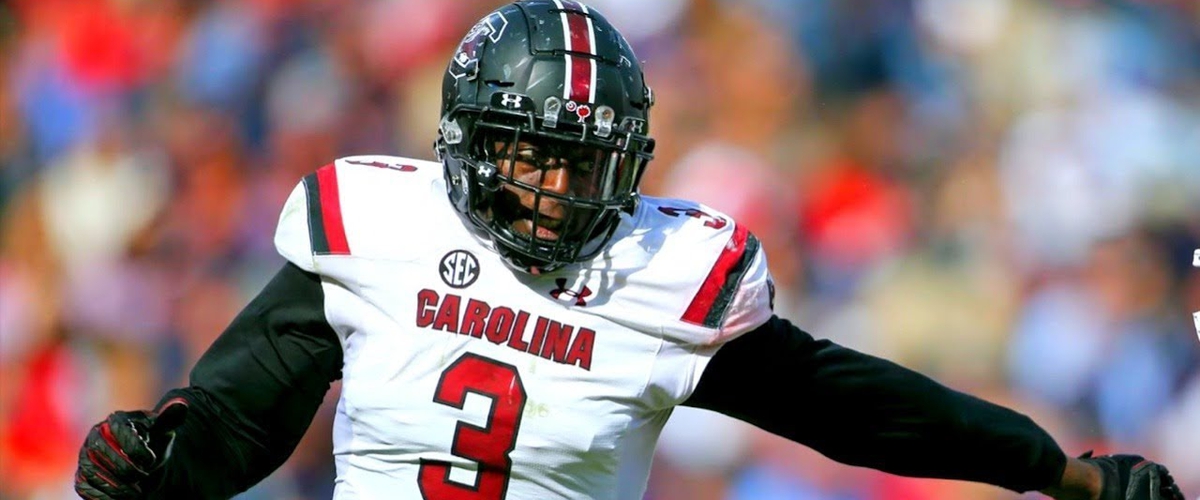 (photo credit: DraftWire)
17. Dallas Cowboys: Javon Kinlaw IDL - South Carolina
One of my favorite players in the entire draft. Also one of the amazing feel-good stories in quite some time. Those following the draft have heard about Kinlaw's tough childhood and growing up homeless, sleeping in cars, being constantly hungry without food, etc. This guy has overcome serious odds in being one of the most dominant defensive lineman in all of college football. Kinlaw is an intimidating human being at 6'5 324lbs. His size and playing style makes him a nightmare for any offensive lineman across from him. He has a crazy bull rush and a motor that never stops. Dallas could definitely use a cornerback to improve their secondary but getting Kinlaw helps everyone. This should help Demarcus Lawrence get back to being an elite pass rusher like he was in 2018. Robert Quinn also pieced together a great year with 11.5 sacks. The NFL needs to be on high alert when they look across and see Demarcus Lawrence, Robert Quinn, and Javon Kinlaw ready to bring the heat.
(photo credit: Hawkeye Sports)
18. Miami Dolphins: AJ Epenesa EDGE - Iowa
With their second 1st round pick, Miami adds to a young defensive line by drafting the 2x All Big Ten pass rusher. Epenesa was not only productive at Iowa, but he had a work ethic that teams will fall in love with. Epenesa had back-to-back seasons of 11+ sacks as a Sophomore and Junior before declaring for the NFL Draft. Miami drafting Epenesa fills a big need as they are desperate for pass rushers after finishing dead last in the NFL in sacks. This is a great move for Miami to take a step in the right direction because you are adding Epenesa to a defensive line with Miami's 1st round pick last year, Clemson defensive tackle, Christian Wilkins. Wilkins led all rookie defensive lineman in tackles last season and with Brian Flores being somewhat of a defensive-minded head coach, he'll have to feel great about adding another impact piece to a defense that is already very young.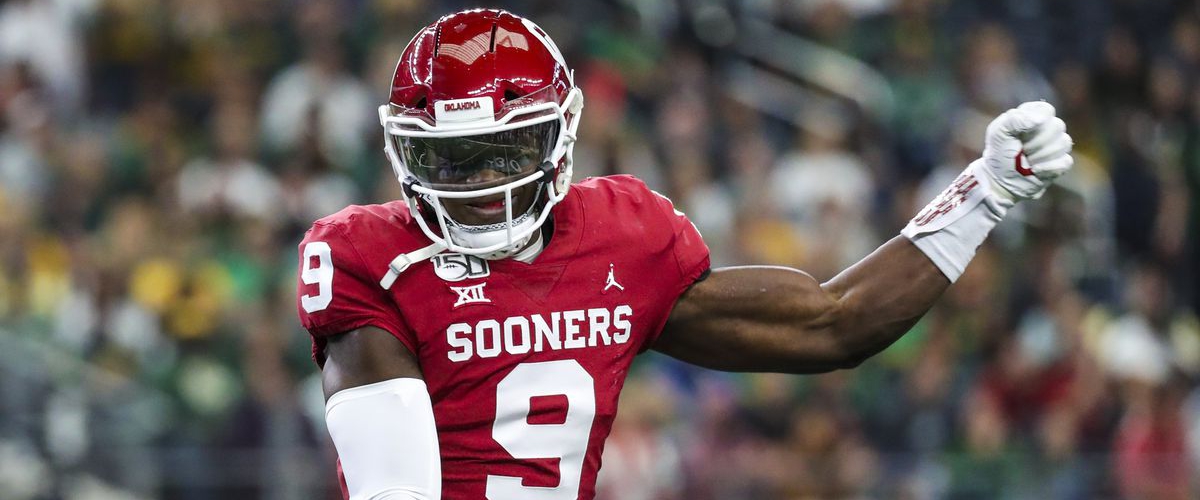 (photo credit: Sooner Sports)
19. Las Vegas Raiders: Kenneth Murray LB - Oklahoma
With their first pick, the Raiders made quite the surprise pick taking Utah State quarterback, Jordan Love. With the top 3 wide receivers off of the board, they look to find a cornerstone piece on the defensive side of the ball. Last year, they added edge rushers, Clelin Ferrell and Maxx Crosby, and also safety, Johnathan Abram. Now they add one of the most athletic linebackers these eyes have ever seen. Kenneth Murray is a true leader. I understand that the Sooners didn't have the greatest defense, but the talent level was always there. Murray finally gets to go into a system where he can get high-level NFL coaching at the position. He is big, fast, and will look great in black and silver. Lastly, fun fact, did you know that Kenneth Murray once had 28 tackles in one game in 2018?! 28!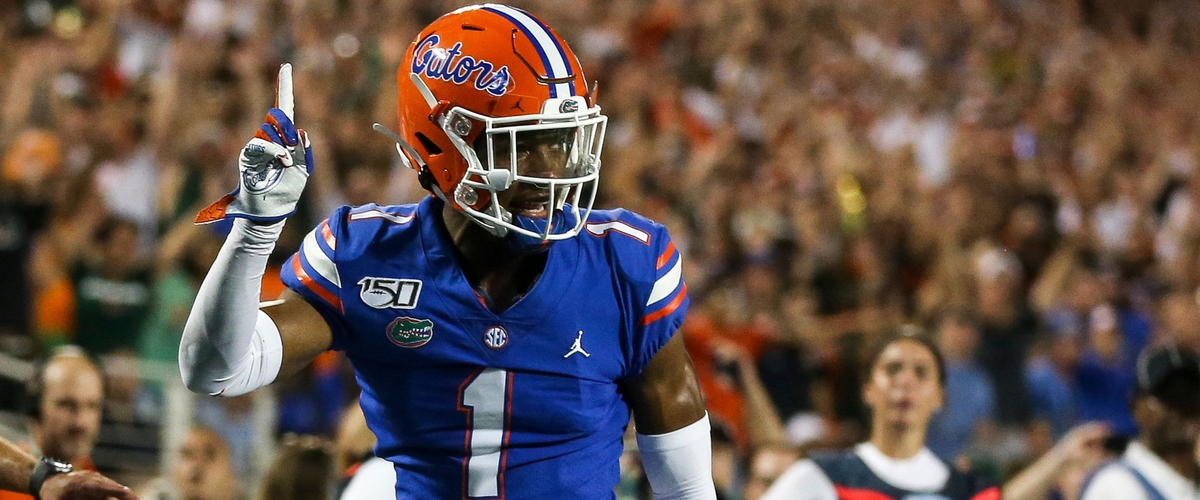 (photo credit: Tampa Bay Times)
20. Jacksonville Jaguars: CJ Henderson CB - Florida
Not sure if Florida is quite what it used to be in the DBU (Defensive Back University) rankings, but Henderson is one of the best in the country. The Jaguars received this 20th overall pick in trading away Jalen Ramsey to the Los Angeles Rams. What better way to flip that pick into taking his replacement. Henderson gets to stay in his home state and play for a Jaguars team that is steadily improving through the NFL Draft. Henderson is a long, lanky cornerback that has blazing speed. He also has ball skills that would make you think he played wide receiver his entire life. Henderson won't have a problem keeping up with the speed in the NFL after playing against several elite wide receivers in his collegiate career. The Jaguars would be thrilled with the outcome of their draft thus far adding two day-1 starters in Auburn's defensive tackle, Derrick Brown and now Florida cornerback, CJ Henderson.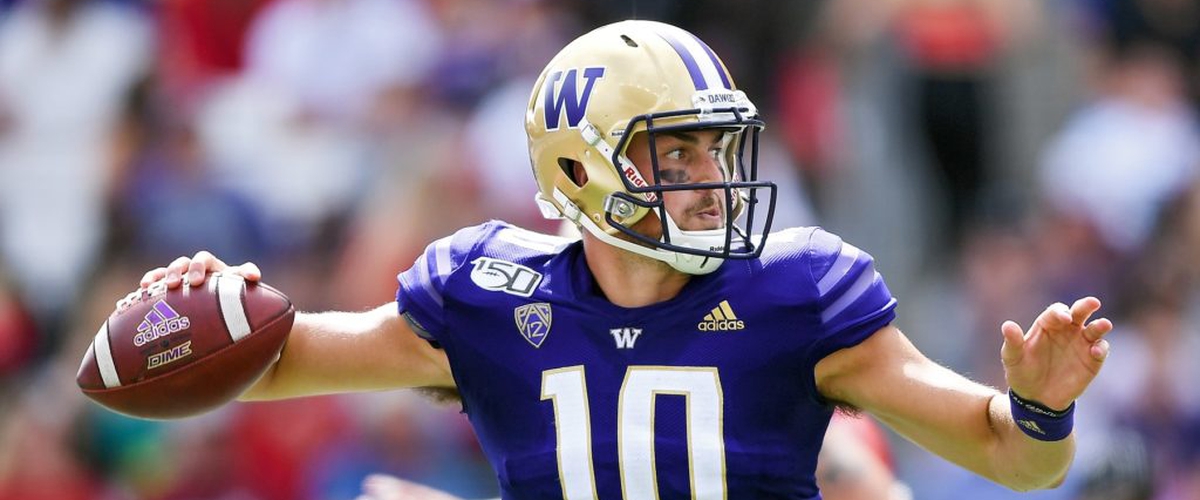 (photo credit: The Athletic)
21. *TRADE* Tampa Bay Buccaneers from Philadelphia Eagles: Jacob Eason QB - Washington
Make that 5 quarterbacks in the 1st Round of this draft. To some this may seem like a reach, but to me, Eason is exactly the quarterback that Bruce Arians can mentor into a great football player. I honestly didn't mind Jameis Winston and if it were up to me, I would find a way to keep him. However, several reports have come out noting that the Bucs are moving on. I do think Philip Rivers is most definitely an option for the team this offseason but if they can't land him, they could go with the big-armed Washington prospect. Eason has a lot to love about his game. He makes some throws that other quarterbacks can only dream of making but other times, he trusts his arm too much. Sometimes he'll lock into certain players and make it easy for defenses to read. Even if the Bucs sign Rivers, Eason could still be a great project to sit a year or 2 behind the savvy vet.
TRADE COMPENSATION
Buccaneers receive: #21 overall, #53 overall, 2021 2nd Rd Pick
Eagles receive: #14 overall, #195 overall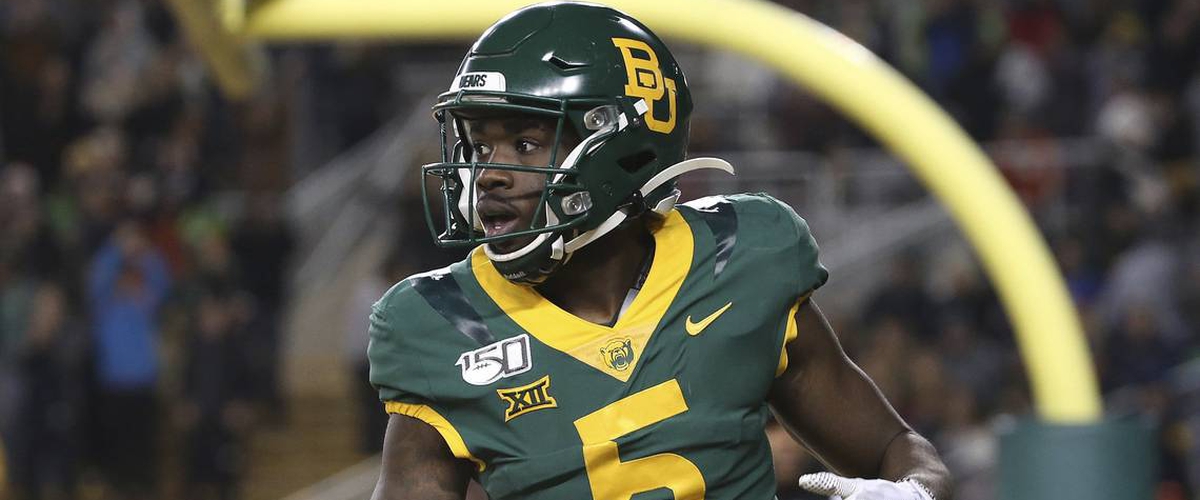 (photo credit: CBS Sports)
22. Buffalo Bills: Denzel Mims WR - Baylor
Josh Allen gets a dynamic receiving weapon with Buffalo's 1st Round pick. Denzel Mims has skyrocketed up rankings in the media and deservingly so. I personally would take Tee Higgins here if I was Buffalo but the way Mims is flying up boards, this seems like a great fit. Mims is a tall and long receiver who has some straight line speed. His lateral quickness is probably the only weakness in his game. His size gives him a huge catch radius. He has great hands and is going to make a huge impact with a big-armed quarterback like Josh Allen throwing to him. Buffalo surprised some teams last year with their success. They do need a safety so I think one is most certainly possible here but with their first pick, they make Josh Allen a very happy man and take Mims.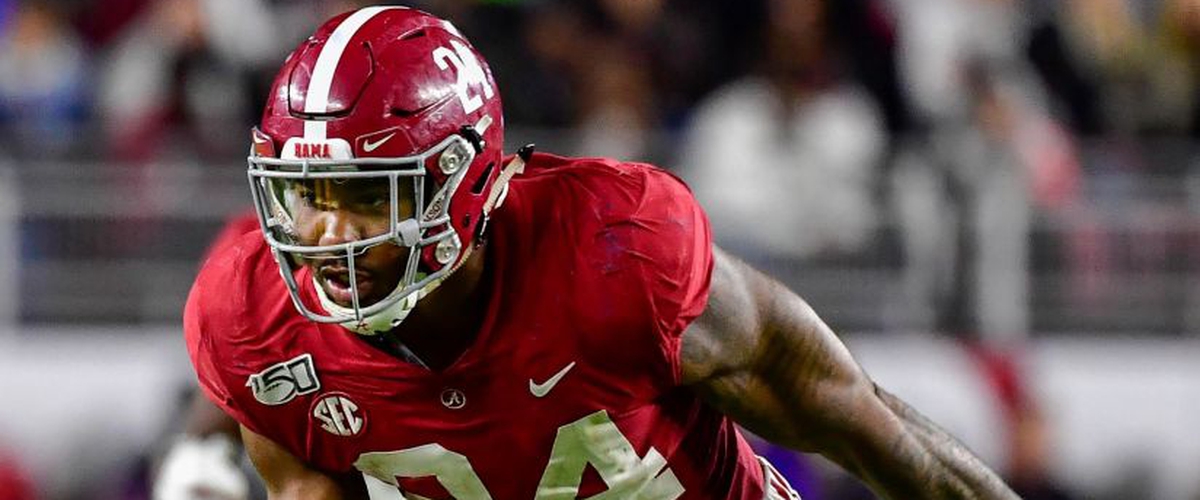 (photo credit: Roll Bama Roll)
23. New England Patriots: Terrell Lewis EDGE - Alabama
Let's just get this out of the way. I believe Tom Brady is back in New England. I think testing the FA waters is just fine, but ultimately, if Tom wants to get a shot at one more ring, he's going back home to the Pats. The grass isn't always greener on the other side. Therefore, no QB here, especially when none are worth the 1st Round tag. I'd have to think Cole Kmet is extremely high on the Pats Big Board but I like the fit with Lewis here. There are some very good pass rushers in this draft and Terrell Lewis is one of those guys. Lewis is a late 1st-early 2nd round guy, in my opinion. He's long and has great quickness off the line but he's raw and he's had some injury history. The Pats already have arguably the top defense in the NFL but you can never have too many pass rushers.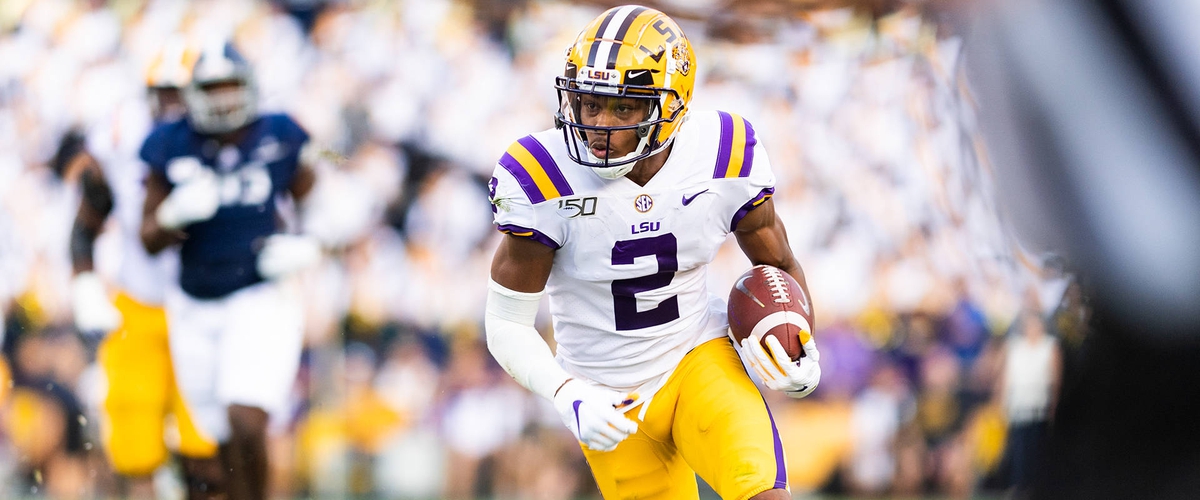 (photo credit: LSU Sports)
24. New Orleans Saints: Justin Jefferson WR - LSU
This pick, without question, is my favorite fit of the entire NFL Draft. Justin Jefferson is a baller. LSU has an incredible history, especially recently, of putting great wide receivers in the NFL (Beckham Jr., Landry, Chark). Justin Jefferson in this Saints offense is a cheat code. Jefferson played alongside college football's best wide receiver last season in Ja'Marr Chase. Now he gets to play alongside the NFL's best receiver in Michael Thomas. You thought Michael Thomas was unguardable before? Wait until defenses now have to start accounting for Jefferson and his 4.4 speed. Drew Brees has announced he's back and late in the year they began using Alvin Kamara the way he should've been used all season. Adding Jefferson to the plethora of weapons already in place, not fair. Jefferson, a Louisiana kid, will be thrilled to play in his hometown state and a Super Bowl contender next season.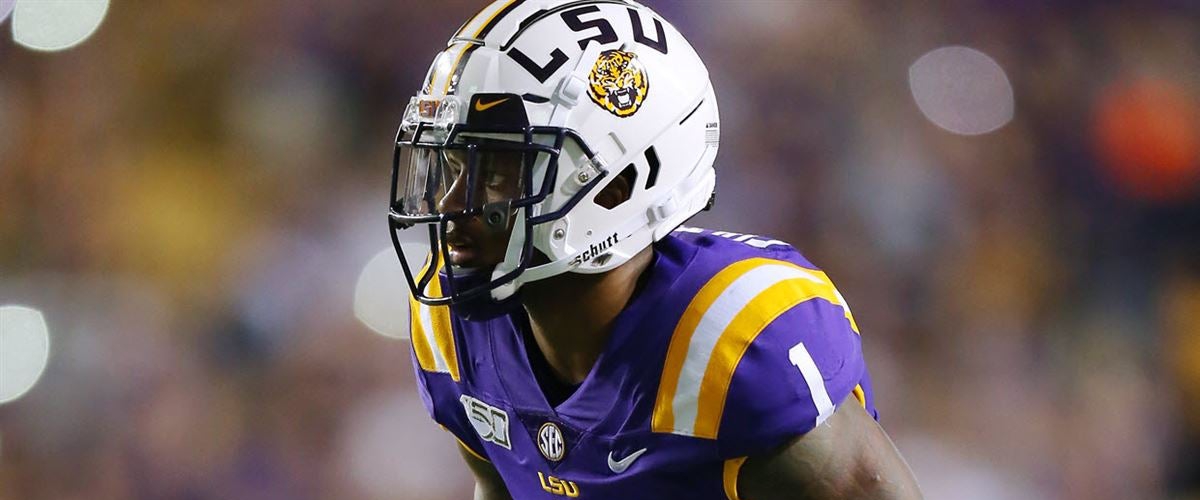 (photo credit: 247 Sports)
25. Minnesota Vikings: Kristian Fulton CB - LSU
Remember when I said that Jerry Jeudy was the steal of the draft at the 11th pick? Well that has now changed. Out of all of the LSU defensive prospects in this year's draft, Kristian Fulton is the best one, in my opinion. You also may ask, why another CB for Minnesota? Xavier Rhodes was bad last season. Vikings also could lose Trae Waynes to free agency. Fulton is fun to watch in press man-to-man coverage because of his confidence and footwork. He isn't the best tackler but he's not afraid to go up and try to make plays when he has to. The Vikings aren't getting any younger on defense but with one of the best edge rushers in football in Danielle Hunter, they can also add another stud to their defense. How convenient... both went to LSU.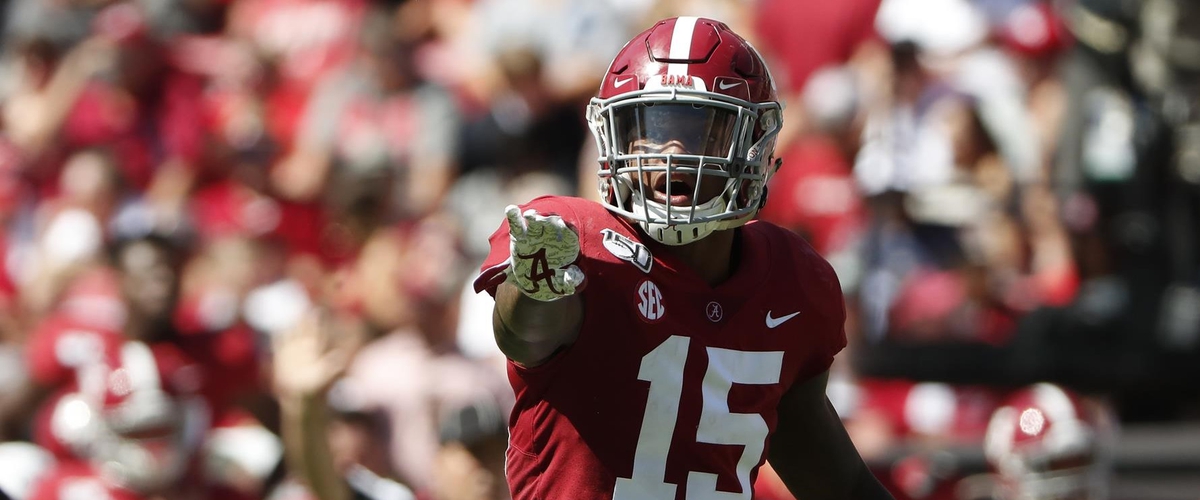 (photo credit: University of Alabama)
26. Detroit Lions (from MIA): Xavier McKinney S - Alabama
The Detroit Lions picked up this 1st round pick from the Dolphins in Miami's earlier trade for Tua Tagovailoa. The Lion take full advantage of this pick and bolster their secondary even more. After drafting the top cornerback in college football, they now get arguably the top safety prospect in McKinney. In a division where you have to compete with Aaron Rodgers and Kirk Cousins, you have to be able to defend the pass. The value on McKinney is better than any pass rushers on the board right now and while they could go interior defensive line with a guy like Neville Gallimore, I think the Detroit does the smart thing and takes a guy who can be a captain of their defense for a very long time.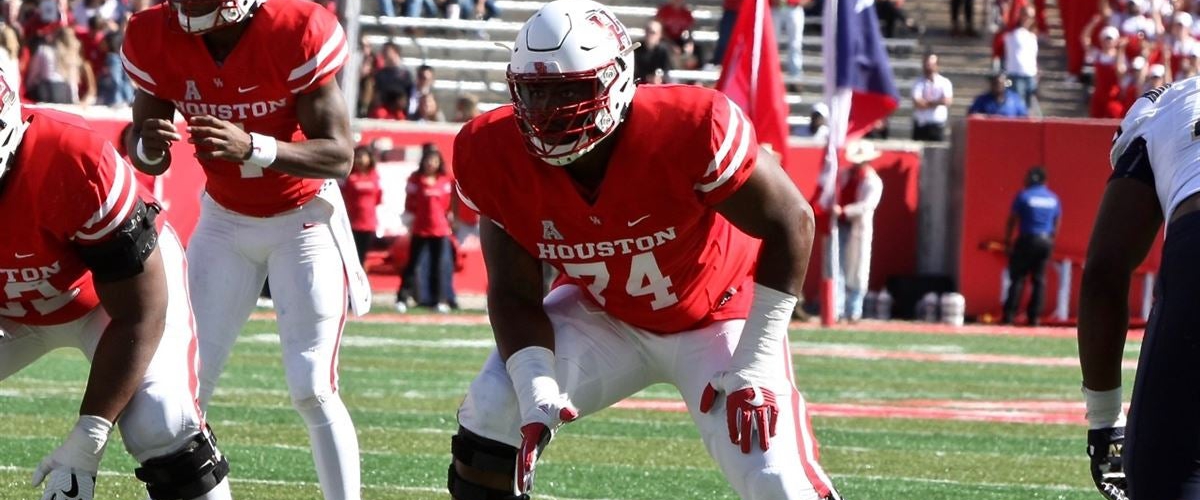 (photo credit: 247 Sports)
27. Seattle Seahawks: Josh Jones OT - Houston
I know this may seem like a boring pick for Seattle, but it is the right one. As long as Russell Wilson is on that roster, Seattle will always be a threat in the NFC. They do need to add a couple weapons offensively but most importantly, they need Russell to stay healthy. Josh Jones is a very underrated offensive tackle and although he may not bring the technique that the top 4 offensive tackles bring, but he is extremely athletic. The Seahawks are planning to address the offensive line at some point, so why not here with a 6'5 300+lb tackle to block for Wilson and whichever running back they put behind him. Jones does need work on technique and footwork but his athleticism puts his ceiling extremely high.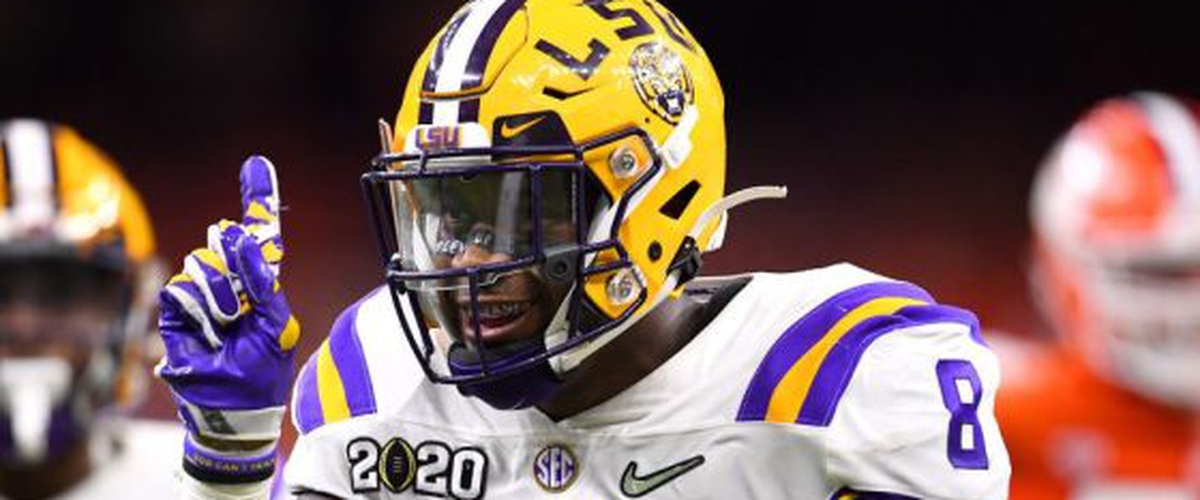 (photo credit: CBS Sports)
28. Baltimore Ravens: Patrick Queen LB - LSU
23 year old NFL MVP. #1 rushing offense in the NFL. Top 5 total defense in the NFL. Things couldn't look more promising for the Baltimore Ravens. I know a lot of Ravens fans are going to want a wide receiver here and with Tee Higgins, Brandon Aiyuk, Laviska Shenault, etc... all still on the board, I understand that desire. However, with the depth at that position, the Ravens decide to take the new face of their defense. Look no further than Patrick Queen. This man is a heat-seeking missile. His football IQ and instincts are second to none. He's not the strongest linebacker but he doesn't need to be with how explosive and fast he is. The Ravens are missing that elite inside linebacking presence that they have had for so long, but now it's back with Queen. The Ravens add a cornerstone piece and can look for a receiving weapon in the next couple rounds for their young MVP quarterback.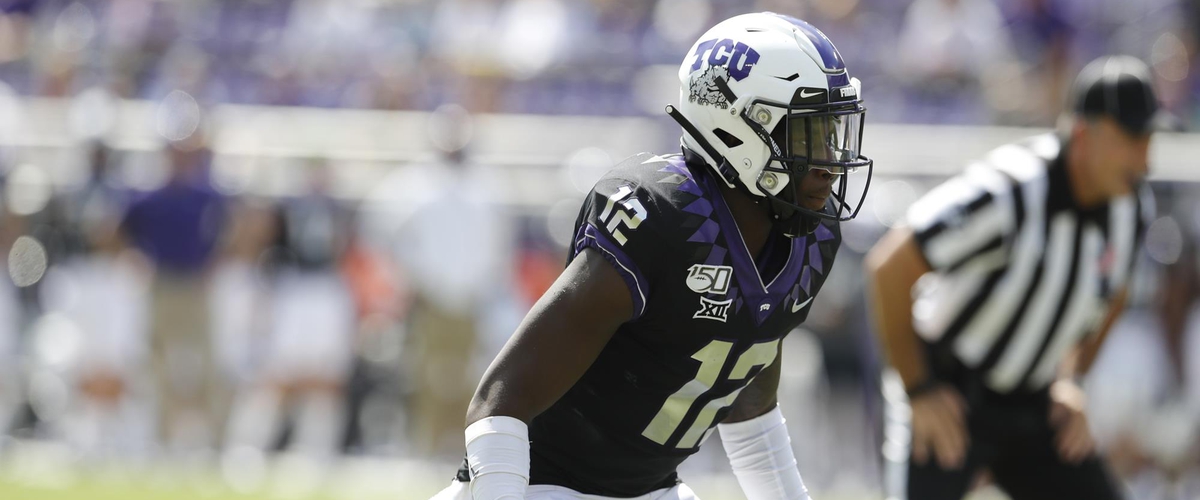 (photo credit: GoFrogs)
29. Tennessee Titans: Jeff Gladney CB - TCU
First running back off the board here? Well, it depends. A big decision for the Titans is what to do about their star running back, Derrick Henry, who is set to hit the market. Paying running backs hasn't worked out well as of late around the league, but with the success they had with Henry, it seems vital for them to keep him in Tennessee. The Titans can go a variety of directions here but I think if they are looking at a position of need and great value, Jeff Gladney has to be the pick. He's a solid man-to-man cornerback who could really help across from Adoree Jackson. Gladney isn't long and lanky like you'd wish for, but he makes up for it with his footwork and putting himself in great position on the receiver.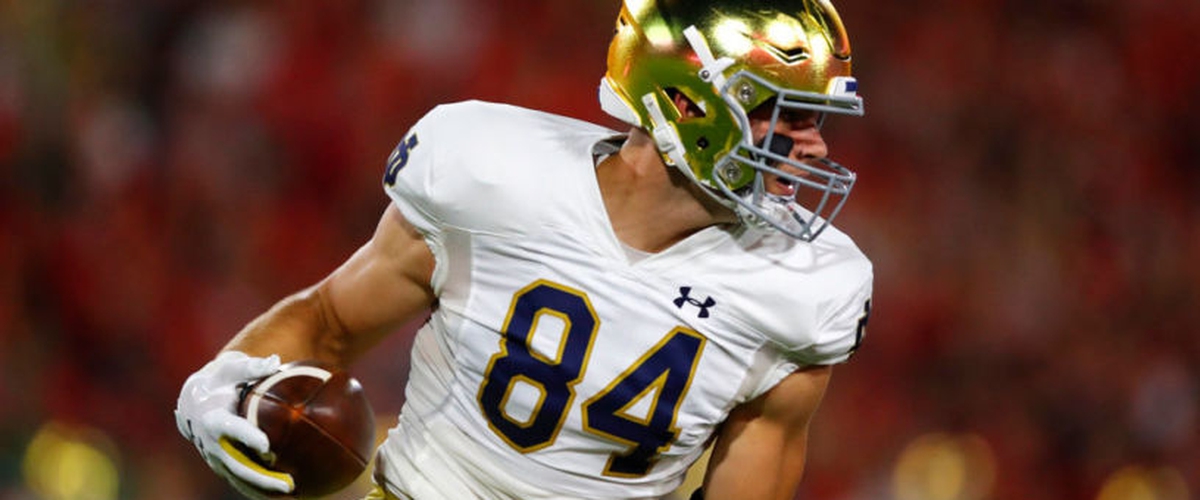 (photo credit: University of Notre Dame Athletics)
30. Green Bay Packers: Cole Kmet TE - Notre Dame
With the recent news of Jimmy Graham likely leaving town, the Packers will look to the NFL Draft to fill the void at tight end and get Rodgers a consistent redzone weapon. Kmet isn't my favorite tight end in the class but there's no denying his receiving abilities. He's a decent blocker, at best, so don't leave him alone against a premiere pass rusher. He has soft hands and doesn't have problem making catches in high traffic. He's definitely the best redzone tight end in this class. Everyone will want to compare him to former Fighting Irish tight end, Kyle Rudolph, and I'd say that's accurate but to me, he's a tad more athletic so I'd go with a Mark Andrews comparison.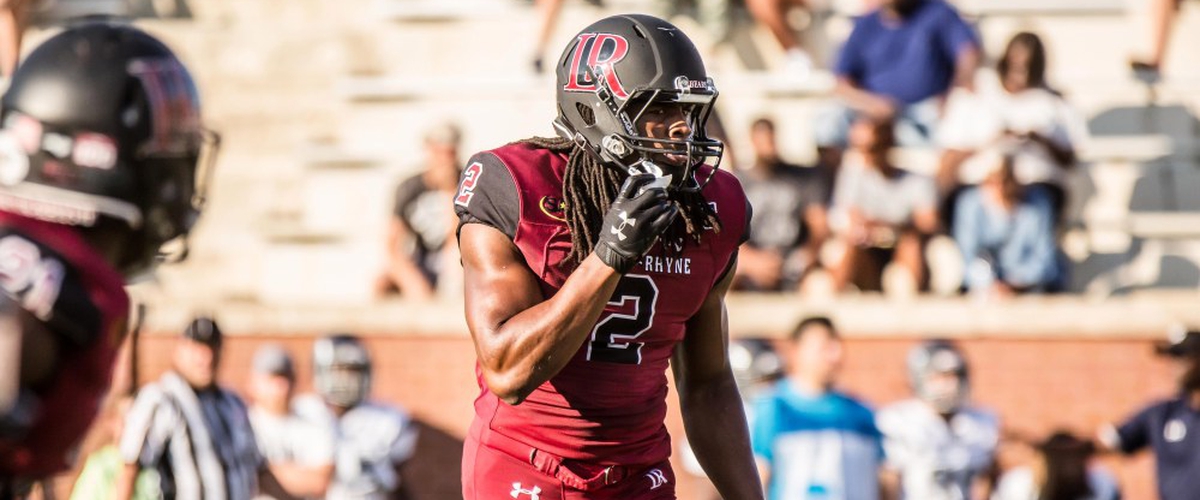 (photo credit: Draft Wire)
31: San Francisco 49ers: Kyle Dugger S - Lenoir-Rhyne
If the 49ers can't find a trade partner here, they're not going to be happy. After this pick, they don't select again until the 5th Round. They are certain to take a trade offer for someone to jump up to this spot so they can gain an extra pick in the 2nd or 3rd round. Assuming they cannot find a trade partner, I definitely think safety is going to be addressed. The cat is out of the bag on Kyle Dugger. If I told you that the safety with the best combination of size, speed, and explosiveness came from a Division II school, you'd probably laugh. Well, you won't be for long. Dugger is violent and despite the lack of competition this year, he has proven his worth when getting the opportunity to be around other Division I players. The 49ers General Manager, John Lynch, would love to bring this hard-hitting safety to San Francisco and it might even remind him of someone.... *hint hint... himself*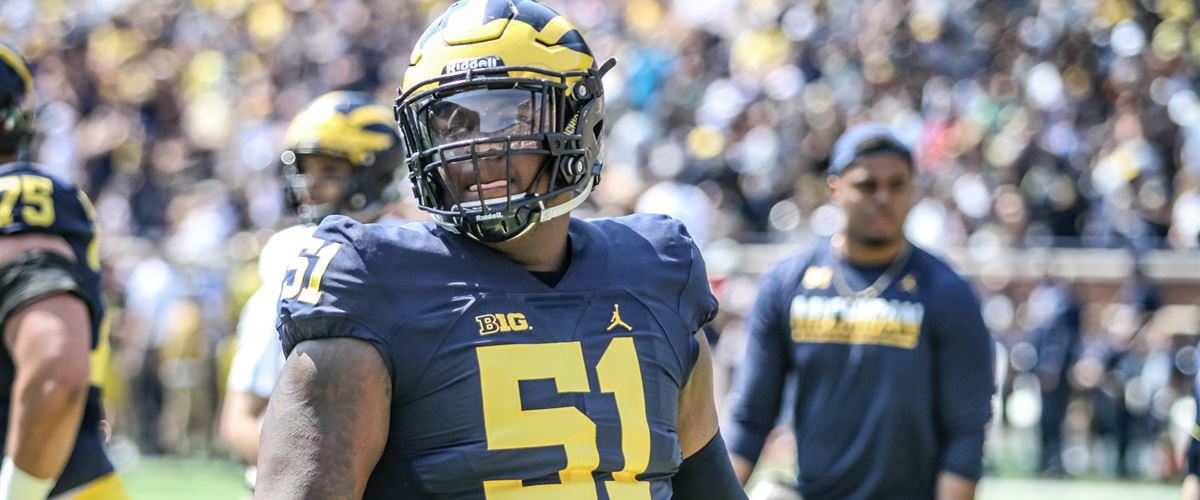 (photo credit: 247 Sports)
32. Kansas City Chiefs: Cesar Ruiz IOL - Michigan
Congratulations to the Kansas City Chiefs on their Super Bowl win. If the NFL Playoffs showed you anything at all, it's that Patrick Mahomes is the best football player on planet Earth. Now, what do you do when you have the best player on the planet? Protect him. Cesar Ruiz is a day-1 starter at center for the Kansas City Chiefs. His football awareness and IQ is elite. He is versatile with getting multiple starts at offensive guard as well. He is a powerhouse inside and can move. There isn't much to dislike about Ruiz. He needs a little work pass blocking but that also could have been Michigan quarterback, Shea Patterson, putting his offensive line in tough spots. I know Chiefs fans may want a shiny new toy for Mahomes in the passing game or a big corner but I think Chris Harris Jr. ends up there and the Chiefs draft Ruiz to keep the trenches strong.
-------------------------
Round 2
33. Cincinnati Bengals: Noah Igbinoghene CB - Auburn
34. Indianapolis Colts (**from WSH): Tee Higgins WR - Clemson
35. Detroit Lions: Neville Gallimore IDL - Oklahoma
36. New York Giants: Zack Baun LB - Wisconsin
37. Los Angeles Chargers: Jalen Hurts QB - Oklahoma
38. Carolina Panthers: Damon Arnette CB - Ohio State
39. Miami Dolphins: Austin Jackson OT - USC
40. Arizona Cardinals: Jaylon Johnson CB - Utah
41. Cleveland Browns: Grant Delpit S - LSU
42. Jacksonville Jaguars: Laviska Shenault Jr. WR - Colorado
43. Chicago Bears (** from LVR): Tyler Biadasz IOL - Wisconsin
44. Arizona Cardinals (**from IND): Lucas Niang OT - TCU
45. Tampa Bay Buccaneers: Marlon Davidson IDL - Auburn
46. Denver Broncos: Brandon Aiyuk WR - Arizona State
47. Atlanta Falcons: D'Andre Swift RB - Georgia
48. New York Jets: Ezra Cleveland OT - Boise State
49. Pittsburgh Steelers: AJ Terrell CB - Clemson
50. Chicago Bears: Brycen Hopkins TE - Purdue
51. Dallas Cowboys: Jalen Reagor WR - TCU
52. Los Angeles Rams: Lloyd Cushenberry III IOL - LSU
53. Tampa Bay Buccaneers (**from PHI): JK Dobbins RB - Ohio State
54. Buffalo Bills: Yetur Gross-Matos EDGE - Penn State
55. Atlanta Falcons (**from NE): Antoine Winfield Jr. S - Minnesota
56. Miami Dolphins (**from NO): Ashtyn Davis S - California
57. Houston Texans: Jonathan Taylor RB - Wisconsin
58. Minnesota Vikings: Ross Blacklock IDL - TCU
59. Seattle Seahawks: KJ Hamler WR - Penn State
60. Baltimore Ravens: WR Michael Pittman Jr. WR - USC
61. Tennessee Titans: Bradlee Anae EDGE - Utah
62. Green Bay Packers: Malik Harrison LB - Ohio State
63. Seattle Seahawks (**from SF): Terrell Burgess CB - Utah
64. Kansas City Chiefs: Trevon Diggs CB - Alabama
--------------------------
Round 3
65. Cincinnati Bengals: Julian Okwara EDGE - Notre Dame
66. Washington Redskins: Hunter Bryant - Washington
67. Detroit Lions: Clyde Edwards-Helaire RB - LSU
68. New York Jets (**from NYG): Curtis Weaver EDGE - Boise State
69. Carolina Panthers: Jake Fromm QB - Georgia
70. Miami Dolphins: Cam Akers RB - Florida State
71. Los Angeles Chargers: Donovan Peoples-Jones WR - Michigan
72. Arizona Cardinals: Justin Madubuike IDL - Texas A&M
73. Jacksonville Jaguars: Adam Trautman TE - Dayton
74. Cleveland Browns: Jonah Jackson IOL - Ohio State
75. Indianapolis Colts: Josh Uche EDGE - Michigan
76. Tampa Bay Buccaneers: Prince Tega Wanogho OT - Auburn
77. Denver Broncos: Bryce Hall CB - Virginia
78. Atlanta Falcons: Chase Claypool WR/TE - Notre Dame
79. New York Jets: Nick Harris IOL - Washington
80. Las Vegas Raiders: Jordyn Brooks LB - Texas Tech
81. Las Vegas Raiders (**from CHI): Bryan Edwards WR - South Carolina
82. Dallas Cowboys: Cameron Dantzler CB - Mississippi State
83. Denver Broncos (**from PIT): Raekwon Davis IDL - Alabama
84. Los Angeles Rams: Jonathan Greenard EDGE - Florida
85. Philadelphia Eagles: Darnay Holmes CB - UCLA
86. Buffalo Bills: Brandon Jones S - Texas
87. New England Patriots: Thaddeus Moss TE - LSU
88. New Orleans Saints: Willie Gay Jr. LB - Mississippi State
89. Minnesota Vikings: Matthew Peart OT - UCONN
90. Cleveland Browns (**from HOU): Troy Dye LB - Oregon
91. Las Vegas Raiders (**from SEA): James Lynch IDL - Baylor
92. Baltimore Ravens: Khalid Kareem EDGE - Notre Dame
93. Tennessee Titans: KJ Hill WR - Ohio State
94. Green Bay Packers: Gabriel Davis WR - UCF
95. Denver Broncos (**from SF): Robert Hunt IOL - Louisiana Lafayette
96. Kansas City Chiefs: Jeremy Chinn LB/S - Southern Illinois