FINAL 3-Round 2020 NFL Mock Draft
We are finally just one week away from maybe the most anticipated NFL Draft of all time. A lot of that anticipation is due to the circumstances that we have all been put in because of COVID-19. However, those circumstances still haven't stopped us from gaining excitement over who the future of our favorite franchise will be. This draft is certain to have some drama and there may be some shockers that blow people away. Here is my best and final attempt at the 2020 NFL Draft.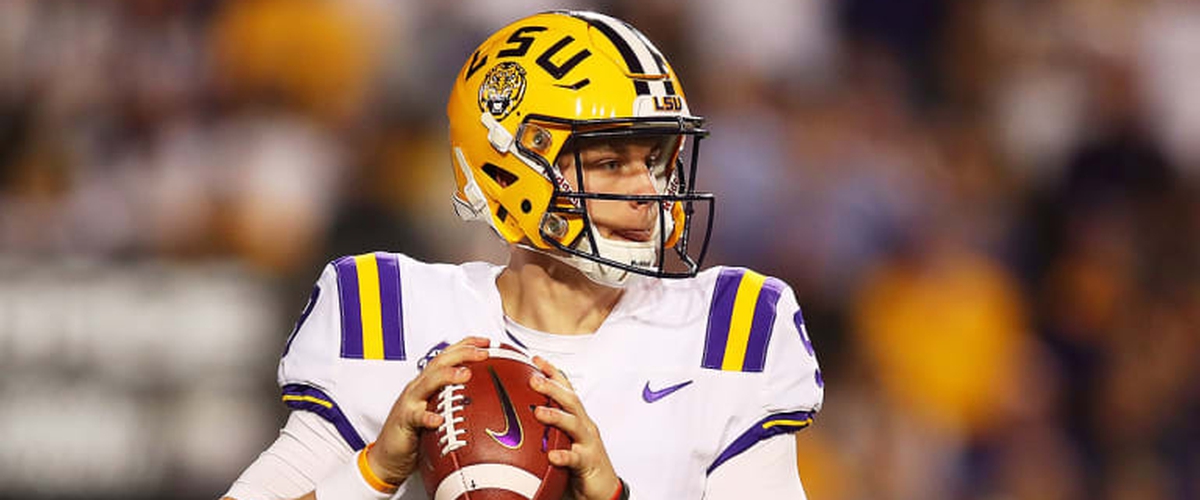 (photo credit: Sports Illustrated)
1. Cincinnati Bengals: Joe Burrow, Quarterback, LSU
After finishing the season with only 2 wins, it is clear that this is the route they need to go. The Bengals finally replace Andy Dalton with one of the better quarterback prospects in the last decade. Burrow is coming off possibly the best statistical college football season of all time. He's originally from the state of Ohio so reaching into your backyard to get your future QB is going to draw a lot of excitement from fans as well. Despite not having a .500 season over the last 4 years, the Bengals have talent on the offensive side of the ball. Burrow should be excited to get involved early and have weapons around him to succeed.
---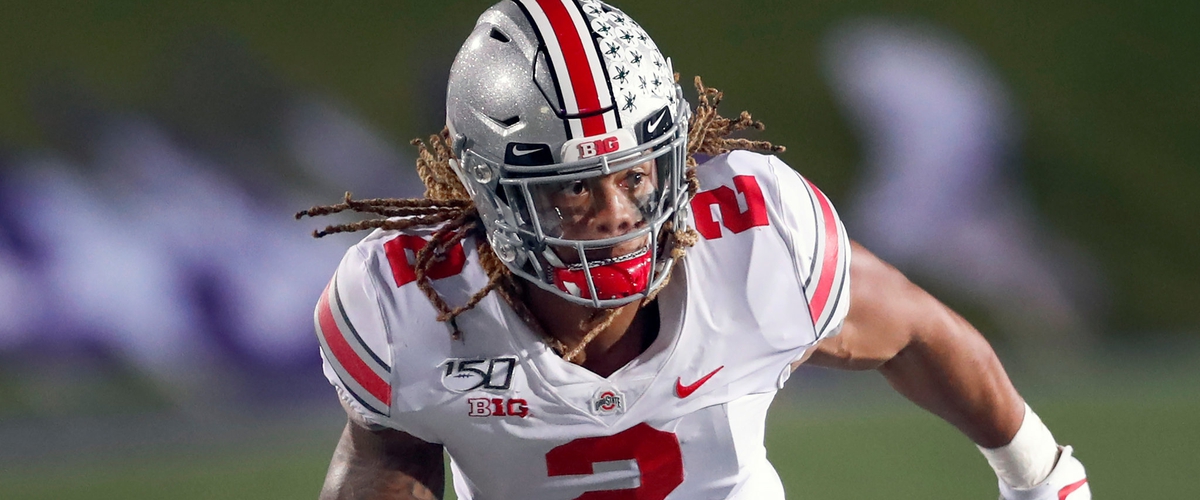 (photo credit: NY Times)
2. Washington Redskins: Chase Young, Edge Rusher, Ohio State
I truly believe this is a sneaky slot to be traded away, however, in this situation, we stay put and draft Chase Young. There is nothing to dislike about Young. He is freakishly athletic, runs like a horse, and was arguably the most productive defensive player in all of college football over the last two seasons. Adding Chase Young to a defensive line that already has Pro Bowler, Ryan Kerrigan, and recent 1st round picks, Jonathan Allen and Montez Sweat. Taking the "Defense Wins Championships" approach, Washington could have a top 5 defense sooner than later.
---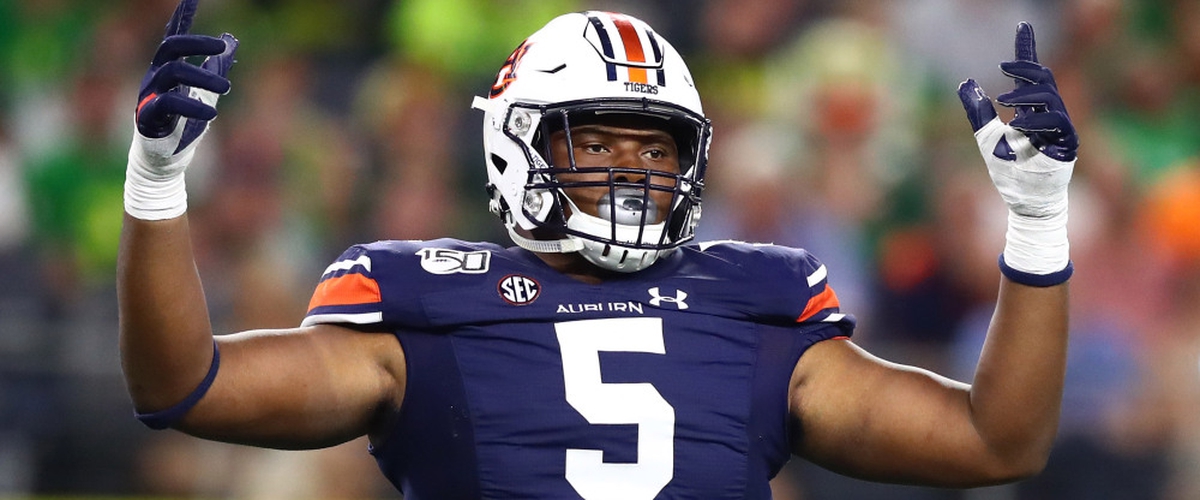 (photo credit: Pro Football Network)
3. Detroit Lions: Derrick Brown, Defensive Tackle, Auburn
While Detroit desperately needs help in the secondary, I think Brown can make more of an impact right away. Several SEC offensive lineman at the combine were asked who the best player they faced in their careers was and there seemed to be a common denominator. That was Derrick Brown. He was a force inside for offenses to defend. Adding Brown to that defense next to Trey Flowers is something that offenses are going to have to game-plan for.
---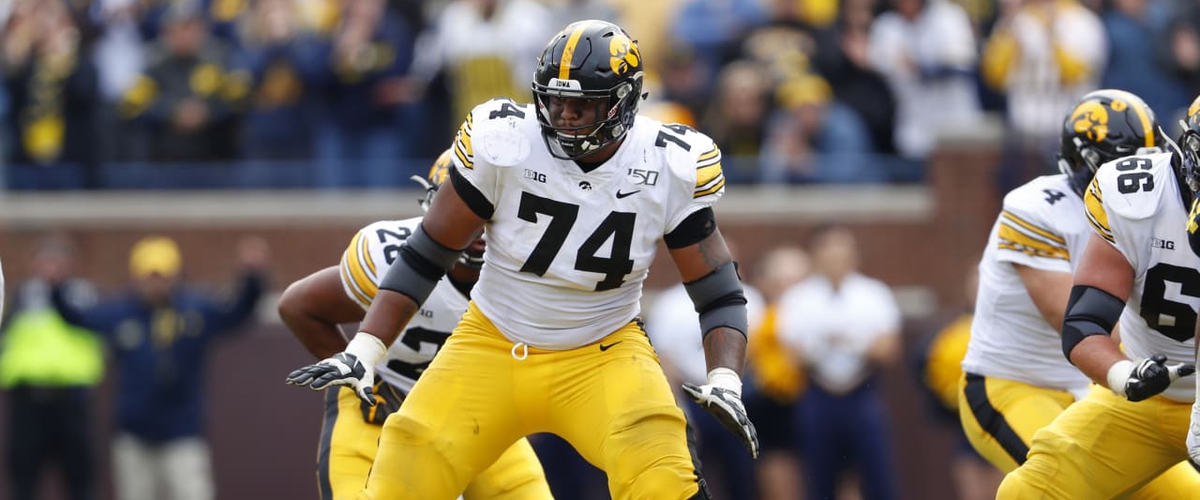 (photo credit: Bleacher Report)
4. New York Giants: Tristan Wirfs, Offensive Tackle, Iowa
One of my favorite players in the NFL Draft, Tristan Wirfs. Who doesn't love a mean, athletic offensive lineman from the B1G conference? The Giants GM, Dave Gettleman, has one of the worst poker faces in the NFL. He's spilled the beans that he wants a hog-molly on the offensive line. Wirfs is that type of player and he can be a driving force to help both Daniel Jones and Saquon Barkley succeed. He is a bully and plays through every whistle. With Chase Young coming to the division, it might be good to get a guy like Wirfs, who has shown he can hold his own against anyone.
---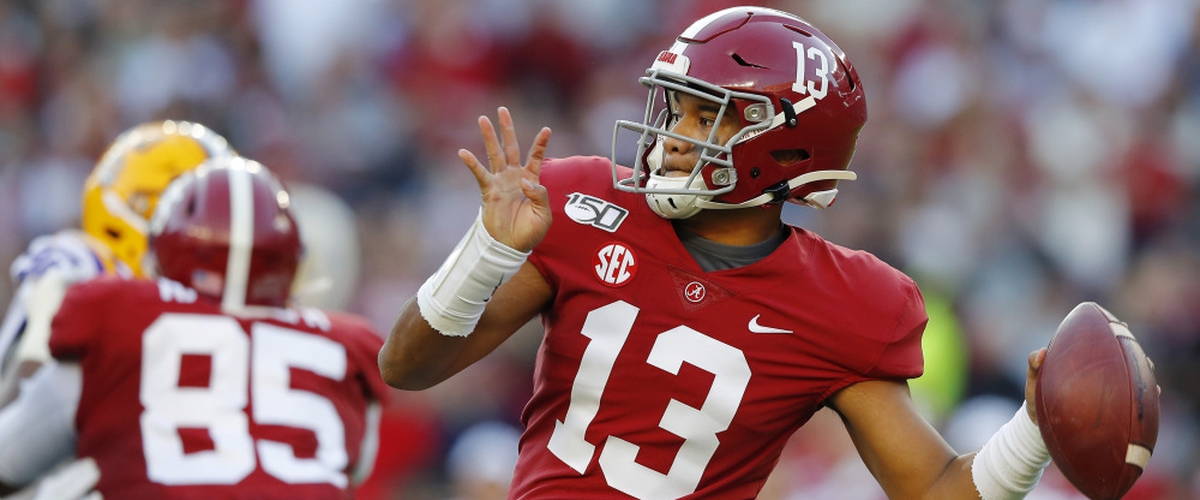 (photo credit: USA Today)
5. Miami Dolphins: Tua Tagovailoa, Quarterback, Alabama
Miami has done an excellent job of causing confusion on what they'll actually do with this pick. A lot of information has come out that Miami loves Herbert and I do believe that to be true. However, Tua can be the face of the franchise and a guy you build your franchise around for over a decade. With the right pieces in place, Tua can play point guard with his elite accuracy and field awareness. 10 years from now, we might be looking back and saying that Tua was the best player in this draft class, despite the injury concerns.
---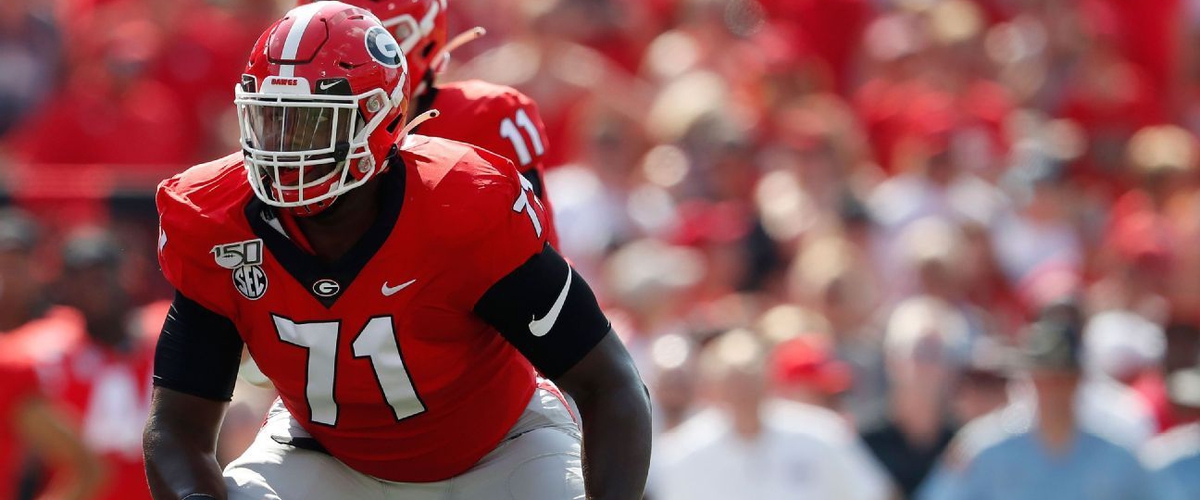 (photo credit: ESPN)
6. Los Angeles Chargers: Andrew Thomas, Offensive Tackle, Georgia
Could they be the next to take a quarterback? Not yet. They seem to like Tyrod Taylor quite a bit so I think they draft, in my opinion, the safest left tackle in this class. Thomas has shown he can produce at a high level at left tackle, being a 2x All-American while playing in the SEC. Thomas is a massive human that possesses elite power at the point of attack. Although it gets him in trouble at times, you have to love the aggressiveness that he brings to the trenches. The Chargers should feel great about the health of their future quarterback with Thomas protecting his blindside.
---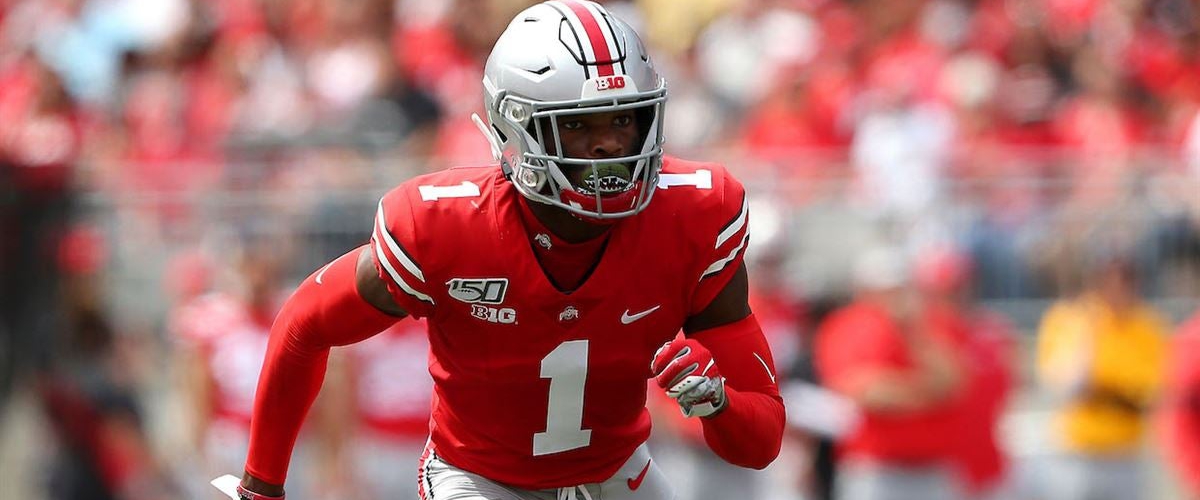 (photo credit: Buckeye Sports)
7. Carolina Panthers: Jeff Okudah, Cornerback, Ohio State
This is a steal for Carolina and a great start to the career of new head coach, Matt Rhule. I don't think they're expecting for Okudah to fall to this point so when they see he's still available, they won't be able to enter the pick fast enough. Okudah didn't have a single defensive holding or pass interference penalty enforced against him last season. He dominated every wide receiver that came to his island. If there was any cornerback you would want to have in the NFC South covering wide receivers like Michael Thomas, Julio Jones, and Mike Evans, Okudah is most certainly the top choice.
---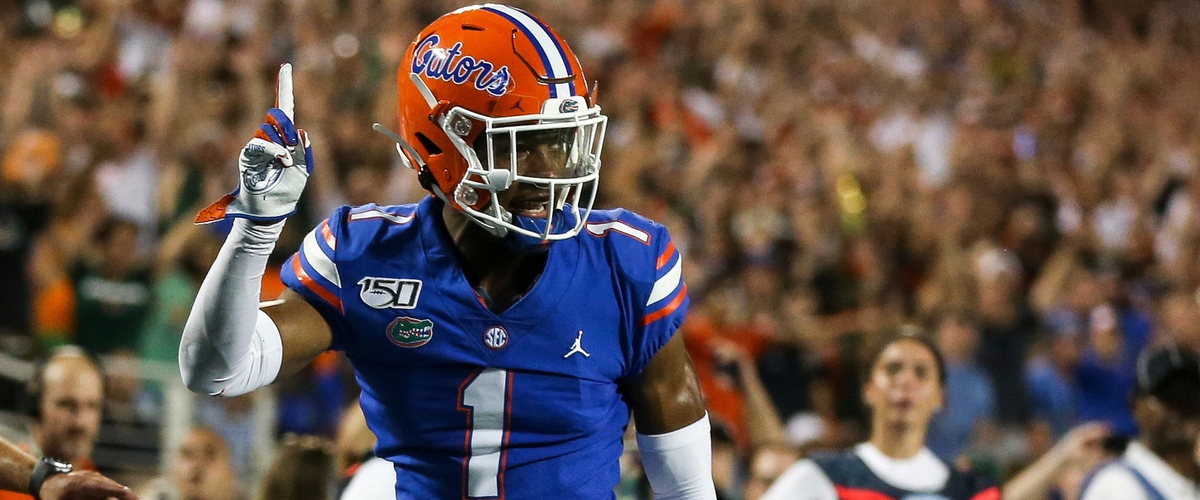 (photo credit: Tampa Bay Times)
8. (TRADE) Atlanta Falcons from Arizona Cardinals: CJ Henderson, Cornerback, Florida
Not sure if Florida is quite what it used to be in the DBU (Defensive Back University) rankings, but Henderson is one of the best in the country. Henderson gets to play for a Falcons team that is dying to build up a good secondary in order to compete with the talent around the NFC South. Henderson is a long, lanky cornerback that has 4.39 speed. He also has ball skills that would make you think he played wide receiver his entire life. Henderson won't have a problem keeping up with the speed in the NFL after playing against several elite wide receivers in his collegiate career.
*Trade Compensation* Atlanta receives: #8 / Arizona receives: #16 + #47
---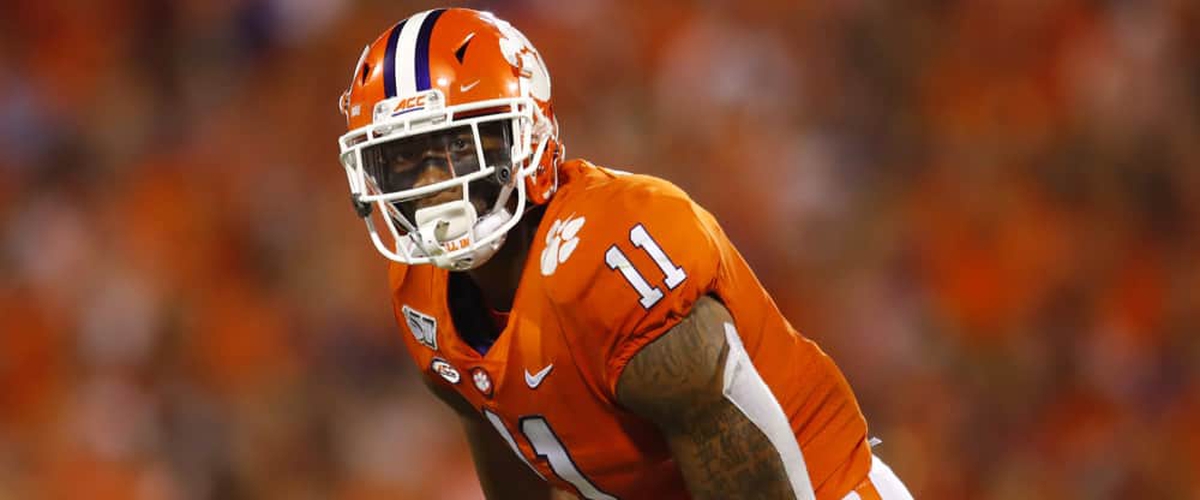 (photo credit: USA Today)
9. Jacksonville Jaguars: Isaiah Simmons, Linebacker, Clemson
While Jacksonville they desperately need help in the secondary, I think Simmons is a player that has some versatility that only comes around once in a lifetime. Running a 4.39 at 6-foot-3 and 238lbs, he can defend just about anyone you put across from him. It's also rare that you find a guy that can play almost every position on the defensive side of the ball, and do it effectively. After Telvin Smith unexpectedly left the team before last year, the defense clearly was not the same. Any team would love to have this swiss-army knife anchoring the defense for the next decade.
---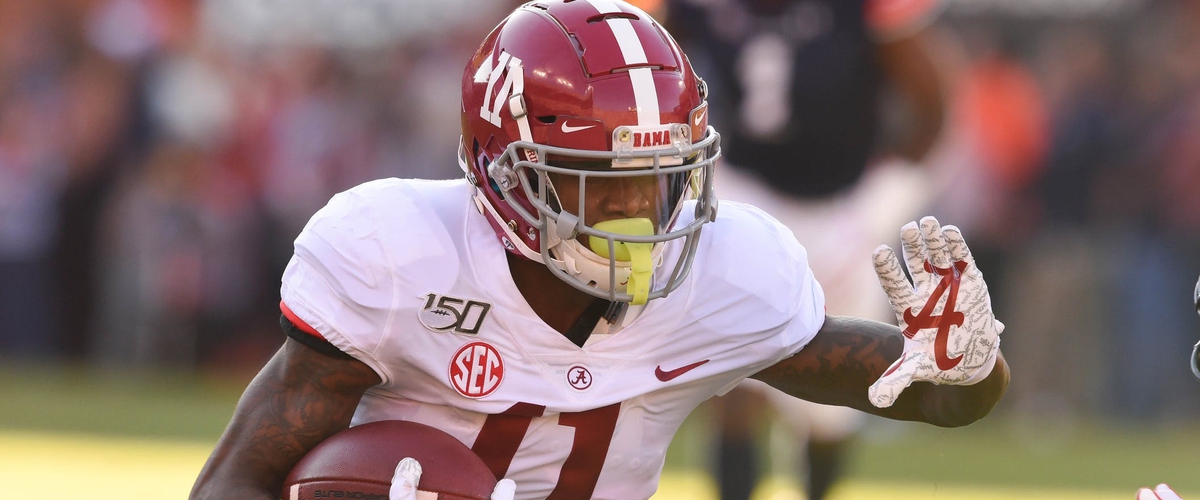 (photo credit: Sports Illustrated)
10. (TRADE) Denver Broncos from Cleveland Browns: Henry Ruggs III, Wide Receiver, Alabama
A trade up right in front of the Jets to steal the speedster, Henry Ruggs III. I don't think I've ever seen a player where everyone was somewhat disappointed after running a 4.27 40-yd dash. Oh, he also had a 42-inch vertical jump as well. This guy isn't just a one-trick-pony. He can change the entire complexion of a game. Whether you want to compare him to Tyreek Hill, DeSean Jackson, or Mike Wallace, it doesn't matter because this guy can do it all. The trio of Ruggs, Sutton, and Fant will bring a lot of excitement to Denver and can only help the progression of Lock's young and promising career.
*Trade Compensation* Denver receives: #10 / Cleveland receives: #15 + #77 + #118
---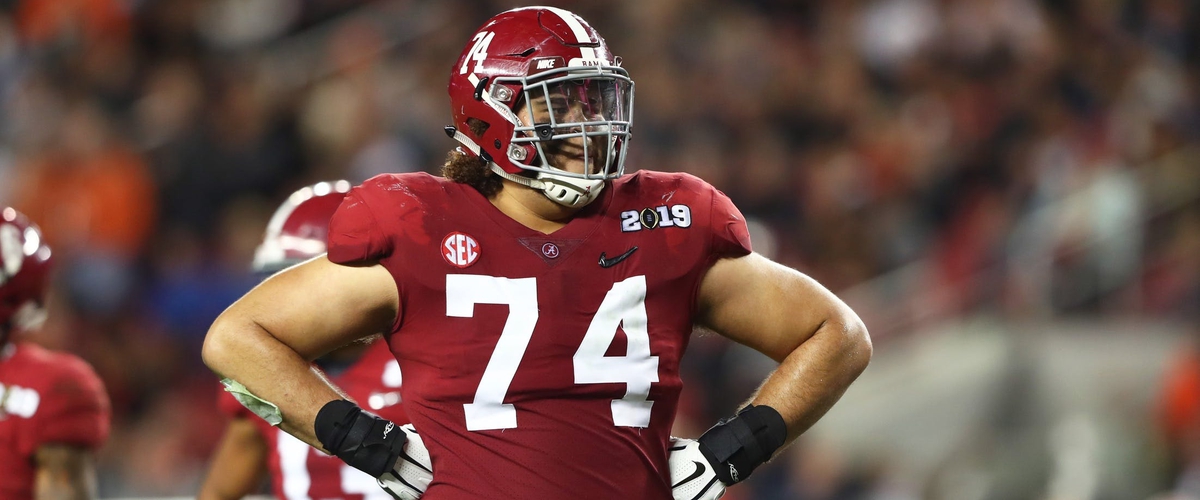 (photo credit: Sports Illustrated)
11. New York Jets: Jedrick Wills Jr., Offensive Tackle, Alabama
When a player like Wills falls, you can't pass him up. The best part of this pick for the Jets is that it is a huge position of need as well. This is a guy that has risen up the draft boards since declaring and will only be 20 years old at the time of the NFL Draft. I love how quick Wills gets off the ball. His play is fluid and the combination of his strength and athleticism is second-to-none. He's one of the most impressive and well-rounded offensive tackles in the draft because of his athleticism and size. Wills is a great way to protect your franchise quarterback, Sam Darnold and help him reach the next level. Next for the Jets, add weapons.
---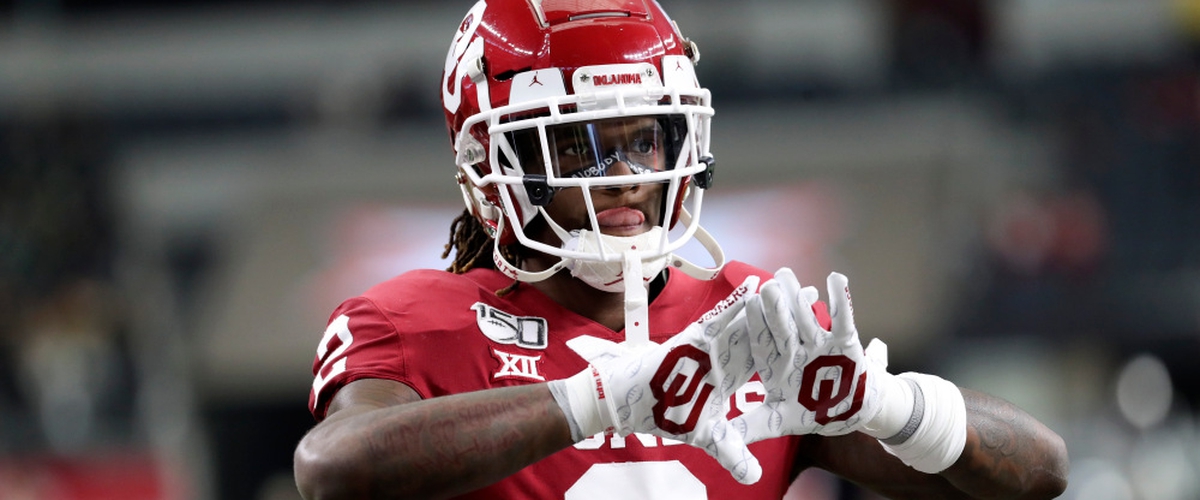 (photo credit: Sooners Wire)
12. Las Vegas Raiders: CeeDee Lamb, Wide Receiver, Oklahoma
It is no surprise that the Raiders use this selection on a wide receiver. After their top wide receiver finished with only 651 yards last season, a player like Lamb is just what this offense needs. After stockpiling draft picks from the Khalil Mack trade, they now add a receiving threat in Lamb and finally, this offense may make some noise. Lamb is a nightmare to opposing secondaries. He finished his 3 year career at Oklahoma with over 3,000 receiving yards and over 30 receiving touchdowns. With Lamb's body control and ball skills, no catch is out of the question.
---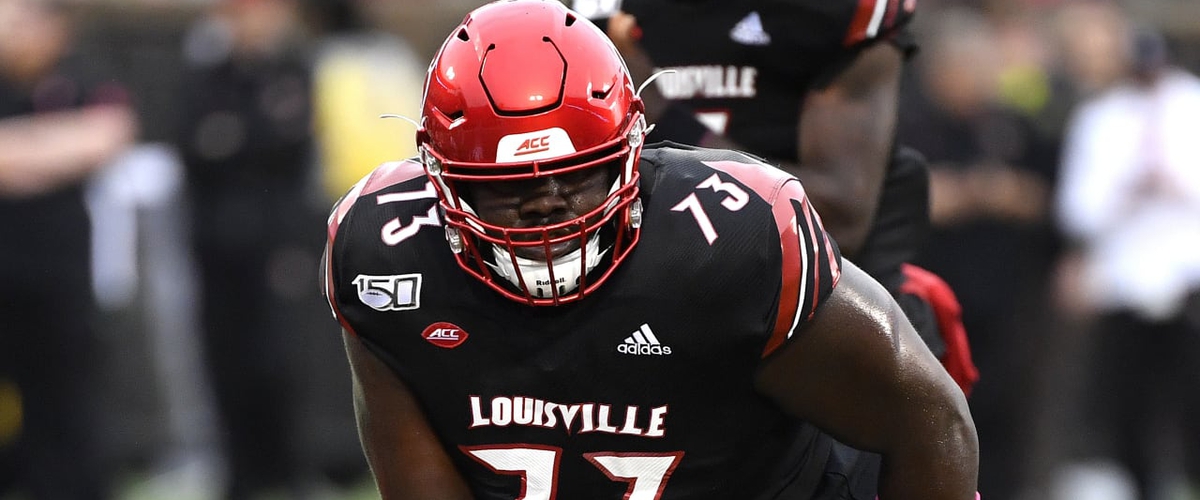 (photo credit: ESPN)
13. (TRADE) Miami Dolphins from San Francisco 49ers: Mekhi Becton, Offensive Tackle, Louisville
Becton's stock has also risen exponentially over recent months and to be honest, I wouldn't be shocked at all if he's off the board by this pick. Becton is the size of a mountain and he moves extremely well for his size. The reason that he has even fallen this far is because of potential concern from a diluted urine sample from the NFL Combine. While I don't see it as a huge concern, some teams may move one of the other top tackles in front of Becton in a year where it seems wise to make the safe play. After drafting Tua Tagovailoa with the 5th pick, the trade for this stud tackle becomes even more important.
*Trade Compensation:* Miami receives: #13 / San Francisco receives: #18 + #39
---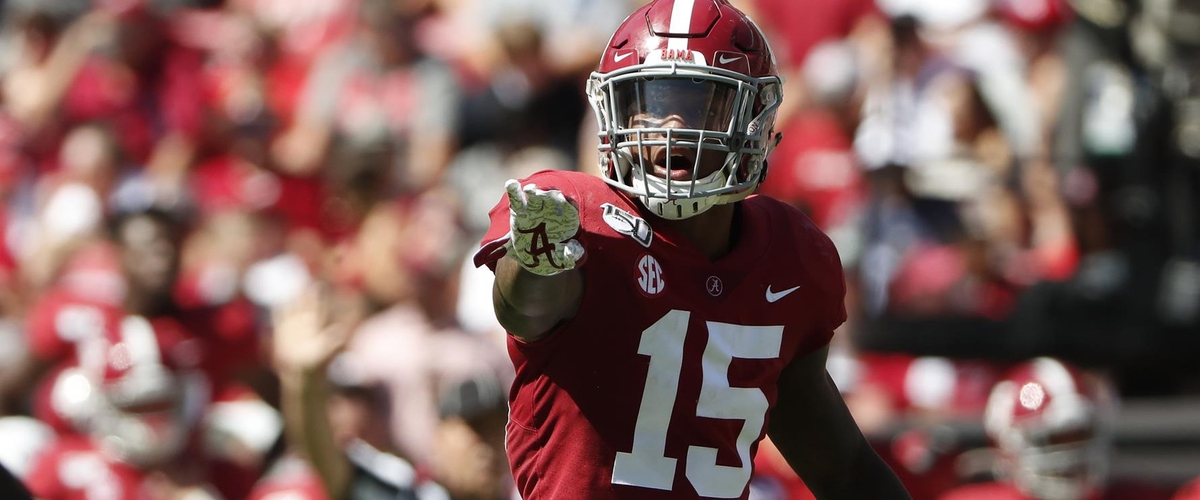 (photo credit: NBCSports)
14. Tampa Bay Buccaneers: Xavier McKinney, Safety, Alabama
What an offseason the Bucs have had. Signing Brady and then recently pairing him with his buddy, Rob Gronkowski, this offense is nightmare fuel. They definitely are going to want to take a top offensive tackle here, but after missing on the top 4, the manage to acquire the top safety in the draft. After grabbing LSU linebacker, Devin White, in the 1st round last year, they take another guy who could be a leader of this defense. They'll be very please with a well-rounded safety like McKinney when they have to compete against the offensive firepower in the NFC South.
---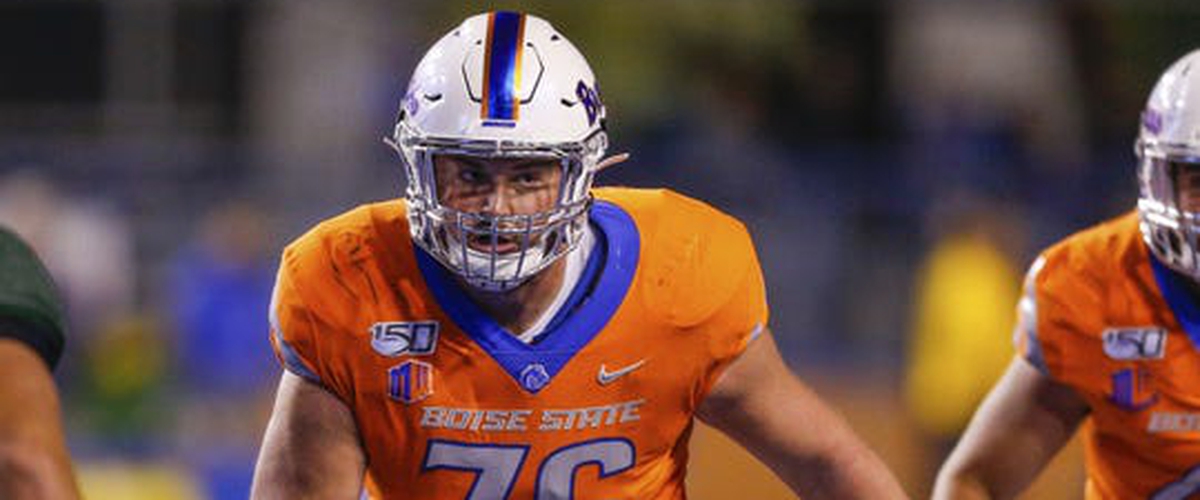 (photo credit: ESPN)
15. (TRADE) Cleveland Browns from Denver Broncos: Ezra Cleveland, Offensive Tackle, Boise State
Talk about a late riser. It wasn't more than a week ago, we heard Ezra Cleveland's name begin to enter the 1st round discussion. Now, I am buying the hype. With the Browns desperately needing a left tackle, they take Cleveland to help the progress of Baker Mayfield and the rest of their explosive offense. Adding Jack Conklin was a great move for the team solidifying a right tackle, but now they need the blindside help. Cleveland is a mobile tackle that needs to get a little bit stronger. With the proper coaching to sharpen up the fundamentals, I think he can be a solid at the next level.
*Trade Compensation* Cleveland receives: #15 + #77 + #118 / Denver receives: #10
---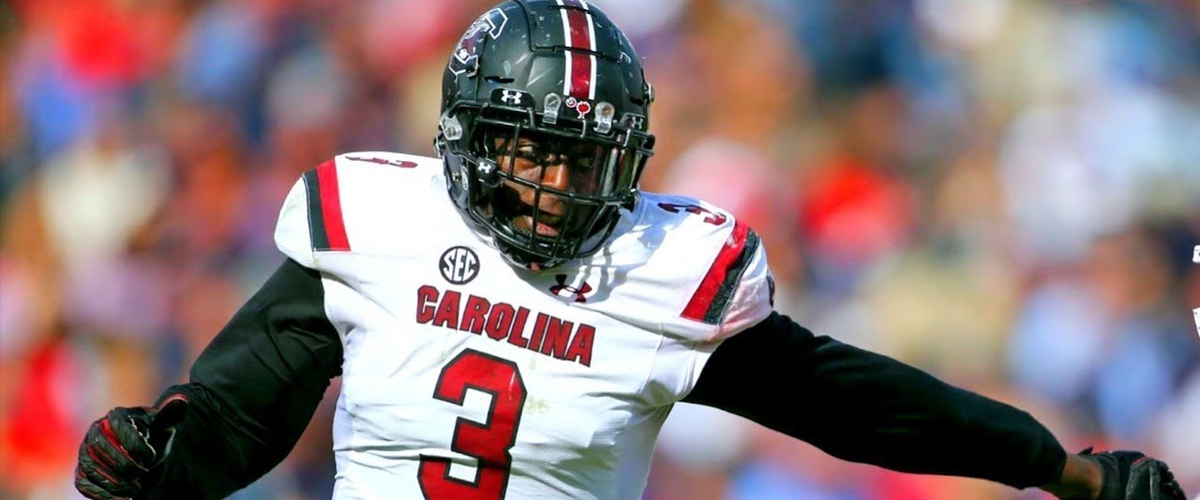 (photo credit: DraftWire)
16. (TRADE) Arizona Cardinals from Atlanta Falcons: Javon Kinlaw, Interior Defensive Lineman, South Carolina
The Cardinals might be a bit bummed that they missed out on a top offensive tackle, but they knew there was a chance of that when they traded back with Atlanta. Instead, they get one of the better feel-good stories in the draft and a monster defensive lineman in Javon Kinlaw. This guy has overcome amazing odds throughout his childhood and went on to be one of the most dominant defensive lineman in all of college football. Kinlaw is an intimidating human being at 6'5 324lbs. His size and playing style makes him a nightmare for any offensive lineman across from him. He has a crazy bull rush and a motor that never stops. Putting this guy next to Chandler Jones... Watch out.
*Trade Compensation* Arizona receives: #16 + #47 / Atlanta receives: #8
---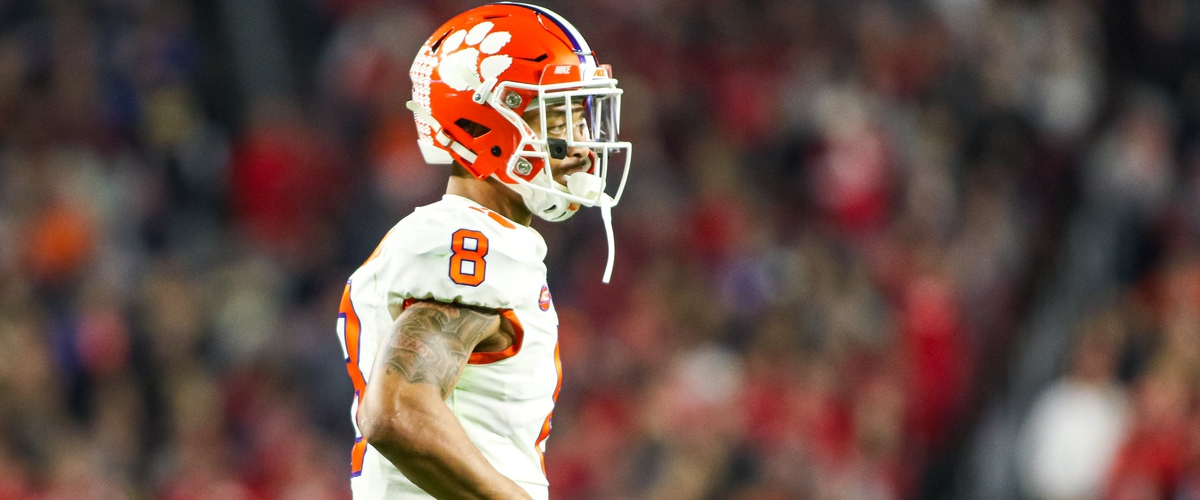 (photo credit: Sports Illustrated)
17. Dallas Cowboys: AJ Terrell, Cornerback, Clemson
After losing Byron Jones, this pick makes a lot of sense. Jones was an exceptional athlete coming out of college and Terrell isn't so bad himself. Terrell makes sense because he excels in both man and zone coverage. The All-ACC corner has great feet and does a great job positioning himself to mirror opposing receivers. He's not the greatest tackler but fortunately for Dallas, they have a solid front seven to make it a bit easier on Terrell, putting him as more of a last line of defense.
---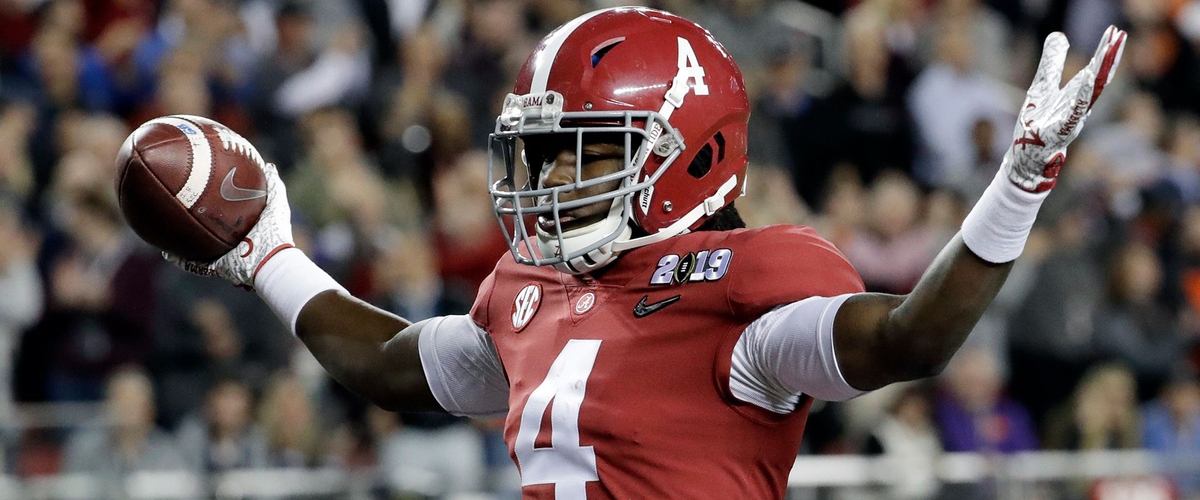 (photo credit: Roll Tide Sports)
18. (TRADE) San Francisco 49ers from Miami Dolphins: Jerry Jeudy, Wide Receiver, Alabama
By some stroke of luck, Jerry Jeudy falls to the 18th pick. The 49ers saw him there on the board at 13 but when the Dolphins called offering a good trade package, they had to say yes with their lack of draft picks. Now, they take Jeudy with even better value than before. In my opinion, Jeudy is WR1. His route running is explosive and he can cut on a dime, leaving defensive backs looking silly and reaching for air. Jeudy can play inside and outside for the 49ers and gives Shanahan a shiny new toy to get creative with and this offense just got a whole lot more frightening.
*Trade Compensation:* San Francisco receives: #18 + #39 / Miami receives: #13
---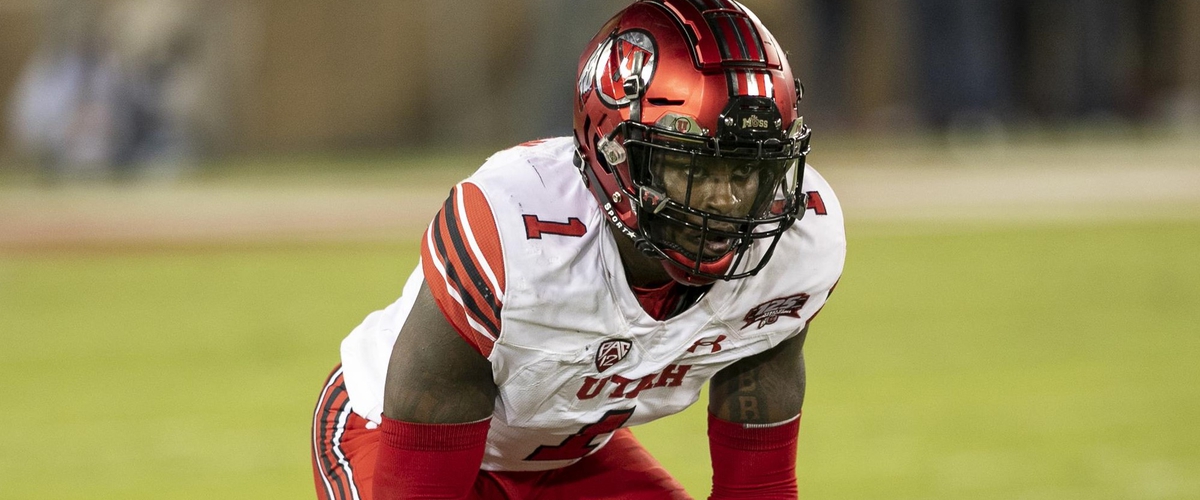 (photo credit: Utah Utes Athletics)
19. Las Vegas Raiders: Jaylon Johnson, Cornerback, Utah
Johnson is a big, athletic corner that can play well in man coverage. Hailing from a Utah defense that had serious NFL talent also may help him here. Last year, we saw that Mayock and Gruden like to draft players from good college defenses. In the 2019 draft, they took two Clemson players, Clelin Ferrell/Trayvon Mullen, and also safety Jonathan Abram from a very good Mississippi State defense. Taking a corner like Johnson adds to an already-young secondary but I think he's a day 1 impact starter for Las Vegas and solid value at the 19th pick.
---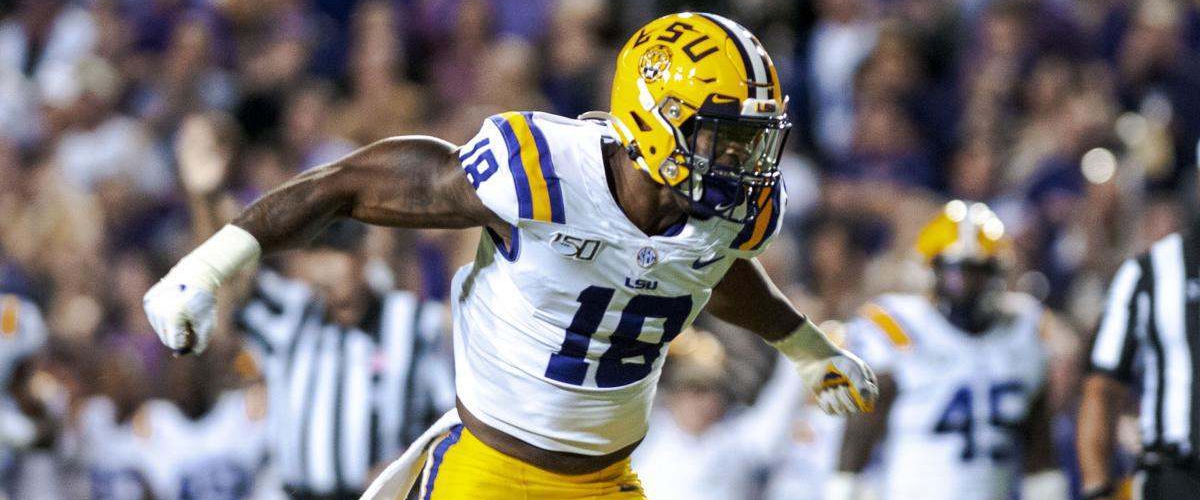 (photo credit: LSU Sports)
20. Jacksonville Jaguars: K'Lavon Chaisson, Edge Rusher, LSU
This will make the 3rd straight draft that Jacksonville will go defense in the 1st round, including twice this year. Chaisson is as explosive in his first step as any edge rusher in the draft. My only concern is that the production hasn't been there with only 9.5 sacks in his career at LSU. However, with his versatility and adding him opposite of last year's 1st round pick, Josh Allen, these edge rushers are freakishly fast. It also helps soften the blow of them almost inevitably losing Pro Bowl edge rusher, Yannick Ngakoue.
---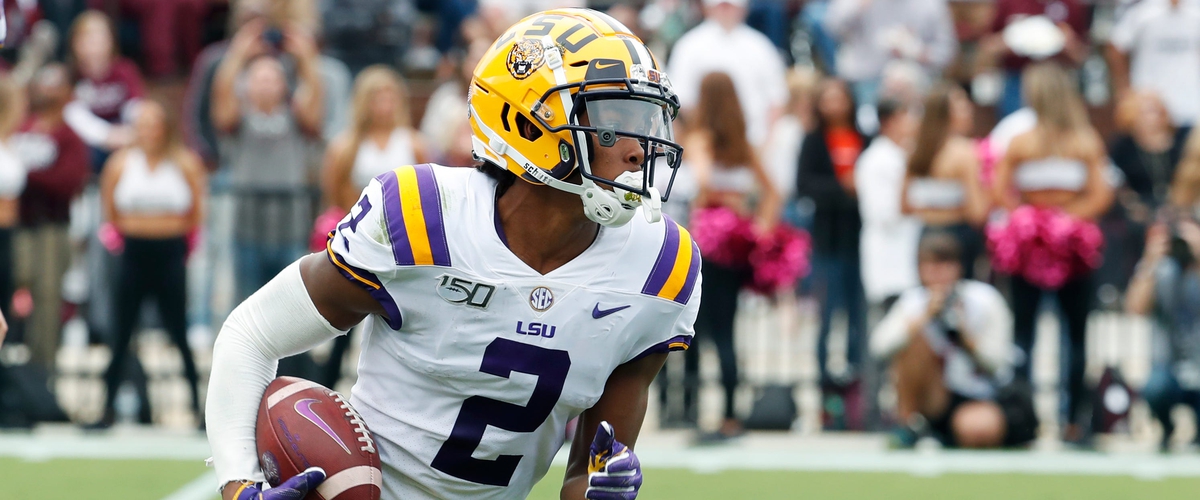 (photo credit: Sports Illustrated)
21. Philadelphia Eagles: Justin Jefferson, Wide Receiver, LSU
This pick should be no surprise. The Eagles were decimated at the receiver position last season. Their leading wide receiver, Alshon Jeffery, had a whopping 490 yards on the season and that was only 4th best on the team. Needless to say, they are desperate for a playmaker at wideout. Jefferson is a baller that excels both outside and in the slot. LSU has an incredible history, especially recently, of putting great wide receivers in the NFL (Beckham Jr., Landry, Chark). Justin Jefferson is just the next one in line.
---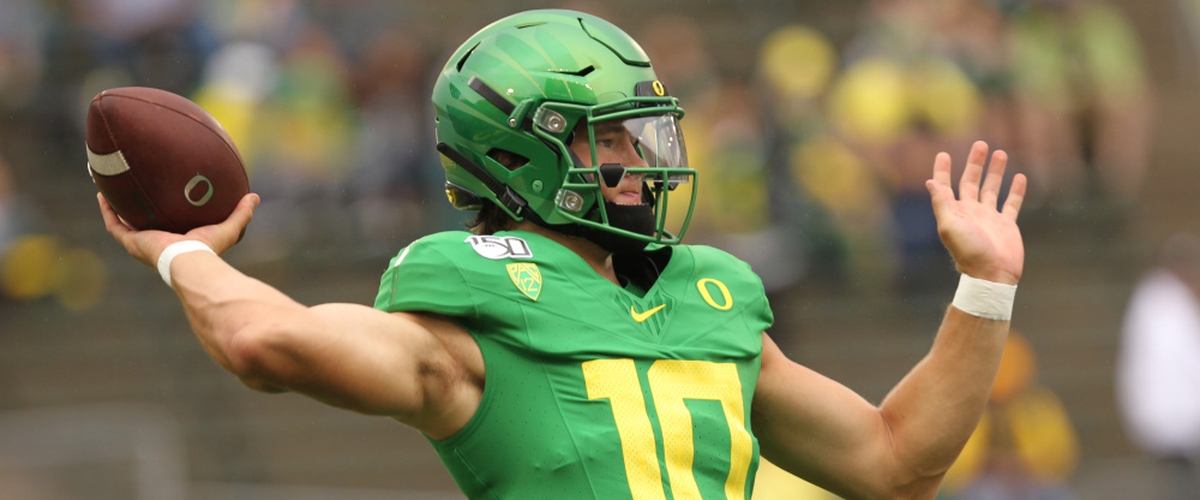 (photo credit: Go Ducks)
22. (TRADE) New Orleans Saints from Minnesota Vikings: Justin Herbert, QB, Oregon
Before you begin to ask why, hear me out. There are clearly mixed opinions on Justin Herbert and while this is a huge fall, I could definitely see it happen. He probably isn't ready to be a Day-1 starter quite yet but he does have an enticing skillset with his big frame, cannon arm, and athletic mobility. It seems apparent that Drew Brees will hang up the cleats on his Hall of Fame career, so why not bring in his successor. A brilliant kid like Herbert could take time to learn the playbook, while being coached by offensive genius, Sean Payton. I guess it wouldn't hurt to watch Drew Brees firsthand, either.
*Trade Compensation* New Orleans receives: #22 + #219 / Minnesota receives: #24 + #130
---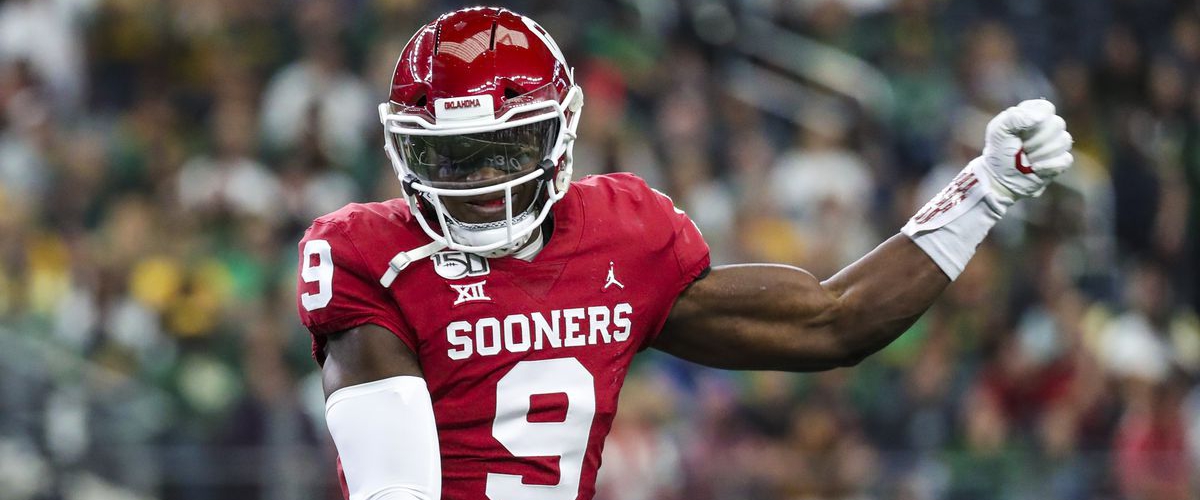 (photo credit: Sooner Sports)
23. New England Patriots: Kenneth Murray, Linebacker, Oklahoma
New Era. New quarterback. New uniforms. New England is going to have to approach this season a bit different than the last 2 decades when they had Tom Brady. With Jordan Love still on the board, they pass and take a versatile, hard-hitting linebacker in Murray. There is a lot to love about Murray but my favorite is his passion for the game and you can bet that he'll fall into the mold of the "Patriot Way." With his range and athleticism, it allows New England to use him in more ways than one to improve an already top-5 defense.
---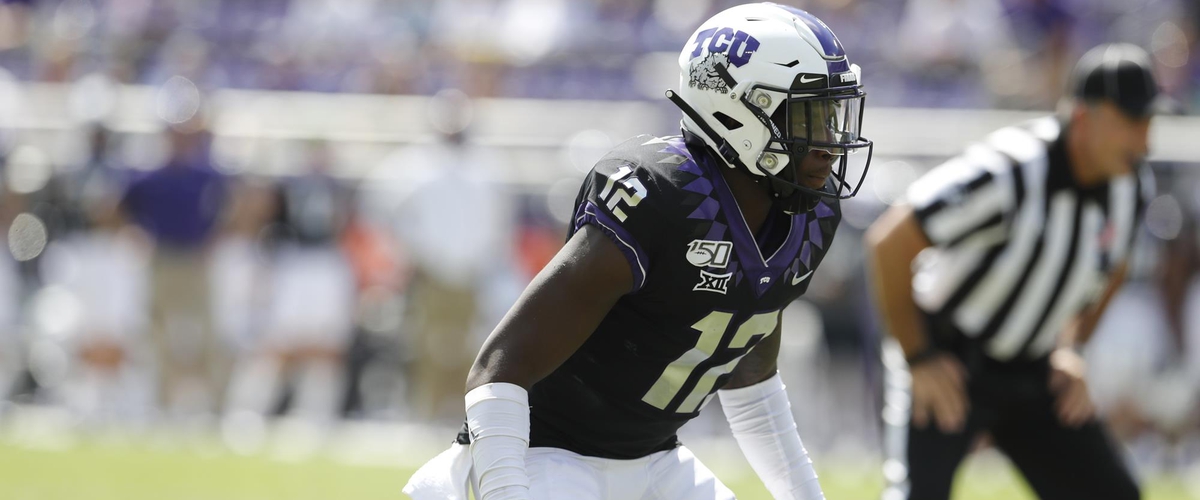 (photo credit: Go Frogs Sports)
24. (TRADE) Minnesota Vikings from New Orleans Saints: Jeff Gladney, Cornerback, TCU
The Viking with another trade. This time hopping back two spots to pickup an extra pick on Day 3. The Vikings fleeced the Bills for this pick in the Stefon Diggs trade. Do they take a replacement for Diggs? While it's possible, we all know that Zimmer loves his cornerbacks. Gladney is the perfect fit. He's a solid man cornerback who could really Tmake an impact across from 2018 1st Rd pick, Mike Hughes. Gladney isn't as long and lanky like you'd wish for, but he makes up for it with his footwork and putting himself in great position on the receiver.
*Trade Compensation* Minnesota receives: #24 + #130 / New Orleans receives: #22 + #219
---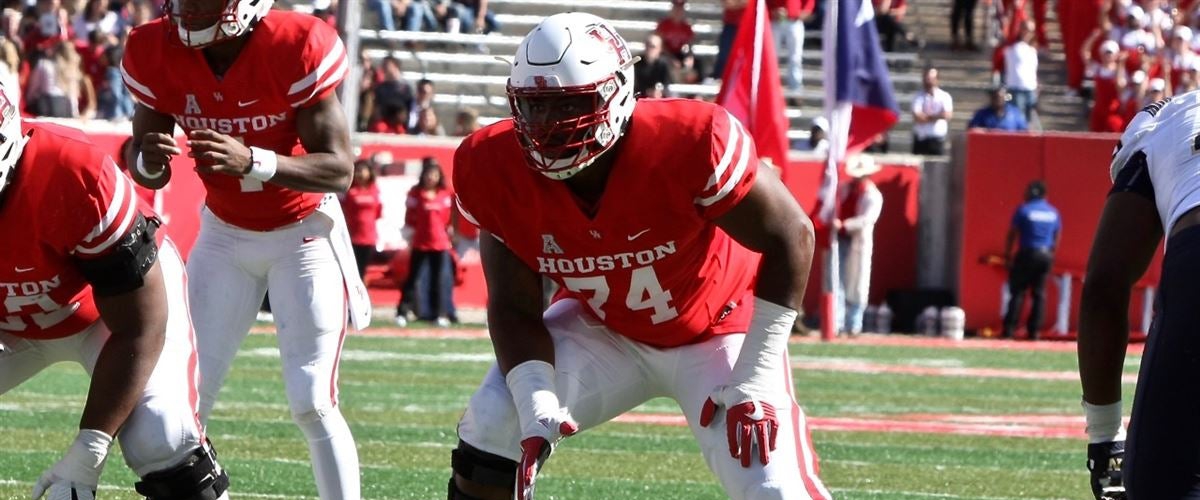 (photo credit: 247sports)
25. Minnesota Vikings: Josh Jones, Offensive Tackle, Houston
The Vikings have back-to-back selections after the trade with New Orleans. After grabbing one of the top cornerbacks, the Vikings now address the offensive line. Jones is an underrated offensive tackle and although he may not bring the quality technique that the top 4 offensive tackles bring, he is extremely athletic. The Vikings are planning to address the offensive line at some point, so why not here with a 6'5 300+lb tackle to block for Cousins. Jones does need work on technique and footwork but his athleticism puts his ceiling extremely high.
---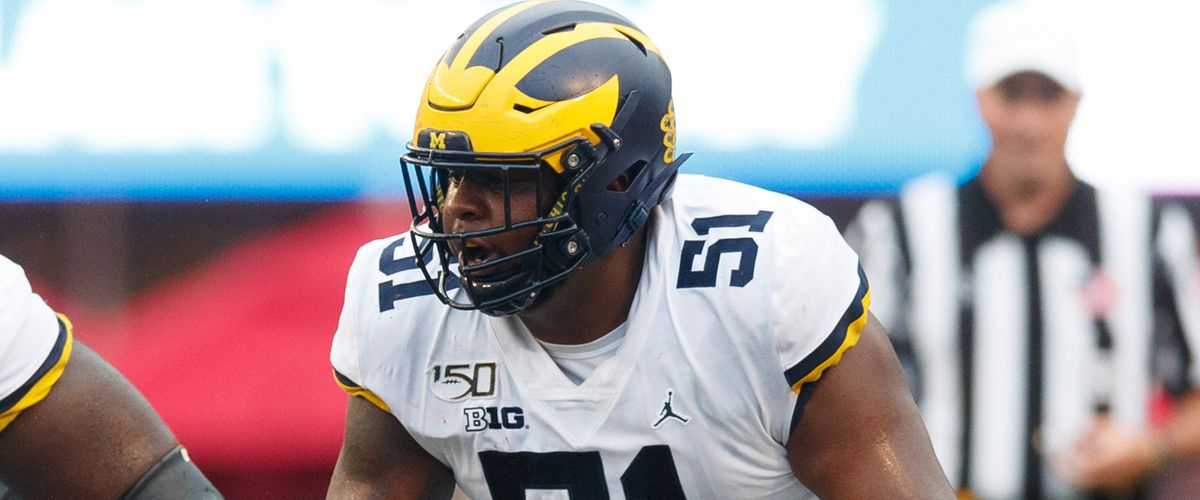 (photo credit: The Athletic)
26. Miami Dolphins: Cesar Ruiz, Interior Offensive Line, Michigan
The Dolphins had to give up their early 2nd round pick earlier to acquire their new big offensive tackle, Mekhi Becton. This also allowed them to keep their third 1st rounder and use it on the top interior lineman in the draft. When they drafted Tua Tagovailoa at 5, their top mission then became to keep him healthy. Ruiz is a day-1 starter for the Dolphins. His football awareness and IQ are elite. He's also versatile with getting multiple starts between guard and center. He is a powerhouse inside and can move. He's exactly what Miami needs in their rebuild of the offensive line.
---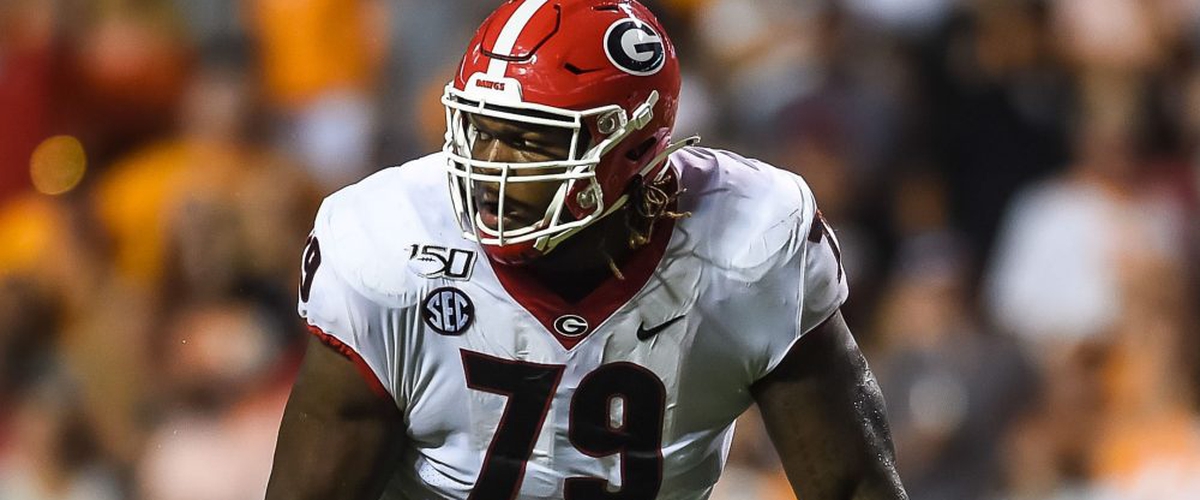 (photo credit: Pro Football Network)
27. Seattle Seahawks: Isaiah Wilson, Offensive Tackle, Georgia
Wilson is a mountain of a man at 6-foot-7 and 350lbs. I think Seattle needs some help on the offensive line to maximize the production of Russell Wilson while he is still playing at an MVP level. Wilson is a bit inconsistent with his hands and his technique but you won't find many players that are his size that can move the way he can. We mentioned his massive frame, but his arms are also extremely long. Wilson's power and strength make him an intriguing pick for Seattle, as long as Russ can see over the top of him.
---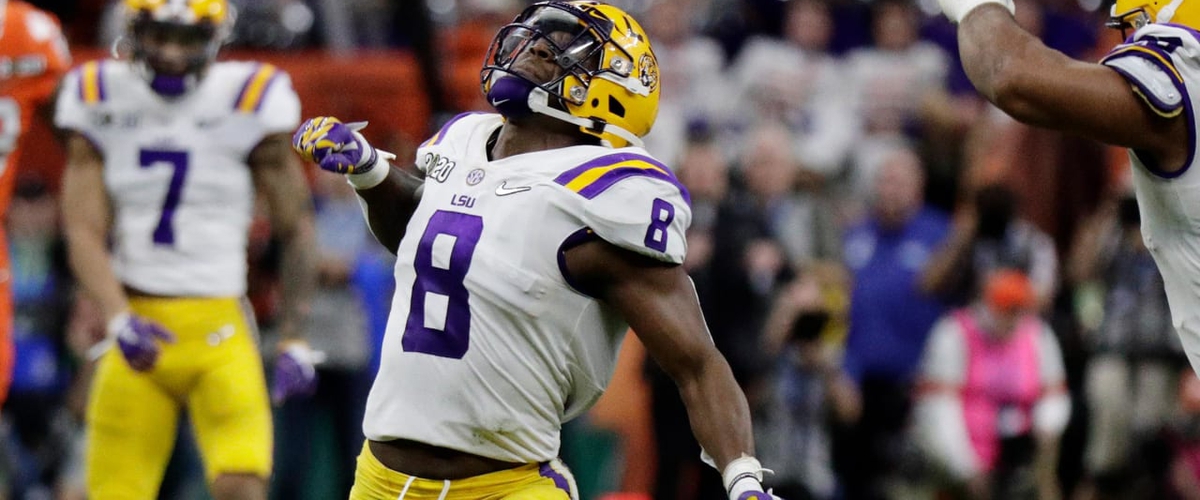 (photo credit: Sports Illustrated)
28. Baltimore Ravens: Patrick Queen, Linebacker, LSU
Okay, I know that this may be the most commonly mocked pick in the draft after the top 5, but I just love the idea of Queen in Baltimore. This man is a heat-seeking missile. His football IQ and instincts are second to none. He's not the strongest linebacker but he doesn't need to be with how explosive and fast he is. The Ravens are missing that elite inside linebacker presence that they have had for so long, but now it's back with Queen. The Ravens add a cornerstone player on defense and can look for a receiving weapon in the next couple rounds for their young MVP quarterback.
---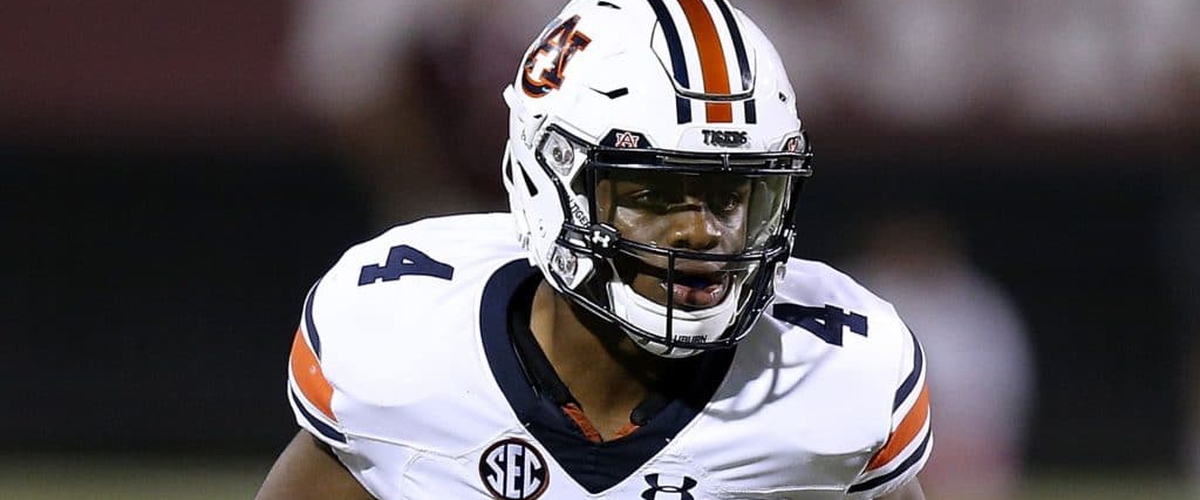 (photo credit: The Athletic)
29. Tennessee Titans: Noah Igbinoghene, Cornerback, Auburn
Once recruited as a wide receiver with Olympian bloodlines, Igbinoghene has transitioned nicely to the cornerback position over the last two seasons. The ball skills are definitely there but he needs to put himself in better position. I think he's a great fit for Vrabel's defense because he isn't afraid to come up and lay the wood. He's a physical and strong corner and he plays like it. He'll need work in his man coverage, but I think with his upside and Vrabel's coaching, he can get there in no time.
---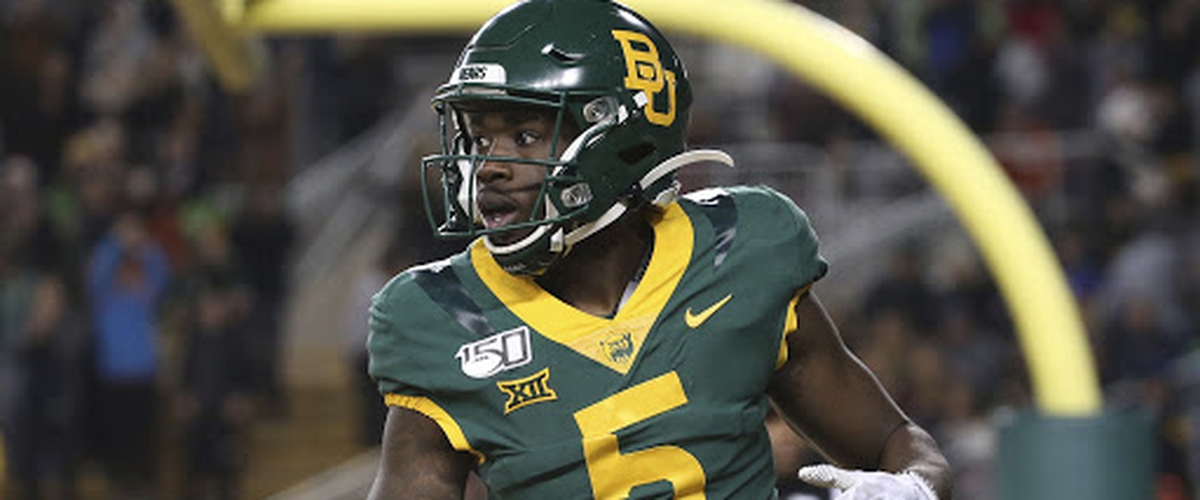 (photo credit: NFL)
30. Green Bay Packers: Denzel Mims, Wide Receiver, Baylor
As long as the Packers have Aaron Rodgers, they have a shot to win it all. The offense exploded with another dimension showing off Aaron Jones and the running game. However, there wasn't enough stability at the WR2 position behind Davante Adams. Mims is a tall and long receiver who has some straight line speed. His lateral quickness is probably the only weakness in his game. His size gives him a huge catch radius. He is going to make a huge impact with an efficient quarterback like Rodgers throwing to him.
---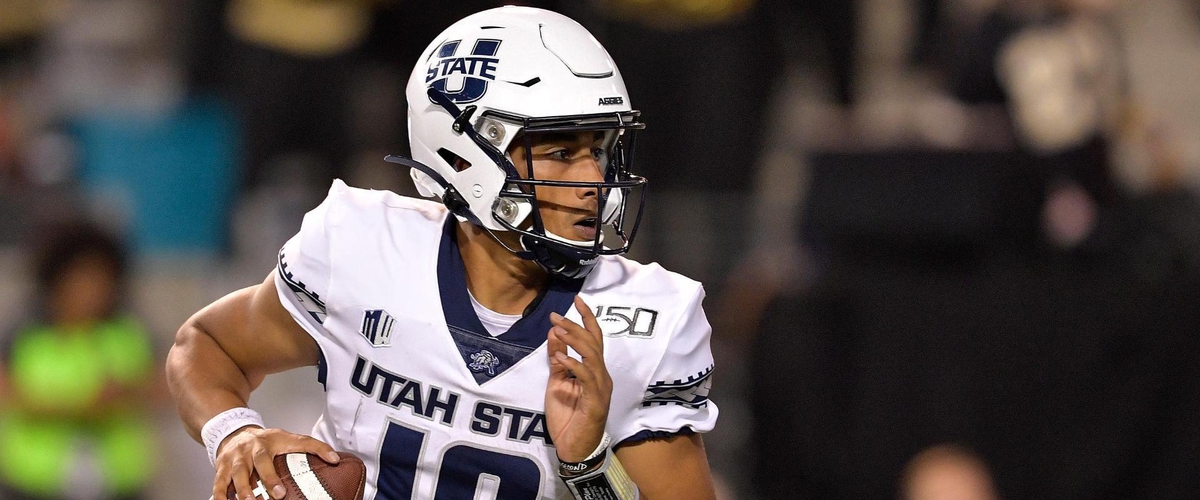 (photo credit: ESPN)
31. Indianapolis Colts from San Francisco 49ers: Jordan Love, Quarterback, Utah State
The run is over. Jordan Love finds a new home with the Colts trading up from the 2nd round to get him. Fortunately for the Colts, they didn't have to give up much because they only had to move up a few spots since they owned Washington's early 2nd Rd pick. Love has been compared to Mahomes a lot lately. Do I think Love is going to be Mahomes? No, but he has all the tools. He has a strong arm, he's athletic, and I think a quarterback guru like Frank Reich would love to mold a guy like Love.
*Trade Compensation:* Indianapolis receives: #31 / San Francisco receives: #34 + #122
---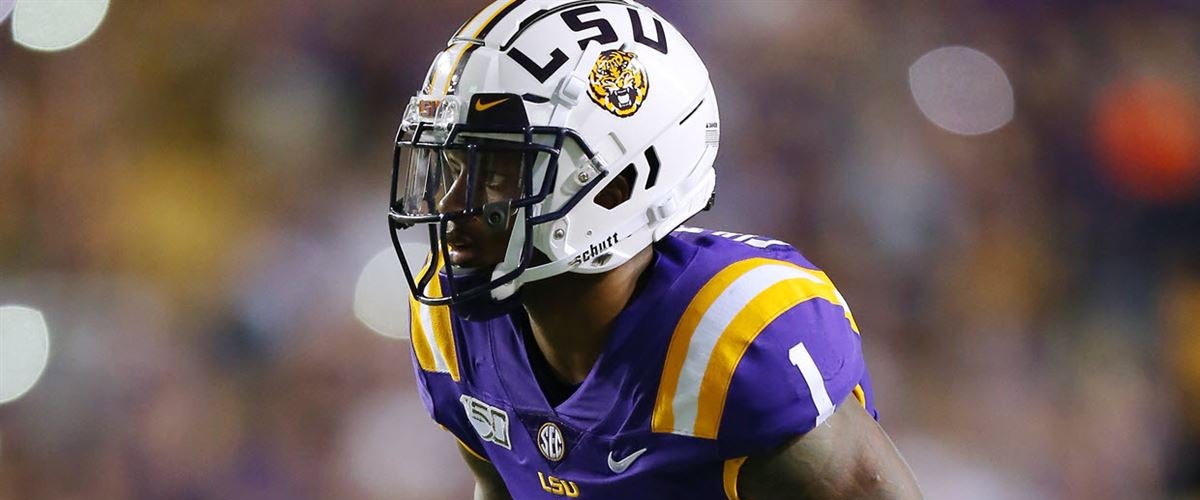 (photo credit: 247Sports)
32. Kansas City Chiefs: Kristian Fulton, Cornerback, LSU
Getting a player of this caliber with the final pick in the 1st round is a steal. Out of all of the LSU defensive prospects in this year's draft, Kristian Fulton is the best one, in my opinion. He's a fun player to watch in press man coverage because of his confidence and footwork. The quickness he shows in his reaction to mirroring wide receivers is second to none. He isn't the best tackler but he's not afraid to go up and try to make plays when he has to. With the right coaching and guidance, we are looking at a perennial Pro Bowl corner for the Super Bowl champs.
----------
Round 2
33. Cincinnati Bengals: AJ Epenesa, EDGE, Iowa

34. San Francisco 49ers (*from IND*): Grant Delpit, S, LSU

35. Detroit Lions: Trevon Diggs, CB, Alabama

36. New York Giants: Zack Baun, LB, Wisconsin

37. Los Angeles Chargers: Jalen Hurts, QB, Oklahoma

38. Carolina Panthers: Ross Blacklock, IDL, TCU

39. San Francisco 49ers (*from MIA*): Robert Hunt, IOL, Louisiana

40. Houston Texans (*from ARI*): Jalen Reagor, WR, TCU

41. Cleveland Browns: Yetur Gross-Matos, EDGE, Penn State

42. Jacksonville Jaguars: D'Andre Swift, RB, Georgia

43. Chicago Bears (*from LVR*): Antoine Winfield Jr, S, Minnesota

44. Indianapolis Colts: Cole Kmet, TE, Notre Dame

45. Tampa Bay Buccaneers: Clyde Edwards-Helaire, RB, LSU

46. Denver Broncos: Damon Arnette, CB, Ohio State

47. Arizona Cardinals (*from ATL*): Austin Jackson, OT, USC

48. New York Jets: KJ Hamler, WR, Penn State

49. Pittsburgh Steelers: Jonathan Taylor, RB, Wisconsin

50. Chicago Bears: Lloyd Cushenberry III, IOL, LSU

51. Dallas Cowboys: Brandon Aiyuk, WR, Arizona State

52. Los Angeles Rams: Ashtyn Davis, S, California

53. Philadelphia Eagles: Jeremy Chinn, S, So. Illinois

54. Buffalo Bills: JK Dobbins, RB, Ohio State

55. Baltimore Ravens (*from ATL*): Tee Higgins, WR, Clemson

56. Miami Dolphins (*from NO*): Cam Akers, RB, Florida State

57. Los Angeles Rams (*from HOU*): Josh Uche, EDGE, Michigan

58. Minnesota Vikings: Neville Gallimore, IDL, Oklahoma

59. Seattle Seahawks: Terrell Burgess, S, Utah

60. Baltimore Ravens: John Simpson, IOL, Clemson

61. Tennessee Titans: Marlon Davidson, IDL, Auburn

62. Green Bay Packers: Lucas Niang, OT, TCU

63. Seattle Seahawks (*from SF*): Darrell Taylor, EDGE, Tennessee

64. Kansas City Chiefs: Willie Gay Jr, LB, Mississippi State
---------
Round 3
65. Cincinnati Bengals: Laviska Shenault Jr, WR, Colorado

66. Washington Redskins: Adam Trautman, TE, Dayton

67. Detroit Lions: Zack Moss, RB, Utah

68. New York Jets (*from NYG*): Terrell Lewis, EDGE, Alabama

69. Carolina Panthers: Prince Tega Wanogho, OT, Auburn

70. Miami Dolphins: K'Von Wallace, S, Clemson

71. Los Angeles Chargers: Michael Pittman Jr, WR, USC

72. Arizona Cardinals: Bryce Hall, CB, Virginia

73. Jacksonville Jaguars: Cameron Dantzler, CB, Mississippi State

74. Cleveland Browns: Kyle Dugger, S, Lenoir-Rhyne

75. Indianapolis Colts: Van Jefferson, WR, Florida

76. Tampa Bay Buccaneers: Matthew Peart, OT, UCONN

77. Cleveland Browns (*from DEN*): Malik Harrison, LB, Ohio State

78. Atlanta Falcons: Julian Okwara EDGE - Notre Dame

79. New York Jets: Matt Hennessy, IOL, Temple

80. Las Vegas Raiders: Jacob Phillips, LB, LSU

81. Las Vegas Raiders (*from CHI*): Damien Lewis, IOL, LSU

82. Dallas Cowboys: Justin Madubuike, IDL, Texas A&M

83. Denver Broncos: Jordan Elliott, IDL, Missouri

84. Los Angeles Rams: Nick Harris, IOL, Washington

85. Philadelphia Eagles: Amik Robertson, CB, LA Tech

86. Buffalo Bills: Curtis Weaver, EDGE, Boise State

87. New England Patriots: Chase Claypool WR/TE - Notre Dame

88. Tampa Bay Buccaneers (*from NO*): Jake Fromm, QB, Georgia

89. Minnesota Vikings: Donovan Peoples-Jones, WR, Michigan

90. Cleveland Browns (*from HOU*): Leki Fotu, IDL, Utah

91. Las Vegas Raiders (*from SEA*): Bryan Edwards, WR, South Carolina

92. Baltimore Ravens: Khalid Kareem, EDGE, Notre Dame

93. Tennessee Titans: Ben Bartch, OT, St John's

94. Green Bay Packers: Logan Wilson, LB, Wyoming

95. Denver Broncos (*from SF*): Saahdiq Charles, OT, LSU

96. Kansas City Chiefs: Darrynton Evans, RB, Appalachian State
97. Cleveland Browns: Lynn Bowden Jr, ATH, Kentucky
98. New England Patriots: Ben Bredeson, IOL, Michigan
99. New York Giants: Devin Duvernay, WR, Texas
100. New England Patriots: Bradlee Anae, EDGE, Utah
101. Pittsburgh Steelers: Reggie Robinson II, CB, Tulsa
102: Seattle Seahawks: Netane Muti, IOL Fresno State
103. Philadelphia Eagles: Akeem Davis-Gaither, LB, Appalachian State
104. Los Angeles Rams: James Lynch, IDL, Baylor
105. Minnesota Vikings: Tyler Biadasz, IOL, Wisconsin
106. Baltimore Ravens: Brandon Jones, S, Texas