A move for Jake Arrieta could work for the Angels
Whether it is a bit of an odd thing to understand or not, the Angels have always been a relatively attractive destination for players. You can thank the city and weather for that, but now it is primarily the presence of Mike Trout, baseball's biggest name at the moment. Keeping Trout and Albert Pujols, one of the best hitters in league history for as long as they have, and bringing Shohei Ohtani to Anaheim, there is still space for more guys to make an exciting team even better in 2018.
The Angels have no issues surrounding their batting rotation, with a one-two punch in Trout and Pujols leading the way. The re-signing of Justin Upton was a necessary move, who remains one of the better hitters in the rotation, as well as Ohtani likely to make plenty of big time plays given is impressive stat line in the Japanese league. Ohtani's batting numbers from his terrific 2016 MVP season were 22 homers, 67 RBIs and a .322 batting average. The team is also strong on the defensive side, ranking above the league average in defensive score, hits, walks allowed and strikeouts in 2017. The group will be highlighted with Andrelton Simmons in the outfield; who won a golden glove award in 2016, as well as a slimmed down Albert Pujols looking to strike some form on first base.
The issue for the Angels in recent years has been their pitching staff. It's not that the Angels do not have the quality, more that the quality has plenty of question marks on it. Matt Shoemaker, Garrett Richards and Tyler Skaggs have all battled the injury bugs lately, and those bugs have struggled to disappear. Shoemaker had a great 2014 campaign, only his second season, with a 16-4 record, a 3.04 ERA and leading the Angels to the best record in all of baseball. There is a silver lining with the addition of Ohtani, who pitched a 1.86 ERA in 140 innings in his MVP year, and during spring training so far has been impressive with eight out of 12 strikeouts in his second start on the mound. But to avoid such possibilities of injuries or drops in form, which honestly seem more than likely than not for the Angels, a play at one of the better pitchers in recent years is an answer.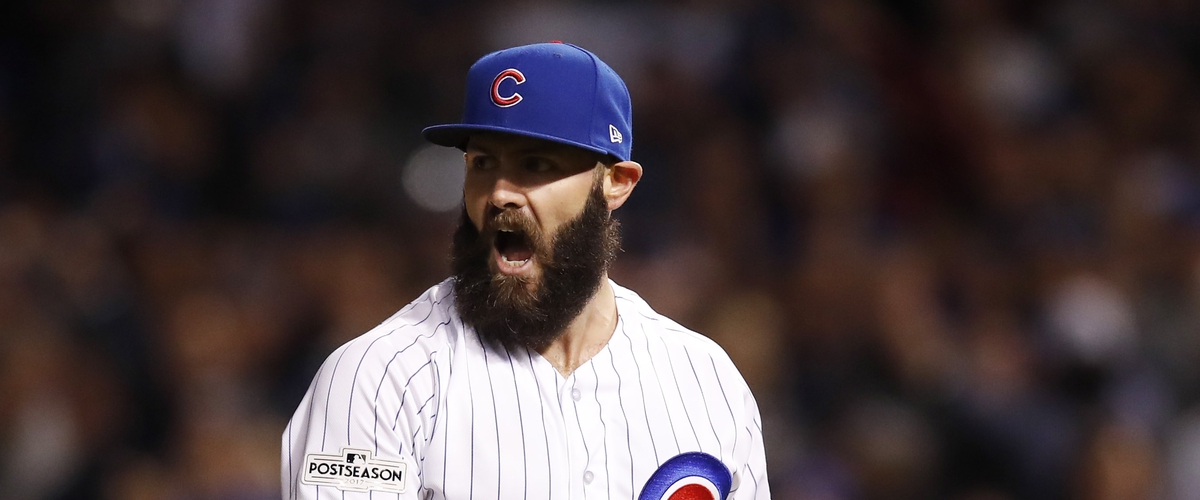 Jake Arrieta is moving on with age, but still had glimpses of his pitching gifts in 2017. He was drafted in the fifth round by the Orioles in 2007, but did not start in the majors until 2010 where he began making a bigger impact than many expected. In 2015 with the Cubs, Arrieta had a 22-6 record, while pitching an impressive 1.77 ERA in the Cubs first year in a long time looking like a World Series contender. He managed a Cy Young award the same year, and from there an All-Star selection and a World series title in the famous win over the Indians in 2016. His quality should never be understated, and of course, form is temporary and class is permanent.
Two problems can arise, and they almost go hand and hand with each other. First off Arrieta could demand more money than the Angels can afford. A problem that can be solved with one statement – "Sign for less with us and we'll get to the playoffs, and you will get plenty of playtime with that." Other teams can say the same thing, but a deep pitching staff with his arrival and a great rotation could be a winner for Arrieta to head south to Anaheim. Secondly though, and one touched on earlier is the age and from there health of Arrieta. While his ERA of 5.79 through his first four years with Baltimore improved to 2.92 since his move to Chicago, his numbers fell slightly from 2016 to 2017 suggesting a possible downturn. This should in no way turn the Angels off from signing Arrieta, instead considering a one or two year deal to avoid any financial binding to the player long term.
The positives heavily outweigh any negatives that could arise. If such a move goes through, the roster looks even better from all standpoints and moving up to a Wild Card spot should be an achievable goal for the Halos in 2018.