2018 NBA Draft Profiles: Trae Young
Hey guys. Welcome back. Today we are going to look at arguably the draft's most polarizing prospect, Oklahoma Sooner point guard Trae Young. Let's get into it.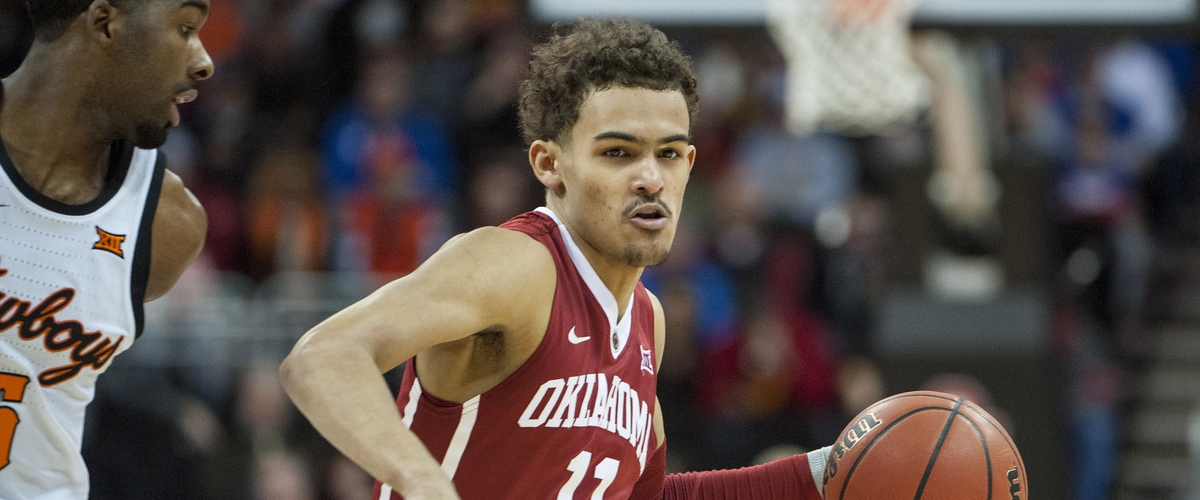 Trae Young, PG, Oklahoma - Freshman
Background
Trae Young is an Norman native with basketball in his blood. His father, Rayford Young, played ball for Texas Tech and professionally overseas. By Young's senior season of high school he emerged as one of the most lethal scorers in the state and in the country, finishing his decorated career at Norman North averaging 42.6 points per game while shooting nearly 50% from the field. A top 30 prospect, Trae Young has absolutely exploded on to the college basketball scene thanks to his phenomenal scoring abilities and unbelievable raw stats. Leading the nation in points and assists as a freshman, Young has capped his career in the Big 12 by winning the Wayman Tisdale award.
Positives
Whether you like or don't like Trae Young as a pro prospect, there's little question that he is a very talented offensive player at the collegiate level. The raw stats are just ridiculous, with Young finishing the regular season averaging 27.4 points and 8.7 assists per game while shooting 36% from three. Early in the season, Young came out on fire, averaging nearly 30 points and 11 assists on 42% three point shooting, but cooled off after the New Year's as defenses began to gameplan for the freshman phenom.
When you watch Oklahoma, you are watching the Trae Young show front and center. And on offense, it's pretty hard to be disappointed as a basketball fan. Is he Steph Curry? No, but he certainly can scorer with the best of him. As a shooter, his release is a little lower than you'd like, but boy is it sweet. When he squares his feet and takes a clean look, Young is probably one of the most lethal shooters in the country, if not the most. He can hit shots from anywhere on the floor. Despite fairly average athleticism and size, he does a good job creating opportunities for himself and his teammates. To me, Young's best move is the pump/hesitation from outside. He is really slick at breaking down defenses by driving and dishing, and this ability partially explains his ridiculous assist numbers. While he isn't a flashy passer or someone who can just fire in the basketball into tight windows, he does keep his head on a swivel and is highly active in looking for the open shooter. Up to the Kansas game, this offense ran like a well oiled machine, because Young could shoot, drive, and dish, and his teammates were solid as complementary scoring options.
Trae Young was flat out bad on defense, but he got no help from Oklahoma either. He does get some steals and, despite his lack of athleticism, is never getting flat outmuscled or outrun, so I wouldn't say that Young CAN'T play defense. From what I can tell, Young has worked so much on his offensive game and has become so lethal in that regard that he's never bothered to learn fundamentals or proper technique. You can see from watching him that he doesn't get in a good stance, he doesn't slide his feet well, and he often just watches the ball instead of watching his man. How are any of these positives? They aren't. But it means that Young probably could learn and work to become a better defender at the next level. He may never be a good defender, but he could at least become a serviceable one with some coaching.
Trae Young is one of the most dynamic offensive talents I've seen in a long time. His game isn't perfect, but he is a really, really lethal shooter and a terrific scorer. Obviously, his mediocre athleticism and size will hurt him more at the next level, where he will be banged up physically much more and have even less space to take shots, but at just 19 years old, Young has really great potential to become a really good player at the next level. People that love him see Steph Curry, and while I can't endorse that comparison, he has moments where he looks like a game changing talent on offense at the next level.
Negatives
Trae Young has been under the microscope this season, more so than any player in the country I would say. When teams realized that Young was this entire team's offense, they clamped down on him and clamped down hard. Young took plenty of bad shots early in the season, but he certainly was forced to take a lot more bad looks as the year progressed. And while his offense partially made up for his bad defensive ability early in the year, it became obvious as the year progressed that he was simply overmatched on that end of the floor routinely.
Offensively, Young is well known as a shooter, but he hurts himself by taking some really, really bad looks. I could say that this is partially because of an offense that relied on him and didn't do enough to help him take better shots, but Young was often trying to do just way too much on that side of the ball. He will need to be much more selective with his shots at the next level. In addition, while Young put up phenomenal stats, its worth noting how much of those numbers were inflated by garbage time points, both in his own scoring totals and his assists. I'd also be remiss to not mention his turnover issue, which is very real. He struggled mightily with guys who were longer than him, which he will have to deal with often at the next level. His vision is good, but he simply doesn't fire in passes to avoid deflections and interceptions. His play speed is average and his handling isn't that great. People compare him to Steph Curry, but Curry works like an animal off ball to get open looks. Young doesn't do that, and he looks complacent oftentimes to just wait around the wings for the ball to come back to him.
As I already said, Young is bad on defense. He has high basketball IQ, but he gets absolutely shredded on that side of the court. Defense is effort, and he really didn't seem like he wanted to put in the effort much of the time. The guy is practically a subway turnstyle when guards attack the hoop on him. I've seen small point guards at least contest and pester on defense to make it difficult for opposing players to get good looks, and he does almost none of that. He picks off passes and occasionally can swipe some steals, but for every one good play he makes on the ball, he probably makes at least ten bad ones. His steal numbers make you believe he at least could be a good defender, but his lack of athleticism and size makes me think he will be a below average defender for his entire career. By the end of the year, Young was allowing more points per possession in conference than he was scoring, and was a total liability for the Sooners. Whatever NBA team that drafts him is going to have their work cut out for them in reteaching him how to play defense.
Trae Young scares teams for his offensive ability, but he built up a reputation as a chucker by the end of the season because of a perpetual green light that reflected his poor decision making. He will need to be much smarter on offense if he wants to overcome his lack of athleticism and size. And on defense, he will need to try a lot harder than he did at OU. It doesn't matter how good you are on offense. NBA coaches will not stand for a player who doesn't give effort on defense. He is a really infuriating player to watch at times, because you know he is really talented.
Conclusion
I'm high on Trae Young at the next level, because he is a special scorer and a smart player. As I've watched him, I don't see the Steph Curry comparison. He's reminded me a lot of a player who has established himself over the past few years as one of the league's better offensive players in Lou Williams. I think his lack of size and athleticism are similar, and it make take Young a while before he finds his game in the NBA. If he's thrown into the NBA right now, he will struggle in much of the same way he did at Oklahoma. But with more experience and dedication to improving his shot selection and defensive effort, Young can become a quality NBA player and a valuable offensive weapon.
---