Broken Brodie; Westbrook struggles in Thunder loss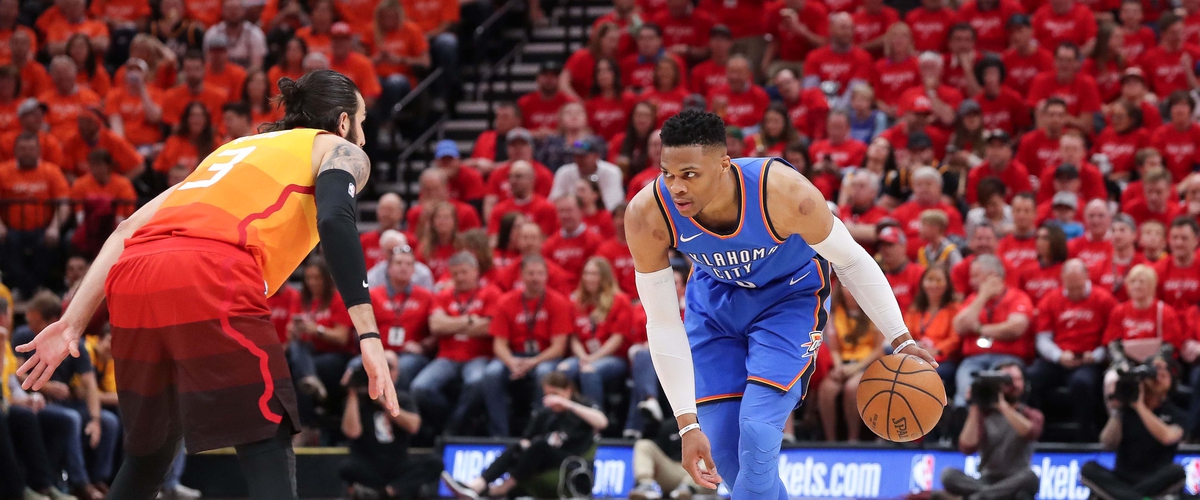 The Oklahoma City Thunder find themselves down 2-1 in their first round match up against Utah. The Thunder were embarrassed dropping game 3 115-102, they once trailed by 20, and never really got going.
Ricky Rubio again, had the game of his life. So far this series he has absolutely schooled the leagues reigning MVP Russell Westbrook. Tonight was no different. Rubio, posted a triple double collecting 11-rebounds, dropping 10-dimes, and pouring in 26-points. The crowd chanted his name, he asked for the Jazz fans to get louder, and Westbrook looked across the court hunched over with no expression on his face realizing he has been outplayed for 3 games.
Russell Westbrook was a dreadful 5-for-17 (29%) and was again held scoreless in the 4th quarter. Westbrook this series has gone 22-for-61 from the field, and 3-for-11 from three point land. He has lacked effort, intensity, and frankly looks scared. He looks overmatched. Westbrook is afraid to drive and be explosive with Rudy Gobert roaming the paint, and that has taken away the only effective part of his game.
Russell Westbrook has never been this bad in his entire career, so post game he was asked if he was dealing with any sort of injuries. The point guard shrugged it off and said everyone is dealing with injuries this time of the year. Later on, another reporter mentioned Rubio's incredible series and in classic Westbrook fashion he blurted out "I'm gonna shut that (expletive) off." The problem with that is the optics. Russell Westbrook has simply been lazy defensively. He is leaving Ricky Rubio wide open, and ball watching like always, and to Rubio's credit he is taking advantage of it.
Game 4 will take place Monday Night in Salt Lake City at 9:30 local time, and it is a huge game. If Oklahoma City falls to being down 3-1, you can forget about the series. If Russell Westbrook continues to get absolutely punk'd by Ricky Rubio, and being the reason this team, littered with all-stars and hall of famers, gets bounced in the 1st round you can kiss Paul George goodbye as he will be partying in LA. Maybe Colin Cowherd is right?
For more Thunder news, notes, game updates, and opinions, follow: @LoudCityPod and @Rylan_Stiles on twitter.
---