A Look at 2017-18 Wisconsin Basketball
G He Hil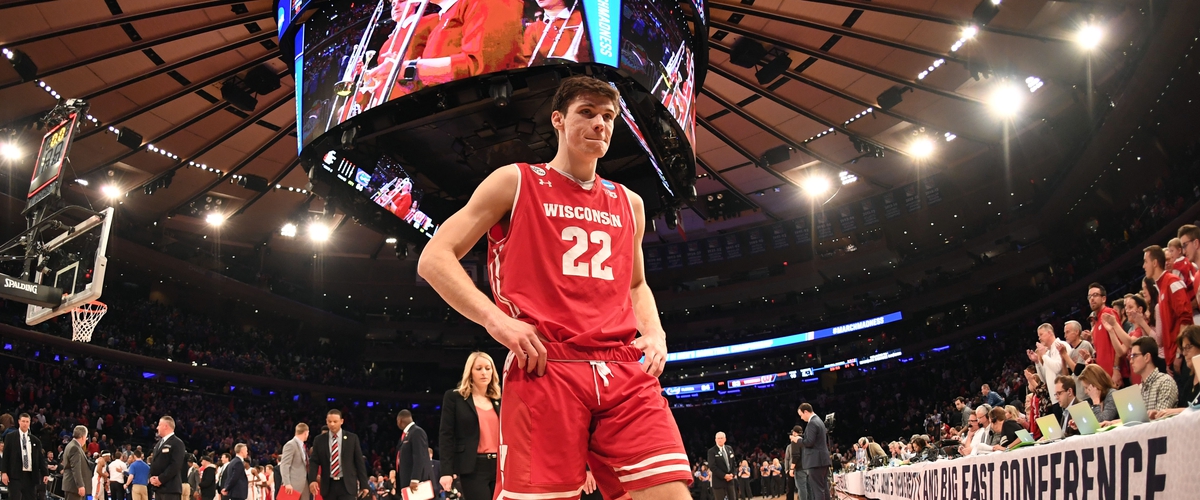 Now that the 2016-17 season has finished in the awful way that it did, but yet still incredibly remarkable how much that class has accomplished, it is now time to look towards the future of the basketball program, mainly for next season. With the losses of the four seniors, a lot will be relying on Ethan Happ for next season. The good news is, however, that the team won't change a lot for the year after. With only Jordan Hill and Aaron Moesch in line to become seniors, at most three Badgers will leave the team after next season.
CLASS BY CLASS ANALYSIS
SENIORS: F Aaron Moesch and G Jordan Hill
Jordan Hill went from being the sixth man on the team as a sophomore to a fringe rotation player last season, and with four seniors graduating and four freshmen (including redshirt freshman Aleem Ford) coming in, it's unclear what his role will be exactly. He likely will battle sophomore Brevin Pritzl and incoming freshman Kobe King for the guard spot next to D'Mitrik Trice. As for Moesch, he'll likely get the majority of his minutes to spell Khalil Iverson at the three and maybe the four, but I wouldn't expect too much of him.
JUNIORS: F Ethan Happ, G/F Khalil Iverson, F Alex Illikainen, F Charlie Thomas, F Andy Van Vliet, G TJ Schlundt, G Matt Ferris
Assuming Purdue big man Caleb Swanigan goes pro, Ethan Happ will be the favorite for Big Ten Player of the Year next season. I don't think he will go pro early unless his ability to shoot increases dramatically, which is unlikely. This group will be the group that determines the success over the next two years for the Badgers, and it will be about providing help for Happ. Khalil Iverson has one of the three "guaranteed" starting spots for next season, and his role needs to step up. Illikainen, Thomas and Van Vliet will battle for playing time next to Happ, and I'm really not sure who will take the role. Van Vliet remains an enigma, while Thomas and Illikainen have both had times when it looked like one was better than the other. I'd expect them to split minutes. Schlundt and Ferris likely won't play too much.
SOPHOMORES: G D'Mitrik Trice, G Brevin Pritzl, G Michael Ballard?
I have the question mark by Ballard because I'm not sure if he redshirted, because I didn't even know he was on the team until I looked at the roster just now. Trice will likely become the lead-guard for the Badgers, and he is also number two to Happ. As far as Pritzl is concerned, the best thing he did this season was cut off that hair, but he should be part of a three-way battle for the guard spot next to Trice.
FRESHMEN: F Aleem Ford (redshirt), F Nathan Reuvers, G Brad Davison, G Kobe King
All four of these freshmen have a legitimate chance to gain big minutes in the rotation, and all of the incoming players are four-stars on at least one recruiting website. Sam Dekker was the last five star recruit brought in, so getting three four-stars is pretty good. Davison will likely be Trice's backup at least for this season, but Reuvers, King and Ford all have a chance to crack the starting lineup. With nobody outside of Trice and Iverson stepping up this season, I feel like the entire rotation after Happ, Trice and Iverson is up for grabs, so the freshmen have as fair of a shot as any.
DEPTH CHART
1-Trice, Davison
2-Pritzl, King, Hill
3-Iverson, Ford, Moesch
4-Reuvers, Illikainen, Van Vliet
5-Happ, Thomas
Others: Schlundt, Ballard, Ferris
I think this will be a deep team, as far as number of players that get minutes, but it won't be as good as last season. It's hard to replace guys like Nigel Hayes and Bronson Koenig immediately, and I feel that the rest of the Big Ten is going to be better as well. To me it seems that we have found a glitch where we are really good when the Big Ten is "down", and not so much when it is "up". I chose Pritzl to start because of his floor spacing and the fact that he started to play more than Hill towards the end of the season. As far as why Reuvers is starting, both Illikainen and Thomas haven't shown up yet, and I figure why not let him hit the ground running.
---