NFL MOCK DRAFT
8DE Charles Harris, Missouri: Kansas City is one of those teams that always adds subtle talent to the roster, and Harris will be a nice addition to an aging front seven.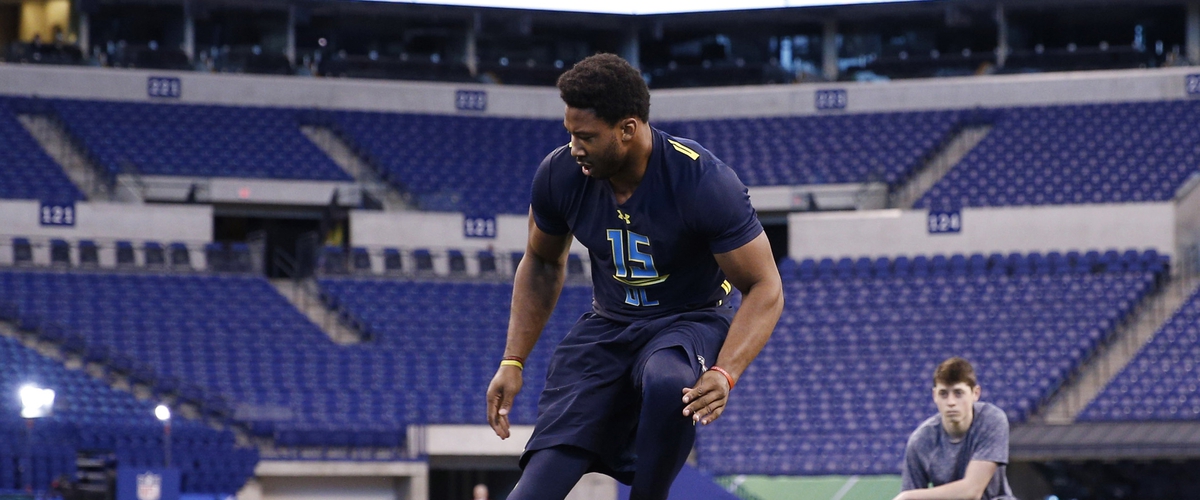 1) CLEVELAND BROWNS
DE Myles Garrett, Texas A&M: The Cleveland Browns are going to be the most "improved" team in the AFC North at least after having five selections in the first 65 this season. Putting an outstanding talent like Myles Garrett in that young, slightly underrated front seven of Cleveland will make this defense more formidable.
2) SAN FRANCISCO 49ERS
DE Solomon Thomas, Stanford: The needs of the 49ers are pretty much everywhere, as the established players are aging and the young players are, well, young. San Francisco was successful a few years ago based on defense first, and this is where they should start. Thomas is the second rated player in all of the draft according to cbssports.com, and the Browns took the first.
3) CHICAGO BEARS
SS Jamal Adams, LSU: Quarterback could be a need, but I don't think they will take one here because of the Mike Glennon mega-deal. It's too early for a skill player on offense too, and the Bears bigger weakness is defense. They made some signings, but the Bears have failed in the past to benefit strongly from them. Jamal Adams is the best defensive back on the board, and the secondary is the biggest weakness on the Bears. They also have Aaron Rodgers to try and stop in the division.
4) JACKSONVILLE JAGUARS
DT Jonathan Allen, Alabama: Jacksonville once again spent billions it seems in free agency, but they didn't cover up all four spots on their defensive line this year. That's where Allen comes in, and he would likely slide right between Malik Jackson and Calais Campbell. That line could be scary if things actually came together in Jacksonville.
5) TENNESSEE TITANS
CB Marshon Lattimore, Ohio State: We are turning into a generation where you can never have enough good corners, and the Titans can get a potential number one corner on a team with Logan Ryan and Jason McCourty as the top two corners. This team is on the rise, and having a good secondary is important to keep moving forward.
6) NEW YORK JETS
TE OJ Howard, Alabama: The first offensive player selected is a tight end? I think so, because OJ Howard could possibly have a legendary career as one. Tight end has been a need in New York for years and years, and adding him could solve that need for just as long.
7) LOS ANGELES CHARGERS
DE Derek Barnett, Tennessee: With the first ever selection for the LA Chargers, they don't do anything as flashy as the Rams. Derek Barnett helps build a defense that already has a good offense around it, and if this team could ever avoid the injury bug and play up to potential this is a sleeper team.
8) CAROLINA PANTHERS
RB Leonard Fournette, LSU: This is just a best player available selection, and the hype around Fournette has been high since he first arrived at LSU. Imagine him with Cam Newton, and this offense could all of a sudden become the strength of the team.
9) CINCINNATI BENGALS
ILB Reuben Foster, Alabama: The Bengals have holes to fill on the offensive line, but the third linebacker spot next to Vontaze Burfict and Vincent Rey is probably more important at the moment. This team struggled last year, but the roster is still pretty solid overall, and Foster definitely fits the bill for the Bengals.
10) BUFFALO BILLS
FS Malik Hooker, Ohio State: The Bills have taken a lot of hits in the secondary this offseason, and with career backup Micah Hyde as the best on the team, bringing in Malik Hooker to fill the other safety position is necessary. I never understand what the Bills do.
11) NEW ORLEANS SAINTS
WR Mike Williams, Clemson: Some people believe Mike Williams can go onto almost any team and instantly become a number one wide receiver, and thanks to New Orleans trading away Brandin Cooks, that just may happen. Mike Williams will be a difference maker and the best receiver for the rest of Drew Brees' career.
12) CLEVELAND BROWNS
QB Deshaun Watson, Clemson: This isn't the best group of "safe" quarterbacks in a draft, but I don't even know who is in the running to play QB in Cleveland at the moment. I think it goes Cody Kessler, Brock Osweiler, LeBron James. Seriously, they need a winner like Watson over another high-upside guy.
13) ARIZONA CARDINALS
QB Mitch Trubisky, North Carolina: I guess the Cardinals are planning the future after Carson Palmer, and in this case, they can take a guy who will take a year or two to develop with upside. Trubisky is more that guy than Watson, hence why those guys are where they are.
14) PHILADELPHIA EAGLES
RB Dalvin Cook, Florida State: Last year it was a quarterback, this year it is a running back. Dalvin Cook is a three-down back who can add more to the backfield in Philadelphia, and be the head of a running back-by-committee approach.
15) INDIANAPOLIS COLTS
DE Taco Charlton, Michigan: Before I say things like the Colts need defense, they needed new management more. It appears as though the new management realizes that Andrew Luck can't win by himself, and therefore they went out and signed defensive players. They will also draft defensive players, starting with a good DE in Charlton.
16) BALTIMORE RAVENS
OLB Hasson Reddick, Temple: The Ravens defense actually has the most holes I have ever seen it have, and Reddick will fill up the pass rusher opposite Terrell Suggs.
17) WASHINGTON REDSKINS
WR Corey Davis, Western Michigan: Believe it or not, but after letting DeSean Jackson and Pierre Garcon go, I believe that the Redskins might have a better receiving corps next year. They can make sure of that by bringing in a stud in Corey Davis to go along with Terrelle Pryor and second year pro Josh Doctson.
18) TENNESSEE TITANS
WR John Ross, Washington: The Titans are going with upside, and John Ross is more than just his record setting 40 yard dash time. He is instantly the best receiver on the team, and will provide a fresh deep threat for Marcus Mariota.
19) TAMPA BAY BUCCANEERS
RB Christian McCaffrey, Stanford: I know, they have bigger needs on this roster. But Rodgers, Sims and Barber are NOT solutions long-term at running back, and McCaffrey provides a three-down back for Jameis Winston. This offense can become dangerous with McCaffrey, instead of just "good".
20) DENVER BRONCOS
OT Ryan Ramczyk, Wisconsin: The first offensive lineman selected in my mock draft, Ramczyk helps with an offensive line that needs help. Ever since winning the Super Bowl it has been the biggest revolving door on the team, and Ramczyk can provide a long-term solution for whoever becomes the future quarterback in Denver.
21) DETROIT LIONS
OLB Zach Cunningham, Vanderbilt: Detroit isn't a flashy front-office, and they tend to sign under-the-radar players and draft guys that aren't huge names. And yet, they manage to stick in mediocrity every year. I'm trolling because I'm a Packers' fan, but the Lions fill a need with an under-the-radar player, like usual.
22) MIAMI DOLPHINS
CB Marlon Humphrey, Alabama: Miami is an enigma. This team spends and spends every year they don't make the playoffs, and the year they do they don't add to the roster. Outside of Byron Maxwell, the corners on this roster are young and inexperienced, and while drafting one doesn't help with that, Humphrey is more skilled than the rest of the corners in South Beach.
23) NEW YORK GIANTS
QB DeShone Kizer, Notre Dame: This is another team that seems to be looking for the future after their current starting quarterback, and Kizer has a long, long way to go. In other words, he's perfect for a team that has at least three more seasons of their current guy.
24) OAK VEGAS RAIDERS
SS Jabril Peppers, Michigan: Oakland doesn't have a ton of needs, but adding a versatile player like Peppers to this roster will improve them no matter where he plays. He can fill in at multiple positions and do a lot of things for a team that is clearly on the rise.
25) HOUSTON TEXANS
G Forrest Lamp, Western Kentucky: Houston had a lot of injuries on the line last season, and adding a guy who can play multiple positions will help this team overcome that.
26) SEATTLE SEAHAWKS
CB Tre'Davious White, LSU: The Jason Lane experiment at corner in Seattle is finally coming to an end, and the Seahawks need to find a partner at corner for Richard Sherman. White should fill that role.
27) KANSAS CITY CHIEFS
DE Charles Harris, Missouri: Kansas City is one of those teams that always adds subtle talent to the roster, and Harris will be a nice addition to an aging front seven.
28) DALLAS COWBOYS
TE David Njoku, Miami: Yeah, they have Jason Witten, but who knows for how long. I feel like ever since they drafted Martellus Bennett they were looking for Witten's replacement, and why stop now?
29) GREEN BAY PACKERS
CB Chidobe Awuzie, Colorado: I was really hoping Sidney Jones didn't get hurt, because that would have been perfect for the Packers. Instead, they will have to turn to the top corner of the Pac-12 runner-ups, Chidobe Awuzie. This also makes sense because the Packers tend to draft Pac-12 players more often.
30) PITTSBURGH STEELERS
OLB Takkarist McKinley, UCLA: Outside of eventually needing a new outside linebacker next to James Harrison, they do have a need at the moment for replacing Lawrence Timmons at inside linebacker. McKinley can do both.
31) ATLANTA FALCONS
DE Carl Lawson, Auburn: Atlanta's offense is the best in the NFL, so defense is where they turn here. Having another rotational lineman for next season will be the best start to stopping the bad feelings of how the Super Bowl went down.
32) NEW ORLEANS SAINTS
SS Obi Melifonwu, Connecticut: This is the pick New England gave up for Brandin Cooks, and the Saints are going to take a safety here. He will be the third safety to Kenny Vaccaro and Vonn Bell, but he will stabilize that position for years.
---