If I were the GM Series: New York Knicks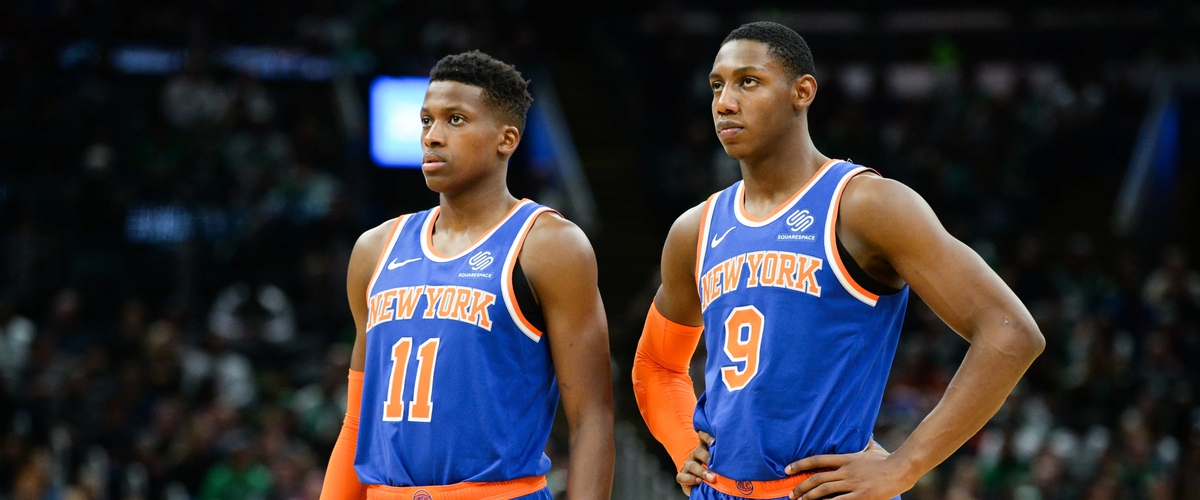 While the 22-team NBA return to action receives a bulk of the attention, there are eight NBA teams missing the action. The teams not resuming action on July 30 are in the bottom tier of the league. In other words, these teams need help. In this series, I'll be taking control of the eight NBA teams that finished at the bottom of the NBA standings. I'll split my decisions into three categories: The NBA Draft, Free Agency, and whether or not to make a coaching change. (NOTE: All moves will be realistic.)
The fifth team I'll be taking over is the 21-45 New York Knicks. The Knicks have the sixth-highest odds to land the number one overall pick.
NBA Draft
Top Targets: PG LaMelo Ball, PG Cole Anthony, PF Obi Toppin
Analysis: The Knicks need a point guard. Luckily, this is one of the strongest point guard classes we've seen in a while. The most logical fit is LaMelo Ball. Ball is often underrated because of his family situation. He's a 6'8" point guard that can shoot well, has good handles, and great court vision. The potential is there for Ball to become an elite playmaker.
If the Knicks miss out on Ball, they should reach for another potential home run. Tyrese Haliburton and Killian Hayes are both safer picks, but why not go for the star power? Cole Anthony had an up and down freshman season at North Carolina, but his ability to score the ball is among the best in this draft class. Unlike Ball, the playmaking skills aren't there yet for Anthony. If Anthony can't get buckets in the NBA, there isn't much to fall back on.
Another route the Knicks could explore is Dayton star, Obi Toppin. The Knicks should look to trade Julius Randle if they go this direction. Toppin is an athletic power forward with great scoring ability. He is a threat from anywhere on the court. Watching Toppin throw down huge dunks in Madison Square Garden would be a treat. His defense is his one liability. Placing him next to Mitchell Robinson should help ease the defensive struggles. With all the Knicks struggles in free agency the past few years, the main objective should be to draft a star.
Free Agency
Players to Bring Back: SG Daymean Dotson (restricted)
Analysis: The Knicks should let Bobby Portis walk. Resign Daymean Doston to a small money deal while keeping their cap space for next offseason.
Top Targets: PG Fred VanVleet, SG Evan Fournier (player option), SF Davis Bertans
Analysis: The Knicks are one of few teams with substantial cap space this summer. Depending on their draft selection, the Knicks should go after Fred VanVleet. Imagine if the Knicks drafted Toppin, signed VanVleet, and traded Randle for another piece. That would give the Knicks a very solid foundation. VanVleet will need to be offered a large contract to leave Toronto.
Fournier has a big decision this summer. He can accept his 17 million dollar player option or roll the dice in a free agency with few teams able to spend. If he opts out, the Knicks should jump all over him. Fournier had a career year in 2019. He scored 18.8 points per game while shooting 47% from the field and 40% from three. The Knicks desperately need to improve the spacing on this team and Fournier would do just that.
More shooting for the Knicks is just what the doctor ordered. This time, the shooting will come from the power forward spot. Davis Bertans is the best stretch four on the market. Bertans shot 42% from three this season.
Coaching
Current Head Coach: Vacant
Analysis: The Knicks should hire Spurs assistant Will Hardy. If New York goes a different route, I'd like to see them retain Mike Miller. He went 17-27 with the Knicks as the interim head coach.
---