African American population in baseball continues to decline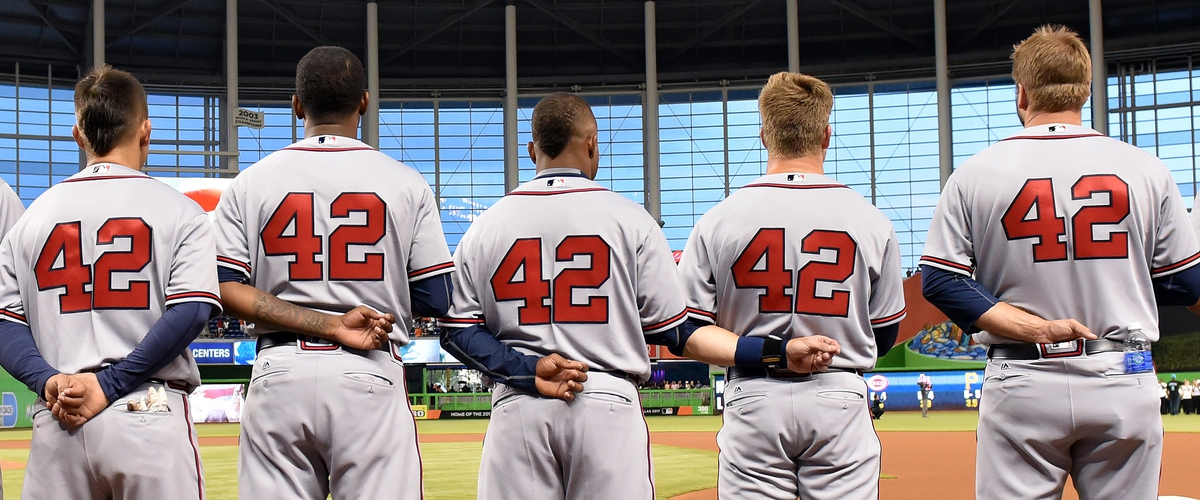 The total population of African Americans in baseball has slowly declined over the years, 2017 saw the lowest percentage of African Americans in Major League Baseball over the last 59 years.
Over the years we have seen the number of African Americans in Major League baseball come to a decline, but what exactly is pushing people away from baseball?
The 2017 season opened with only 62 African American players on rosters and disabled lists in Major League Baseball. The 62 players made up 7.1 percent of the total population of players, the lowest it has been since 1958. For Jordy Espinoza, sports editor of el Don, a student run publication at Santa Ana College, the numbers were shocking, "When you look back at the history of baseball you look at Jackie Robinson and Willie Mays" said Espinoza. The decline stems from the youth, if kids don't play baseball during their youth, they won't play later on in life. If kids don't watch baseball growing up, they most likely won't watch as adults.
Baseball is tradition
One possible reason for the decline of African Americans in baseball is, the majority of baseball fans are white, about 83 percent, while African Americans fans make up only 9 percent. Watching baseball on television can bring families together, and it can lead African American children to want to play baseball. Dr. Robinson, an African American studies lecturer at Cal State Fullerton believes that Major League Baseball needs to market the family aspect of the game, to attract more viewers. "it's a family thing, me and my grandfather, and my grandmother, I was hooked. It was my moment with them." Said Robinson. For many people this is how baseball traditions are passed down from generation to generation. "If the family watches, then people will keep watching" said Robinson. Raising viewership of baseball amongst African Americans could lead to an increase of African American baseball players in future generations.
Baseball is expensive
For many people, their first baseball experiences are going to a game with their father. Many families cannot afford to go to a baseball game, in 2015 the average price for a day at the ballpark for two people was $77.92. The price of going to the ballpark can make it difficult for families to attend ball games and allow their children to get exposure to baseball. In 2016 The median household income for African Americans was $39,490 compared to the United States median being at $59,039. With African Americans making less money compared to other families around the United States, it is possible to connect the low number of black baseball fans due to not being able to afford going to games.
The price of playing baseball is also too expensive for some families. According to a Utah state survey, the average price for youth baseball participation is $4,044 a year. The high prices prevent kids from participating during their youth, thus leading to them not playing later on in life. The same survey saw the average price for youth basketball at only $1,143. Due to expenses alone, many families could look to encourage children to play basketball instead of baseball, simply because they cannot afford baseball.
Interest in baseball
Many people view baseball as just boring, lack of interest is a possible reason for the decline. Baseball is not fast paced compared to basketball and football, however many people are fans of baseball for that reason alone. Pace of play has always been an issue for the MLB, games can last well over three hours and some people just cannot devote that amount of time to being in front of the TV. Baseball just isn't for everyone, Davon Clare, a member of the men's basketball team at CSUF has never had interest in baseball, "my dad played it, but he didn't really force it on me" said Clare. Clare was attracted to basketball because it was what his friends were playing, which is another possible reason for the youth choosing other sports over baseball. Kids want to fit in, and they are going to gravitate towards what their friends are doing. Lastly, interest stems from experience, and if people aren't getting to experience America's pastime, the numbers are going to keep declining, not just amongst African Americans, but amongst the entire population.
The only way to increase diversity in baseball, is to make baseball more accessible. Giving families easier access to attending baseball games and playing baseball will attract more fans to the sport. Major League Baseball has programs to revive baseball within inner cities known as RBI, as well as the Commissioners Community Initiative, a program that provides tickets to youth serving, community groups and charities, making it possible for children to attend games. There needs to be a stronger push from Major League Baseball to give more opportunities to the youth and those who have financial limitations and are unable to experience America's pastime.
---