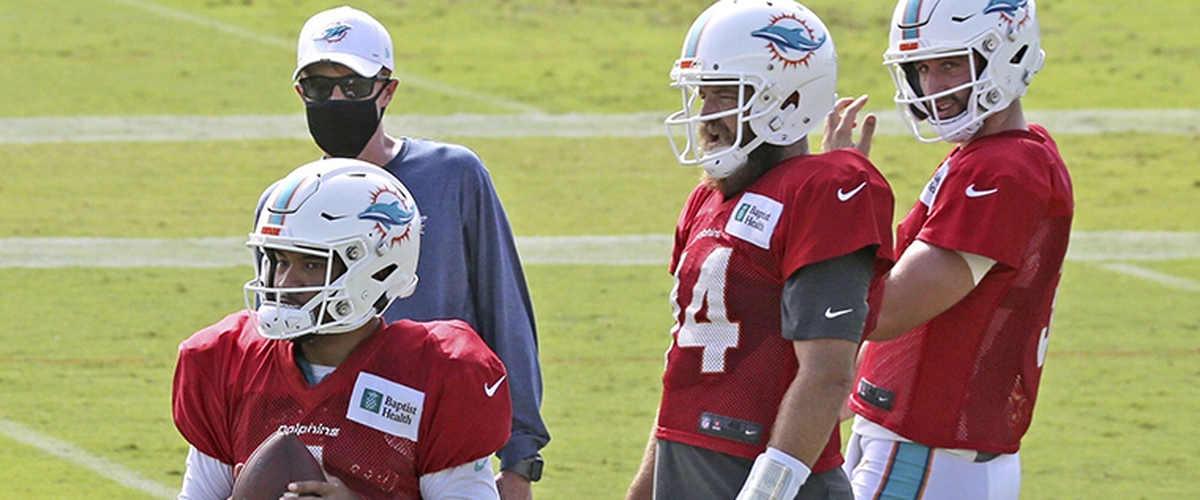 Training Camp Week 1 - QB battle
With week one in the books and just under 3 weeks till the phins take it the field in the empty Foxborough against Cam Newtons(or Stidhams) patriots. Belichick will be wanting his revenge after what we did week 17… I think enough is said if you get me;)
R.Fitzpatrick
Now, training camp! The battles that everyone is interested in. Tua Vs Rosen Vs Fitzmagic.The obvious starter from before camp was Fitz, and I'm 99% sure it still is unless an injury happens.
Fitzy has been the best QB, however, he has been taking a lot more reps with the starters. Having Parker and Williams catching your balls is a lot different from having Hollins, Perry, and Kirk who have been prone to dropping balls. Fitzy is yet to have a superior or shocking day. He did, unfortunately, miss practice on Friday but was back on Saturday.
J.Rosen
Rosen… a former 10th overall player coming out of UCLA who was then traded 12 months later for a late 2nd round pick with expectations he would be the starter for the dolphins in the 2019 season. However, it never turned out that way. In fact, it was dreadful. Started against the cowboys week 3 and again weeks 4 and 5 but never saw the field again. Ending the season on a TD/INT score of 1/5. (he did have at least 2 dropped TDs) After two shocking seasons, he had the bust tag above his head and the future was dark.
However in camp, he has looked very positive he is just in a very unfortunate position, a new kid is on the block in Tua Tagovailoa. You cannot forget that he is younger than the current #1 overall pick Joe Burrow so still has time to turn it around.
In terms of Rosen, played well but not lighting it up for a 3rd-year man, but as I've mentioned before, still very young. There's gonna be some Rosen lovers and some Rosen haters likewise with Tua. In my opinion, as it stands Tua and Rosen are very close but I think Tua nudges it as week 1 starter if Fitzy were to get injured. Flo has said that he will play his best team all the way through.
T.Tagovailoa
Now onto the final QB… "with the 5th pick of the NFL 2020 draft, the Miami Dolphins select…" you know the rest. The first day Tua wasn't asked much of but what he was asked to do he did very well. His practices have generally been very solid with his best practice coming yesterday where he threw for 3 TD's 0 Ints and a 70-yard bomb(50 yards in the air) to Malcolm Perry. Watch out for Perry to be a starting slot later in the season. The chemistry between Perry and Tua is very clear. Perry has had 2 TD's and 100+ yards in 11 vs 11 and don't forget he is a 7th round QB with electric speed. Tuas stats may not look stand out but he has been working with undrafted rookies mainly and their hands aren't up to scratch. When Tua works with Preston, Vante, and Gesicki his numbers will only go up.
Be excited, phins fans for the future.
---