AFL Looking Ahead For Bright '17 Future
Just about two months after the Arena Football League's Arena Bowl XXVIII came to a close, the league is already looking forward to what they believe is a bright future. The league has emerged from bankruptcy in 2010 and has been on a long road to recovery to have the same success it once had that made the NFL take an buy equity in the league in 1999(The owners ultimately voted it down, in case you were wondering). Commissioner Scott Butera has such high hopes for his league that he is preparing to borrow seven figures to invest in marketing and promotion of the AFL. "People who know the Arena Football League really enjoy it. We just need to get more. That is part of next years mission" Butera said. Cool, heroin addicts say the same thing about heroin, but I get where you are going with that, Mr. Butera.
The AFL has gotten some help from sponsors as well as wealthy individuals. Ted Leonsis, the owner of NBA's Washington Wizards and NHL's Washington Capitals, has made a significant investment in the league. The AFL have actually granted Leonsis a team based out of the DC area, and his Washington Valor will begin to play next season at the Verizon Center. The AFL have Geico and Uber on board as sponsors, and Butera has stated that several more are close to hopping onto the AFL bandwagon.
A bright future may be in store for the Arena football league, but there is a dark past that the league has to deal with before they can move on to greener pastures. Former AFL commissioner Jerry Kurz and TV consultant Neal Pilson sued the league for nonpayment and alleged that the league is close to folding. Butera, of course, denied this. If you thought the "big four" (hockey, baseball, football, basketball) had a problem with its union, the AFL is on a whole nother level. The AFL players association have filed a complaint to the National Labor Relations Board 33 times since 2011. That's an average of once every two months. Butera himself does not seem like the greatest commissioner. He's preaching about how his league is going to expand, yet he spearheaded the shaving of underperforming clubs from the league, which only had eight at the beginning of the year. As nice as it may be to be able to just kill the Cleveland Browns, the Tennesee Titans, or a team like the Philadelphia 76ers, you can't just get rid of them. Yea they have been/are currently bad, but that's a part of the game. Your highs won't be your highs if you never felt your lows. While it may be best for business to shave off a bad franchise, once you get rid of one team, would you continue on with the next bad team? If you got rid of the 76ers, would you get rid of the Brooklyn Nets too since they had a bad season(although, would we really be missing much? There's like, four players on both teams that deserve to be on an NBA roster; Ben Simmons and the 76ers big men)? I believe that if Butera believes in the expansion of his league, he has to stick it out with some of the teams that are not doing so good; their time will come. The AFL collective-bargaining agreement has one season left on the table, and Butera is confident that a deal can be reached with both sides.
Arenabowl XXVIII was televised on ESPN, who showed a lot of AFL games. ESPN televised 11 Arena Football League games, including three playoff games. CBS Sports Network showed 17 regular season games. Interestingly enough, the AFL does not receive a rights fee but oversees the production of the games in cooperation with the two networks. Most games air on a Saturday and Sunday night, which right off the bat is a battle that has already been lost. The AFL can make Wednesday Night Football become a thing (Yo, Mr. Butera, I'm a genius, hire me). If it got a primetime slot, people would definitely watch it because let's face it, what are you going to do on a Wednesday night? The regular season games on ESPN2 drew an audience of 164,000 viewers, and the games themselves had about 8,800 attendees. Butera said that both ratings and attendance was up by 10%.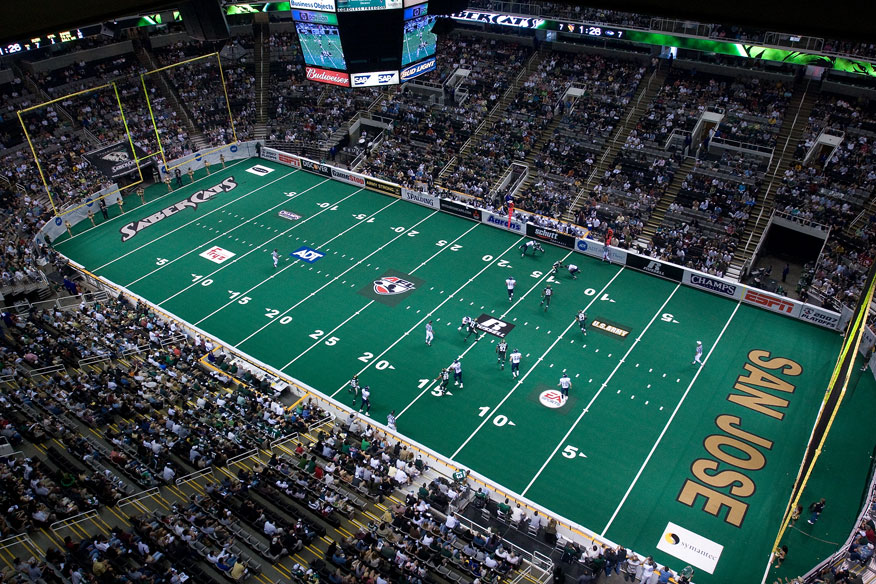 I'm not sure if the whole AFL thing is going to work out, but it's definitely worth a try. The AFL can say that they are something that most sports can't; they're different (Have you seen the field goal posts??). I know people that already today think that all the major sports that are on TV are the most boring things to watch out there, so they'll go out of their way to watch something different. Sooner or later, I can see "Hey, the Browns and Niners are playing, do you wanna watch that or fuck around and watch this Arena Football game?" becoming a common question asked at a frat house. But for the AFL to succeed, I do believe that they need to fix whatever problems they had that resulted in so many complaints. If they can start with that, the future sure is bright for Arena Football
---