Minnesota Twins' New Airport Restaurant Set to Land in January '17
It may be a while before the Minnesota Twins get good again, but a poor record is not stopping them from trying to expand their baseball brand. The Twinkies-an actual official nickname for the Twins according to Wikipedia- are opening up a restaurant in the Minneapolis-St. Paul International Airport. The airport division within hospitality company Delaware North are spearheading this restaurant, a 204-seater called Twins Grill. Delaware North must have had some spare cash lying around or know nothing about baseball; they invested roughly $3 million in redeveloping what was once a TGI Fridays. If a TGIF franchise could not survive in the airport, one would have to think that Delaware North are banking on the Twins namesake to bring in a lot of money. The project, which was designed by a local architect, is supposed to allow the Twins to reach a broader audience at the airport.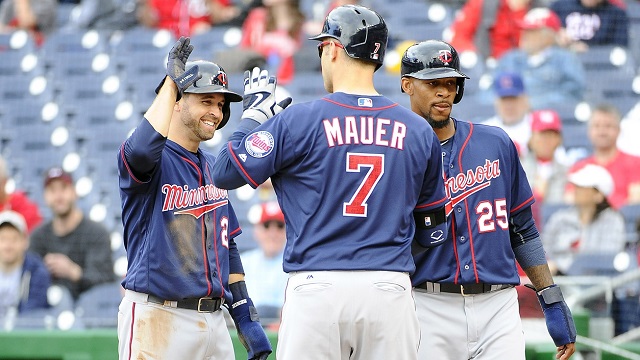 Some background on the Twins, in case you forgot or you aren't a Twins fan. 2010 was their last postseason appearance- they got swept in the ALDS by the New York Yankees (The Twins have actually not won a postseason game since 2004, winning once against the Yankees). How have they been since their last playoff appearance? In a word, bad. Their records by season: 63-99(2011), 66-96(2012), 66-96(2013), 70-92(2014), 83-79(2015), 59-103(2016). This is a team that has not won a world series since the 1991 seven-game classic against the Atlanta Braves. They are a team that has a losing record overall throughout history(4,416-4,517 .494%).
The centerpiece of Twins Grill is a sign of the team's iconic characters Minnie and Paul shaking hands, just like the one located behind center field at Target Field. The sign will be located outside the actual restaurant and is supposed to be used as a prime photo opportunity for travelers passing by. This is perfect because the amount of time it takes to take a photo is usually how long I am willing to watch the Twins play baseball if I'm sober-more on the sober part later-.The interior design is supposed to look like the stadium's Town Ball Tavern in the left field corner, which is themed after some of the amateur baseball teams that set up shop in the Minneapolis region. The Twins will provide memorabilia every so often to put out on display at the grill. Twins Grill will feature a full bar with 16 beer taps, with an emphasis on local brews. I hope the local brews are better than the Twins play, because if I'm at this grill, I'm drinking my sorrows of being a Twins fan away, and I'm drinking a lot. From the menu they released, food items will include nachos, chicken quesadillas, onion rings, and cheese curds. Get the exact same thing you would if you went to a Twins game, just at a bar! I hope there will be other inclusions on the menu, because as much fun as it is getting hammered, looking at old Joe Mauer and Justin Morneau memorabilia, crying on the inside thinking about the good ol' days, and eating a chicken quesadilla, I would much rather do the same while eating a hamburger. Personal preference, though. If you cannot stay a full nine innings -probably a good choice for your sanity- or are on a tight schedule, there is a grab-and-go kiosk with food and drink ready to go. If you want to buy some Twins gear, there will be a small selection of stuff you can buy. Hats, jerseys, shirts, that sort of thing.
Twins Grill will pay royalties to the Minnesota Twins franchise, so they can have some extra spending money to do as they please. However, I really don't see this grill taking off. As I said earlier, a TGI Friday's franchise was unable to survive in the airport. If the plan was to make a sports grill/bar, I would have to think that the Twins would have been last on the list of Minnesota teams. The Timberwolves have not been good for a while, but even a casual basketball observer will tell you that they are on the verge of being great. The Vikings would have been my first choice; they are a super bowl contender this year in my opinion. Minnesota is up north, so having a hockey themed eatery would not be out of the question, and you could do it with the Minnesota Wild. Hell, promote both Minnesota sports as well as soccer in general; Minnesota United FC is making their MLS debut in 2017. I do hope the Twins right their ship, though. Growing up, I played baseball and happened to be on the Twins at least three times, so there is a soft spot in my heart for the team. Also, once the Twins start doing good, so too will the popularity of Twins Grill. For now, though, we will have to wait and see if Twins Grill can bring in enough revenue to be a mainstay at the Minneapolis-Saint Paul airport while the Twins continue their rough strech.
---