In Wake of A Jazz fan getting banned from Utah, Lebron James Supports Russel Westbrook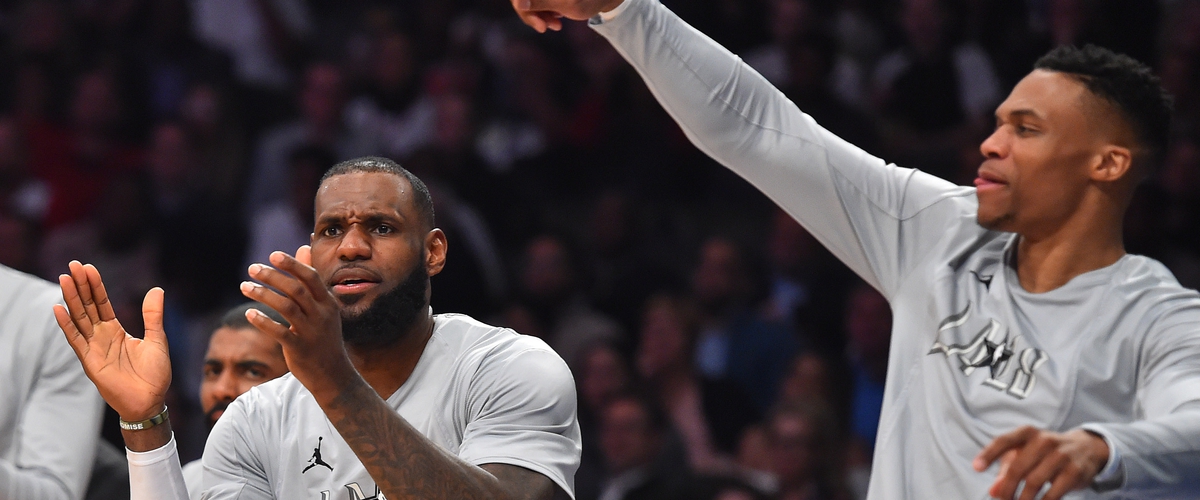 After an Utah Jazz fan said some racial words at MVP Russell Westbrook a few days ago, Russell fired back with a few harsh words of his own. As a result, Russell gets a $25,000 fine and the fan named Shane Keisel, gets banned for life within the Utah Organization.
Courtesy of Kurt Helin from NBC Sports, Here is a statement from the Utah Jazz about this whole situation:
"The Utah Jazz and Larry H. Miller Group announced today a permanent ban of the fan who engaged in the inappropriate interaction with the Oklahoma City Thunder's Russell Westbrook last night at Vivint Smart Home Arena. The ban is effective immediately and includes all arena events.
The organization conducted an investigation through video review and eyewitness accounts. The ban is based on excessive and derogatory verbal abuse directed at a player during the game that violated the NBA Code of Conduct. The Utah Jazz will not tolerate fans who act inappropriately. There is no place in our game for personal attacks or disrespect.
Everyone deserves the opportunity to enjoy and play the game in a safe, positive and inclusive environment," said Steve Starks, president of the Utah Jazz. "Offensive and abusive behavior does not reflect the values of the Miller family, our organization and the community. We all have a responsibility to respect the game of basketball and, more importantly, each other as human beings. This has always been a hallmark of our incredible fan base and should forever be our standard moving forward."
Now that is how you handle it.
To help support Russell, Olympic Gold Medalist teammate, Lebron James, decides to talk with the media about this issue. During this interview, LeBron seems happy about the decision Utah made about banning Shane Keisel.
In Keisel's case, he is reportedly filing a lawsuit on Russell Westbrook. Courtesy of KSL 5 in Salt Lake City, the former Jazz fan is setting his sights on suing Westbrook for verbally attacking him and his wife.
Here is KSL 5's statement regarding Keisel's "no racial" remarks:
Keisel said there were no racial remarks made from him or anyone around him. He said he's filing a lawsuit against Russell Westbrook, and he's has been advised to shut down his social media accounts.
"I don't care," he said. "He can threaten me all he wants. I was the one talking to him … but don't threaten a woman. She's 5 feet tall and 110 pounds, man. Never said a word to him."
Keisel said he and his family have been receiving death threats, and the picture painted of him is wrong.
This situation can go either way.
I doubt that Keisel's lawsuit will ever go through after what transpired between him and Russell Westbrook. I do think that Westbrook did deserve his $25,000 fine for involving Keisel's wife in this situation.
All of this could've been handled differently.
Kudos to LeBron for supporting Westbrook during this difficult time.
---