Warriors survive Game 5, but lose Kevin Durant to Achilles Tendon injury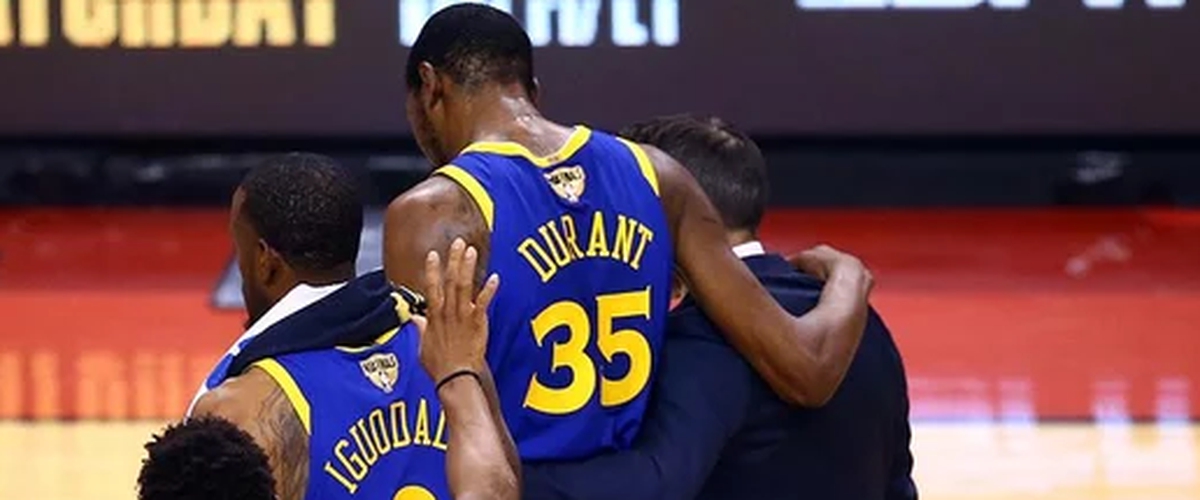 The basketball world came to a sudden pause during Game 5 of the NBA Finals as Golden State Warriors Forward Kevin Durant went down with a serious right Achilles injury. As he sized up Toronto Raptors Forward Serge Ibaka on a drive to the basket, Durant pivoted off of his right foot and his leg then appeared to pop. He immediately grimaced, grabbed onto his lower leg, and called for assistance from the sidelines. This was a tough scene to spectate from the perspective of a real basketball fan, as Durant was visibly distraught and in pain.
Teammates Steph Curry and Andre Iguodala helped guide his 6'11" frame off the Scotiabank Arena floor in Toronto, Canada. The narrative that Durant lacked heart for not playing earlier in this series versus the Toronto Raptors should be put to bed. He is without question the most sought after free agent once the off season starts on June 30th. His presence willed Golden State to 106-105 victory, but now his longterm health will be a topic of discussion. He will undergo an MRI on Tuesday back in Oakland.
32 days after suffering a right calf strain, Durant made his highly anticipated return to the court and was off to a stellar start. The back to back Finals MVP got into an early rhythm and drilled consecutive three pointers in the first quarter. He finished the game with 11 points in 12 minutes including a perfect 3-3 from beyond the arc:
This could be the morale boost the two time champion Warriors needed, the injury seemed to spark a fight for Golden State both on and off the court. The team showed camaraderie behind their fallen teammate by keeping their season alive. The splash brothers Curry (31 points) and Klay Thompson (26 points) each knocked down clutch three pointers to put the Raps at bay. The tandem combined for 12 threes in total.
Forward Draymond Green had choice words post game for fans who sarcastically cheered once Durant went down stating, "That's crazy. That's classless. For me I've always witnessed Canadians be the nicest people I've ever encountered and that was classless." Demarcus Cousins also expressed displeasure with how the fans treated Durant.
Luckily, KD appeared to be in good spirits after the game posting this message to his Instagram story.
Kawhi Leonard continued to demonstrate his dominance as a two-player for the Raps and scored 10 straight in the fourth quarter. He finished with 26 points including this incredible stretch of shots.
Many questioned why head coach Nick Nurse called a timeout as Leonard was in the midst of this run. Leading 103-97 with 3:28 remaining in the quarter, the Warriors were on the ropes, but the momentum quickly subsided thanks to the timeout of Nurse. The battle for Finals MVP has been narrowed down to Kawhi vs Steph, with Durant now clearly out of the equation.
With the series now shifting to the Bay Area, it is hard to believe this team will lose it's final game in an arena that has been a west coast staple for the NBA Finals. The defending champions can keep their chances of a three peat alive with a win on Thursday at Oracle. Kawhi, however, will look to close it out and single handedly deliver a championship to Canada.
---