Is the Diamondbacks Ownership Really This Stupid?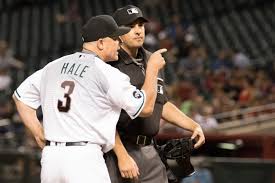 Earlier today news broke out of Arizona that the Diamondbacks are no longer interested in the services of Dave Stewart and Chip Hale, their now former general manager and manager, respectively. While these moves have been speculated for the past few weeks people remained unsure whether the D-Backs would actually part ways with manager Chip Hale. Just days after the D-Backs walked off to their 69th win of the season we have our answer, but now a new question arises, are the owners of the Diamondbacks really this stupid?
On paper a move like this doesn't actually look all too bad. This was a team with big expectations coming into the year and failed to achieve anything over than mediocrity at best. In reality though, when you look at the big picture, this move is really stupid. Whether a fan of Chip Hale or not, blaming him for what happened on the field this year is a hard to do.
For starters, the role of the manager has been well over speculated in modern baseball. At best a manager's in game moves can have a (+) or (-) margin of at most 5 games. So when a team can only win 69 games in the season is that really the fault of the manager? You could put Buck Showalter or even Joe Maddon in Chip Hale's shoes this year and this team would have still finished well below the 81 win mark and not even close to playoff contention.
In addition to this, the key names that Chip Hale had to rely on to produce on the field this year simply couldn't stay on the field. The D-Backs, like most other teams, had to endure large amounts of players hitting the disabled list, which when players such as David Peralta and Zack Greinke spend large amounts of time on it, the team's chances of winning are depleted significantly.
The other issue comes with that Chip Hale had only 2 seasons as the manager of the Diamondbacks. While it may seem long, this is only a short time for a manager to attempt to recreate the culture of the clubhouse and generate a winning atmosphere. Hale was only given the 2015 and 2016 seasons to manage the team, in which he went 148-176 (.457 Win %). These numbers aren't great but the sample size is only 2 seasons. Not to mention, in his first season as manager he led the Diamondbacks to an 81-81 record, well above what they were expected to accomplish in a tough division. Nevertheless, it is completely unfair for one fluke of a season to be the downfall of what looked to be a very promising managerial option for the Diamondbacks down the road.
The other issue found with the ownership's lunacy comes in the hands of Dave Stewart. While Stewart should have a large amount of blame for what happened this season, the ownership must also be fair to its employee. No one could have guessed that Shelby Miller would forget how to play baseball when he arrived in Arizona. That trade at the time was very well regarded among everyone in baseball. This leads to another unfair judgement everyone, especially ownership is guilty for.
We are so quick to judge a decision when it turns bad that we forget our original thoughts when we first heard of the decision. For instance, when I first heard the D-Backs acquired Shelby Miller, I'll 100% admit I thought it was not only a terrific move but one that could lead them to be a competitive team this year. I believe most people shared these feelings as well. So if everyone thought the same thing about the trade initially is it really the fault of Stewart that it ended badly? Sometimes flukes happen that are simply unavoidable and this is one of those times. And whether they are willing to admit it or not when ownership first heard of the Miller trade, without a doubt in my mind they supported it 100%.
In the end, the point is that if an ownership is constantly turning over employees and switching managers when the smallest things don't go right, then a winning culture will never be found in Arizona. Sometimes the best thing for ownership to do is to step back and let their general manager and manager work problems out and give them the allowance to make mistakes so that their future employees wouln't be scared to take any risks. Hopefully this will be the last change the D-Backs make for awhile, but with this ownership it's sadly very unlikely.
---