What Johnson Needs To Do To Return To Championship Level
When a driver has issues during a race, most are unforeseeable and sometimes unplanned. But when a high caliber driver like Jimmie Johnson makes costly mistakes, or his team does, one has to look at the measure of the man behind the helmet. Speeding penalties, pit road snafus, trying to skirt the system by being underhanded or sneaky, and not being up to championship level makes one think - is THIS the driver I want to be following? Will he break out of his slump and finally get things right enough to win a race?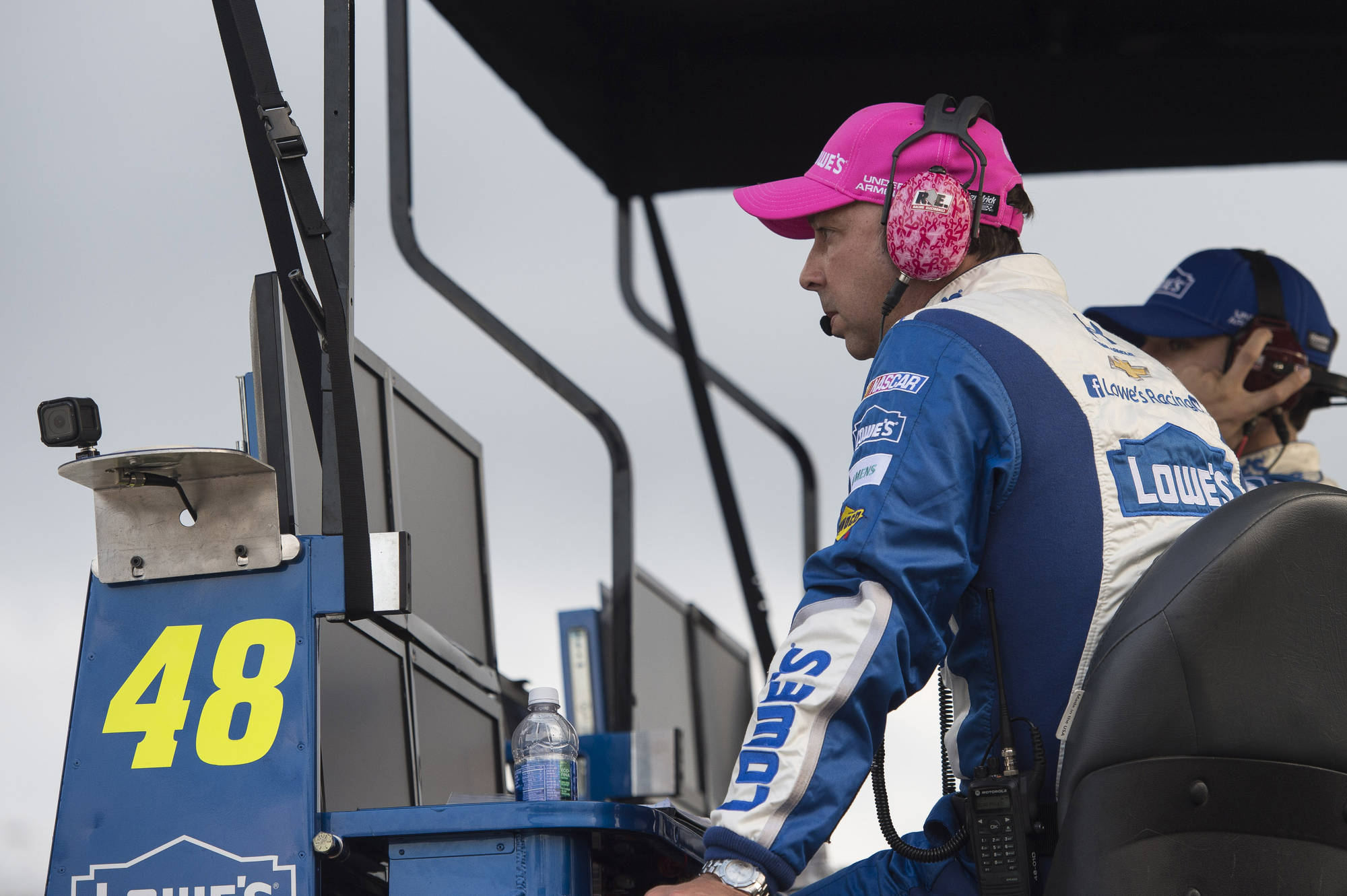 Chad Knaus sits atop the 48 pit box during chase race # 3 at Dover.
Jerome Miron-USA TODAY Sports
If we take a look at the penalties over that last few races, it seems that it all comes down to his crew. Well, except for the times when it was Jimmie's fault. The same thing happened to Kevin Harvick until he finally smartened up and made some drastic changes. It's time for Johnson to realize that maybe he needs to swap or borrow personnel from another team, like Kasey Khane, who is not in the chase, Dale Jr who is out for the rest of the year, or Gordon's crew. With talk about NASCAR reducing the number of bodies on pit road from 6 to 5, the change needs to be made now to get some good help and quick.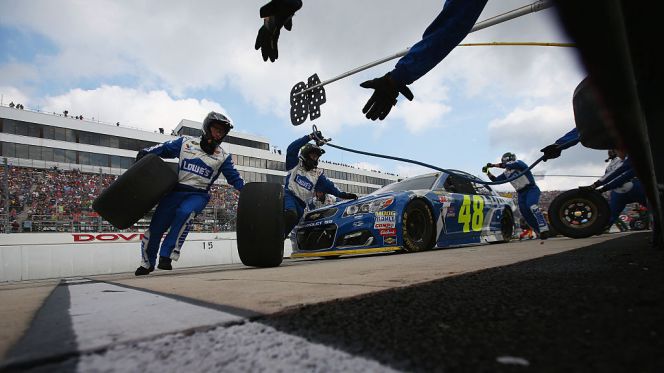 Last week in Dover, Jimmie's jack man came over the wall too soon, costing him the race lead. In the May race, Johnson missed a shift and bottled up the field causing an 18 car wreck behind him. He was caught speeding in Chicagoland, and rallied back to a 3rd place finish in Indianapolis. During the Southern 500 at Darlington, Johnson was penalized for an illegal body modification during a pit stop when his crew member took a hard knee into the side skirt. He also spun out and hit the inside retaining wall - just driver error on that part.
What Jimmie Johnson needs to do to get back to a championship caliber level is get out of his head. He can't let these penalties weigh him down and can't let it get to him on a psychological level. He needs to focus, clear his head and not make any more stupid mistakes. And he needs to have his crew practice, practice , practice. Run drills and keep their heads in the game.
Jimmie is currently in 11th place in the chase standings, down 3 spots from last week. He needs to be careful that he doesn't slip up again and fall below the cut line. He has 7 wins out of 30 starts at Charlotte, but he also has 5 DNF's at the track. Keeping his nose clean (forgive the word play) and his crew sharp may just keep him out of trouble. He needs a win to guarantee a spot in the round of 8, but he has to contend with a lightning bolt named Martin Truex Jr, who won the race here in the spring and has won the last 2 in a row. I hope I can count on him to pick up the pace and start knocking off some wins. Otherwise I will have to drop him from my fantasy roster for the rest of the year.
---