Is Baker Mayfield Patriots Material?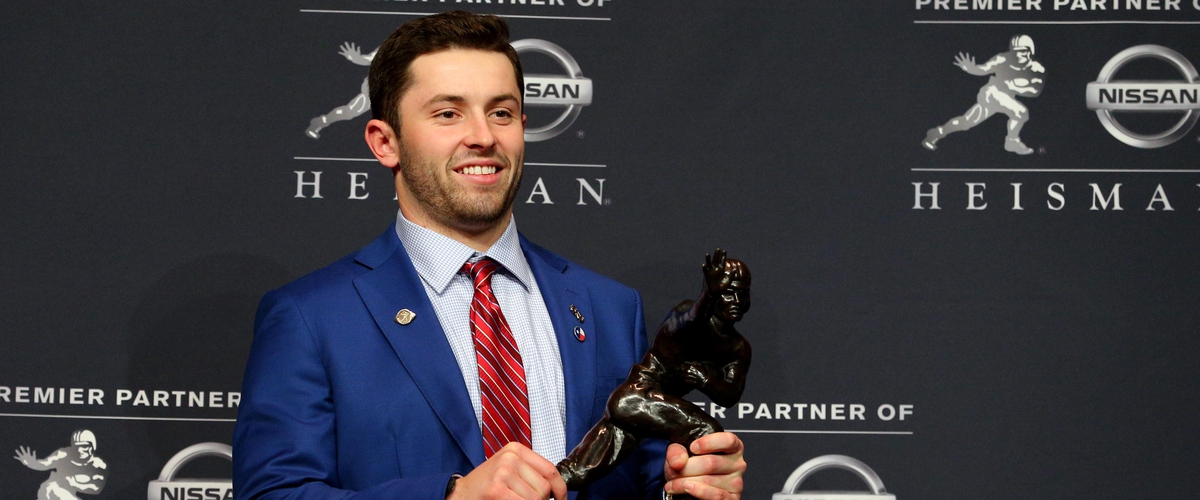 Bill Belichick needs another Jimmy Garoppolo.
The Patriots head coach reluctantly traded away his intended heir to Tom Brady's New England kingdom in October, acquiring a 2018 second round pick from the San Francisco 49ers. Aware that he couldn't maintain the quarterback hierarchy beyond this season, Belichick got something for impending free agent Garoppolo.
While the present under center is secure with Brady, having a passer to groom for a few years until the torch is passed must be on Belichick's mind. If Belichick thought Jacoby Brissett had that ability, Belichick wouldn't had traded the second year passer for WR Phillip Dorsett after the preseason.
And don't even mention 32-year-old Brian Hoyer. He's a clipboard holder.
Based on projections, between three to five signal-callers could be selected in the first round, with reigning Heisman Trophy winner Baker Mayfield straddling the first round-second round threshold. Is Mayfield on New England's radar as Brady's apprentice?
With two second round picks in 2018, including the 49ers pick that should be near the top of the day two selections, New England is in position to select a quarterback of the future early. The question is whether the cocky Oklahoma gunslinger fits what Belichick wants from his leader.
Mayfield's track record includes a drunken arrest, a penchant for trash-talking with opponents, planting an Oklahoma flag on Ohio State's midfield, and the infamous crotch-grabbing towards the Kansas sideline on national television. Being a fiery leader is one thing. But there's no place for taunting or off-field incidents in the Patriot Way.
Former Patriot DE Chandler Jones was traded following the 2016 season after an embarrassing shirtless incident at the Foxborough Police Station. Jones wasn't even arrested.
And former Patriot WR Wes Welker thought it would be funny to tease then-New York Jets head coach Rex Ryan with repeated "foot" references during a press conference in 2011. Belichick found it so funny that Welker was benched for New England's first offensive possession in a playoff game against the Jets.
If Mayfield can't grow up and act professionally at all times then New England won't bother with him. It's the Patriot Way or the highway. And Gillette Stadium is less than two miles away from either I-95 or I-495. It's easy to send a player that doesn't commit fully packing.
A grown up Mayfield has a lot to offer any team. He was highly productive, accurate, tough and durable during his three years in Oklahoma. His 9-to-1 TD-to-interception ratio is otherworldly. Starting 39 games over three seasons while withstanding 78 sacks and countless hits reinforces his willingness to put the team first.
Mayfield made quick reads and got the ball out quickly with the Sooners. Great arm strength would be nice, though fast decision-making and timing are more important.
The spread offense Mayfield ran at Oklahoma shouldn't be a problem for the Patriots either. Garoppolo (Eastern Illinois, 2014), Zac Robinson (Oklahoma State, 2010) and Kliff Kingsbury (Texas Tech, 2003) ran spread offenses in college.
New England's appreciation for mobile passers is growing, as Jacoby Brissett (Florida, 2016) and Garoppolo displayed the ability to make plays with their feet. Gaining yards is nice, but a quarterback wins from the pocket in New England.
Mayfield does that. He keeps his eyes downfield while buying time before making a break for it. Certainly New England will adjust the offense to Mayfield's strengths and abilities, so rollout passes would be added to the playbook just for Mayfield.
Despite the on-field traits, Mayfield first has to pass the eye test, though. Listed at 6-1, would the Patriots pass on Mayfield for lacking ideal height? Belichick drafted two quarterbacks listed at 6-2: Garoppolo in 2014 and Rohan Davey in 2002.
At this point New England has a strong idea about Mayfield, the player. Next is to get deep into Mayfield's head to find out if he has the right temperament and maturity to be a pro, even if it means waiting his turn. That's what Belichick, director of player personnel Nick Caserio, the coaches and scouts need to find out.
If the Patriots want him, they won't shy away from trading up to get him, if need be. Having two second round picks could help New England leapfrog to 20th overall according to a NFL draft trade chart.
Brady can't play forever. Father Time eventually will sack Tom Terrific. When that happens, New England wants a quarterback ready to go from the sideline to the huddle without the team missing a beat. Mayfield has to prove to the Patriots he can be that quarterback.
Questions? Comments? Send to [email protected]. Follow @NE_Arena on Twitter.
---