The NFL Draft Report's "Catch A Rising Star" Series - East Carolina's Zay Jones Soaring To New Heights As College's Busiest Receiver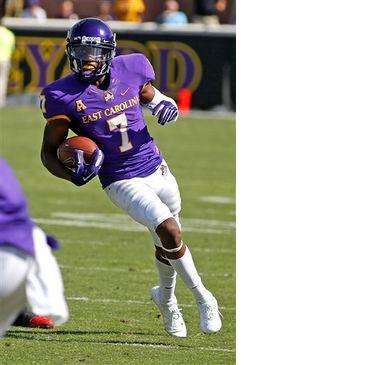 The son of former NFL linebacker Robert Jones, Zay has been very busy during his senior season and is currently on pace to catch 168 balls in 2016. The NCAA record is 155 grabs by Fred Barnes of Bowling Green in 2009
ISAIAH "Zay" AVERY JONES Wide Receiver/Return Specialist East Carolina University Pirates #7 6:01.7-193 Austin, Texas Stephen F. Austin High School
The consummate team player, Jones toiled as the Pirates' slot receiver for three seasons, doing most of the "grunt" work for an offense that recorded 110 touchdowns during his first thirty-eight appearances as a collegian. While Justin Hardy basked in the limelight, most of his 35 scoring grabs were thanks to Jones serving as the "table setter."
On those 110 trips to the end zone, Jones accounted for fifteen of those numbers by himself. However, he also had key receptions that led to forty-two other touchdown drives and during fourteen other possessions that resulted in field goals. With his Velcro-like hands (just one drop during his career), he leads all active college players by securing 77.94% of the passes targeted to him (325-of 417). With Hardy out of the picture the last two years, Jones has delivered 182 receptions through eighteen contests, an average of 10.11 receptions per game. The only major college player to average better during a two-year span was Manny Hazard of Houston (10.48 per game; 220 in 21 contests).
With Hardy trying to hold on to an NFL job, Jones has gone on to have an outstanding senior season. At his current pace, he could secure 168 passes during the regular twelve-game schedule. The NCAA Football Bowl Subdivision record is 155 by Freddie Barnes of Bowling Green in 2009, and he needed thirteen contests to reach that level. Jones is averaging 14.0 receptions per game this season and if he can maintain that level, it would top the present NCAA record average of 13.4 catches by Howard Twilley of Tulsa in 1965.
One could only imagine how much more successful Jones could have been, if not for the constant shuffling at quarterback by the Pirates during his junior season. Upon further view of the seventy passes that he failed to get to, Pirates passers misfired on 32 of those attempts and another sixteen were thrown under duress (pressures). While Jones has won more than 75% of his jump ball battles, erratic tosses led to the opposition deflecting twenty-one of those pass attempts before the university legacy could get to the ball.
The former staff seemed to rely on Jones more for his tough pass catching ability in traffic and occasions where he disrupted the defense from "wildcat" formation, rather than give him consistent opportunities to stretch the field. That would soon change under the new coaching regime in 2016. Imported from Duke is their former receiver standout, Scottie Montgomery, who took over the reigns for his first head coaching job. The first thing the new mentor did was to contact Jones, who was recovering from left shoulder surgery.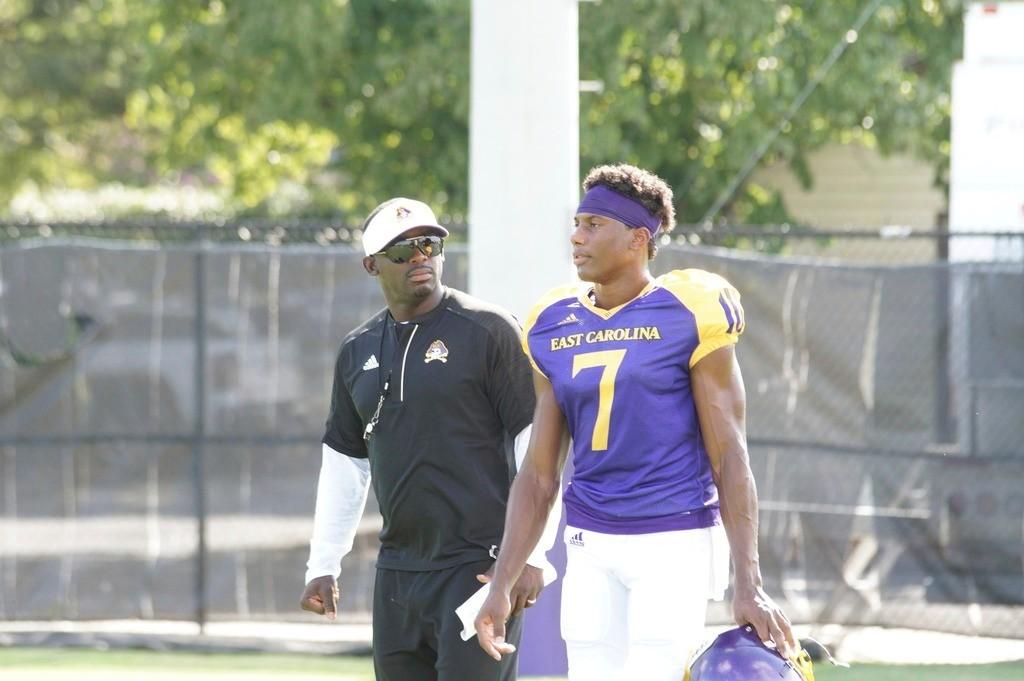 With new head coach Scottie Montgomery, a former receiver at Duke, Jones was promised a bigger role in 2016. Little did he realize it would involve catching a nation-leading 84 passes through six games, an average of 14.0 grabs per game. The current NCAA record is 13.4 catches per game by Howard Twilley of Tulsa in 1965
The master plan for 2016 was to make the former slot receiver the go-to wide-out. He was first scheduled to shift to flanker for his final season, but he opened the campaign at the "X" receiver (split end) spot. The unquestioned team leader, the senior was not able to play during spring drills while recovering, so, he took off his helmet and picked up a clipboard. If the young receivers absorbed even a fraction of what Jones was trying to explain during those skull sessions on the sidelines, the Pirates will certainly return to the bowl season after their one-year absence in 2015.
Through the early part of the 2016 season, Jones has pulled down 84-of-106 passes targeted to him (79.25%) for 840 yards and three touchdowns, as he had key grabs to set up eight more touchdown drives and six possessions that resulted in field goals. He's registered 54 first downs from those catches, including his conversion of fifteen third-down tosses and five more on fourth down. Forty of his receptions have gained at least ten yards.
FOOTBALL AS THE FAMILY BUSINESS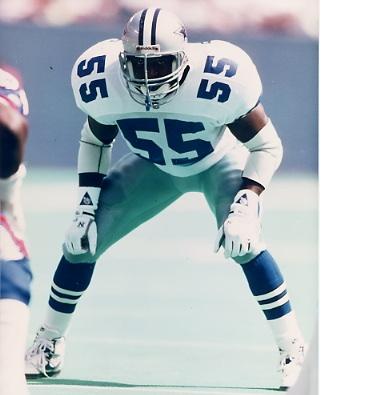 Zay's father, Robert Jones, was selected by the Dallas Cowboys in the first round (24th overall) of the 1992 NFL Draft, becoming the first player from East Carolina University to be drafted that high.
One of three sons of Maneesha and Robert Jones, Isaiah's father is still the only consensus All-American first-team selection in East Carolina University history. Robert was a Butkus Award finalist at East Carolina (1989-91) before spending ten seasons in the NFL with the Dallas Cowboys (1992-95), St. Louis Rams (1996-97), Miami Dolphins (1998-2000) and Washington Redskins (2001). He was drafted by the Dallas Cowboys in the first round of the 1992 NFL Draft, becoming the first player from East Carolina University to be drafted that high.
The Cowboys moved Ken Norton Jr. to outside linebacker, allowing him to become the second rookie (Eugene Lockhart) in Cowboys history to start at middle linebacker, and the second rookie (Lee Roy Jordan) linebacker in franchise history to start in a season-opener. He helped the Cowboys establish the top defense in the league in 1992, was named NFC Rookie of the Year and was selected to the NFL all-rookie team.
In 1994, Jones had the best year of his career, going on to be selected to the Pro Bowl, after registering 162 tackles (then the fourth-highest single season total in Cowboys history) and four passes defended while starting all 16 games at middle linebacker. During his four seasons with the Cowboys, Jones helped the Cowboys win Super Bowl XXVII, Super Bowl XXVIII and Super Bowl XXX.
At East Carolina, Robert was also teammates with his brother-in-low. Isaiah's uncle, Jeff Blake, was a quarterback at East Carolina (1988-91) and finished seventh in the 1991 Heisman Trophy balloting. Blake was drafted in the sixth round by the Jets in 1992 and also played for the Bengals (1994-99), Saints (2000-01), Ravens (2002), Cardinals (2003), Eagles (2004) and Bears (2005). His best seasons came with Cincinnati in the mid-to-late 1990s (when he was often referred to as "Shake-N-Blake" by local media and fans), as he established great rapport with Bengal receivers Carl Pickens and Darnay Scott, helping the former vie for the receiving title in 1995.
Blake left the Bengals after the 1999 season. He signed with the New Orleans Saints as a free agent, starting eleven games before breaking his foot late in the 2000 season and being replaced by Aaron Brooks. He left the Saints after the 2001 season, starting eleven contests for the Ravens in 2002 and thirteen more for the Cardinals in 2003, but neither team expressed interest in signing him to a long-term contract.
Blake was signed by the Chicago Bears before the 2005 NFL season to replace back-up quarterback Chad Hutchinson. Following an injury to the Bears' starting quarterback, Rex Grossman, coach Lovie Smith opted to select rookie Kyle Orton to fill the slot. During the last game of the regular NFL season, Blake was put in to replace Kyle Orton during the fourth quarter, completing eight of nine passes.
The Bears did not express any interest in re-signing Blake, despite stating that he wished to continue playing and working with Grossman,. His contract with the team expired before the start of the 2006 NFL season. His position was filled by Kyle Orton, who was demoted after the Bears signed Brian Griese to serve as Grossman's back-up. At the conclusion of his fourteen-year career, Blake amassed 21,711 passing yards, with 134 touchdown passes, and 99 interceptions. A mobile quarter-back, he ran for 2,027 career rushing yards and 14 touchdowns. He also made 100 career starts.
Isaiah has two brothers who have also enjoyed success on the gridiron. Brother Cayleb, also a wide receiver, is currently in training camp with the Philadelphia Eagles. He started his college career with the Texas Longhorns, but later sat out the 2013 season after leaving the university and transferring to the University of Arizona. Jones instantly became Arizona's most prolific receiver, as he caught 73 balls for 1,019 yards in his first year in Rich Rodriguez' system.
Big things were expected in 2015, but with inconsistent quarterback play combined with Pac-12 defenses focusing on taking him away, Jones' numbers dropped in his redshirt campaign. He managed to get to 55 catches and 904 yards. On December 27th, 2015, he officially decided to leave Arizona. He entered the 2016 draft, but was not selected, joining the Eagles as a free agent. They also have a younger brother following in their father's footsteps, as Levi is a standout linebacker who currently is playing for Westlake High School in Austin, Texas.
Uncle Jeff had two of his four children compete in college sports. His oldest son, Emory, was in camp with the St. Louis Rams and was a former Auburn wide receiver that played a major role in Auburn's 2010 BCS National Championship season. His sister, Torre, plays for the Eat Carolina Pirates volleyball team.
THE LUCK OF THE IRISH SHINES FOR ISAIAH
Jones attended Stephen F. Austin (Austin, Tx.) High School, where he played football for head coach Mike Rosenthal, a former Notre Dame offensive lineman, who went on to play in the National Football League for the New York Giants, Minnesota Vikings and Miami Dolphins. It was under Rosenthal that Jones began to see recruiters take notice, as he was utilized as a slot receiver, flanker, wildcat formation quarterback, kickoff and punt returner, in addition to handling some punting duties.
Despite that heavy workload and tipping the scales at 170 pounds, Jones garnered three-star recruit status from Scout.com and ESPN.com. In two seasons under Rosenthal, Jones first shared District 15-5A Newcomer-of-the-Year honors with Bowie High's junior running back Gino Jonassaint as a junior. While playing a variety of roles, in addition to starting as a receiver, he amassed 41 catches for 359 yards and four touchdowns, adding 55 yards and a score on 42 rushing attempts, as he completed 27-of-53 passes (50.9%) for 280 yards with four touchdowns, along with four interceptions in 2011.
As a senior, the first-team All-District Class 15-5A selection as a wide receiver and kick returner, was one of only three receivers to earn a spot on the Austin American-Statesman's All-Central Texas 2012 football team, as the All-Austin Area Team pick collected 36 passes for 439 yards (12.2 ypr) and six touchdowns, coming up with fourteen kick returns for 159 yards (11.4 avg), as he rushed for an additional 204 yards on 41 carries and completed three-of-six passes for 32 yards and a touchdown. He also averaged 30.8 yards on eighteen punts.
Jones announced in March, 2012, that he would become an East Carolina University Pirate enrollee upon graduating from high school. Rather than spend the 2013 season as a red-shirt, his work in the training room finally forced the coaching staff to insert him into the lineup after five appearances. As a reserve, he was averaging 2.2 catches and 18 receiving yards per game. As a starter, he averaged 64.25 yards and 6.38 receptions. He finished second on the team with 62 catches, reaching the end zone five times. The All-Conference USA Freshman Team choice recorded 37 first downs and was successful on 81.58% of the balls targeted to him (76).
As a sophomore, Jones started nine of thirteen contests at the "H" receiver position. Doing the dirty work in traffic, he pulled in 81-of-111 targeted throws (72.97%) for 830 yards, scoring five times from the slot. He registered 42 first downs, converting eleven third-down tosses in the process and set up thirteen other touchdowns by consistently turning short throws into big gains.
The All-American Athletic Conference selection played most of the 2015 season as a "one-armed bandit," by that fearless nature and insistence in playing with pain from a left shoulder dislocation and torn labrum immediately captured the attention of professional scouts and fans, alike. Despite being banged up, he collected 98 of the 124 balls targeted to him (79.03%), becoming the sixth player in school history to amass 1,000 receiving yards (1,099).
Jones returns to action this fall at flanker. Listed as the most underrated receiver eligible for the 2017 draft by The NFL Draft Report, the senior was also named by that scouting information service as the nation's "breakout player" for the 2016 campaign. He is fully recovered from shoulder surgery and currently is the NCAA Football Bowl Subdivision's active leader with 241 receptions, ranking third among returning FBS players with 2,533 aerial yards.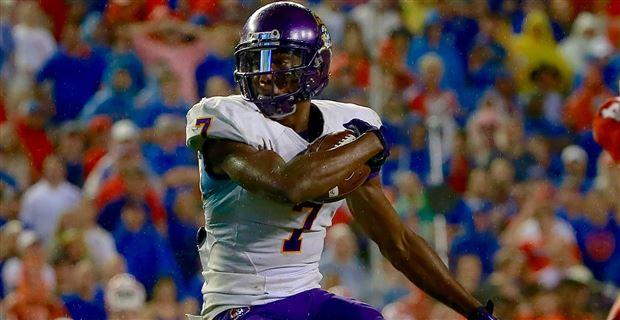 While displaying an angular frame, Jones has linebacker-like upper body strength, likely from the gene pool he inherited from his father
EAST CAROLINA WIDE RECEIVERS IN THE NFL DRAFT
East Carolina began playing organized football in 1932 and the National Football League's inaugural draft was held four years later in 1936, but it was until 1951 before a Pirate was selected in the draft phase. Running back Roger Thrift was a 12th round pick by the Cleveland Browns, but he failed to earn a roster spot. Ten years later, tight end Glenn Bass was chosen in the fifth round of the 1961 NFL Draft by Cardinals, and in the 23rd round of the AFL Draft by San Diego.
Bass shifted to flanker in the pro ranks after signing with the Buffalo Bills (1961-66) before joining the Houston Oilers (966-67). He caught fifty passes for the Bills as a rookie and played in five playoffs with the Bills and Oilers, winning three Eastern Division titles (1964–1966) and two American Football League Championships (1964 and 1965) with the Bills, and an Eastern Division crown with the Oilers (1967).
The next ECU wide receiver to hear his name called on draft day was Tim Dameron. Taken in the 16th round of the 1973 draft by Houston, he never reached the pro ranks. Twelve years later, Ricky Nichols was an eighth round pick by Indianapolis in 1985, but in three appearances, he failed to catch a pass before making his professional exit.
Similar fates would meet the next three drafted ECU wide receivers. In 1992, Dion Johnson was taken in the tenth round by Houston, but was an early training camp casualty. Larry Shannon, the highest drafted receiver in school history, joined Miami as the 82nd overall choice (round three) in 1998, but never caught a pass in two contests that he appeared in during the 1999 schedule. In 1996, sixth round pick, Troy Smith, became a Philadelphia Eagle. He appeared in only one game, tacking on one catch for 14 yards that season.
Eight years later, speedy Aundrae Allison was selected in the fifth round by Minnesota in 2007. He appeared in 26 games over a two-year career that saw him snatch eighteen passes for 231 yards, but fail to reach the end zone. Dwayne Harris was a sixth round pick by the Dallas Cowboys, enjoying more success as a return specialist than a pass catcher. One of two ECU receivers currently active, he appeared in seven games for the Pokes as a rookie, returning 15 punts for 80 yards.
In 2012, he had his first career punt return for a touchdown vs. Philadelphia, as his 78-yard return broke a fourth-quarter tie and earned him NFC Special Teams Player of the Week honors. His impact as a returner in special teams convinced the coaching staff to give him more opportunities at wide receiver, as he would later finish second in the NFL in punt return average (16.1 yards).
During the 2013 season, Harris started to be used as a gunner on special teams, in addition to handling return chores. The two-time NFL Special Teams Player of the Week registered 222 total return yards which outgained the Cowboys' offense by nine yards, including an 88-yard punt return for a touchdown and a 90-yard kickoff return vs. Washington, becoming the third player (Chris Boniol and Billy Cundiff were the first) in team history to win the NFC Special Teams Player of the Week two times in a season.
Although he missed three late season games, Harris tied for second on the team with 12 special teams tackles, finished ranked third in punt return average (12.8) and second in kick return average (30.6) in the NFL. As a wide receiver he had nine receptions for 80 yards and two touchdowns, including the game-winner vs. the Minnesota Vikings. In 2014, he led the team with 18 special teams tackles, but all of his other stats dropped off from the previous year. The team struggled in the return game and he was rarely targeted as the fourth wide receiver.
Harris left as the franchise's all-time leader on kickoff returns with a 26.5-yard career average and a single-season 30.6-yard average in 2013. He finished tied for second with an 11.1-yard career punt return average. In 2015, he joined the New York Giants on a five-year deal. Although he was acquired to serve primarily as a return man on special teams, he passed Preston Parker on the depth chart as the slot wide receiver, before injuries to the receiver corps forced him to start six games. He was declared inactive for the last game with a shoulder injury, finishing with career-highs in receptions (36), receiving yards (396) and receiving touchdowns (4) last season.
Jones' former teammate, Justin Hardy, holder of nearly all of East Carolina's receiving records and the NCAA's record-holder with 387 receptions as a collegian, was selected in the fourth round of the 2015 draft by Atlanta. He appeared in nine games last season, starting one contest when injuries depleted his unit. He did not record any touchdowns (had 35 at ECU), but did manage to grab 21 short passes for 194 yards. He currently sits second on the Falcons depth chart behind Julio Jones at split end.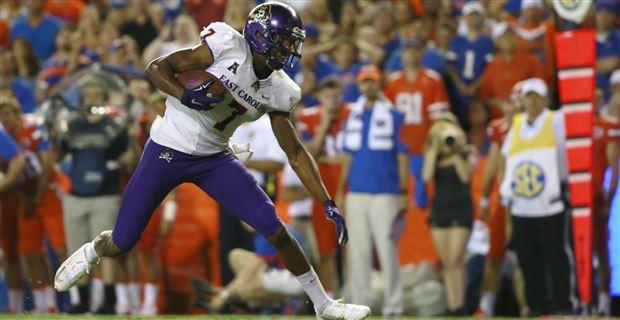 The 6:02 receiver's ability to high-point for the ball has seen him secure 325-of-417 targeted passes during his East Carolina career
JONES SCOUTING REPORT
Body Structure…Jones has a lean and muscular frame with room to add more bulk without it affecting his excellent quickness. He displays a tight waist, defined legs (thighs, calves and ankles), developed abdomen, good bubble and high cut legs with well-developed hamstrings. He possesses good width in his shoulders and chest and low body fat. For a player at his position, he's shown impressive strength, as he often had to fight for the ball in a crowd. His training skills have seen him be cited by ECU head strength coach Jeff Connors as the most improved member of the program (physical development) after his sophomore year, as he's added over twenty pounds of muscle to his frame since first entering the program in 2013.
Athletic Ability…Jones has good overall muscle development and appears to have more than enough strength to defeat the jam, evident by his weight room numbers listed above (also recorded a 260-pound push jerk). He demonstrates an explosive burst coming off the snap and the loose hips to make defenders miss when weaving through traffic, having greatly improved his overall quickness since arriving on campus as a freshman and settling in as a receiver (timed at 5.08 during his prep senior year, but has reduced it to 4.5 currently). He shows that valid second gear needed to turn a slant pass into a long gainer (see 2015 Florida, Virginia Tech, Central Florida; 2014 North Carolina Central, North Carolina games) and with his exceptional route running skills and burst, he can easily escape from second level defenders (broke the initial tackle 45 times for gains of at least ten yards after the grab). He is much more than just a receiver, as he has the lower body power to handle the rushing load and break tackles working through the pile, or putting the ball up for the receiver to catch in stride, on those occasions when Jones operates from the "wildcat" scheme (2015 Tulsa game). He also displays the vision and patience to follow his blockers and then turn on the after-burners to beat the defense down the sidelines. He has outstanding hip snap and agility to elude in attempts to gain big yardage after the catch. He makes smooth body adjustments and possesses solid hands and extension to catch away from his frame. He has outstanding balance and change-of-direction agility that he often shows in the second level, along with the explosiveness and fluid natural running motion to run past most defenders in isolated coverage.
Football Sense…Jones has incredible vision and a great feel for locating the soft spots on the field, evident by his success in converting 37 third-down plays and breaking tackles for long gains on 45 of his 226 non-touchdown grabs. He might take his eyes off the ball a few times, but is quick to recover and settle under the pass (has dropped just one ball – vs. Temple in 2015 – on 311 passes targeted to him at ECU). He shows good route refinement and makes quick adjustments, thanks to his loose hips, and he is quite alert to pocket pressure, working back quickly when the quarterback is flushed out. He's a savvy in-line blocker, but you can see he also relishes his role stalking and delivering second level blocks for the ground game. He shows keen awareness on the field, especially with keeping his feet along the sidelines. He is quick to settle into the holes in the zone and is very effective as a cut blocker because of his feel for taking angles. He finds the open areas quickly and does a nice job of working back for the ball, as he can rely on his speed rather to go with his football experience. He is a good learner who needs just a few reps, thanks to solid retention skills. He's also excelled in the classroom, receiving university academic honors.
Character…Jones is the university's "poster child." He is outgoing and warm-hearted, displaying a work ethic that even the most impatient coach will fall in love with. He has no character issues and he is well-liked in the locker room and campus. He is the "media darling" with strong ties to the community and even starred in an athletics department promotional video in 2016 entitled Can't Stop The Feeling of Pirate Pride! He has strong ties to the game of football and the university, as his father, Robert, is still the only consensus All-American (1991) that the school has ever produced. The student enjoys acting and dancing, and has served as co-master of ceremonies for the 2015 ECU Goldspy's (an annual awards presentation and ceremony emulating the ESPY's). With the arrival of the new staff, Jones took on a mentoring role during spring drills (unable to participate due to shoulder surgery) and you can see that he could eventually be strong coaching material, if he decides to enter that field once his playing days are over.
Competitiveness…Jones is not the type that plays with a swagger, letting his final statistics speak volumes for his competitive nature. He is fearless going for the ball in traffic and will sacrifice himself without hesitation to make the play (played most of the 2015 season with a left shoulder dislocation and a torn labrum). He loves to compete and is very confident with producing when his number is called during crunch time (came up with four game-winning plays in his last 16 contests). He is very tough and aggressive going for the ball, and seems to have a "fullback's approach" when facing up as a blocker. When he is in the "zone," he will give a good, consistently high effort and he always comes prepared to play. He has good fearlessness, as it is rare to see him take the ball out of bounds, preferring rather to drive through the defender. He will perform through pain.
Work Habits…Jones quickly embraced the training program instituted for him upon his arrival on campus. He entered as a freshman running 5.08 in the 40-yard dash, posting a 4.47 20-yard shuttle with a 28-inch vertical jump. He currently runs between 4.42-to-4.5, has a 4.04 shuttle run and 36.5-inch vertical jump. He's been quite active in fall camp, as he finally gets that opportunity to stretch the field as a senior, moving out of the tough "H" spot to take over "Z" duties under the new coaching regime. He's been cited by the training staff in the past for his athletic and strength improvements, leading one to be confident that tireless work ethic will translate to the professional agenda.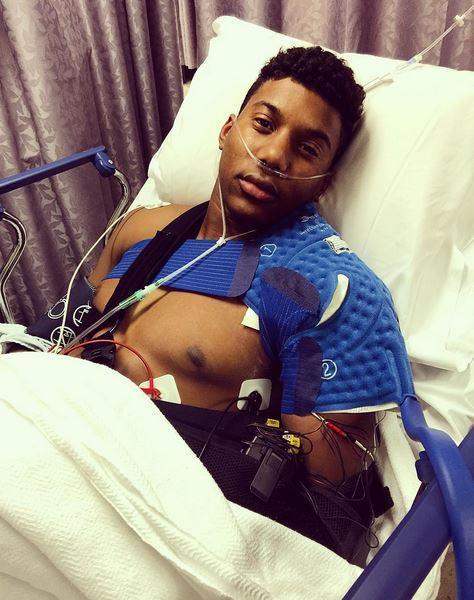 Recovering from shoulder surgery after playing most of the 2015 season with a torn labrum, Jones was unable to participate in 2016 spring drills
Release…Do not judge this receiver with a stopwatch in your hands – he plays much faster with his equipment on than most players can. Jones simply explodes out of his stance and past a lethargic defender to instantly get into his patterns. One noticeable improvement that he made as a junior was showing that he can be just as smooth as sudden in his release, which will generally fool the defender and get the man covering him to come out of the backpedal too early. He has the ability to elude the press with his quickness and footwork. He has also become much more active using his hands to prevent from getting held up when the physical cornerback attempts to stab him initially. He has that natural second gear to gobble up the cushion and get behind the cornerbacks on deep routes (see 2015 Florida and Central Florida; 2014 North Carolina Central, North Carolina, SMU games). He has learned how to sink his pads better (used to get too erect at times), and safeties and second level defenders found it very hard to mirror him once he gets past his opponent. He also generates strong hand usage to beat the press. He shows outstanding hip shake with suddenness when trying to change direction (very good at freezing defenders at the line of scrimmage). The thing you notice mostly on film is his built-up acceleration to get through field once he creates the lane. Unlike most receivers, he does not dance too much at the line and that allows him to show outstanding quickness in his release, with the shiftiness and avoidance ability at the line of scrimmage to defeat the press. Thanks to his vast improvement in developing strength since arriving at ECU, he does a good job of pushing off the defender and quickly eludes with his swim move.

Acceleration…Jones shows excellent burst and explosion in his RAC, as he has the feet and loose hips to change direction without needing to gather or throttle down (gained at least an additional ten yards on 45 of his non-touchdown catches after bouncing off the initial hit). He runs very crisp routes and has more than enough quickness, spin and swim movement to escape from tight man coverage (see 2015 Towson, Florida, Navy, Temple, Connecticut, Central Florida and Cincinnati games). Yes, there are faster receivers, but Jones operates with that "catch me if you can" label for defenders to view as he races by. Once he gets a clean release and into the second level, it is nearly impossible to slow him down. He has great body control and adjustment skills to maintain stride and speed running through tight quarters. He might not look like he has size to run through traffic, but with his strength and burst, he easily creates separation to turn the slants and fades into big gainers. He is reliable catching the ball (secured an NCAA FCS nation-high 79.03% of the passes thrown to him in 2015 and his career success rate of 77.49% on 241-of-311 targeted tosses is currently the best for any active player in all of college football). Look for his speed to be more evident on deep patterns in 2016, as he shifts to flanker after toiling for three years as a slot receiver. He consistently gets behind the defender and has good leaping ability. Since arriving on campus in 2013, he's greatly improved his timing, which resulted in him winning 19-of-28 jump ball battles last season. If a defender hesitates, Jones can change gears and beat his man, gaining over 65% of his yardage after the catch during his last two seasons. He is quick to uncover and even quicker to separate on short patterns. He shows exceptional ability to get open deep, displaying that speed needed to take the ball to the house (this will be highlighted more at flanker in 2016).
Quickness…Jones did not have a strong-armed quarterback to work with in 2015 (James Summers was more of a duel threat and Blake Kemp struggled with consistency and turnovers), resulting in him being used mostly on controlled and underneath routes, but it is evident that he can get vertical in an instant (see 2015 Navy, Virginia Tech, Central Florida; 2014 North Carolina Central, Tulane games). He does a good job of getting under the deep throws, turning nicely to make the over-the-shoulder grabs. He is blessed with good quickness on the field, as he consistently makes short and sharp cuts without having to break stride. His initial burst is sudden, especially when left uncontested. He can avoid defenders on the move, create lanes and get up field in an instant once he gets a clean release. It is rare to see him get "too busy" with the press corners at the line of scrimmage and he quickly gains advantage on the defender due to his speed. He has a good feel for knowing when to gear down in order to prevent from out-running the ball.
Route Running…This is probably Jones's most impressive area. He used to round his cuts at times and drift in and out on long patterns, but has shown vast improvement the last two years, running precise routes with good suddenness. You can see that he has enough quickness needed to elude press coverage. He is a smart, precise route runner capable of getting in and out of his break to gain separation and he does a very good job of locating and settling into soft areas when attacking zone coverage. He has a nice array of head fakes and double moves to con and sell the defender, proving to be especially slippery on slants, as he drops his weight well and gets back to the ball with little-to-no wasted motion. If you need a receiver to fly off the line, especially on posts, this is where he excels. He has the ability to make things happen on comeback routes, showing good urgency working back when the QB is flushed. He displays excellent quickness and foot speed in and out of his breaks. When he plays at a low pad level, he gets into his routes immediately. He shows good set up and body control and knows how to use his hands to prevent the defender from attacking him and trying to reroute him with a strong push.
Separation Ability…Thanks to playing 38 games in the slot, Jones has really developed his escape skills, more out of necessity, as the team did not have a quarterback with the arm strength to stretch the defense. He has that explosive burst to get vertical and will simply blow past defenders, in addition to showing the vision to find the void and settle. There is no doubt that he will be able to gain separation vs. NFL cornerbacks. He has shown marked improvement sinking his hips and exploding out of his breaks, no longer struggling to separate when he comes off the snap with an erect stance (did this during the early part of his freshman season). He was highly effective as a slot receiver, as he excels at taking slants and crossers for big yardage, but this season will be his litmus test, as the staff plans on often lining him out wide. He is very effective when it comes to setting up defenders, as he displays good head and shoulder fakes, relying on his burst and second gear to elude. He has that speed and burst allows him to consistently get past his opponent. He is very quick out of his breaks, especially when trying to pull and separate with vertical routes and short runs, and has done a nice job of being more conscious of playing with a low pad level.
Ball Concentration…This is what Jones does better than any receiver in the country. When he sets his sights on the ball, his sure hands and superb concentration skills will usually result in the reception. He is very alert of the chains and sidelines, doing a very good job of keeping his feet in bounds. He is quick to find the soft spot in the zone and has enough hip swerve and good head fakes to elude in the open. He does a very good job of coming back for the poorly thrown pass (see 2015 Florida, Temple, Connecticut and Cincinnati games) and knows where he needs to be on the field at all times. When going over the middle for the ball, he will shield it properly from defenders and is always ready to compete for the jump ball, timing his leaps to get to it at its high point.
Ball Adjustment…Jones shows above average body control and agility, keeping his head on a swivel to easily look the ball in without breaking stride. He makes great catches seem routine and you have to love his "moxie" trying to get physical in attempts to take the ball away from defenders (see 2015 Towson, Florida, Virginia Tech, Temple, Central Florida and Cincinnati games). He shows good courage going up for the ball to high point the pass in traffic. He has more than enough functional strength to hold up to punishing hits he takes going over the middle. He has the ability to make proper adjustments on ball and is very athletic to turn his body around as he tracks the ball well. His flexibility and ability to turn allows him to excel at adjusting to the off-target passes. To date, on 311 targeted passes, he has dropped just one (vs. Temple in 2015).
Leaping Ability…Jones has greatly improved his leaping ability. He arrived on campus with a 28-inch vertical jump and recently recorded 36.5-inches in that event, while performing at 11'-05" in the long jump. The prep long and triple jump standout won 19-of-28 jump ball opportunities last year. For a player with his impressive vertical jump, you can see why the new staff wanted him challenging smaller cornerbacks in 2016, rather than combat the larger safeties in traffic. He has worked hard improving his timing each year and you can see by the way he plays that he obviously has no fear going up and catching the ball at its high point. He shows excellent explosion when elevating to get to the pass and he possesses that ability to go get the ball and out jump, especially on deep patterns.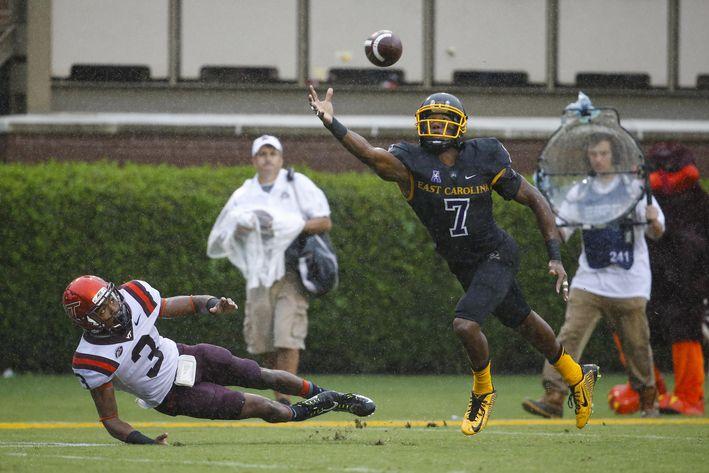 Jones has caught nearly 80% of the passes targeted to him and ECU fans have become used to him making spectacular one-hand grabs
Hands…Jones does a nice job of catching every ball thrown his way (grabbed 98-of-124 targeted passes in 2015 and 241-of-311 during his career). He has the soft, natural hands, along with the ability to snatch high and away from his frame. He displays above average ball security skills to excel as a receiver, on the reverse and when returning kicks. He looks natural getting elevation and extension to catch outside his frame and if he drops a pass (only once as a Pirate), it is usually the result of momentarily losing focus. He has soft, natural hands, extending well to catch away from the body's framework. He is not the type that will revert to body catching, at times, as he is a soft hands catcher who just needs to learn how to time his leaps properly to get to the pass at its highest point.
Run After the Catch…Jones is an exciting and electrifying open field runner. He is an elusive shaker with excellent change of direction skills, sort of like a water bug the way he can slip, slide and elude on the move. He not only shows good quickness working in the short area, but great toughness, as well. He has outstanding skill set in terms of speed, quickness, agility and change of direction. He is tough to bring down in isolated coverage and does a nice job of sidestepping low tackles. When he is out in front, he will generally win most foot races (never caught from behind in college). Most of his career yardage has come after the catch.
Blocking Ability…Jones is a highly effective cut blocker who shows a great desire to face up to blitzers working in the backfield or along the line. He was more of a pester type as a freshman, but has made great strides when asked to work in the backfield or on the line in pass protection. He has that field vision and desire to do the job of seeking out and neutralizing defenders, especially in the backfield. He does take good angles to neutralize the linebackers as a cut blocker and did a very nice job of looking up defensive backs down field on broken plays. When working at the line of scrimmage, he gets his hands up quickly coming out of his stance to lock on and sustain. He is an aggressive type that will always face up to the competition. Working up field, he uses his body well as a position blocker to seal off. He makes every effort to hold and maintain contact in the open and will rarely struggle to sustain vs. moving defensive backs.
CAREER NOTES...Moving to split end as a senior, Jones has started 35-of-44 games, including 29 starting assignments at the "H" (left inside slot) receiver position, as he caught at least one pass in 43 of those games and had multiple-catch efforts in every contest that he caught a ball (only non-reception game was vs. Virginia Tech, his third for ECU as a freshman)…Has snatched 325 passes (7.39 per game) for 3,373 yards (10.38 yards per catch and 76.66 yards per game) with eighteen touchdowns…Returned 29 kickoffs for 598 yards (20.62 avg) and one punt for eight yards…Completed 2-of-3 passes for 34 yards and recorded three tackles…Added eighteen yards on four carries…On 417 touches, he's generated 3,997 all-purpose yards, an average of 90.84 yards per game and 11.13 per snap.
Jones East Carolina Receiving Statistical Breakdown…Jones caught 325-of-417 passes targeted to him, as that success rate of 77.94% is the highest ever for an East Carolina receiver and is currently the best for any active player in the entire collegiate ranks (minimum 50 receptions)…In addition to his eighteen touchdown receptions, Jones had key grabs that set up fifty other touchdown drives and on twenty possessions that resulted in field goals…Recorded 194 first downs (59.69% of his catches), as he converted 52-of-90 third-down tosses and 11-of-16 fourth-down snaps…Had 49 of his receptions downed inside the red zone, including eight within five yards of the end zone…On 57 of his 307 non-touchdown catches, he broke the initial tackle for gains of at least ten yards after the grab, as he registered 139 receptions (42.77%) for at least ten yards, including 39 (12.00%) for twenty yards or longer…Among the 92 targeted passes that he did not catch, Jones dropped only one of those attempts, as East Carolina quarterbacks misfired on 48 of those tosses and threw under duress (pressures) sixteen other times, while the opposition deflected 27 other tries.
NCAA Career Record Results…Among currently active NCAA Football Bowl Subdivision performers, Jones is the leading active receiver with 325 receptions (Corey Davis of Western Michigan is second with 271), as he ranks second actively with an average of 7.39 receptions per game (Richie James of Middle Tennessee leads with an average of 8.18) and is second with 3,373 aerial yards (Corey Davis is tops at 4,374)…His average gain of 76.66 receiving yards per game is fourth among active FBS players and his 3,997 all-purpose yards place 15th overall (fourth among receivers, as Corey Davis has compiled 4,387 yards; Victor Boldin of Oregon State registered 4,294 yards and Janarian Grant of Rutgers has totaled 4,248).
NCAA Season-Record Results…At his current 2016 pace, Jones would finish the 2016 season with 168 receptions. The NCAA FBS record is 155 catches by Freddie Barnes of Bowling Green in 2009, but Barnes recorded that feat in thirteen games and Jones projection is for twelve contests…His average of 14.0 receptions per game through six contests on the 2016 schedule would top the current NCAA record of 13.4 receptions by Howard Twilley of Tulsa in 1965.
NCAA Game-Record Results…Jones caught 22 passes vs. South Carolina in 2016, not only setting school and conference records, but he fell one shy of tying the NCAA record of 23 grabs that is shared by Randy Gatewood of Nevada-Las Vegas (vs. Idaho in 1994) and Tyler Jones of Eastern Michigan (vs. Central Michigan in 2008). Freddie Barnes of Bowling Green (vs. Kent State in 2009) and Jay Miller of Brigham Young (vs. New Mexico in 1973) also matched Jones' figure of 22 catches in a game.
American Athletic Conference Career Records…Jones played in Conference USA as a freshman, but during his last two-plus seasons in the AAC, he's pulled in 263 passes for 2,769 yards and thirteen touchdowns, topping the previous league all-time record of 233 grabs by Shaq Washington of Cincinnati (2013-15)…His receiving yards also established a new conference record, as he moved ahead of Washington (2,528), Keyarris Garrett of Tulsa (2,286; 2014-15), Chris Moore of Cincinnati (2,188; 2013-15) and Deontay Greenberry of Houston (2,043; 2013-14) during his senior season…His thirteen 100-yard receiving performances topped the conference career record of eight that he had previously shared with Justin Hardy of East Carolina, Deontay Greenberry, Keyarris Garrett and Shaq Washington prior to the 2016 schedule…His average gain of 89.32 yards receiving per game (31 contests for 2,769 yards in AAC action) is second-best all-time, topped by Keyaris Garrett (99.38 ypg; 23 games, 2,286 yards), as he moved ahead of Deontay Greenberry (81.72 ypg; 25 games, 2,043 yards) in 2016.
American Athletic Conference Season Records…Jones averaged 91.58 receiving yards per game in 2015, the seventh-best season average by an AAC player (record is 122.2 yards per game by Keyaris Garrett of Tulsa in 2015)…His 1,099 yards receiving in 2015 is seventh-best on the conference annual chart behind Keyarris Garrett of Tulsa (1,588 in 2015), Justin Hardy of East Carolina (1,494 2014), Demarcus Ayers of Houston (1,222 in 2015), Keevan Lucas of Tulsa (1,219 in 2014), Deontay Greenberry of Houston (1,202 in 2013) and Jeremy Johnson of Southern Methodist (1,112 in 2013)…His average of 8.17 receptions per game in 2015 placed fifth on the ACC annual list behind Jeremy Johnson of Southern Methodist (9.33; 112 receptions in 12 games during 2013), Justin Hardy (9.31; 121 reception in 13 games during 2014), Darius Joseph of Southern Methodist (8.58; 103 catches in 12 games during 2013) and Keevan Lucas of Tulsa (8.42; 101 grabs in 12 games during 2014). He is currently averaging 14.0 receptions per game in 2016, which would set a new NCAA FBS record…His 98 receptions in 2015 tied Demarcus Ayers of Houston (2015) for fifth on the AAC season-record chart, surpassed by Justin Hardy (121 in 2014), Jeremy Johnson (112 in 2013), Darius Joseph )103 in 2013) and Keevan Lucas (101 in 2014)…His 81 receptions in 2014 rank 11th on the AAC season-record list and his current total of 84 grabs through six games on the 2016 schedule holds down that chart's ninth spot.
American Athletic Conference Game Records…Jones' fourteen receptions in each of his 2015 appearances vs. Florida and Central Florida were topped by only Jeremy Johnson of Southern Methodist (18 vs. Rutgers in 2013), Geremy Davis of Connecticut (15 vs. Memphis in 2013) and Justin Hardy of East Carolina (15 vs. Cincinnati in 2014) on the AAC game list, that is, until his 2016 season's first half, where he set the league record with 22 receptions vs. South Carolina, tied Jeremy Johnson for second with eighteen catches vs. South Florida and nailed down the fourth spot with seventeen more grabs in the Central Florida clash.
School Career Records…Jones ranks second in school history with 325 receptions, topped by only Justin Hardy (387; 2011-14)…His 3,373 yards receiving is surpassed by only Hardy (4,541) in ECU annals…Holds the school record with fifteen 100-yard receiving performances. The previous mark was ten by Hardy…His eighteen touchdown catches are surpassed by only Hardy (35), Lance Lewis (22; 2010-11), Larry Shannon (21; 1994-97) and Dwayne Harris (20; 2007-10) on the Pirates' all-time record list.
School Season Records…Jones is the sixth player in school history to record over 1,000 yards in a season, taking the fourth spot on the annual chart with 1,099 yards. Others to reach that level include Justin Hardy (1,284 in 2013; 1,494 in 2014; 1,105 in 2012), Dwayne Harris (1,123 in 2010), Lance Lewis (1,116 in 2010), Aundrae Allison (1,024 in 2005) and Cam Worthy (1,016 in 2014)…His 98 receptions in 2015 rank fourth in school annals, topped by Hardy (121 in 2014; 114 in 2013) and Harris (101 in 2010)…His 81 catches in 2014 placed 11th on that list while his current numbers of 84 catches through six games in 2016 is already ninth on that chart.
School Game Records…Jones recorded fourteen receptions in each of his 2015 appearances vs. Florida and East Carolina. The only player to catch more passes in a contest for the Pirates was Justin Hardy (seventeen vs. Tulane in 2013; sixteen vs. Old Dominion in 2013 and vs. Marshall in 2012; fifteen vs. Cincinnati in 2014) until Jones registered three outstanding performances in 2016 – setting the new record with 22 receptions vs. South Carolina, securing the second spot with eighteen catches vs. South Florida and then tying Hardy with a 17-catch effort vs. Central Florida…His 181 receiving yards vs. Central Florida in 2015 claimed the seventh spot on the school game-record chart while his 190-yard performance vs. South Carolina in 2016 took over fourth place, topped by Justin Hardy (191 vs. Old Dominion and 230 vs. Tulane in 2013) and Terry Gallaher (218 vs. Appalachian State in 1975)…He also tallied 180 yards vs. Western Carolina in the 2016 season opener, placing eighth on that list.
2016 SEASON...Called the most underrated receiver in the 2017 draft class by The NFL Draft Report, Jones also received second-team preseason All-American honors from that scouting information service…Named to the Biletnikoff Award Watch List, given to the nation's top receiver, Jones became just the fifth Pirates receiver to ever be named to that list and only the second to receive that distinction during multiple seasons. He joined Justin Hardy (2012, 2013, 2014), Lance Lewis (2011), Dwayne Harris (2010) and Aundrae Allison (2006) as other East Carolina performers to be selected to that preseason chart…Jones is one of 41 players named to the initial 2016 Earl Campbell Tyler Rose Award Watch List. The inclusion is the second-straight for Jones, who followed two-time semifinalist Shane Carden (2013 and 2014). The Earl Campbell Tyler Rose Award, initiated in 2012, recognizes the top offensive player in Division I football who also exhibits the enduring characteristics that define former running back Earl Campbell: integrity, performance, teamwork, sportsmanship, drive, community and tenacity; specifically tenacity to persist and determination to overcome adversity and injury in pursuit of reaching goals. In addition, the nominee must meet one or more of the following criteria: born in Texas and/or graduated from a Texas High School and/or played at a Texas-based junior college or four year college…Jones is fully recovered from January surgery to repair damage to his left shoulder that he played with during the 2015 campaign. "I've played this entire season with a torn labrum/dislocated shoulder and it did not stop me," the senior receiver stated. "Surgery is just another test I have to overcome. I'm so thankful and grateful for this opportunity to show the strength the Lord has given me. God's been there every step of the way and He is so good. I have so much faith in Him. On the road to recovery because we have to kick ass next season. Thank you for all the support. Love you guys."…The preseason All-American Athletic Conference selection by Athlon Sports and Phil Steele Magazine for the second-straight season, he is also a two-year member of the Paul Hornung Award, given to the nation's most versatile college performer…After starting at the "H" (slot) receiver position for three years, Jones got his chance to shine further as his excellent speed and ability to stretch the field are the reasons that he has put up tremendous numbers while shifting to the "X" (split end) spot for his final campaign…The senior entered his final season ranked third in school history with 241 receptions and 2,533 reception yards, trailing only Justin Hardy and Dwayne Harris, but he has put on a potentially NCAA Football Bowl Subdivision season-record pace, as he's managed to haul down an incredible 84 passes for 840 yards and three touchdowns through the first six games on the 2016 schedule that included five contests with double-digit reception figures, marking thirteen times during his career that he has reached that level…Additionally, he gained 24 yards on three carries and caught a two-point conversion pass…If Jones remains at this pace, he will have 168 receptions during the regular season. The NCAA FBS annual record is 155 catches by Freddie Barnes of Bowling Green in 2009…Jones is averaging 14.0 receptions per game, ahead of the NCAA record of 13.4 catches per game by Tulsa's Howard Twilley in 1965…Since the start of the 2015 season, Jones is averaging 10.2 receptions per game…The two-year span record average is 10.5 catches by Manny Hazard of Houston (1989-90)…Jones has caught 79.25% of the 106 passes targeted to him, as he recorded 54 first downs while converting fifteen third-down pass plays and five more on fourth down…Forty of his receptions gained at least ten yards, including nine for twenty yards or longer…He broke away from would-be tacklers for big gains on twelve occasions and nine of his non-touchdown catches were downed inside the red zone, including three near the goal line…Was tackled for losses on four pass plays and stopped for no gains on two others…Did not drop any passes, but East Carolina quarterbacks misfired on sixteen targets and the opposition deflected six other attempts…In addition to his three touchdown catches, Jones recorded key receptions that set up eight other touchdown drives and on six possessions that resulted in field goals.
2016 SEASON GAME ANALYSIS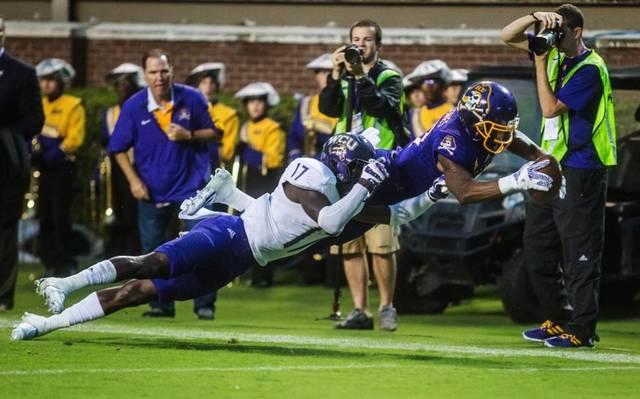 Eight of Zay's ten receptions vs. Western Carolina were good for first downs, including five grabs for twenty yards or longer
Western Carolina...The Scottie Montgomery era at East Carolina started behind a precision passing performance by quarterback Philip Nelson, who shredded the Western Carolina defense for 398 yards and five touchdowns in a 52-7 victory in front of an energetic opening-day crowd in Dowdy-Ficklen Stadium. Multiple weapons carried the offense and a balanced defensive effort controlled the field as Montgomery enjoyed a solid start under cloudy skies, but none shined better than the team's new split end, as the former slot receiver pulled in all ten balls targeted to him for 180 yards and a touchdown, recording eight first downs and converting a trio of third-down plays in the process…Jones' day began much like his career, to this point – setting the table for ECU scoring drives. After he lost one yard on a sideline catch, Jones broke free on a 33-yard grab that would set the tone for a 7-yard scoring burst by Nelson at the end of that 9-play, 89-yard season-opening drive…Another 33-yard reception, followed by a 12-yarder set up a 42-yard field goal later in the first frame…His 26-yard catch led to Jones pulling down a third-&-9 screen pass from Nelson for a 21-yard touchdown to conclude a 79-yard, 7-play second quarter march…The second half began with Jones getting under passes for 16- and 11-yard gains into the WCU red zone, where Anthony Scott then caught an 18-yard touchdown toss from Nelson for a 38-7 lead…Later in the third frame, Jones added a 30-yard one-hand catch that was followed by Nelson's deep pass to Jimmy Williams for a 31-yard score…Record Watch-The game marked the seventh time as a Pirate that Jones posted a double-triple (catches-yards) and extended his streak to 36 consecutive games with a reception…It also marked the 38th time in 39 appearances that he had multiple catches and he registered his eleventh 100-yard receiving performance…Moved to fifth on the school all-time record list with his 16th touchdown catch…Improved his receiving yardage total to 2,109 yards in the American Athletic Conference, taking over the fourth spot on the league's career-record chart, listing behind Shaq Washington of Cincinnati (2,528; 2013-15), Keyarris Garrett of Tulsa (2,286; 2014-15) and Chris Moore of Cincinnati (2,188; 2013-15). The only other AAC player with 2,000 receiving yards is Deontay Greenberry of Houston (2,043; 2013-14)…Head to Head Competition-SS#3-Fred Payne (5:10-200)-Seven tackles (5 solos), one stop-for-loss; CB#26-Trey Morgan (6:01-182)-Ten Tackles (6 solos), an assisted stop for a 1-yard loss…Jones Offensive Impact-The split end caught 10-of-10 targeted passes (100.00%) for 180 yards and a touchdown, as he recorded eight first downs, converting three third-down tosses. He had eight receptions gain at least ten yards, including five for twenty yards or longer. One of his catches was downed inside the red zone, as in addition to his scoring grab, he had key receptions to set up three touchdown drives and one possession that resulted in a field goal…He added five key down field blocks, including one that led to a touchdown…Team Offensive Impact-East Carolina completed 29-of-33 passes (87.88%) for 413 yards, five touchdowns and no interceptions, as the team had three passes deflected away by the opposition, gaining 688 yards on a total of 71 plays (9.69 yards per attempt).
North Carolina State…While Jones was held to "only" seven receptions, six resulted in first downs, including five third-down conversions, twice setting up touchdown drives (once as a receiver and again as a ball carrier) and getting the team field position needed to kick a field goal. It was East Carolina that delivered the decisive final blow on a fourth-quarter, 5-yard touchdown run by tail- back Anthony Scott in an epic 33-30 win in blisteringly-hot Dowdy-Ficklen Stadium….The game featured six lead changes and 942 yards in total offense, as rookie head coach Scottie Montgomery's feisty Pirates ran their win streak vs. Atlantic Coast Conference opponents to six games. "It's a grand day," stated Montgomery. "I don't think anybody but the Pirate Nation knew what this was going to be like. It was hot out there, but our fans didn't go anywhere. They were rowdy. They got here early." The crowd of 50,719 was the second largest in Dowdy-Ficklen history and pushed the all-time attendance mark at the venerable venue to 8,038,566 in 44 seasons…ECU rallied from behind three times in the second half behind the passing of quarterback Philip Nelson who connected on 33 of 43 passes for 297 yards. He narrowly missed his second straight 300-yard passing day…A trio of third-down conversions by Jones on passes totaling 32 yards set up an ECU 43-yard field goal early in the second quarter…Nelson was intercepted during the Pirates' next series, but Jones tackled cornerback Jack Tocho near midfield to prevent a runback with the errant pass…Given a rare opportunity to carry the ball, Jones scooted for a 13-yard first down around left end and ECU ended that series with a 15-yard touchdown jaunt by "wildcat" James Summers to give the Pirates a 26-23 lead…An 11-yard catch over the middle, a 7-yard gain on third-&-3, 15 more yards on a third-&-6 crossing pass, followed by a pass interference call vs. NC State on a toss targeted for Jones placed the ball near the goal line in the fourth quarter, as Anthony Scott capped the 14-play, 84-yard drive with a 5-yard touchdown run to again recapture the lead by a 33-30 mark with 5:49 remaining in the contest…Head to Head Competition-CB#29-Jack Tocho (6:00-202)-Six tackles (5 solos), one interception…Jones Offensive Impact-The split end caught 7-of-10 targeted passes (70.00%) for 73 yards, as Pirates quarterbacks misfired on three throws. He recorded six first downs and State was charged with a pass interference penalty on the receiver, as he converted five third-down plays. Four of his receptions gained at least ten yards, as he set up two touchdown drives (one each as a receiver and ball carrier) while also coming up with key grabs on a possession that resulted in a field goal…He added another first down on one rushing attempt and a solo tackle after an East Carolina pass was intercepted…Jones also delivered five blocks down field…Team Offensive Impact-East Carolina completed 33-of-43 passes (76.74%) for 297 yards, one touchdown and one interception, as the team had three passes deflected away by the opposition, gaining 445 yards on a total of 76 plays (5.86 yards per attempt).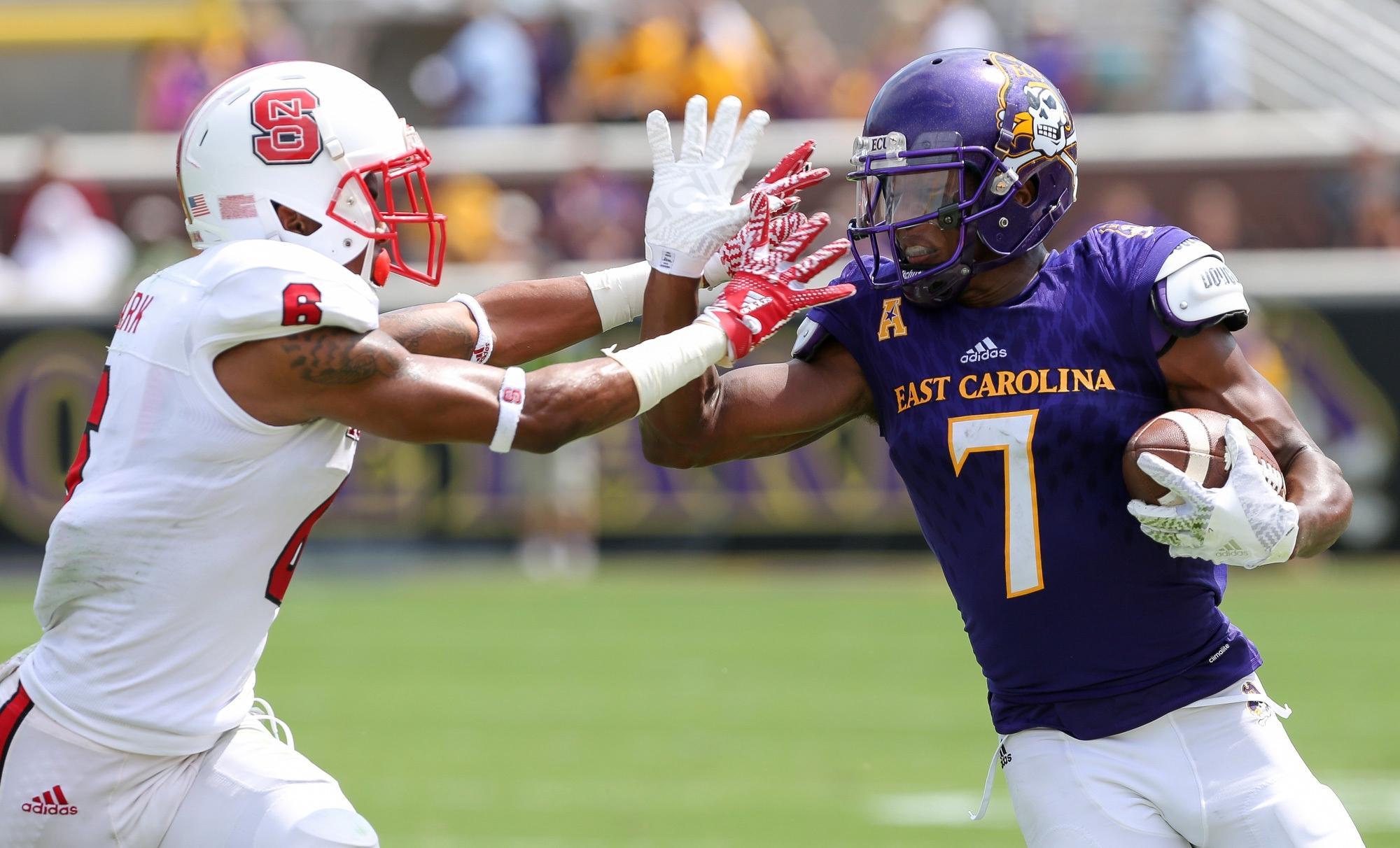 An emphatic shove on a South Carolina linebacker was one of the highlights as Jones set school and American Athletic Conference records with 22 receptions during the game, the third-highest game total in NCAA FBS annals
South Carolina…Jones put on a record-shattering performance vs. the Gamecocks, as he collected 22 of the 25 passes targeted to him, good for 190 yards, as he finished the day with 201 all-purpose yards (11 yards on two carries) en route to recording fourteen first downs and drawing a pair of pass interference calls…South Carolina dodged an upset by keeping the Pirates out of the end zone until the final minutes for a 20-15 decision in Williams-Brice Stadium. "The difference in the game was penalties and turnovers," said ECU first-year coach Scottie Montgomery. "Anytime you turn the ball over inside the five, the three and the one the way we did, and still be in it right there at the end…"
Jones, who missed tying the NCAA single-game record for receptions by one, while amassing a career-high 190 yards, shattered the ECU record of 17 catches by Justin Hardy posted on October 12th, 2003 vs. Tulane. It was his second double-triple (catches and yards) receiving game of the season and the eighth of his career. He also surpassed ten catches in a game for the tenth time, nd his 22nd catch from quarterback Philip Nelson set the Pirates up at the South Carolina four-yard line in the final minutes as ECU battled to pull off the upset. Jones's performance helped Nelson finish with 400 yards through the air. "Obviously the big thing is finishing," Nelson said. "I mean, we didn't finish at all, and that starts with me. As a quarterback, I gotta be able to help that offense finish. Our defense played absolutely flawlessly; we couldn't ask them to do any more than they did."…On the game's first play from scrimmage, Jones picked up 12 yards on a reverse…Later in the first frame, he pulled down 15- and 11-yard tosses to get the ball into the red zone, but the drive stalled and ECU settled for a 32-yard field goal…He later converted a fourth-&-5 toss into an 8-yard first down prior to halftime…The fourth quarter's final possession saw Jones register five receptions for a total of 46 yards and three first downs, helping set up Nelson's 4-yard scoring lob to Devin Anderson to close out a 75-yard, 13-play march with 2:29 left in the contest…The receiver fielded a flurry of questions in the media room after the game. On having personal success in the game (22 catches); "It's just a flow of the game thing. I don't think about it."…On chances to still win the conference title; "We're a good football team. We've show the type of team we usually are."…Record Watch-Jones's 22 receptions not only set school and conference records, but he fell one shy of tying the NCAA record of 23 grabs that is shared by Randy Gatewood of Nevada-Las Vegas (vs. Idaho in 1994) and Tyler Jones of Eastern Michigan (vs. Central Michigan in 2008). Freddie Barnes of Bowling Green (vs. Kent State in 2009) and Jay Miller of Brigham Young (vs. New Mexico in 1973) also matched Jones' figure of 22 catches in a game…His 22 grabs broke the previous American Athletic Conference record of eighteen catches by Jeremy Johnson of Southern Methodist (vs. Rutgers in 2013)…His 22 grabs also broke the old school mark of seventeen catches by Justin Hardy vs. Central Florida in 2013…His 38-game streak of consecutive contests with a reception is the fourth-longest in the nation among active players…His 280 receptions as a Pirate secured the second spot on the school all-time record chart, surpassing Dwayne Harris (268; 2007-10). The record-holder is Hardy, who has 387 grabs (2011-14)…His 2,372 yards receiving since East Carolina joined the American Athletic Conference ranks second in league history, as he passed by Keyarris Garret of Tulsa (2,286; 2014-15) to place behind Shaq Washington of Cincinnati (2,528; 2013-15)…The game also marked his tenth double-digit reception game and 12th triple-digit yard totals for his career...To date, 119 of his 280 career receptions have gone for ten or more yards (35 for 20-plus)...Head to Head Competition-CB#3-Chris Lammons (5:10-190)-Eight tackles (6 solos), a 6-y
---