The NFL Draft Report's "Cream of the Crop" Series - Former Prep Quarterback Bucky Hodges Is Mastering The Art of Playing Tight End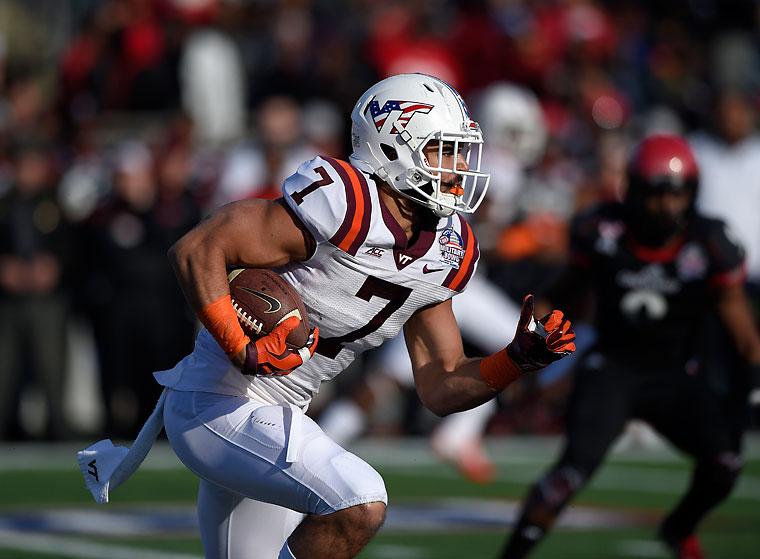 Recruited as a pro style quarterback, Bucky Hodges is well on his way to establishing himself as the finest tight end to ever put on a Virginia Tech uniform. He already owns the school position records for receptions, receiving yards and touchdown catches, accomplishing that feat in 32 games
TEMUCHIN "BUCKY" HODGES Tight End Virginia Polytechnic (Tech) Institute Hokies #56 6:06.1-249 Virginia Beach, Virginia Salem High School
One of the finest athletes in the history of the Virginia Tech program, the new coaching staff plans to utilize this tight end hybrid similar to how New England has capitalized on the receiving skills by Rob Gronkowski. As a former prep quarterback, Hodges has had just two seasons to learn the intricacies of playing the tight end position, but his rapid development the last two seasons have professional scouts favorably comparing him to another NFL standout who had minimal time as a tight end before emerging as one of the league's elite – Seattle's Jimmy Graham.

"That tight end/hybrid position... besides the quarterback it's the most difficult spot in the offense," former Virginia Tech offensive coordinator Scot Loeffler said. "There are multiple job responsibilities and that's what causes problems for the defense is that those guys are lining up everywhere." The coach's pupil proved to be a fast study, as Hodges has compiled 85 receptions for 1,056 yards and thirteen touchdowns in just two seasons.
Understand that Hodges performed those numbers while playing in an offensive scheme that believes that football's "holy bible" is their running game. Until Hodges emerged, most of the tight end duties required them to block for the running backs or serve as passing decoys. In the history of the NFL Draft, teams have had little regard for Tech players at Hodges' position, as only six have been drafted and none have gone higher than the fourth round.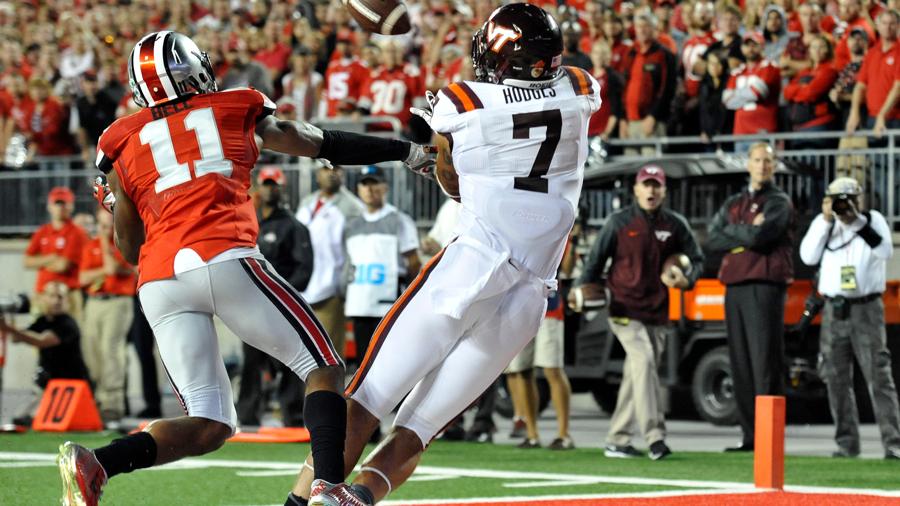 Hodges has been utilized in a variety of roles for the Hokies this year, creating huge mismatches vs. cornerbacks when he lines up at either flanker or split end, when not performing in the traditional tight end role
Among the thirty Hokies to register at least 1,000 receiving yards in a career, Hodges is just the third tight end to reach that mark. Early in the 2016 schedule, he went on to establish school career marks for tight ends, as he boasts figures of 103 receptions for 1,313 yards and sixteen touchdowns. He is the lone player at his position to reach double-digit touchdown figures. Pass catching has not been the only way that he has put six points up on the board, as he recovered a blocked kick in the end zone for a score vs. Virginia in 2014 and last season, running from the "wildcat" formation, he again chalked up a touchdown on an option run around the left sideline vs. Tulsa in the Independence Bowl.
WHAT'S IN A NAME...While he prefers to go by the nickname "Bucky," his given name of Temuchin lends meaning to the ball player's character (means Communication, Interaction, Friendship, Joy, Lightness, Humor, Art, Positivity, Optimism). Hodges, being a former quarterback, has developed good chemistry with those calling the signals for the Hokies, which made for a seamless transition while having to catch tosses from five different quarterbacks as a freshman, and again as a sophomore.
His interaction comes from his keen knowledge of the playbook, so much so, that the staff entrusted him with those "wildcat" duties even during his first year in a Tech uniform. Friendship, Joy, Lightness and Humor are what he brings inside the locker room, but on the field that persona changes and he assumes a "take no prisoners" attitude.
The Human Development major's association with Art comes from his ability to perform textbook-like route running, as few tight ends in this game have the acceleration and escape-ability that Hodges possesses, as it has allowed the coaches to often line him out wide, creating tremendous mismatches vs. defensive backs. Positivity comes from his ability to shut out the negative and play until the whistle – no matter what the scoreboard is indicating. And Optimism derives from his attitude – not cocky, yet confident that if he follows his coach's mantra and takes the plays from the chalk board to the field, he will have success in performing that task.
Hodges is an interesting young man, so much so that at age fifteen, while quarterbacking his Salem High School football team, he would often be seen running off the field after a series, coming to the sidelines and telling his coaches things that they couldn't see from the sidelines. A lot of times, he was also giving them ideas so they could set up other things.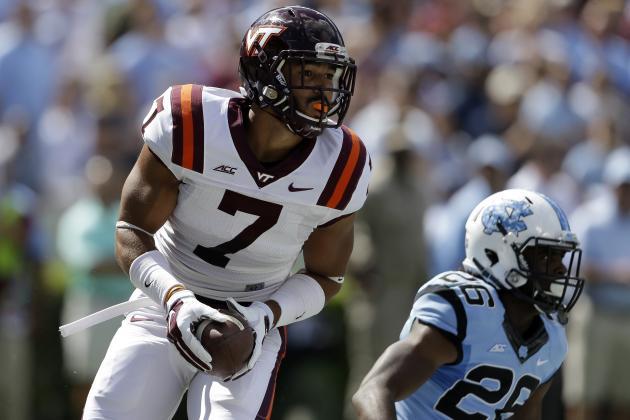 While he has yet to attempt a pass at the collegiate level, Hodges has taken eighteen direct snaps from center the last three years
MAJOR COLLEGES COVET THE MULTI-ATHLETE SALEM HIGH SCHOOL STANDOUT
Hodges first began to capture college recruiting attention as soon as he suited up for Salem High School. Dual-threat quarterbacks that are weaned on a pro-style offensive system like Hodges operated under for Sundevils head coach Robert Jackson are in high demand at the major college level, yet, surprisingly, he ended up at a university known for their ground attack.
At Salem High, he led the team to an 8-4 record in 2010, scoring eight times on 102 carries that netted 438 yards, along with connecting on 59.8% of his passes (119-0f-199) for 1,602 yards and thirteen more scores. He grew into a mammoth quarterback by his sophomore year, one who was captivating in the ground game with almost a Cam Newton-like combination of size and speed. Recruiters recognized his strong pocket presence and that he was a youngster who senses pressure well and can fire off accurate passes in the short and intermediate routes. Still, it was his running skills that were highlighted during an 10-2 2011 campaign that saw him add nine more touchdowns to his total.
Keeping up with that consistency, Hodges completed 64 percent of his passes for 2,142 yards and 26 touchdowns, with six interceptions that year, as the Sundevils finished with a 9-1 record in the region. As a senior, he connected on 126-of-206 passes (61.17%) for 2,214 yards, with 18 touch-downs and six interceptions. He also rushed for 505 yards and eleven more scores, as the Salem QB earned All-Eastern Region, All-Tidewater, All-757 and All-Beach District accolades in 2013.
Hodges was listed as the 171st-best overall player in the country, the tenth-best pro-style quarter-back in the prep ranks and the tenth-best athlete in the state of Virginia by Rivals.com. He was ranked 179th in the nation by Prep Star and the fourth-best prospect in the state by The Roanoke Times. Super Prep regarded him as the state's fifth-best player while 247Sports considered him to be Virginia's seventh-best athlete and the fourth-best dual-threat quarterback in the country.
ESPN Recruiting Nation's 14th-ranked player added ESPN300 honors in 2013. The Super Prep preseason All-American closed out his prep career after participating in the Offense-Defense All-America Bowl. He also lettered in basketball, averaging ten points and seven rebounds per game during his first season on the varsity. During the 2011-12 hoops season, he played in 21 games after the gridiron schedule concluded, blocking ten shots as he averaged 10.1 points per game, making 77-of-171 field goals and 36-of-67 free throws. He pulled down 168 rebounds (8.0 avg), handed out 45 assists and had fifteen steals.
Keeping himself occupied when the football and basketball seasons had concluded, the gifted athlete tried his hand in track, performing in the 100m, 200m, 300m and 400-meter dashes, the discus, high jump and triple jump. As a member of the 2011 indoor team, he recorded a 42.25-second mark in the 300 meters at SNU's High School Winter Frolic, where he also posted a high jump mark of five feet/four inches. At the Atlantic Coast Invitational, he recorded a high jump of 34 feet/4.5 inches.
During the 2011 outdoor season, he finished second in the triple jump (38 feet/two inches) at the Tallwood Meet and tossed the discus (74 feet/four inches) at The Fork Outdoor Invitational. At that event, he was also a member of the school's 4x100 relay team that captured the title with a time of 49.13. In 2012, Hodges finished third in the 100 meters (11.28) at the Beach District – Salem, Princess Anne at First Colonial outdoor event, adding a second place mark of 23.32 in the 200 meters while finishing second in the 400 meters (52.86). His 4x100 relay team was also runner-up at that event with a time of 43.79. CNU's 28th Annual High School Captains Classic was where he helped the 4x400 relay team finish at 3:41.15.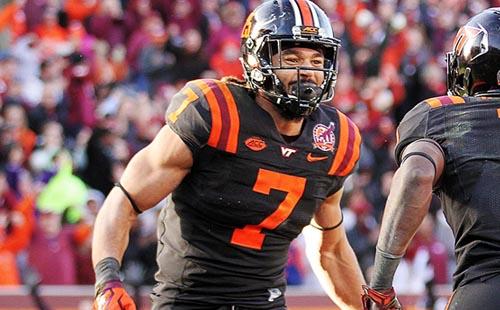 An imposing figure at 6:05, 249, Hodges also has the valid speed to stretch the field, as 22 of his 103 receptions have gained at least twenty yards
JOINING THE VIRGINIA POLYTECHNIC (TECH) INSTITUTE HOKIES
With his elite status as a high school quarterback, Hodges was asked to move to tight end when he first arrived on campus. Evident by his academic success in high school (3.1 grade point average), the multi-sport star not only proved to be a quick study – starting ten times through thirteen games as a freshman, but he also displayed the maturity level that makes his grandmother proud.
Most blue chip recruits would balk when asked to change from the glamour position to a supporting role, but Hodges embraced the move. Again in a sign of impressive maturity, he accepted the change without hesitation and the coaches told him to not be surprised if he's asked to take some snaps under center during his career. "I consider myself a football player," Hodges said. "Whatever coach wants me to do, I go out there and do it." One attaboy kid, words that make any professional scout grin from ear-to-ear as he evaluates the Tech talented tight end.
When he first arrived on campus, Hodges was red-shirted, spending the 2013 season as the scout team's quarterback. As his body continued to grow and the muscles and bulk developed, the staff toyed with the idea on how to best use this impressive athlete. During his first year at the university, you could look for Hodges to pass or look at a lineman blocking for him. Playing tight end wasn't even a fleeting thought. However, when a graduate assistant told him to take a look at what tight end Eric Ebron was doing at North Carolina and see if he didn't see a little of himself, Hodges listened.
He's glad he did. Still, when Hodges moved to tight end at the start of October for the week heading into Tech's eventual 27-17 win against North Carolina, it was just a trial run. He didn't realize it would turn into a new career path. "After I played it for a week, I was just having so much fun out there, I decided to stay there," said Hodges. "I feel like it's been a good process with the switch. I definitely feel like it's turned smoother."
While studying the 6:04, 265-pound Ebron, a first team All-ACC tight end who was selected by the Detroit Lions in the first round of the 2015 draft, Hodges realized playing tight end would offer a good opportunity to show off his athleticism. "I liked his game a lot," Hodges said. "He's a playmaker, and he changed the game a lot when he was at UNC. He's real fast at tight end. He was creating a lot of mismatches with his speed, and I liked the way he was talking, too. He (had) swag. He said he was the fastest tight end in the nation and stuff like that."
No Tech tight end had caught 30 or more passes since 1987, which was Frank Beamer's first season as coach in Blacksburg. Tight end Steve Johnson led the team in 1987 with 38 catches for 475 yards and three touchdowns. Hodges' move to tight end and his rapid development earned him Freshman All-American, All-Atlantic Coast Conference and All-State honors in 2013, as he was on the field for 66 special team snaps and 612 more on offense, with several plays specialized for him at the quarterback spot.
He not only set the school freshman season-record with 45 receptions, it was also one shy of the Tech position record of 46 grabs by Mike Burnop in 1971. He accounted for 526 yards his seven touchdowns established a new annual position record for the Hokies. "I think me and him complement each other pretty well," said fellow tight end Ryan Malleck. "When the two of us are on the field, you can see us running the power (running game) behind us and also throwing the ball deep ... so, I think it's tough for defenses to defend us."
"I think Ryan has been terrific for Bucky," Tech tight ends coach Bryan Stinespring said. "I think he's that voice of reason, that experience factor. I see them talking in my meeting room (and) on the field. It's a continuous conversation." Because of his athleticism, Tech would often line up Hodges outside as a wide receiver, or in the slot as a big target.
Hodges earned the Coaches Award for his excellence during the 2015 off-season, as he returned to start every game for Tech as a red-shirt sophomore. Quarterback issues left him as a decoy most of the first half of the schedule, but once Mike Brewer returned, the tight end snared forty passes for 530 yards and six touchdowns. He also set a new position record by scoring three times in the Duke clash. With head coach Frank Beamer stepping down, the new coaches had to wait and see if their star athlete would return to school in 2016, but he assured the staff that he would "see you in September."
Many scouts felt that it was time for Hodges to test his skills in the National Football League. When a player like Hodges comes through the league's doors, the scouts reasoned, general managers better take notice. He showed up at Virginia Tech as a quarterback, but as his first year went along, he found himself spending more time at tight end while redshirting in 2013. By often moving around the field, Hodges has played as an in-line tight end, a solo receiver on the boundary and a jumbo slot target. Not one Hokie is motioned on offense more than him, either.
If you managed to catch one of Hodges' games last season, he's not hard to miss. Announcers gush over the fact that he's listed as a 6'7" athlete. What will go unnoticed, though, is his blocking ability.
No better example of his blocking skills came during Tech's battle vs. Tulsa in the Independence Bowl. Two early blocks on the perimeter by him impacted two long touchdowns against Tulsa's defense. He's more than willing to participate as a blocker, which is half the battle with college tight ends, and he's even held his own against defensive ends, not just defensive backs.
In 2016, the new coaching staff added a "wrinkle" to Hodges' game book. Not only is he lining up at the traditional tight end spot, but he has also appeared as a flanker, in motion and also has received several opportunities to carry the ball. Through six contests, he's caught 18-of-24 passes targeted to him for 257 yards, three touchdowns and an impressive seventeen first downs, adding 32 yards on six carries.
Using his raw power to break a tackle vs. Richmond, Hodges has has turned 60 of his receptions into first downs, converting 24 third-down plays in the process
THE NFL DRAFT AND THE VIRGINIA TECH TIGHT END HISTORY
NFL teams have not exactly been knocking on the door in Blacksburg when it comes to searching for pro-style tight ends. Since the inception of the draft in 1936, only six Hokies at the position have been drafted. The first was Ken Barefoot, a fifth round pick by Washington in 1968. In three seasons at Tech, he snared 68 balls for 742 yards and eight touchdowns via thirty games, but in eight contests as a professional, he never caught the ball.
It would not be until 1985 that another Virginia Tech tight end would hear his name called. Dallas used the 270th overall pick (round ten) to take Joe Jones, but he lasted just three games in 1987 after sitting out the 1986 calendar, grabbing three passes for the Pokes after making 43 catches as a Hokie. Three years later, Steve Johnson joined the Patriots in Round Six, but despite playing in fourteen games, his pro career consisted of one catch. At Tech, he managed to pull down 84 tosses for 1,058 yards (one of three to go over 1,000 yards for Tech as a tight end) and eight scores.
John Burke holds the distinction for being the tight end to be drafted the earliest out of the school, as New England used their fourth round selection (pick #121) to take him in 1994. He lasted four seasons and sixty games in the league, but failed to score on any of his 28 receptions. In 2002, Dallas selected Bob Slowikowski in the sixth round, but he is the only one of the six Tech tight ends to be drafted who never played in the NFL.
The most successful Virginia Tech tight end in the professional ranks was Jeff King. A 2006 fifth round pick by Carolina, he started 84-of-108 games from 2006-12, making 156 catches for 1,323 yards and twelve touchdowns. Hodges recently broke King's school position record with thirteen touchdown catches, as King reached the end zone twelve times for the Hokies behind 58 catches for 724 yards.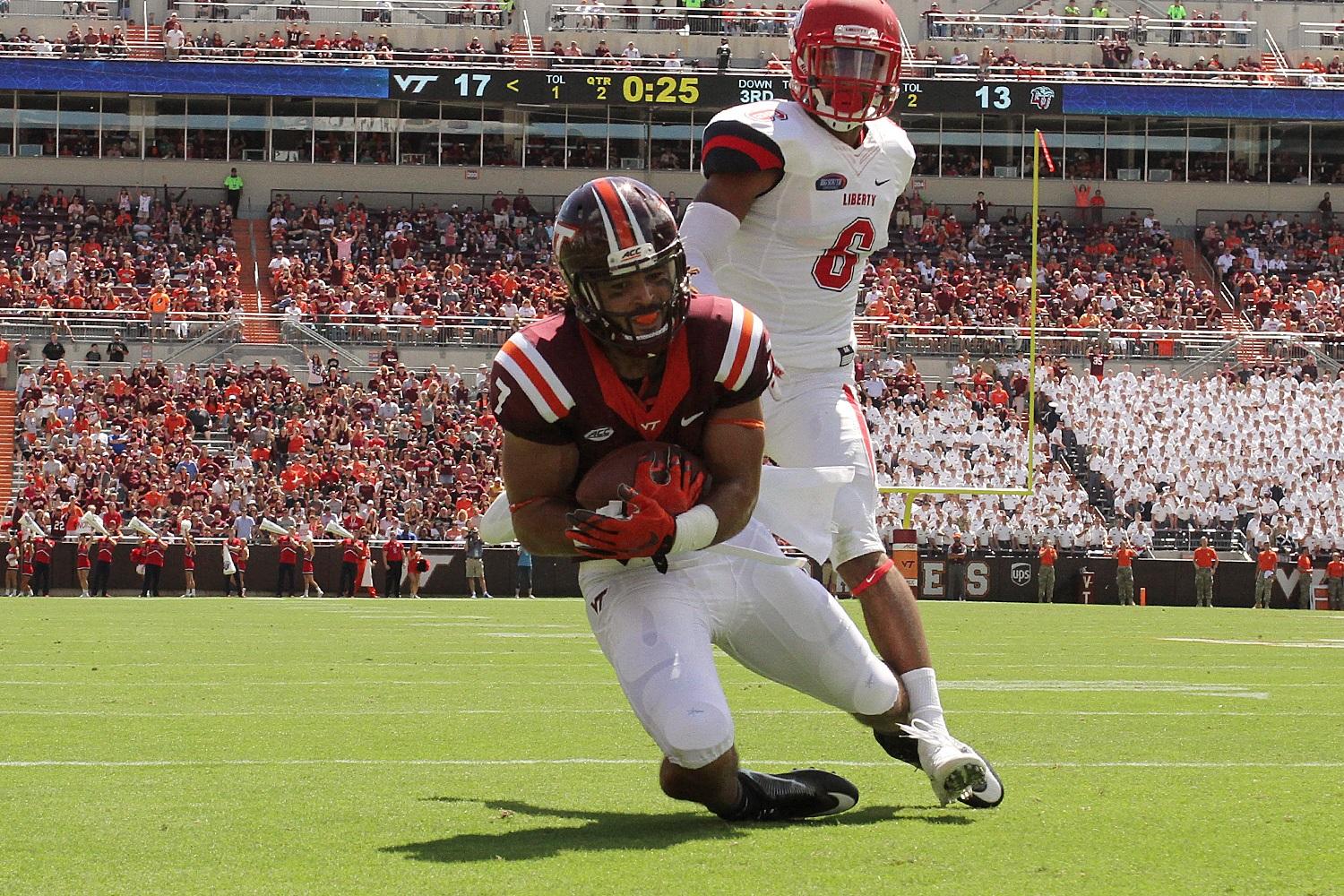 Hodges worked hard on improving his catching radius during the off-season. After dropping eight balls as a freshman and sophomore combined, he's only put one toss on the ground in 2016
HODGES SCOUTING REPORT
Body Structure…Hodges has exceptional size and increased his bulk the last two years after arriving on campus weighing 225 pounds. The former quarterback displays excellent skills from his basketball days and with his frame maturing, he has that build you look for in a classic tight end, but possesses the cat-like quickness to often line up wide. With that strong, well-developed upper body frame, it allows him to quickly gain advantage as a blocker and create mismatches when challenged by defensive backs, as he utilizes that long reach to win most jump ball situations.
He has large hands, as he shows the flexibility, along with the long arms to get to balls outside his frame. He has room to add some more bulk, but a massive overload will impact one of his best assets – quickness. He has a firm midsection, good bubble and developed muscle tone in his thighs and calves. He maintains low body fat and has a V-shaped torso with good overall muscle tone.
Athletic Ability…Hodges has very good foot work coming off the snap, showing quickness getting into his routes. He shows good agility and balance navigating through a crowd and fluid flexibility, which allows him to make quick and decisive moves when changing direction. He demonstrates good acceleration throughout the route's progression and is a normal strider who has the body control and arm extension to catch away from his frame.
Hodges is a much better athlete than even his impressive receiving production indicates (hopefully the new staff recognizes him as a valid deep threat), as he is just as happy at throwing a crunching second level block as he is coming up with the big grab. He runs with a normal stride and has more than enough acceleration to easily get behind second level defenders and most safeties.
He shows agility, balance, body control and hand/eye coordination looking the ball in over his outside shoulder, along with the quickness to get down field and separate underneath. He shows very good flexibility as an in-line blocker, doing a nice job of making adjustments to mirror edge rushers. While most of his drops are due to the learning process (was a quarterback recruit in 2013 with no prior tight end experience), he displays very good hands and solid extension skills to reach and pluck the ball at its high point. What you see from Hodges is that he is a fluid mover with very good hand/eye coordination extending for the ball outside his frame.
Football Sense…Hodges is like having an offensive lineman with speed (others call him a coach on the field, as his exceptional knowledge of the playbook comes from his quarterback experience), for his ability to locate and block vs. second level defenders. He keeps his head on a swivel looking for targets to attack and has a good angle concept for attacking the opponent when on the move. He does not need more than minimal reps to retain plays and works well without the ball, doing a nice job of finding and settling into the soft areas on the field.
Hodges had some ball drop issues earlier in his career, but once he learned the intricacies of being a tight end, those problems quickly disappeared in 2015. He now is the type who will securely catch the ball before heading up field. It is very rare to see him make assignment errors (just two penalties as a sophomore, including one on special teams) and he is the type that learns football easily, looking very instinctive in his movements when reviewing film on him (see 2015 Duke and Purdue games).
Hodges is very alert to sticks and boundaries. While he is the type that has the valid speed to line up wide, he is also comfortable playing with his hand down at the next level. He retains plays with normal reps, and his test score is well above average, as he is quick to take what he has learned in the meeting room to the playing field. You'd be surprised that he is really still a neophyte at the tight end position and is still learning the game, but he has shown that veteran-like attitude and willingness to work at it. He is quite instinctive when it comes to recognizing defensive coverage (rarely will run into spots) and there is no doubt that he should be able to handle the mental aspect of the game at the next level.
Competitiveness…Hodges is not the type that will get in a defender's face or talk trash, preferring to let his production speak volumes for his ability. He is a physical blocker who loves the thought of stalking second level defenders. He is a powerful hitter who gives good effort as a receiver or clearing out rush lanes. He will not hesitate to compete for the ball in a crowd (see 2015 Furman, East Carolina, Miami and North Carolina games).
He is not going to be a fiery type like former Bucs' Kellen Winslow, but he will give 110% in every aspect of his game. The thing you see on film is that he will not hesitate to sell out in order to make the big catch. He has become a tenacious blocker and shows good effort in attempts to sustain and finish his blocks.
Simply put, Hodges is a tough player and good contact seeker. He enjoys performing as a blocker almost as much as he does as a receiver. He is very physical as a blocker and will not hesitate to face up to a bigger opponent. What he does best id come up with clutch catches in pressure situations (see 2015 Purdue, Duke, North Carolina and Tulsa games). He shows no hesitation going up and competing for the ball. He played through minor injuries early in the 2015 schedule and had to operate without his starting quarterback until the second half of that schedule, but still continued to perform at his typical peak level.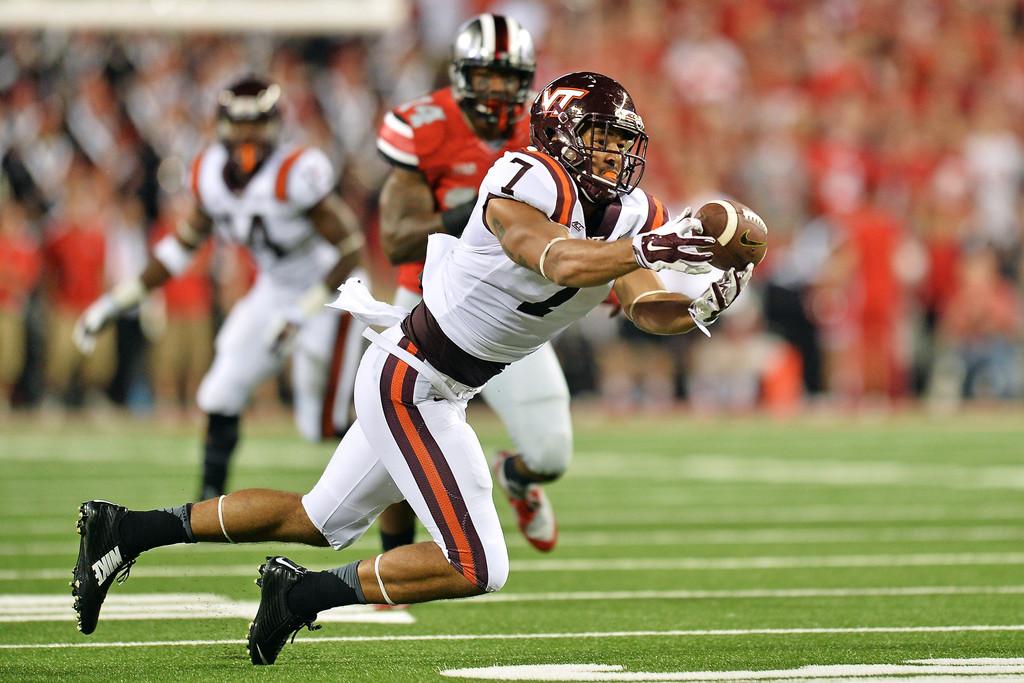 With his long arms and burst of speed, Hodges has become a first-down favorite for new quarterback Jerod Evans. Seventeen of his eighteen catches this year have produced first downs
Release…Hodges uses his quickness and long arms to make sure a physical defender can not lock on in attempts to jam and reroute him. He has a quick initial burst to surprise a second level defender and will win most foot races vs. linebackers and safeties. He shows good urgency in his release off the line and rarely will you see him takes false steps.
Even vs. most cornerbacks, he has enough ability to get up field and the quickness to elude. In looking at 2015 tape (see Purdue and Duke games), you can see that he continues to improve in his ability to power through the jam, along with the quickness needed to create space and get out in the flats. He has a very good burst coming off the line and looks fluid when utilized as a "move" tight end, displaying loose hips and sharp plant-&-drive to turn and head up field. He runs with a good pad level and has had good success on rare chances to carry the ball out of the backfield (see 2015 Tulsa game).
Hodges has good quickness off the snap, but what earns him most of his success getting a clean release is that unlike most tall receivers, he knows how to keep his pads down and this helps him generate a better thrust off the snap. He is often lined wide and standing up, but he also shows that explosive burst when playing with his hand down and coming off the snap in the traditional tight end position. His speed in the open field creates mismatches for second level defenders and he is the type that needs to be accounted for, as he can easily ride up on and get behind a safety.
The thing you see on 2015 film (see Furman, East Carolina, Miami, Boston College and Duke games) is his ability to generate a quick thrust off the snap. He has the long reach and strong hand punch to power through the chuck and if a linebacker tries to hold him up, he has a strong enough hand jolt to put the man on the ground and get open. He can also lull a cornerback with his quickness and savvy, as he has loose hips and efficient head and shoulder fakes.
Acceleration…Hodges is a nice target for the quarterback, thanks to his balance and body control working through a crowd to find soft spots to settle under. He shows very good awareness to uncover and make plays in front of linebackers, then, using his leg drive and forward body lean to pick up extra yardage after the catch (hates it when one tackler is able to stop him). He has that receiver-like change of direction agility to escape good man coverage.
Hodges might not be used on deep patterns as often as he should (hopefully the new staff recognizes that ability), but he is aware of coverage and knowing where to find the soft areas. He has that natural ability to find ways to get open in time for the quarterback to deliver the ball to him and has become a valuable target over the middle and when used on drag patterns.
Hodges reminds me of Jimmy Graham, with the way he can ride up on a defender, execute a quick fake, plant-&-drive and break into the open. Like Graham, he is quite effective when lined out wide. When working in the short area, he does a nice job of dropping his weight and demonstrates proper foot work to gather, using his body well to box out. He is a nice target that has shown good agility when adjusting to the ball and is a pretty fluid runner on the move. He just seems to find ways to get open in time for the quarterback to deliver the ball to him.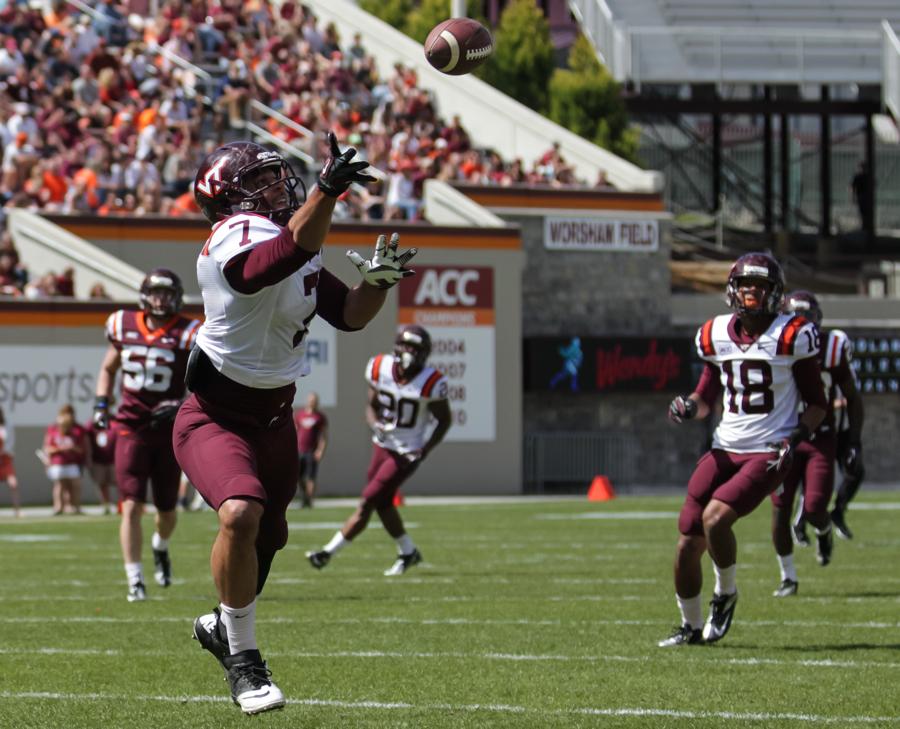 With a 38-inch vertical jump, is it any wonder that Hodges has won more than 90% of his jump ball battles since becoming a tight end
Quickness…Hodges is one of the quicker pass catchers you will find at this position. He shows very good "get off" running his routes, even when aligned near the line of scrimmage. He also has that explosive burst to be a dangerous threat on the reverse when lining up in the backfield (see 2015 Tulsa game). The thing that he does best is generating the lateral range to escape and get up field (see 2015 East Carolina, Duke and Miami games).
In this day and age in the NFL, teams are looking for players like him to stretch the field, as he can flash to gain advantage and battles with very good intensity to escape the jam. He is an explosive mover when he gets a clean release and steps quickly to contact as a blocker while also getting off the line with a good burst as a receiver.
Hodges shows good quickness off the snap and into his routes (rarely drifted as a sophomore, working hard during the off-season to improve on his 2014 route running). He is also an alert position blocker with the quick-twitch movement skills to sustain and mirror. He displays good foot speed at the top of the route to set defenders up and separate.
Route Running…Hodges has been used in a variety of roles as a pass catcher, whether lining up in the back-field, positioning outside or coming off the snap in a traditional stance. His routes are crisp, as he shows the athletic ability and quickness to sink his hips and separate. He has the power to avoid being rerouted and does a nice job of using his hands to leverage defenders and separate with his array of moves. He is best served in the zone, where his quickness lets him take advantage of slower second level opponents, but he can also cause problems for cornerbacks on the rare times he runs deep patterns.
With his smooth running stride and change of direction skills, he has that flash ability to set defenders when working up the seam. He runs a lot of delays and drags, which does not give him much opportunity to challenge in man coverage, but he has that fine ability to know where he needs to be in order to create spacing. He is an athletic, instinctive player running routes and shows the ability to sink his hips and make sharp cuts. With his upper body strength, he will not have problems getting a clean release vs. the jam at the next level.
Despite quarterback issues, you could see that in 2015, Hodges can run a variety of routes, whether it is in the short area or getting into the deep secondary. He does a good job of changing direction and running tight routes in traffic. He easily fools second level defenders with his fakes and hip shake to elude after the catch and also is alert to soft areas on the field to settle under. He is a valid threat to take the ball up the seam and is adept at using his body to shield the ball from the defender. He has the quick feet to gather and get in and out of his cuts, thanks to savvy head fakes and ability to angle. The thing I like is the body control he shows when jabbing one direction and breaking off a route squarely.
Separation Ability…Few second level defenders and strong safeties can mirror Hodges once he is allowed to get into deep patterns (see 2015 Furman, East Carolina, Miami; 2014 Georgia Tech, Pittsburgh and Virginia games). He shows very good quickness at his position, using it to separate out of his cuts. He is alert to coverage and sinks his pads properly when settling in the zone's soft spots. He might be a "hidden find" if he can get with a team that will allow him to use his quickness to separate down field, as he shown in limited opportunities that he can create space needed to make the big play. He has the valid speed to separate and threaten the deep part of the zone and will not hesitate to "throw down" a linebacker that gets in his way, doing a nice job of using his hands in attempts to get open after a strong push-off.
Hodges brings both power and quickness into his route running regimen. He uses his long stride to gobble up the cushion and get behind the defender, even though most teams will put a cornerback on him. When the defensive back becomes his assigned coverage, he has more than enough power to blast through arm tackles. He is one of those rare tight ends with the wide receiver's ability to stretch the field. He uses his hands well to push off or throw down a linebacker in attempts to get open. He shows a smooth running stride that allows him to readily separate. He has the foot quickness and balance to get in and out of his cuts cleanly and knows how to use his hip shake and head/shoulder fakes to set up the defenders when trying to separate.
Ball Concentration…Hodges has shown marked improvement in this area as a sophomore, but there have been several times he has left the ball on the ground because he looks to turn and run before securing the pigskin (see 2015 East Carolina and North Carolina State games). He does play with true courage, as he will not hesitate to sacrifice himself in order to make the tough catch in a crowd, but will sometimes revert to body catching when he should be extending for the sphere.
Still, if this kid is ever affected going for the ball in traffic (blocks out the oncoming noise), I have yet to see it on game films. He loves combating for the ball in a crowd and more often than not, you will see on tape that he makes the catch with defenders hanging on to him. He shows no fear operating over the middle and does not hesitate to get combative with his hands when an opponent tries to physically bump him. He just needs to continue his development as a hands catcher than one who will rely upon his body.
Ball Adjustment…Hodges looks like a contortionist, at times, when he leaves his feet to twist and turn in order to get to off-target throws. He does a nice job of maintaining balance and body control on the move, along with being very conscious of keeping his feet in bounds working down the sidelines. He plays with effortless body control to reach and pluck the ball away from his frame (will revert to body catching at times, but has made steady improvement to reduce those issues). He also shows very good ability to position and make the catch underneath. He tracks the ball well over his outside shoulder, but while he has exceptional leaping ability, he is still learning when to jump with good timing. His basketball and track skills are evident in his attempts to make the tough catch in a variety of locations, though.
In 2015, Hodges saw the ball in flight much better than his rookie season, doing a good jog of tracking and adjusting to get under the throw. He has above average hand/eye coordination and soft hands to finish. He needs to stop using his body as a crutch when going for the ball, but in a crowd, he is fearless and willing to sacrifice his body. He is very alert to the pocket pressure, working back to the quarterback with good urgency. He shows no hesitation sacrificing his body when he needs to get to off-target passes. He can catch the ball outside his framework, but must be more consistent doing so.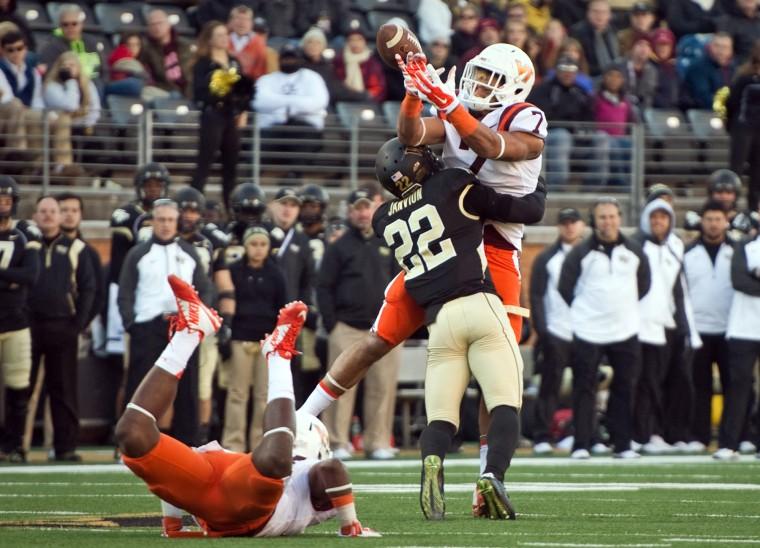 When it comes to taking a hit after the catch, Hodges might be singing a Paul Simon song when he's zeroing in on the ball - I only have eyes for you
Leaping Ability…Hodges is a former basketball forward and track long jumper with the "hops" to elevate and extend in order to get to the ball at its high point (see 2015 Furman, East Carolina, Duke and Miami games). Yes, there are times when he will leave the ground too early, but you can see that he has the skills to take the second leap to get back in on the play. With his 34-inch arm length and 38-inch vertical jump, with more experience, I am confident that he will win more than his share of jump-ball opportunities. Overall, he has solid leaping ability, and is working hard to improve his timing to high point the ball. He gets good elevation from a standing position and has the long reach and large mitts for hands to look the ball in.
Hands…Hodges has soft hands and is working hard not to become the type that uses his body as a crutch, as most of his drops were the result of trying to turn up field before securing the ball. I really like the way he will extend to catch the ball outside his frame (see 2015 Furman, Miami, Duke and Georgia Tech games). His concentration lapses seemed to no longer be an issue in 2015, but this is still an area that is worth further evaluating before passing judgment.
As a sophomore, it appeared that he knew how to keep the ball off his body to make the catch and with those long arms, he certainly has the catching radius to reach and pluck the ball with ease. Do not judge him on using his body too often when working in a crowd. He will make some difficult catches going for off-target throws and has improved in areas for adjusting and positioning when facing the quarterback. He has the hand/eye coordination to snap his head around and catch the ball delivered to his outside shoulder. He is not the type that loses concentration with defenders closing in on him, but he has to make sure he has the ball secured better before turning and trying to head up field.
Run After the Catch…Hodges is a very good open field runner, with the loose hips and nifty spin moves to avoid second level defenders after the catch. He stays low in his pads with good forward body lean to get additional yardage after initial contact. He is used mostly in possession situations, which is unfortunate, as you can see he has more than enough quickness to stretch the field. He has more than enough size that you look for to push up field, along with impressive strength. He is the type that can make cornerbacks miss when tackling him, and he will make those smaller defenders pay for their attempts to bring him down one-on-one. He is very fluid running his patterns and has that natural ability to sink his hips and make crisp cuts without taking extra steps coming out of his breaks.
Hodges is just too much of a load for isolated defensive backs to bring down. The opposing linebackers are too slow to mirror him through the route's progression. He shows good body lean moving forward in attempts to break arm tackles. He is a threat to stretch the seam and is best served when used on vertical patterns. He will make every effort to avoid, but when needed, he has the ability to power through an opponent, showing both quickness and a burst to escape.
Blocking Ability…This is possibly the most improved area of his game, as he seems to relish the thought of stalking second level defenders or mixing it up when going in motion to lead block and widen the rush lanes. Along with split end Isaiah Ford, the Tech receiving unit might be the best set of blockers in college at those skill positions. To put it mildly, Hodges is a vastly underrated blocker. In the second level, he seems to play with a "search and destroy" mentality (see 2015 East Carolina, Duke, Georgia Tech and Tulsa games).
He shows good hand placement and a strong punch, along with the alertness to keep his hands inside his frame. Even when blocking in-line, he is not the type that will overextend and leave his feet behind. Earlier in his career, when he tried to reach, he would lose position late in the process. But now, he shows good explosion on contact, thanks to 25 additional pounds of muscle from the training room since he first arrived on campus in 2013. He plays with good intensity as a blocker and while many think that a player with his lack of experience can only be a wall-off and screen type, 26 touchdown-resulting blocks in his last 26 games indicates otherwise.
In pass protection, he knows how to maintain balance and shuffle his feet quickly in order to slide and mirror. For a 249-pounder, you have to be impressed with his strong anchor, along with the pop he generates behind his hand punch that will generally stop second level defenders in an instant. With his impressive strength, even much bigger defensive ends struggle in attempts to overpower him (see 2015 East Carolina, Duke and Tulsa games). He is very aggressive when making contact and plays with above average balance, leverage and effort to finish.
Hodges has the reach to keep defenders at bay when blocking in-line. As a freshman, there were times when he would get too upright in his stance, causing his base to narrow, resulting in him getting walked back into the pocket. Hard work during the off-season showed in the results, as he did a much better job of angling when blocking in space and was very alert to locating his assignment. He is equally comfortable getting into a second level defender on the move and when blocking for the running game. He also does a good job using his hands to stall edge rushers when blocking in pass protection.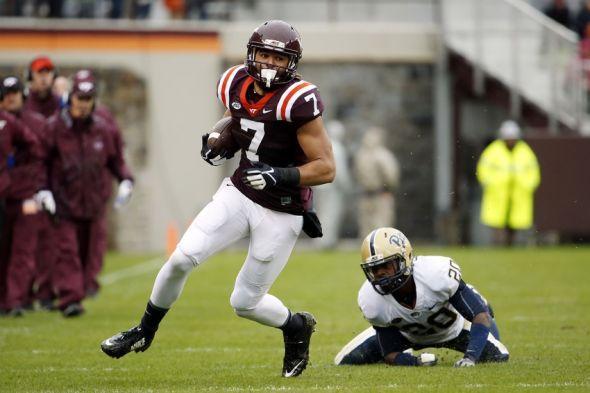 Hodges can turn a short toss into a long gain, as 826 of his 1,313 yards receiving have come after the catch.
CAREER NOTES…Hodges has started 29-of-32 games at Virginia Tech, grabbing 103-of-167 targeted passes (61.68%) for 1,313 yards (12.75 ypc) and sixteen touchdowns…Also gained 79 yards on eighteen carries, reaching the end zone once…Scored again when he recovered a blocked kick in the end zone vs. Virginia in 2014.
School Career Records…Hodges is one of three Tech tight ends to gain at least 1,000 yards receiving (1,313) at the university, setting the position all-time record while joining Mike Burnop (1,141; 1970-72) and Steve Johnson (1,058; 1984-87)…His 103 catches broke the previous school position mark of 90 by Mike Burnop (1970-72)…His sixteen touchdown grabs set a new position record at Tech. The previous mark was twelve by Jeff King (2002-05)…On the overall record charts, Hodges is tied with Andre' Davis (1998-2001) and Mike Giacolone (1979-82) for eleventh in Tech annals with 103 receptions. To date, only twelve players in school history have ever caught one hundred receptions…Also on the overall list, he is currently ranked 18th with 1,313 receiving yards…
His sixteen touchdowns are tied with Josh Morgan (2004-07) for sixth on the overall record list.
School Season Records-With forty receptions in 2015 and 45 in 2014, Hodges is the lone tight end in school history with multiple 40-catch seasons…His 45 receptions not only set the school freshman annual record (all positions), but also broke the position season-record of 38 by Steve Johnson in 1987…His seven touchdown catches in 2014 set the school season-record for tight ends, while his six scoring grabs in 2015 tied Jeff King (2005) for second on that position chart.
School Game Records-Hodges recorded three touchdown catches vs. Duke in 2015, setting the school position record…Isaiah Ford also had three touchdown grabs at split end during the 2015 campaign…The school game-record is four touchdowns, recorded by Ernest Wilford vs. Syracuse in 2002.
2016 SEASON…Hodges entered the season as one of the favorites to capture the John Mackey Award, given annually to the best tight end in college football…The consensus All-American and All-Atlantic Coast Conference preseason choice is regarded as the best athlete in the league and best at his position, according to The NFL Draft Report, a scouting information service that compiles information for the league…Through the team's first six contests, Hodges has pulled down 18-of-24 passes targeted to him (75.00%) for 257 yards (14.28 ypc) and three touchdowns, adding 32 yards on six carries to amass 289 all-purpose yards while scoring eighteen points.
Hodges Statistical Breakdown…Hodges' pass catching success rate (75.00% of targeted passes caught) currently leads the NCAA Football Bowl Subdivision ranks starting tight ends (minimum fifteen targets)…Among his eighteen catches, seventeen produced first downs, including his opponents being charged with three pass interference calls…Defenders managed to deflect three passes away from the tight end, as Hodges dropped one toss and Virginia Tech quarterbacks mis-fired on three others…Converted 6-of-7 third-down chances, as twelve of his catches gained at least ten yards, including five for twenty yards or longer…On eight of his non-touchdown receptions, multiple defenders were needed to bring him down…Eight of his receptions were downed inside the red zone, including two near the goal line, but he also had two touchdown catches called back (one via an opponent penalty and the other ruled that he was downed at the 1-yard line)…In addition to his three scoring grabs, he had key receptions that set up three other touchdown drives and on one series that resulted in a field goal…Three of his six rushing attempts have produced first downs, helping to set up one touchdown drive and one field goal.
2016 SEASON GAME ANALYSIS
Liberty...New Virginia Tech quarterback Jerod Evans threw for 221 yards and four touchdowns to lead the Hokies to a 36-13 season-opening victory over Liberty, handing head coach Justin Fuente his first victory. Fuente, who spent the previous four seasons at Memphis, took over in January for Frank Beamer, who retired after 29 years as Virginia Tech's head coach. Evans, a junior-college transfer from Texas who enrolled this past January, completed 20 of 32 passes. The Hokies trailed 13-10 in the second quarter before Evans threw touchdown passes to Isaiah Ford and Hodges on the Hokies' last two possessions of the first half to give the Hokies the lead for good…The tight end reached the end zone twice from three receptions for 42 yards, setting up his second score via a reverse…The team opened with three wide receivers, leaving Hodges to wait before he could make the most of his first opportunity to get his hands on the ball, as Jerod Evans fired a third-&-7 flag pass to his tight end for an 18-yard touchdown that capped an 8-play, 70-yard series with 0:24 remaining in the first half…Evans and Hodges connected again on a big third-down conversion toward the end of the first half. Hodges set up his next touch-down catch as he powered through several defenders during a rushing attempt for four yards to the Liberty 20. After the Flames' weak-side linebacker Dexter Robbins was helped off the field after colliding with Hodges, Evans located his target and tossed another flag pass on third-&-6 to the tight end for a 20-yard third quarter score…Record Watch-Hodges' three receptions increased his career total to 88, moving past Sidney Snell (1978-80) for 18th on the school overall record chart…The only tight end in Tech annals with more receptions during a career is Mike Burnop (90; 1970-72)…Hodges also improved his touchdown reception figure to fifteen, tying Snell for seventh on the overall Hokies record list and is the school career-record for tight ends (previous tight end mark was twelve by Jeff King; 2002-05)….Head to Head Competition-SS#14-Cam Jackson (6:01-209)-No tackles; FS#28-Corbin Jackson (6:00-203)-Seven tackles (4 solos)…Hodges Offensive Impact-The tight end caught 3-of-3 passes targeted to him (100.00%), as he scored twice via third-down plays, both coming on snaps inside the red zone. He also set up his second touchdown with a reverse. Two of his receptions were downed inside the red zone and he had a pair of grabs gain at least ten yards, including one for twenty yards or longer…Team Offensive Impact-Virginia Tech completed 25-of-41 passes (60.98%) for 252 yards, four touchdowns and no interceptions, as the team had three passes deflected away by the opposition, gaining 458 yards on a total of 89 plays (5.15 yards per attempt).
Tennessee…Virginia Tech got off to a great start in its game against the Tennessee Volunteers, but turnovers and penalties turned out to be its undoing, as the Hokies fell to the Volunteers, 45-24, at Bristol Motor Speedway. The long-anticipated event drew a crowd of 156,990 fans and broke college football's single-game attendance record, surpassing the 115,109 fans who witnessed Michigan and Notre Dame at Michigan Stadium in 2013. Hodges managed to grab three passes for 13 yards and toted the ball as a ball carrier four times. He was also in a heated battle with Vols defensive backs, as Tennessee's dirty tactics would see their defenders flagged three times for pass interference on balls targeted to the tight end…A fierce pass rush saw Tech quarterback Jerod Evans flip the ball to Hodges in the backfield, but the Tennessee swarm tackled the tight end for a 5-yard loss. He then reeled off a 7-yard run in Tennessee territory during a 62-yard, 8-play series that ended when Evans found tailback Sam Rogers with a 7-yard scoring toss…After catching an 11-yard pass at the end of the first quarter, Hodges was twice mauled by Justin Martin and the referees twice called pass interference vs. the Tennessee cornerback. The second penalty was followed by a Hodges rushing attempt to the UT 11. The drive stalled and the Hokies would settle for a 26-yard field goal in the third stanza…Record Watch-Hodges' three receptions increased his career total to 91, taking over the school record for tight ends. The previous career mark was 90 by Mike Burnop (90; 1970-72)…Head to Head Competition-SCB#23-Cameron Sutton (5:11-186)-Three solo tackles, one stop for a 5-yard loss, one pass deflection; WCB#8-Justin Martin (6:01-183)-Four tackles (2 solos)…Hodges Offensive Impact-The tight end caught 3-of-3 passes targeted to him (100.00%), including converting one third-down toss, as the opposition was flagged twice for pass interference and once for an illegal player vs. the tight end. One of his catches gained at least ten yards and another was downed inside the red zone. As a ball carrier, two of Hodges' four carries produced first downs, leading to one field goal while setting up a touchdown drive…Team Offensive Impact-Virginia Tech completed 20-of-28 passes (71.43%) for 208 yards, one touchdown and no interceptions, as the team had two passes deflected away by the opposition, gaining 394 yards on a total of 73 plays (5.40 yards per attempt).
Boston College…It was back to strictly tight end duties for Hodges, as he collected four balls for 48 yards to help quarterback Jerod Evans tie a school record with five touchdowns passes. The Hokies' defense recorded the team's first shutout since 2012, as Virginia Tech blanked Boston College, 49-0, at Lane Stadium in the Atlantic Coast Conference opener…A 14-0 lead for the Hokies came late in the first quarter during a possession where Hodges caught all of his passes for the day. Three of his four grabs resulted in first downs, totaling 48 yards that included a pair of 17-yarders. Two of his catches were downed inside the red zone, including converting a third-&-2 Jerod Evans toss into a 9-yard first down at the BC 8. On the next play, Evans lobbed a flag pass to split end Isaiah Ford for the score…Record Watch-Hodges' 48 yards increased his Tech total to 1,159 yards, 20th on the school's overall chart and tops among all tight ends. Mike Burnop (1,141; 1970-72) was the previous tight end record-holder…Head to Head Competition-SS#8-William Harris (6:02-202)-Eight tackles (5 solos); FS#9-John Johnson (6:00-212)-Eight tackles (4 solos), one pass deflection, a 19-yard interception return…Hodges Offensive Impact-The tight end caught 3-of-6 passes targeted to him (50.00%), as he dropped one throw, a defender deflected away another attempt and the Tech quarterback misfired on another. He recorded one third down and had two catches that gained at least ten yards, along with coming up with key receptions that set up one touchdown drive. Two of his grabs were downed inside the red zone…Team Offensive Impact-Virginia Tech completed 16-of-27 passes (59.26%) for 253 yards, five touchdowns and one interception, as the team had one pass deflected away by the opposition, gaining 476 yards on a total of 77 plays (6.18 yards per attempt).
East Carolina…Hodges started his nineteenth consecutive game, the most for any of the current players on the roster, as he delivered on a pair of receptions for 47 yards. Quarterback Jerod Evans threw three touchdown passes and ran for a score, and the Hokies made three big plays on special teams, as they scuttled the East Carolina Pirates, 54-17, in a non-conference game… Hodges made a great catch, pulling the ball in with one hand before being sandwiched between two defenders on a 12-yard catch that led to Evans' 24-yard touchdown toss to Isaiah Ford early in the second quarter…A 12-play, 89-yard third quarter Tech march stalled at the ECU 3-yard line, but not before Hodges secured a deep throw for a 35-yard first down…Record Watch-Hodges' two grabs improved his Tech figures to 97 receptions, moving past Dyrell Roberts (96; 2008-2012) for 13th place on the school's overall record chart…His 1,206 yards receiving pushed him past Carroll Dale (1,195; 1956-59) for 20th place in school history…Head to Head Competition-FS#3-Travon Simmons (5:10-187)-Eight tackles (3 solos); WILB#7-Jordan Williams (6:00-234)-Six tackles (one solo)…Hodges Offensive Impact-The tight end caught 2-of-2 passes targeted to him (100.0%), as he recorded two first downs. Both of his receptions gained at least ten yards, including one for twenty yards or longer, and he had a clutch catch that led to a Tech touchdown drive…Team Offensive Impact-Virginia Tech completed 15-of-23 passes (65.22%) for 295 yards, three touchdowns and no interceptions, as the team had no passes deflected away by the opposition, gaining 462 yards on a total of 78 plays (5.92 yards per attempt).
North Carolina...Playing in a downpour courtesy of Hurricane Matthew quarterback Jerod Evans threw two touchdown passes but was only successful in reaching his tight end once. However, Hodges turned that lone opportunity into a key play to set up one of those scoring drives, along with baiting his opponent into a crucial pass interference charge…On the game's second play from scrimmage, Evans connected with Hodges, but the catch was ruled out of bounds…A third-&-7 toss to Hodges was deflected later in the first frame…Just before halftime, Hodges made a sensational catch-&-run that appeared to be good for six points, but a review of the play ruled that he was down at the 1-yard line. On the next play, Evans simply lobbed the ball to freshman tight end Chris Cunningham for a touchdown that staked the Hokies to a 13-3 lead…Head to Head Competition-SS#15-Donnie Miles (5:11-209)-Eleven tackles (3 solos), 1.5 stops for minus two yards…Hodges Offensive Impact-The tight end caught 1-of-3 passes targeted to him (33.33%), as the opposition deflected one toss and Tech quarterbacks misfired on another. He recorded two first downs (one via a pass interference call), converting a third-down attempt, as he had one catch for at least twenty yards that was a key play on a touchdown drive…Team Offensive Impact-Virginia Tech completed 7-of-17 passes (41.18%) for 75 yards, two touchdowns and no interceptions, as the team had five passes deflected away by the opposition, gaining 264 yards on a total of 83 plays (3.18 yards per attempt).
Syracuse…With quarterback Jerod Evans throwing for a career-best 307 yards in a 31-17 loss to Syracuse, Hodges was the recipient of a season-best five receptions for 79 yards, as he also reached the end zone via a catch…The loss could be traced back to the offense failing to capitalize on big plays from their tight end…A first quarter 20-yard grab resulted in the team stalling on that drive, doing so again after he converted a third-&-9 throw into a 16-yard first down in the second stanza…He added a first down on a carry, only to see Evans picked off during that third quarter drive…The savvy pass catcher worked his way back to a poorly thrown ball from Evans, somehow managing to adjust and get under the ball for a 27-yard gain deep into Syracuse territory in the fourth quarter. That 8-play, 66-yard drive would end when Evans found Hodges on second-&-goal for a 10-yard touchdown…Hodges kept a last ditch scoring drive alive with another catch for a first down, but Evans turned the ball over on the next snap and Syracuse ran out the final 4:08 on the game clock…Record Watch-The school's position record holder, Hodges improved his career totals to 103 receptions for 1,313 yards and sixteen touchdowns, becoming the twelfth player in Tech annals to record one hundred receptions during a career…On the school's overall record lists, he moves into an 11th place tie with Andre Davis (1998-01) and Mike Giacolone (1979-82) with 103 catches...His 1,313 yards receiving moved him to 18th all-time, topping Jimmy Quinn (1,262; 1969-1971) and Sidney Snell (1,274; 1978-80)…His sixteenth touchdown catch as a Hokie tied Josh Morgan (2004-07) for sixth in school history…Head to Head Competition-SS#19-Daivon Ellison (5:08-177)-Eleven tackles (10 solos), one pass deflection; CB#28-Christopher Fredrick (5:11-189)-Four solo tackles…Hodges Offensive Impact-The tight end caught 5-of-6 passes targeted to him (83.33%), as Tech quarterbacks misfired on one throw. He recorded five first downs and converted one third-down throw. Four of his catches gained at least ten yards, including two for twenty yards or longer, and he had a clutch catch that resulted in a Tech touchdown drive. On two of his non-touchdown catches, multiple defenders were needed to bring him down…Team Offensive Impact-Virginia Tech completed 20-of-33 passes (60.61%) for 307 yards, two touchdowns and one interception, as the team had one pass deflected away by the opposition, gaining 468 yards on a total of 72 plays (6.50 yards per attempt).
2015 SEASON…Hodges started all thirteen games, as the All-Atlantic Coast Conference second-team selection by the league's coaches logged action in 691 snaps, including 684 with the offensive unit and seven more on special teams…The former high school quarterback finished third on the team after catching 40-of-69 targeted tosses (57.97%) for 530 yards (13.25 ypc) with six touchdowns, as he added 27 yards on five carries that included another score (most while lining up as a quarterback under center)…His forty grabs rank third on the school season-record chart for tight ends and he became the only player at his position to record multiple seasons with at least forty receptions…The fourth-team All-American selection recorded 24 first downs (60% of his catches), converting 9-of-19 third-down tosses and 3-of-4 fourth-down pass plays…In addition to his six scoring grabs, he had key receptions that led to six other touchdown drives and on four series that resulted in field goals…Nineteen of his catches gained at least ten yards (47.5%), including nine for twenty yards or longer (22.5%)…Caught ten passes that were downed inside the red zone, including two on goal-line plays and broke free from multiple defenders on seven run-&-catch situations… Penalized twice (vs. North Carolina State for a false start and vs. North Carolina for holding) and fumbled once (Boston College)…Suffered a bruised quadriceps muscle in the second half vs. Furman, but returned to start the following week.
2015 SEASON GAME ANALYSIS
Furman…Coming off a short week and playing a quarterback who came into the season as the backup left Virginia Tech fans feeling that disaster loomed on the horizon, but with help from his sophomore tight end, Brenden Motley took away those doubts. Making his first collegiate start, Motley threw two touchdown passes and rushed for a touchdown to lead the Hokies past Furman 42-3…Motley started in place of injured Michael Brewer, who broke his collarbone in the Hokies' Monday night loss to top-rated Ohio State and he would join Michael Brewer (2014) and Grant Noel (2001) as the only Virginia Tech quarterbacks under head coach Frank Beamer to throw for more than 200 yards, two touchdowns and not get sacked in his first career start…On Tech's first offensive play of the football game, the Hokies ran a smash route concept (quick curl by Hodges designed to draw up the corner and a corner route by Ford) to the field side, with double in routes to the boundary. The corner stood glued to Hodges, so after a small shoulder fake to freeze the safety Motley moved to his second progression in slpit end Isaiah Ford. Ford broke outside under the deep safety. On the next play, Motley faked a "jet sweep" before locating Hodges streaking into the middle of the open field. He hit his tight end in stride, with Hodges eluded several Paladins defenders before being tackled at the Furman 31-yard line. That late first quarter drive would end early in the second stanza, as Motley tucked the ball and ran the final four yards into the end zone for a touchdown to cap an 8-play, 88-yard march…Head to Head Competition-SS#31-Byron Johnson (6:02-231)-Ten tackles (7 solos), two QB pressures…Hodges Offensive Impact-The tight end caught 2-of-3 targeted passes (66.67%) for 48 yards, as he recorded one first down, with one reception gaining at least twenty yards, setting up one touchdown drive while catching one pass inside the red zone…Team Offensive Impact-Virginia Tech completed 19-of-31 passes (61.29%) for 284 yards, two touchdowns and no interceptions, as the team had three passes deflected away by the opposition, gaining 583 yards on a total of 72 plays (8.10 yards per attempt).
Purdue…After having a great 2014 season, Hodges had plenty of hype surrounding him as one of college football's best tight ends while also being named to the 2015 Preseason All-ACC Team. However, Hodges has not had the start that he likely hoped for, mostly due to the absence of injured starting quarterback Michael Brewer. Through two games, the tight end only had two catches for 48 yards with both of those catches coming against Furman. Hodges has also had a couple of drops to start the season, and hadn't been able to get open as much with teams seeming to focus on him more. However, Hodges seemed like someone that is one big game away from taking off, and while his yardage totals vs. the Boilermakers might not stand out (11 yards), the results spoke volumes (two touchdowns) in this 51-24 victory…Purdue recognized
---