The NFL Draft Report's "NFL Future Stars" Series - With A Slew Of Wolverines Vying For National Honors, Michigan's Mason Cole Is Becoming The Center Of Attention For NFL Scouts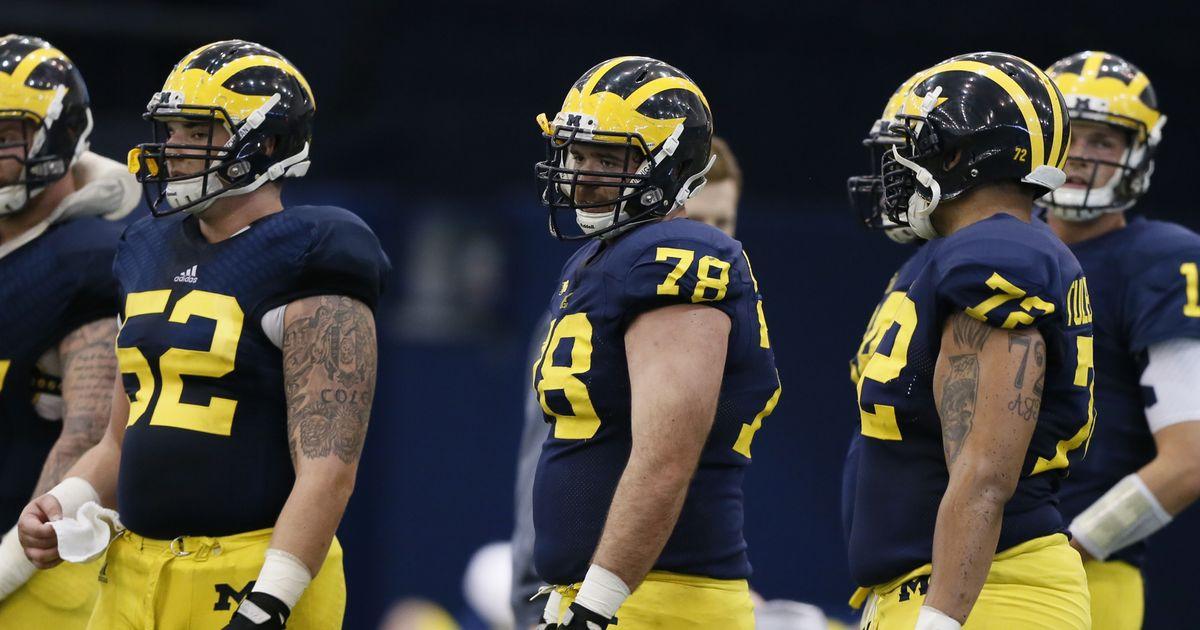 No matter where Mason Cole lines up in 2016, one thing is certain - that defensive linemen will go home remembering the battle he was just in with #52
MASON COLE Offensive Center/Tackle University of Michigan Wolverines #52 6:04.5-308 Tarpon Springs, Florida East Lake High School
When Jim Harbaugh took over the University of Michigan program, the Wolverines secured a coach who is not only innovative, but one that has "old school" football philosophy, having grown up in a football coaching environment. Much like former NFL greats, Paul Brown, Chuck Noll and Al Davis, Harbaugh recognizes that the chemistry developed by the offensive line is imperative for any success the team will have in reaching the end zone.

Those former football legends also recognized that in order to have a quality front wall, you need to build from within and then branch the talent level to the outside. Teams like Dallas have had success building their line from the tackle positions and then plugging warm bodies inside. In Harbaugh's system, you will not see those typically squat fireplugs handling snapping duties. No, the former quarterback wants his centers to be tall, large and most importantly, smart.
The 2014 Michigan team had stumbled to a 5-7 record, utilizing 6:03 at center. Once Harbaugh arrived in 2015, the offensive line underwent a massive overhaul. First to go was Miller, as the coach shifted 6:06 left guard Graham Glasgow to center. Taking his place at left guard would be Ben Braden, who performed at right tackle in 2014. Backup left tackle Erik Magnuson would slide into the spot vacated by Braden shifting inside. Kyle Kalis would remain the right guard and Mason Cole remained stationed at the demanding left tackle position.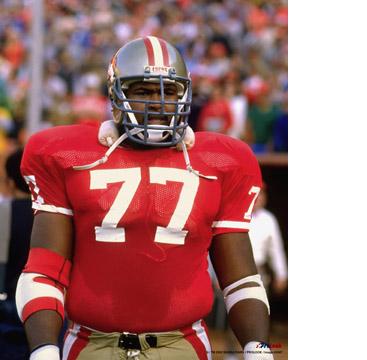 Bubba Paris played college football at the University of Michigan, where he was named All-Big Ten, All-American and was also a (second team) Academic All-American. He went on to play for the San Francisco 49ers of the NFL from 1983 to 1990 and for the Indianapolis Colts and Detroit Lions in 1991. He was a member of three 49ers teams that won the Super Bowl. He won the Len Eshmont Award in 1987, as selected by his teammates on the 49ers
Cole was an anomaly, even by the Wolverines standards. In 2014, he became the first true freshman in school history to start a season opener along the offensive line when he joined the first unit vs. Appalachian State. By doing so, he joined former Michigan All-American William "Bubba" Paris (1978) as the only Wolverines to start a game at tackle as true freshmen.
While most experts say it takes time for chemistry to develop up front, Harbaugh committed to his five starters, as that unit remained intact throughout the 2015 schedule. Yes, there were a few blips, especially early in the season, as the front wall struggled during their first two teams together and also had to adjust to the cadence called by incoming quarterback Jake Rudock. Toss in the fact that injuries to the running unit saw their receivers and even their strong safety have to step up and carry the ball on more than a handful of plays.
By the time the second half of the season rolled around, the line was operating on "all eight cylinders." Quietly, and without being recognized – something most offensive linemen have to deal with; the anonymity of playing that position – Cole was performing at peak level. In the NFL scouting industry, linemen are graded on blocking consistency. Any grade received at 90% or better is considered excellent. In five of his final six appearances, the 2015 left tackle achieved that level.
When 2016 spring camp rolled around, Harbaugh was again tinkering with his offensive line. With Graham Glasgow now a member of the Detroit Lions, the coach turned to his 6:05 left tackle to take over as the "big man" in the middle of his revised offensive line. Cole made the seamless adjustment to the pivot, a position usually reserved for the "fireplugs." Glasgow, who is battling for the starting job with the Lions, is the NFL's tallest center this year. Last season, that honor fell to Miami's 6:05 Mike Pouncey. On the other end of the spectrum, the shortest center in the league currently starting is Arizona's 5:11 A.Q. Shipley.
By utilizing Cole's drive blocking ability and exceptional success stalking second level defenders, Harbaugh reasons that his average ground game would benefit greatly by having this 25-game starter out in front on traps and pulls. To make the move work, seldom used sophomore, Grant Newsome, will have to convince the staff he is ready to step in at left tackle. Both Braden and Kalis did not have awe-inspiring performances at the guard positions last year and their projected right tackle, Erik Magnuson had several issues last season where Cole was forced to shift to the right side and give Magnuson a "breather" on the bench. With obvious great genes coming from his father, sophomore Jon Runyan is a name to watch, if the guard situation does not improve for the Wolverines.
Cole not only excelled as an offensive tackle at East Lake, but was often used to plug rush lanes as a defensive lineman in short yardage situations
THE HIGH SCHOOL STANDOUT WHO SLIPPED PAST THE FLORIDA RECRUITERS
The Tarpon Springs, Florida resident attended East Lake High School before joining the Wolverines. A four-year starter in the trenches, he was a USA Today All-American pick as a senior, adding first-team All-Area and All-State accolades during both of his junior season, leading to an invitation to play in the 2014 U.S. Army All-American Bowl.
Cole first emerged on the recruiting camp circuit back in the summer of 2011, when he was a rising sophomore who was quickly recognized as a talent to keep an eye on by Rivals.com (Keith Niebuhr) after his performance at the National Underclassman camp. Their staff writer stated, "This is someone who looks like he has a bright future. Cole is lean and has great length. For his size, and the fact he's still young, he has quick feet and excellent lateral movement. His technique was as good as any linemen on hand either day. Cole's punch slowed or stopped numerous defenders, and he was smooth enough on his feet to effectively contain the speed rushers. His comprehension is high."
That success continued throughout his prep career and he was named one of the top prospects at a Florida State camp, despite playing with a cast on his left hand. Standing 6:05 and at 267-pounds, scouts noticed that he was very athletic with quick feet and hands. He did a good job of establishing a solid base and using his arm length off the snap. He showed the quickness to immediately get out and on a defender and easily gained traction when blocking and sustaining his blocks.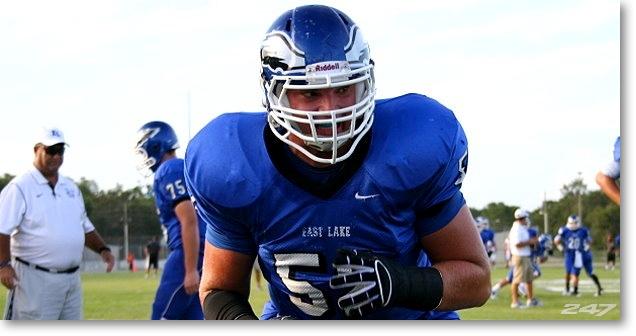 Known for his incredible balance on the move, Cole's East Lake coach, Bob Hudson, said of him: "He's that guy, as a coach, that you want a whole team of. He does what he's supposed to do. He stays out of trouble. He's not late to meetings. He's not lazy. He's always moving. He's coachable. He can take criticism. He doesn't need praise every play. He's what you dream of as a coach."
Tarpon Springs East Lake High School plays in Florida's largest classification (8A) and thanks to Cole's blocking up front as a junior, they reached the regional final before bowing out to Orlando Dr. Phillips. East Lake not only produced Cole for Michigan, but that same team developed Clemson's rising star at wide receiver - Artavis Scott. The team also featured five-star Florida State recruit, George Campbell. While Cole accepted the scholarship offer from Michigan, the other two also listed that university as finalists before making their decisions.
Michigan was not the only school coveting Cole's services. While narrowing down his list, he still had over twenty offers on the table. Some of the more notable requests for his services came from Alabama, Arkansas, Clemson, Florida, Florida State, Georgia, Notre Dame, Ohio State, South Carolina, Stanford, Tennessee, Southern California, and Wisconsin. In most recruiting circles, it is safe to say that was about as impressive an offer list as you'll see a prospect have at this stage.
HELLO ANN ARBOR, GOOD BYE TARPON SPRINGS
It is very rare for an athlete to leave the recruiting hotbed areas that Atlantic Coast Conference and Southeastern Conference recruiters scour, but former head coach Brady Hoke knew that he had his featured prize when he announced his 2014 class. Having entered the program at 267 pounds, Cole embraced the weight room and by the time he was to make his college debut, the coaches announced he would go one step further vs. Appalachian State – becoming the first Wolverines offensive lineman to debut as a starter.
"Summer cooking" on campus added twenty-five pounds to the youngster's frame. Some other schools had projected Cole as a right tackle, figuring he would need time for his body to mature. His head coach, knowing his job was on the line, gambled that his freshman would produce. The gamble paid off, at least where Cole was concerned, but a 5-7 season soon saw Brady Hoke hit the unemployment line.
The 2013 team had problems both on and off the field, especially with their former All-American left tackle, Taylor Lewan. There was that classic meltdown vs. Michigan State that saw Lewan penalized for three flagrant fouls, including one for spitting on an opponent. Then, later in the year, an Ohio State fan alleged that Lewan assaulted him assaulted outside a downtown Ann Arbor restaurant on November 30th. The entire front wall needed to be "blown up" after that 2013 season, as they finished 105th in the nation after allowing 36 sacks for losses of 270 yards, along with seeing their ball carriers being tackled for losses 114 times and their quarterbacks having to dodge 29 pressures.
Having graduated from high school in December, Cole enrolled early at Michigan in January 2014 at the age of seventeen. He was so impressive in spring practice and during fall drills, that he became the "talk" even in the locker room. "Mason is a phenomenal player," running back Justice Hayes noted, at the time. "He is a freshman but he doesn't play like it at all. He plays like he's been there for a couple years."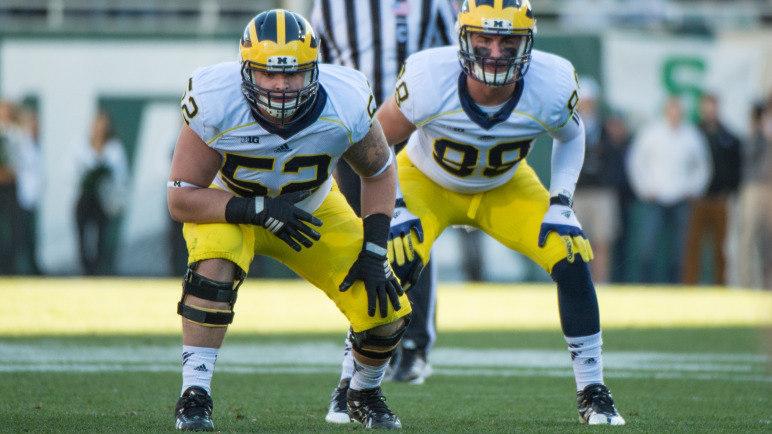 Cole made his collegiate debut as a starter at left tackle, producing a pair of touchdown-resulting blocks during that impressive performance vs. Appalachian State
Since true freshmen became eligible to play in the NCAA, starting in 1972, only five first-year players have started any games on Michigan's offensive line: Bubba Paris (one game in 1978), Tom Dixon (one game in 1980), Dean Dingman (three games in 1987), Justin Boren (one game in 2006) and Kyle Bosch (three games in 2013). In the 2014 season opener, Michigan backs set a Michigan single-game record with 9.7 yards per carry (350 yards on 36 carries), and the offensive line was credited with the outburst.
Cole earned Freshman All-American status for his performance replacing Lewan at left tackle in 2014. On seventeen of their touchdown runs, thirteen were recorded behind the left side blocking. He helped the Wolverines gain 3,996 yards in total offense, with the ground attack benefitting to the tune of 162.83 yards per game, a marked improvement from the 2013 average of 125.7 yards. They reduced their sacks allowed total to twenty-five and allowed seventy total tackles behind the line of scrimmage.
The 2015 season was actually two combined into one – the first, the early season struggles – the second, chemistry-in-motion, as Cole delivered 85 key blocks/knockdowns, providing rush lanes on 21-of-27 touchdown runs, while also posting key touchdown-resulting blocks on eight pass plays. Perhaps as a sign his move to center will see him emerge as a dominant trap blocker, he recorded nine down field blocks that led to big gains on scoring drives.
The team yielded eighteen sacks; 4.5 coming over the left tackle, but he still recorded the highest blocking consistency grade for all but one left tackle in the league (Michigan State's Jack Conklin posted an 88.41 mark), registering in at 86.85%, earning excellent scores (90% or better) in seven contests, including in five of his last six appearances.
Through the first six games on the 2016 schedule, Cole leads all of the nation's centers and guards with a blocking consistency grade of 96.33%, based on 73 key blocks/knockdowns that included crucial blocks on eighteen touchdown drives. With Cole in the middle, the Wolverines are averaging 255.0 yards per game and reached the end zone twenty-five times with their ball carriers.
The 2015 unit was averaging 201.33 yards while compiling fifteen scores within the same time frame. Last season, through the first six contests, Michigan averaged 189.17 aerial yards per game, as they completed 60.06% of their throws (106-of-175) with five touchdowns and six interceptions. The 2016 version is averaging 215.0 yards passing while accounting for twelve touchdowns.
THE MICHIGAN OFFENSIVE LINEMEN AND THE NFL DRAFT
Since the two leagues merged and devised a universal draft in 1970, there have been nineteen Michigan offensive tacklers selected, but only seven centers have heard their names called. While those numbers lack quantity, the list includes some impressive quality, at least in regards to what rounds they were taken in. Cole's teammate in 2015, Graham Glasgow, was selected in the third round of this year's draft, with Detroit fully expecting the versatile lineman to open the season as their starter.
There is a drop-off in the talent base at center after Glasgow, as David Molk was a seventh round pick by San Diego in 2012, but has appeared in only twenty games, to date. Rod Payne was a third round choice by Cincinnati in 1998, but soon bombed out of the league after one year that saw him get a few snaps in six contests. 1976 Denver fifth round pick, Jim Czirr and 1973 16th round Chicago Bears choice, Bill Hart, never suited up for an NFL team. Fellow 16th rounder, Guy Murdock, played in fourteen games for the old Houston Oilers in 1972.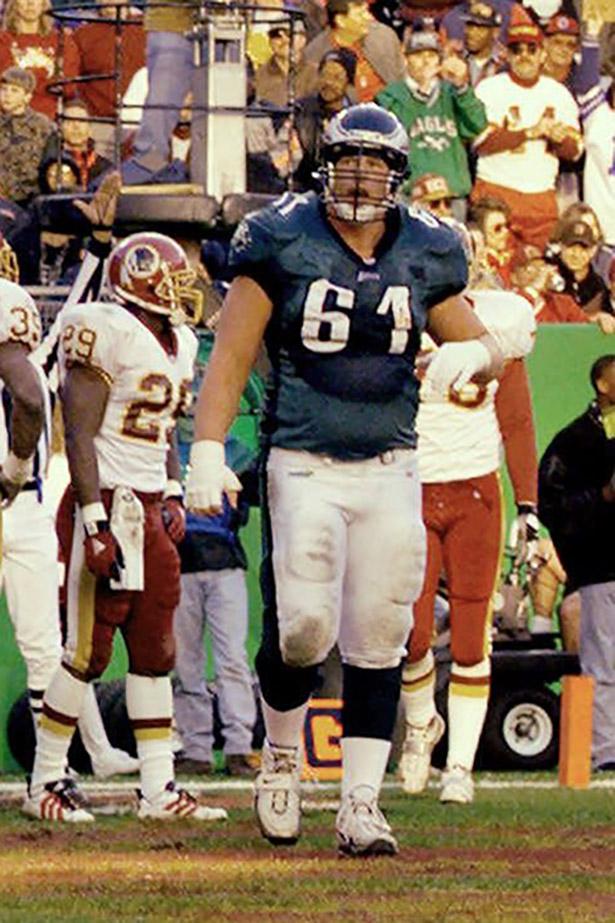 Steve Everitt's NFL career spanned from 1993-2000, playing for the Browns, Ravens, Eagles and Rams. As a freshman at Michigan, Everitt started all 12 games at center for the 1989 Wolverines football team that compiled a 10-2 record in Bo Schembechler's last season as their head coach. As a senior, he started all 12 games for the undefeated 1992 Michigan team that compiled a 9-0-3 record, outscored opponents 389-198, and defeated Washington in the 1993 Rose Bowl. He was selected as a first-team player on the 1992 All-Big Ten Conference football team
The only Michigan center since the merger to have some success in the NFL was 1992 All-Big Ten Conference pick, Steve Everitt. He was selected by the Cleveland Browns in the first round (14th overall pick) of the 1993 NFL Draft, playing three seasons for the Browns from 1993 to 1995, appearing in 46 games, including 45 games at the team's starting center.
After the Browns moved to Baltimore in 1996 Everitt was fined $5,000 by the league for wearing a Browns bandana with his Ravens uniform, which he did in protest of the team's relocation . He appeared in eight games for the Ravens in 1996. In March 1997, Everitt signed a five-year $11.5 million contract with the Philadelphia Eagles. He spent three years with the Eagles, appearing in 45 games as the team's starting center. In April 2000, Everitt was released by the Eagles.
In June 2000, Everitt signed a two-year contract with the St. Louis Rams. He appeared in only four games for the Rams, one as a starter, and all during the 2000 NFL season. In eight years in the NFL, Everitt appeared in 103 games, 98 of them as a starter, and registered five fumble recoveries.
Where the University of Michigan offensive line draft talent pool comes from is at tackle. Of the nineteen drafted since 1970, six were chosen in Round One and seven more joined the league as second round selections. In fact, each of the last five Wolverines tackles to play in the NFL were taken in either of the first two rounds, including Jake Long, the top overall pick in the 2008 draft by the Miami Dolphins. It would be six years later when Taylor Lewan would hear his name called in the first round, starting the last two years for Tennessee after they made him the 11th overall pick in 2014.
The first Michigan tackle to earn first round status since the merger was Mike Kenn, who would start 251-of-255 games after joining Atlanta as the 13th selection in 1978. The next year, Jon Giesler went 24th overall to Miami, starting 105-of-126 games before retiring in 1988. It would not be until 1995 for the next first round Michigan tackle to come along, as Trezelle Jenkins became a Kansas City Chief. However, in three seasons, he only saw game action nine times. Six years later, in 2001, Jeff Backus was the 18th pick in the draft by Detroit, starting his entire career (191 games) until leaving the gridiron in 2012.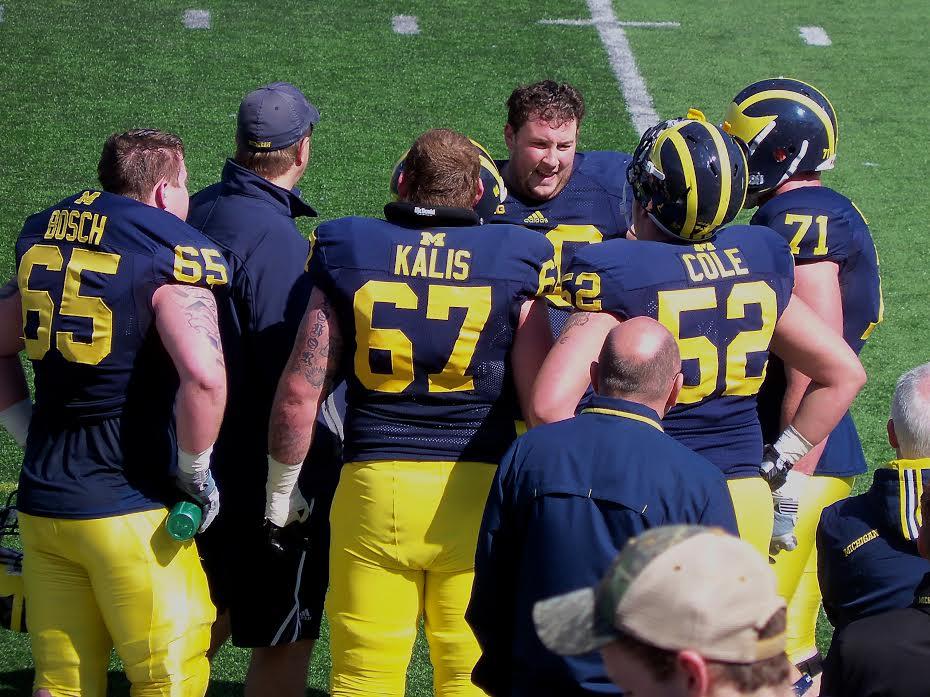 The 2015 Michigan offensive line got off to a rough start in the schedule, but following their cue from their left tackle, the second half displayed one dominant performance after another. In five of his last six appearances that year, Cole recorded blocking consistency grades of 90% or better
Cole is just the second left tackle in school history to start a game as a freshman and the only one to ever start a season opener. The first time a frosh started for the Wolverines was Bubba Paris. Paris would later go on to become an All-Pro after joining the San Francisco 49ers as the 29th pick (second round) in 1982. He stood with the 49ers until 1990, joining the Indianapolis Colts and Detroit Lions in 1991. He was a member of three 49ers teams that won the Super Bowl. He won the Len Eshmont Award in 1987, as selected by his teammates on the 49ers. With four sons, it is his twin daughters who are the "athletes" of the family. Courtney and Ashley each currently play in the WNBA for the Tulsa Shock and Phoenix Mercury women's basketball teams respectively.
Some other "near" first round misses was unearthed at Michigan, as several of their second round tackles went on to glory. One, Dan Dierdorf, became a member of the St. Louis Cardinals in 1971 and he started 150 times before ending his Hall of Fame career in 1983. Giants fans still recall the power that "Jumbo" Elliott brought to the trench wars, as the 1988 second rounder started 156 times until he hung up his helmet in 2002. Washington also benefitted greatly by taking Jon Jansen in the second round of the 1999 phase. They got 125 starting appearances from their blocker before he retired in 2009.
Cole might be playing alongside a renowned Michigan legacy in 2015, if the young Jon Runyan has any playing skills similar to his father, also named Jon. The elder Runyan was an All-State pick in basketball and two-time state champion shot putter during his high school days before enrolling at Michigan. The 1995 All-Big Ten selection was later taken by the Houston Oilers in the fourth round of the 1996 draft. He would start 192-of-207 games during his NFL career that lasted until 2009.
Runyan later played for the Philadelphia Eagles and San Diego Chargers and when he retired, he was the last active NFL player to have played for the Oilers. In fourteen seasons, he earned one trip to Hawaii, when he participated in the 2003 Pro Bowl following the 2002 NFL season. After retiring, he became the U.S. Representative for New Jersey's Third congressional district from 2011 to 2015.
THE NFL DRAFT REPORT…NOTE-Cole's evaluation takes into consideration that he moved to center in 2016 and will be analyzed based on that shift, but additional analysis is also discussed here, based on his performance as a left tackle the last two seasons.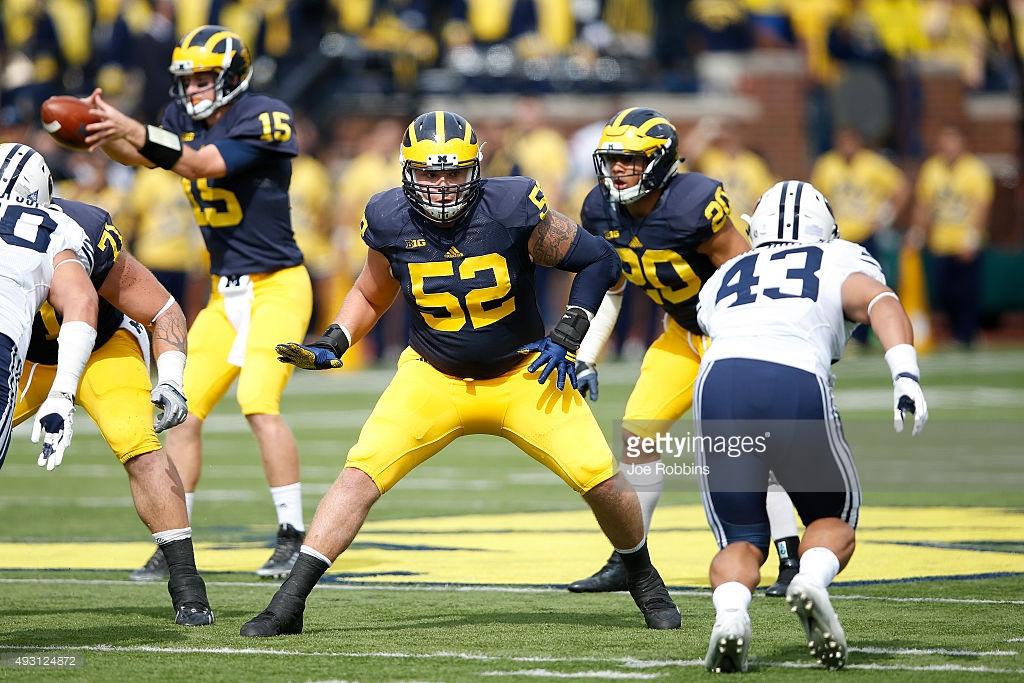 Cole sets with a strong base, but it is his wing span that Jim Harbaugh recognizes as a deciding element to moving his star left tackle to center, where those long arms are certain to widen rush lanes

BODY STRUCTURE…Cole has good mass and muscle tone throughout his thick frame. He has the thighs, calves and bubble teams look for in an anchor in the middle of the line. His arms have the desired length for a left offensive tackle and he has very good upper body strength and powerful hands, evident by the way he consistently pushes defenders back coming off the snap. He is a broad-shouldered type with good chest thickness. He has a tight midsection, good leg length and looks very athletic for a down lineman (can easily get his pads low, as he does not have the anticipated girth you see in most centers).
ATHLETIC ABILITY…Center/Guard Position…Cole is a competitive athlete who plays with good athleticism that he combines with aggression yet, he is as smart as a chess master and won't make foolish mistakes. He has a bit of a mauler's attitude, but gets his hands inside the defender's jersey quickly. He has very good snap quickness and shows good flexibility and balance on the move. He displays the body control you look for in a center when asking him to reach and shade, along with showing the ability to get his hips around for wall-off activity. He plays on his feet and has the quickness to chip and seal, along with good angle concept when working into the second level to block for the ground game. He uses his loose hips to make plays in space and possesses more than enough strength to turn his man and widen the rush lanes. He is the strongest player on the team and uses his power to his advantage, especially doing a nice job of adjusting to movement in pass protection.
Tackle Position…Cole has natural strength and quickness, as his 40-yard dash clocking of 5.06 is one of the best among 2017 NFL Draft eligible offensive tackles and centers. He shows excellent balance and change of direction flexibility, along with outstanding acceleration when working into the second level. He plays on his feet well, thanks to superb balance and shows the body control to play and adjust in space and pick up blocks on the move down field. He can slide and readjust to mirror edge rushers in pass protection. He also displays the lower body flexibility to drop his pads and anchor firmly vs. stunts and the bull rush. He shows ease of movement accelerating into the second level and excellent change of direction agility to make plays working down the line. He plays with a strong base, keeping his feet wide and pad level low to generate enough explosiveness coming off the snap. He has the lateral range to make adjustments in his pass set. Cole bends his knees with good flexibility and shows that he has the quickness to get out on the edge and seal off the rush (see 2015 Brigham Young, Minnesota and Penn State games). He has the agility to pull and trap with effectiveness from the outside position and displays good hand usage and the redirection skills to mirror on stunts and blitzes.
FOOTBALL SENSE…Center/Guard Position…Cole showed during 2016 spring drills that he has no problem taking plays from the chalk board to the playing field. He is aware of defensive coverage and keeps his head on a swivel to locate and neutralize twists and games. He picks up blocking schemes well and is very good at working in unison with his guards on scoop and fold blocks. He makes proper line calls and it is rare to see him make a mental mistake. Despite his youth, he is perfectly capable of calling blocking assignments up front. It is easy for him to learn and retain plays and he knows all of his line mates' assignments, doing a good job of making adjustments up front. He is a very low-rep type who does a fine job locating twists and games. He is also a versatile sort, with experience playing both weak-side and strong-side tackle.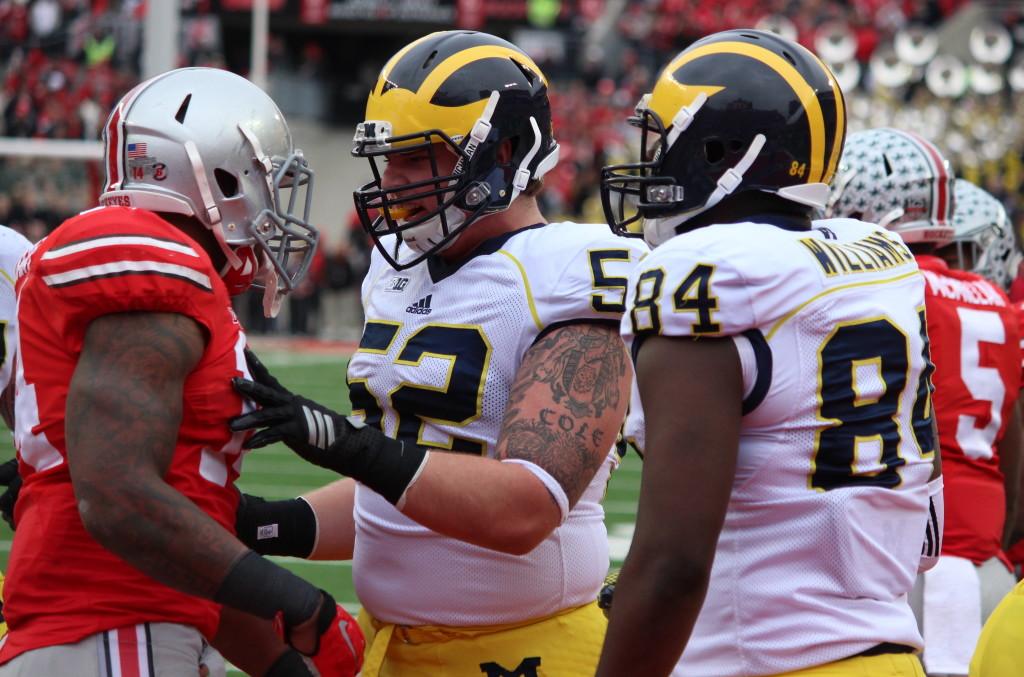 Do not be fooled by Mason Cole's pleasant smile off the field. On the field, he plays with a "take no prisoners" attitude. Here, he is telling an Ohio State defender to "play nice" or he will send him to bed without any dinner
Tackle Position…Cole plays with very good awareness in pass protection, as he is quick to locate and pick up games and stunts instantly. He does a nice job chipping to the second level and is very alert on the edge to neutralize pass rushers in space. He has no problems digesting the playbook and deals with the mental aspect of the game well. He is very quick to pick up defensive schemes and has good work ethic. He is the type who shows enough savvy to make blocking calls, if needed.

COMPETITIVENESS…Center/Guard Position…Cole shows toughness with the strength to back it up. He has a passion and effort few centers show in this year's draft class, as he is the type that is certain to keep all the "youngsters" on the 2016 line in check for the Wolverines, as he knows that the front wall has to be a better job of establishing dominance in hopes for widening the rush lanes for a suspect ground attack. He works hard to finish and is the type that a coach will be confident in his ability to play from snap-to-whistle. Cole is the type that is strictly "old school," as you will never see him take a play off or throttle down on the field. He shows tremendous passion and effort in the trenches and works hard to leverage and finish. He loves the challenge taking on stunts and schemes, leaving everything he has out on the field.
Tackle Position…Cole is a highly competitive sort who plays with great effort and toughness until the whistle and will not hesitate to go down field and block, playing as if he has a "chip on his shoulder" and that defensive linemen are his mortal enemies. He competes hard in both games and practices and the coaching staff cites his hard work ethic as a reason for him being the first offensive lineman in school history to debut as a starter. He will not hesitate to intimidate an opponent. He is the type that plays until the whistle and keeps his head on a swivel looking for defenders to attack. He consistently finishes and likes to mix it up in the trenches. He has a mauler's personality and always finishes off his blocks. He works hard to redirect and sustain and will play with pain. In 2015, he displayed more aggression in his game and despite the team's offensive line's early season struggles, he never throttled down on the field, playing each down as if it was his last. His epic battle with BYU's Bronson Kaufusi and more than standing up to the challenge when Penn State threw everything but the "kitchen sink" at him (four defenders failed to penetrate the backfield, despite those Lions all playing on fresh legs), along with dominance in the trenches vs. both Minnesota and Rutgers are evident of his football nature.
INITIAL QUICKNESS…Center/Guard Position…Cole has excellent snap quickness and does a very good job of firing low off the ball with hands ready to do combat on his rise. He shows the flexibility and balance of a Nick Mangold (New York Jets) and has the body control you look for in a tall center when reaching and shading. He has that quick hip snap to get then around when trying to wall off. You can see on film his foot speed when reaching and down blocking. He is also very effective at generating speed needed to chip and reach the second level defenders. He is a fast twitch type that will not have any problems when attempting to lock and load on a nose guard at the next level. Because of his balance and low pad level, Cole can have great success in gaining advantage coming off the snap. He is especially effective executing second level blocks and shows decisive movement in his stance.
Tackle Position…Cole has very good initial quickness for the left tackle position. He is very light on his feet for a player his size and shows the ability to immediately react to movement. He is sudden working to gain position working in-line or when reaching into the second level. He generates explosive pop on contact, especially in pass protection and has that long wing-span that he uses effectively to engulf edge rushers. He gets to top speed quickly and does a very good job of getting up field to neutralize the linebackers. He has nimble feet and excellent redirection agility to make proper body adjustments on the move. He is also very quick to gain hand placement, using his long reach to keep defenders at bay. He shows ease of movement in his kick slide and can really gain a head of steam when he gets moving. When he gains advantage on a defender with his foot speed, he works hard to keep it. He has the short area speed to get up field and shows the strong base to maintain his position when working in-line (see 2015 UNLV, BYU, Minnesota and Rutgers games). He shows very good explosion rising out of his stance, executing that sudden first step needed to leverage the defender for the angle and power drives. He was quick to accelerate up field coming off the snap and demonstrates good consistency getting into position as a run blocker who can easily reach the second level.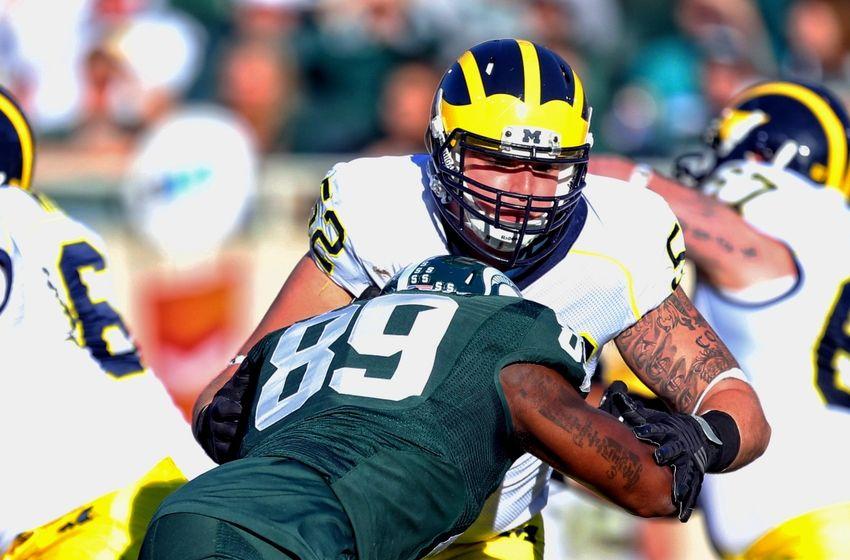 Thanks to his footwork and balance, Cole is quick to get back into the backfield when he sees the pocket being compromised


LATERAL MOVEMENT…Center/Guard Position…During 2015 spring scrimmages, Cole was surprisingly nimble for a down lineman with his height, evident by his second level angling skills and ability to get out front with good urgency on traps and pulls. He keeps his pads down to prevent bigger defenders from getting into his chest, along with the balance and hand quickness to prevent smaller opponents from attacking his legs. He possesses the loose hips, needed for him to keep his pads down to change direction quickly. He shows good explosion out of his stance to get out front on pulls and traps. His lateral movement skills are evident on combo, cross, fold and scoop blocks. He has above average feet and agility, showing ease of movement redirecting to either side.
Tackle Position…Cole has fluid lateral agility and movement, keeping his feet on pulls and when moving up field. He maintains balance and body control when changing direction and is sudden when having to redirect. You can see the explosiveness in his feet and his lateral flexibility getting through holes when asked to pull. As a sophomore, you could see that he improved his balance and change of direction agility. He appears very light on his feet, especially when sliding in pass protection (see 2015 BYU, Minnesota and Indiana games) and with his wide frame and excellent arm length, he had no problems locking on and riding away edge rushers from the pocket. He does do a good job of getting out in front on screens, taking good angles to neutralize linebackers when leading the ground game around the edge.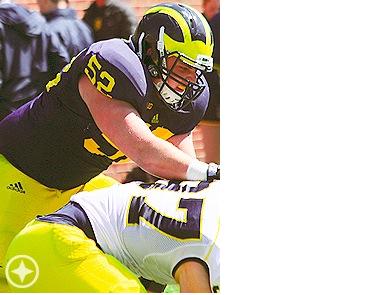 With that strong base, when Cole "Looks to the Sky" (neck arched and back flat), he can ride any defender out of the rush lane, doing so on 21 touchdown-resulting running plays for the Wolverines in 2015


BALANCE/STAYS ON HIS FEET…Center/Guard Position…Cole is not a "grass hugger" (he can consistently stay on his feet), as he has that strong anchor and good balance to prevent bull rushers from walking him back into the pocket. He shoots his hands with force, especially when combating in tight areas and does a very nice job of keeping his weight low and centered. With that above average base, he has no problem sliding his feet to maintain, sustain and position. With his strong upper body, he is consistent when attempting to lock out and control. It is very rare to see him expose his chest, but even when he does, his base is strong enough that defenders still can't knock him off his feet. He has the balance and body control to quickly get position. His balance and foot agility allows him to stay on his blocks. He also displays fluid moves adjusting in space. He can shuffle, slide and adjust with his sharp change of direction skills. The thing I like about him is his ability to keep his weight back and stay in control.
Tackle Position…Cole consistently plays at a low pad level, quickly generating the explosive burst to gain advantage. He is able to cover defenders up, thanks to his long reach and large hands. Even at his size, he shows no problem getting low in his stance to attain proper leverage, displaying excellent knee bend. He plays on his feet well, using his hands to sustain. He plays with steady effort and is a strong, physical finisher. Once he locks on to a defender, he will generally win the battle. Even vs. the bull rush, defenders have a very difficult time attempting to knock him off his base. He always plays with his feet and base wide, which allows him to battle throughout the play. He uses his hands with force to gain position and is a nasty finisher whose hand quickness and placement lets him mirror his man and sustain blocks. Even when he over-extends, he is quick to recover. His body control lets him excel on the pull. It is very rare to see him lunge or fall to the ground, using his long arms to generate solid reach blocks. What impressed scouts most about Cole in 2015 was his ability to get out in front on traps and the quickness he showed working to the second level (see UNLV, Maryland, Michigan State, Minnesota and Indiana games). He showed the ability to locate targets and drop his weight when executing longer pulls and his body control allows him to adjust to counter moves and make contact in the open field.
EXPLOSION/POP… Center/Guard Position…When Cole keeps his hands inside his frame, he generates a powerful punch. He has very good hip explosion to be highly effective for the running game in moves into the second level. He latches on to a defender with strong hands to control and knows how to maintain balance when trying to pop and slide at the point of contact to sustain his blocks. He simply gets on his opponent in an instant, giving his man no time to set up or execute counter moves (used to be an issue in 2014). He plays with very good functional strength and has outstanding foot quickness to explode into the defender when making contact. With his hip explosion, he is a perfect fit for an inside running game. He does a solid job of rolling his hips and driving defenders working along the line, as he shows good urgency to get into the defender immediately after the snap and plays with above average strength.
Tackle Position…Cole combines his size, strength, body mass and long wingspan to generate very good explosion behind his blocks. He is also an explosive hip roller, playing with properly bent knees that he uses well, along with his strength to push and wall off his man. When he extends his arms and executes his hand punch, his upper body power will see him jolt and control the defender. He will sometimes over-extend and try to maul the opponent, but shows good pop driving into the defender on running plays. He demonstrates good hand usage and above average strength to shock and jolt, but will have to add more bulk to maintain that consistency at the next level. He accelerates quickly coming off the ball and his low pad level lets him get underneath the defender to sustain. He is a very good positional mover who can maul. He uses his hands with force, delivering a solid punch to stymie the bull rush and simply knocks people off balance with his explosion off the snap. He is not the type who will lean and shove, preferring to attack and grind it out until the whistle. His lower body flexibility is superb and he drives off the ball with good urgency. When he makes contact, he hits with thud and good pop. His 2014/15 off-season work in the weight room was evident by the power and violence behind his punch. He has that upper body power to jolt defenders and with his strong hands (and confidence in them), he did a really nice job of locking on and controlling his opponent until the whistle.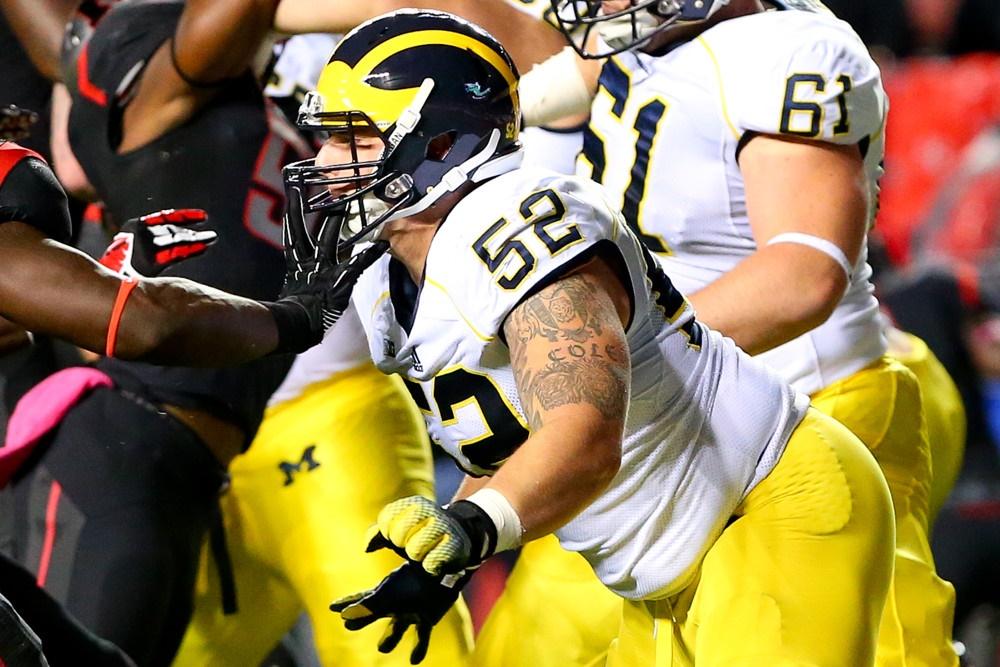 As you can see from his hand placement, Cole might be young, but he's a savvy drive blocker who knows how to get his mitts on a defender to stall the opponent in the rush lane
RUN BLOCKING…Center/Guard Position…This is the major reason the team moved their best run blocker inside – generate a rush lane and maintain its integrity, two items Cole is more than up to the task to do. During spring drills, he demonstrated the ability to be very strong at the point of attack. He displayed a very good understanding for angles and leverage that a center needs to execute, sliding his feet well on scoop and kick-out blocks. He has the ability to sink his pads and open his hips while maintaining the strong base needed to get movement off the line. Once he locks on to an opponent, he has no problem driving his man out. He has nice road-grading skills with his base blocks when trying to remove first level defenders and good strength in his shoulders to widen and maintain the inside rush lanes. He is a productive blocker inline from his days on the edge, whose balance and leverage allows him to quickly get in the way of a defender. Even when he has to stand up and face up to the larger defensive tackle, he has the hand punch and placement to quickly neutralize his man and maintain the rush lane. When he stays at a low pad level and delivers his strong hand punch, he will consistently gain leverage. He's had very good success in attempts to get movement vs. the bigger defenders, as he uses his hand placement and base to maintain position and sustain. He gets a very good surge and movement coming off the line and displays excellent balance and feet working into the second level. He is savvy enough to know when he can get under the defender's pads, doing a nice job of sliding his feet to maintain leverage.
Tackle Position…Cole comes off the snap with a hard surge and good leg drive, possessing the feet to stay on his blocks and sustain. He is a good upper body blocker who shuffles his feet well. As a zone blocker, he has more than enough strength to move out level-one defenders. Once he gains position off the snap, he has the strength to wall off. He has a good concept for taking proper angles to cut off second level opponents and shows outstanding ability leading on long pulls. He is still more comfortable working in space, as he shows better explosion getting out to search and neutralize linebackers, but has the leg drive and lateral movement to be quite effective maintaining rush lane integrity. In 2015 (see BYU, Rutgers and Florida games), he showed very good hand usage in attempts to scope, sustain and make reach blocks. He plays on his feet and battles throughout the play. He gets very good hip roll, which lets him be more physical and aggressive coming off the snap. He sets his base a little high at times when blocking in-line, but generally does a solid job of using his size to maul and take over on blocks. If he locks on to a defender, he will generally win the battle. He can drive with good initial force, but is best when accelerating to get to the second level. Last season, Cole was very good at using his quickness to explode off the snap. He has the power to deliver pop on contact and the leg drive to generate movement. He adjusts well on the move and is that rare blocker with the speed to pull and reach the second level. He also showed the ability to take angles when blocking down field.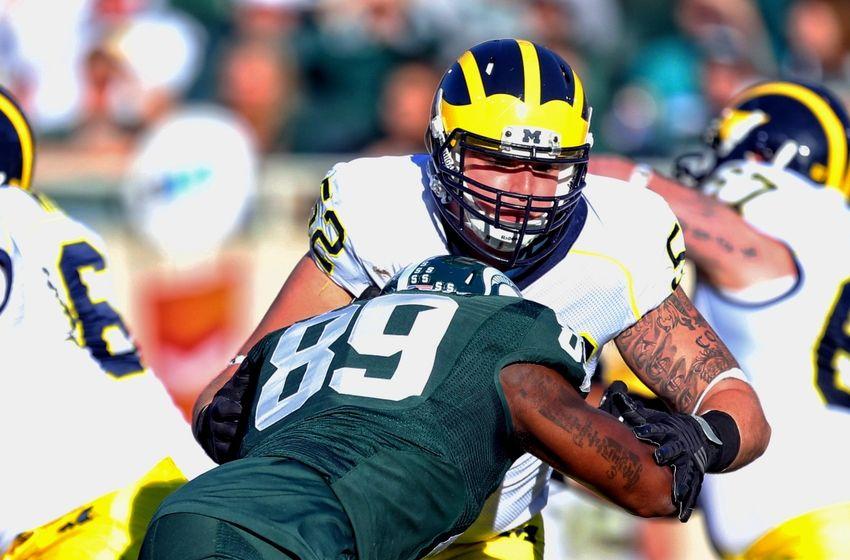 Cole works hard to maintain his position and when he keeps his hands inside the framework, few defenders can mount a charge into the backfield

PASS BLOCKING…Center/Guard Position…With his size and power, it is safe to say that Cole will not have any problems protecting the quarterback, even with a defender lined up over his head. He shows a very strong pass set and good balance, along with the athletic agility to recover when beaten, along with the solid anchor to maintain position at the point of attack. He also has excellent vision, evident by the plays he has made when the quarterback has a turnover. Cole does a nice job of keeping his weight back, staying square so he can slide and adjust to change of direction. He can anchor vs. the bull rush and shows great alertness to tricks. The thing you notice on spring film is his good feet and lateral agility. He can slide and mirror defenders, using his hand placement to defeat swim moves. He shows a good base set to pop and drop, quick hand usage upon initial contact and tenacity in his play. He plays flat-footed with good knee bend to deliver the full force behind his hand jolt.
Tackle Position…While Cole is aggressive, he does have some issues with counter moves, and needs to use his foot quickness to stay in front of the speedy edge rushers. He will shuffle his feet and slide back with ease when taking on edge rushers on the short side of the field, thanks to staying square and balanced while keeping his pad level low. However, when he gets over-extended, he does not generate a strong anchor, despite having good field vision to recover vs. double moves. He is quick to pivot in attempts to counter the speed rush, as he shows good urgency getting to his reach point. He uses his long arms effectively in attempts to extend and lock on to the defender's jersey. He has the speed to mirror and square up with an opponent, as his strong anchor lets him maintain position when trying to neutralize the pass rush charge, but despite those flashes of good traits, there are moments when he gets too comfortable with his edge blocking and will revert to dropping his head some (see 2015 Maryland, Northwestern games). With his lateral quickness, he should have no problems when trying to slide and readjust. Cole plays with good awareness and has the flexibility along with functional lower body strength to anchor. He has the active feet and balance in his kick slide, along with the long arms to simply engulf edge rushers, but must improve some footwork lapses when working in-line, as he can have some lapses when he sets up too wide.
PULLING/TRAPPING …Center/Guard Position…If the coaches do decide to move Cole to center permanently in 2015, he could be quite effective angling and stalking second level defenders. He has the flexibility and balance to snap and lead the charge on screens, showing good knee bend to strike in space and the hand placement to sustain after contact. He plays on his feet and is one of those powerful centers with an above average base. He is very light with his feet to pull and run down the line of scrimmage and is a highly effective combo blocker, showing that rare ability to pop a defender at the first level and then use his agility to execute a crunching second level block. He comes out of his stance with good balance, especially excelling when he impacts on the edge in attempts to turn and seal.
Tackle Position…Cole's quickness suggests that the coaching staff would be better off find more ways to using him on pulls as an interior blocker. He is an athletic blocker who is smooth in his movement getting into the second level. He has the body control to execute blocks in space and plays with a strong base that makes it very difficult for the defender to get him off his feet. His quickness coming out of his stance and outstanding body control allows him to make fluid adjustments working in space, making him an ideal lead blocker on long pulls and playing down field. There is great ease of movement in his hips when changing direction. He has more than enough balance to stay on his feet on the move. He adjusts well to pick up stunts when working in-line and shows very good explosiveness to get out and make plays in space (will have some lapses vs. counter moves, at times, though). His change of direction agility lets him make good contact on the move, especially when he attempts to neutralize linebackers.
ADJUST ON THE LINEBACKER DOWNFIELD…Center/Guard Position…If Cole can match or better his nine second level blocks in 2015 this season, that would be a nice total for a pivot blocker. He has more than enough strength to lock on, along with the nimble feet to mirror the linebackers. You can see he uses his body control with effectiveness when bumping two-tech types and the ability to climb with flexibility and balance when striking in space. He is also agile enough to slide his feet to sustain when walling off. When he locates his target, he excels at staying on the defender and making the cut-off.
Tackle Position…Cole is capable of getting on top of the linebackers, as he will use his long arms to engulf and his strength to pancake them in the open. He has good hip swerve that he uses to adjust and make contact when delivering open field blocks. He has the balance and foot speed to get in front of the charge on pulls and roll-outs, taking proper angles to get into the second level. He is always looking for linebackers to attack. He shows great ease of movement in space and has the body control and base to get position and keep it. He takes proper angles to cut off and when he wheels on the linebacker, he will quickly neutralize the opponent. He is very alert when working in space and likes to use his hands with force to shock and jolt. In 2015, Cole did a nice job of adjusting his feet on the move and it was rare to see him fall off his blocks or be on the ground (see 2015 UNLV, BYU and Minnesota games). He demonstrates proper knee bend and balance to bump off the defensive end when used on the stretch play and also is effective climbing the wall to attack the linebackers when working in-line.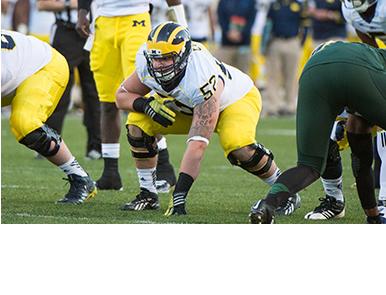 While he won't take away Roberto Duran's title (hands of steel), Cole's hand punch helped him record 85 knockdowns in the trenches last season


USE OF HANDS/PUNCH…Center/Guard Position…Cole showed during spring scrimmages that he can punch donuts into a chest of a defender when his opponent gets too high in his stance. He has very quick hand placement to control the defender on running plays and is a strong puncher in pass protection. He is also savvy enough to know when to extend for lock-on and steering purposes in the aerial game. He shows an explosive and forceful hand punch on the rise. He plays with leverage and can immediately get control of the defender with his proper hand placement, effectively grabbing and gaining control.
Tackle Position…Cole has the hand strength to stun and control defenders with his hand punch, but needs to develop better technique in getting underneath the defender and reacting to counter moves (see 2015 Northwestern and Maryland games). He has made good strides using his hands to lock on and grab. He has the long arms to pressure and keep rush ends at bay, using his strength and pop on contact to jolt and control the opponent, but will lose some sustain ability when a defender gets a good push off his inside shoulder. When he attacks a defender with his hand punch, he will generally neutralize him. He will get a little reckless at times and take long arm swipes, causing the defender to slip off his blocks, but shows enough redirection agility to recover. He has made good improvement in resetting his hands, getting proper separation when doing so. He is more of a punch-&-shock type, but is also learning how to use his hands better to control. He has that natural upper body strength and violent hand punch to jolt the defender and, but as a tackle, he has some lapses keeping his hands inside to control his man when setting up in pass protection.
REACTIONS/AWARENESS…Center/Guard Position…Cole knows when to move his feet, slide his hips and maintain a solid base. He is alert and quick to secure position vs. twists and games, as he has the nimble feet to mirror. For a center, he does a nice job of getting out on the edge to impact a defensive end, thanks to his body control and balance when sliding. He has great field vision, doing a nice job with his feet to adjust with his lateral kick and slide. He is alert to movement and change of direction along the line and reacts well to stunts and twists. The coaches call him the "complete package" at center, with great intelligence and technique, tremendous vision and a terrific sense of his surroundings. He plays through the whistle on every down and is a team-first player who should hold the key to the Wolverines' blocking schemes. He consistently plays flat-footed, doing a nice job of adjusting to schemes, as he has that instinctive feel for the flow of the play.
Tackle Position…Cole is a quick-footed athlete who is quick to recover when caught out of position and shows good urgency and vision to handle twists and games, but must keep his hands in better position vs. counter moves. He is very natural reacting and executing blocks on the move. His foot speed lets him get to his reach point and cut off edge rushers (except when they get a bead on his inside shoulder) and he displays good body control when readjusting to movement. He does a good job of shuffling his feet. When he gets too tall in his stance, he can get caught out of position (will lunge and fail to recover), but when he stays square, he maintains good balance. He does a nice job of picking up stunts and blitzes with his balance and foot speed. He just needs to demonstrate better ability to slide and readjust when working off the edge vs. defenders with highly active hands. He could use a bit of refinement shuffling his feet to react quicker to the blitz, but even when he overextends, he showed the balance to move his feet to get into position to protect the pocket in pass protection. He still needs to "see the big picture" quicker playing on an island, but he does a good job of recovering and holding his ground.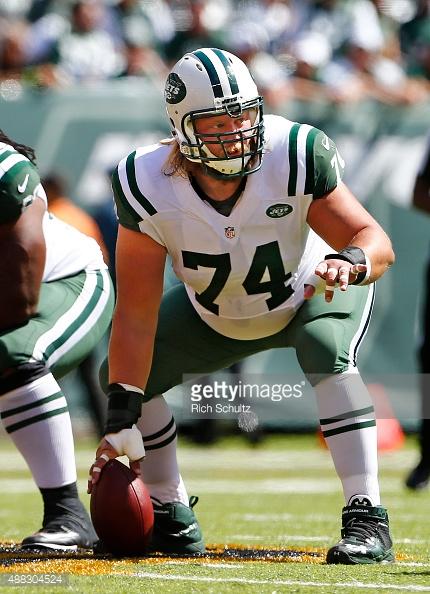 Ohio State's Nick Mangold was a first round selection by the New York Jets in 2006. He's a seven-time Pro Bowl selection and in 2011, the New York Times ranked him as the best center in the NFL. The Jets were "the only team in the NFL that doesn't have to sacrifice a guard when facing an elite nose tackle," wrote the Times, because of Mangold's "ability to lock and drive from a standstill position."

COMPARES TO…NICK MANGOLD-New York Jets…If the Wolverines leave Cole in the pivot, he could be a dominant force. Like Mangold, he is a tenacious, aggressive, yet smart and instinctive blocker. He might not have the 330-pound frame some teams look for in the pivot, but few centers in this game have the foot quickness, balance and change of direction agility he possesses. His hand punch consistently keeps his defenders off-balance and has that raw strength needed to leverage and sustain, but moving him in-line should eliminate some issues he had vs. counter moves during one-on-one battles on an island. He takes sound angles blocking for the running game and has no problems resetting his feet to absorb the bull rush. He plays with classic "warrior" nastiness, but also has the quickness to easily gain advantage on a slower defensive lineman.

CAREER NOTES…Cole enters his junior season projected to start at center…He is the first offensive lineman in school history to debut for the Wolverines as a starter and he enters the 2016 schedule boasting a consecutive starting string of twenty-five contests.
CAREER NOTES...Cole became the first offensive lineman in school history to debut for the Wolverines as a starter and he currently boasts a consecutive starting string of thirty-one contests…In his last nineteen games (start of 2015), Cole has registered an 89.84% blocking consistency grade, posting 158 knockdowns, 46 touchdown-resulting blocks and twenty blocks down field.
THE MICHIGAN ALL-AMERICAN HISTORY AT THE CENTER POSITION
Legendary coaches, Paul Brown and Chuck Noll, felt that in order to build a solid organization, you need to have a dominant, attacking-mode like center, a man in the pivot that is not only savvy enough to teach others the "tricks of the trade" but to also be alert to their surroundings, especially when it comes to protecting the pocket.
Perhaps it is fitting that the University of Michigan's first ever All-American happened to play the center position. In fact, to date, there have been fifteen times that a center from the university was selected for that prestigious honor. The first was William Cunningham in 1898, followed by Germany Schultz (1907), Henry Vick (1921), Jack Blott (1923), Robert Brown (1925) and Maynard Morrison (1931). They were joined by the only U-M two-time winner, Charles Bernard (1932-33), but it was not until 1977 (Walt Downing) that the next Michigan center would be selected to the national squad.
The Lloyd Carr era also saw centers George Lilja (1980), Tom Dixon (1983) and John Vitale (1988) receive All-American accolades. Rod Payne joined that postseason list in 1996 and David Baas was a 2004 selection. The last center to receive such honors was David Molk in 2011. Of this crop of pivot performers, Germany Schulz (1951) and ernie Vick (1983) were selected to the National Football Foundation College Hall of Fame.
2016 SEASON...Despite having never played the position at the collegiate level, Cole is rated the best center in the college ranks by The NFL Draft Report, as he was also selected to that scouting information service's preseason All-American and All-Big Ten Conference teams…Once considered a "dark-horse" favorite to capture the Rimington Trophy, given annually to college football's top performer at center, Cole quickly established himself as a dominant force on the front wall, evident by the tremendous success by the Wolverines offense through their first six games…Despite two position changes on the offensive line, the front wall has allowed just nine sacks and thirteen quarterback pressures through the first six games on the schedule…The 2015 team averaged 29.5 points through their first six games, but this unit is averaging 50.0 points…The 2015 team averaged 201.33 yards per game on the ground, compiling fifteen touchdowns during their first six appearances while the current squad is averaging 255.0 yards per game and has reached the end zone twenty-five times… Last season, through the first six contests, Michigan averaged 189.17 aerial yards per game, as they completed 60.06% of their throws (106-of-175) with five touchdowns and six interceptions. The 2016 version is averaging 215.0 yards passing while accounting for twelve touchdowns…Among current major college centers, Cole's average of 12.17 key blocks/knockdowns per game leads the nation…Through six games, the junior has delivered a total of 73 key blocks/knockdowns that include fourteen touchdown-resulting blocks for the ground game, four more for the aerial attack and eleven second level blocks, giving him a blocking consistency grade of 96.33%, tops for any blocker in the Big Ten Conference and the leading figure for any interior blocker (guard, center) in the collegiate ranks.
COLE 2016 SEASON GAME ANALYSIS
Hawaii…The Wolverines' 60-point margin of victory was the program's largest since 1975, as the offense encountered little trouble in its 2016 opener, dispatching Hawaii, 63-3 to mark the program's largest margin of victory in any game since 1975…In his first contest at center, Cole delivered thirteen key blocks/knockdowns while paving the way for a running unit that amassed 306 of the team's total of 512 yards…Wilton Speight got the start at quarterback and overcame a turnover on the first play of the season to have a solid season debut, completing 10-of-13 attempts for 145 yards and three touchdowns…Behind Cole's block-assignment calling, the front wall helped freshman Chris Evans turn heads in his first game, carrying eight times for 112 yards and a pair of scores. He is the third true freshman running back to eclipse 100 rushing yards in his collegiate debut, joining Chris Perry (2000) and Walter Cross (1998)…Speight's 12-yard touchdown toss to Grant Perry was set up earlier in that 11-play, 98-yard march, as Cole fired off the snap to deliver a fold block on defensive tackle Kory Rasmussen, clearing an inside rush lane used by receiver Jehu Chesson for a 15-yard gain on an end-around snap…Cole pulled to the right side of the field as Chris Evans follo0wed before the tailback cut back inside to pick up 21 yards on a carry. The drive ended two plays later, as Speight found Amara Darboh with a 5-yard scoring lob…In what first appeared to be a 2-to-3-yard loss on a carry by Chris Evans, it turned into a 9-yard first down, as Cole alertly retreated into the backfield to prevent weak-side linebacker Russell Williams from capturing the tailback before Evans to redirect to the left side. A fly-sweep by Eddie McDoom around his center tacked on fifteen more yards during that second quarter series, getting the ball into the red zone, where Evans' number was then called. The ball carrier took the handoff and on a power sweep to the left side, he trailed behind as Cole locked up defensive end Samiuela Akoteu, safety Trayvon Henderson and linebacker Russell Williams before Evans dove for the left pylon and an 18-yard touchdown… Coming out of his stance, Cole simply mowed down defensive tackle Zeno Choi, creating a huge rush lane that Evans instantly spotted, turning on the burners to race 43 yards up the middle of the field for a touchdown to begin second half action…Late in the third quarter, Cole and the rest of the first unit were replaced, but reserve quarterback John O'Korn, but it did not slow the offense down any. He put together a 10-play, 74-yard drive that ended with a four-yard touchdown run from full-back Khalid Hill…Primary Blocking Assignment-DT#75-Kory Rasmussen (6:02-297)-One assisted tackle; DT#99-Zeno Choi (6:03-266)-No tackles; WOLB#44-Russell Williams (6:01-233)-No tackles…Cole Offensive Impact-The lineman recorded thirteen key blocks/knockdowns and two touchdown-resulting blocks, grading 99% for blocking consistency...Team Offensive Impact-The Wolverines completed 17-of-20 passes (85.00%) for 206 yards, three touchdowns and no interceptions, rushing for 306 yards and four touchdowns on 39 carries (7.85 ypc), as they gained 512 yards on a total of 59 plays (8.68 yards per attempt)…The offensive line allowed no sacks, four stops for losses totaling nine yards and no quarterback pressures, as no tackles-for-loss were charged to their starting center.
Central Florida…Cole's excellence was evident as the Michigan offense finished the game having not committed a penalty in 141 plays over the first two games of the season. During the first two contests on the 2015 schedule, Michigan had amassed thirteen penalties for 140 yards in losses. The new starting center delivered a dozen key blocks for the afternoon, as quarterback Wilt
---