Derek Stepan Returns to the Garden as Coyotes face the Rangers
October 26 was an emotional night for Coyotes' Forward Derek Stepan as he made his return to Madison Square Garden to face his former team, the New York Rangers.
Stepan was traded to the Arizona Coyotes in the off-season after playing seven seasons with the Rangers. Stepan played in 515 games and scored 128 career goals as a Ranger.
Stepan also received a standing ovation by the Rangers home crowd where the 27 year old shed a few tears on the Coyotes bench after a shift change. He played 20 minutes on ice where he had one shot on goal in the Coyotes loss to the Rangers 5-2.
Stepan has two goals on the season for the Coyotes which he scored against the Dallas Stars on October 19. He also has five assists so far.
The Coyotes came into this game desperate for a win and started their Rookie goalie Adin Hill while former Ranger Antti Raanta is working on coming back from a lower-body injury. Hill gave up four goals on 29 Ranger shots on goal.
Rangers started Ondej Pavelec, who made his second start as a Ranger, in net. Ranger forward Rick Nash and Defenseman Marc Staal made history as Nash played in his 1,000th NHL game and Staal played in his 700th game.
Rangers scored first after Mika Zibanejad forced a turnover and passed it off to Mats Zuccarello who found Chris Kreider. It was Kreider's second goal of the season.
Rangers would score again off Hill as Pavel Buchnevich scores his second goal of the season at 15:57 off a pass from Ryan McDonagh and Boo Nieves. Boo Nieves, a Syracuse, NY native who was called up from Hartford, picked up his first career NHL point with an assist. Buchnevich scored his second goal of the night in the second period and Nieves picked up his second point.
After two goals by the Rangers, the Coyotes finally answered back late in the second period as Anthony Duclair scored his second goal of the season off Pavelec. Forty Five seconds later, Michael Grabner scores for the Rangers. Nieves assisted Grabner, picking up his third point.
In the third, Arizona scored on their first Power Play of the night as Clayton Keller scored his seventh goal of the season and the Rangers lead was cut to two. But, Arizona failed to score again in the third.
Rangers' Michael Grabner ended the game with a empty net goal as the Rangers win 5-2. Rangers goalie Ordnej Pavelec picked up his first win as a New York Ranger and his 153 career win as he played 10 seasons with the Winnipeg Jets.
The Rangers and Coyotes will face each other again on January 6 in Arizona.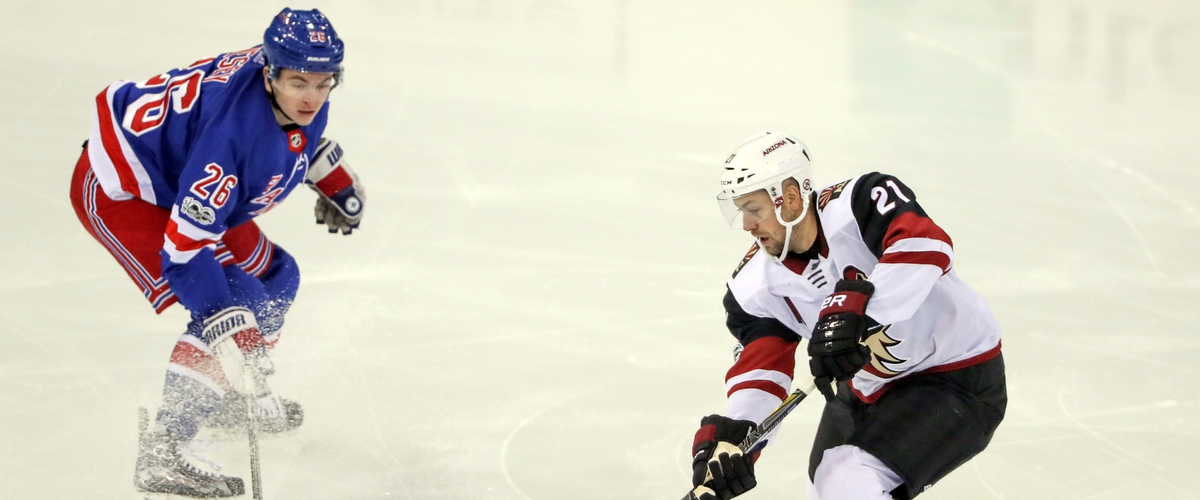 ---