The NCAA Tournament Recap and Sweet 16 Preview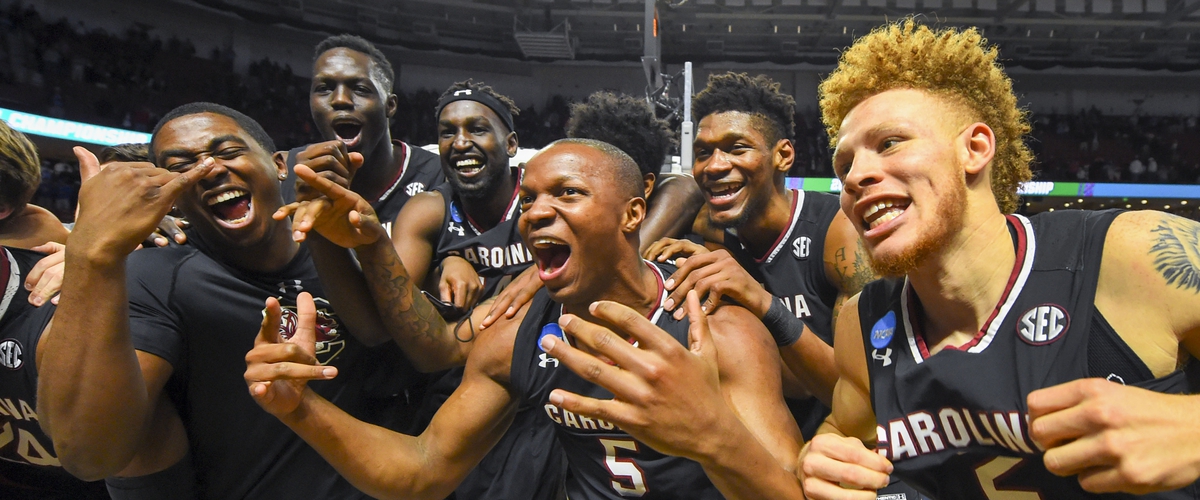 Forgive me for the lateness as the site was for maintenance. Honestly, it looks good so I hope this turns out well.
The NCAA Tournament got off to really an anticlimactic start.  Not many upsets in the first round like we normally see.  The biggest one was Middle Tennessee, a team who stunned everybody last year by beating the heavily favored Michigan State Spartans, beat a young and inexperienced Minnesota team this year.  And not many really considered that an upset.  It was the second day that we saw things start to unravel.  The biggest blow early was the defending National Champion Villanova Wildcats blow a lead to lose to Wisconsin.  Then it followed with Virginia getting embarrassed to Florida while Florida State got embarrassed to #11 Xavier.  We then saw Michigan exact a measure of revenge from the 2013 National Championship game by beating Louisville while Duke fell to South Carolina.  So there were some surprises to say the least, though it just started off slow.  So let's have some thoughts about what happened.

1.  There really isn't a clear-cut favorite, nor never was.  People can look at Kansas as the favorite given they have won decisively against UC Davis and Michigan State, but UC Davis is not on the same level and Michigan State had a down year.  There are things to wonder about that team as well as others.  North Carolina has a stout lineup but seems to have got bit with the injury bug and consistency issues at times.  Everybody is waiting for the other shoe to drop on Gonzaga.  Kentucky has issues rebounding the basketball and Arizona (my pick) hasn't looked overly impressive to this point.
2.  The NCAA, NOT the refs, are main ones to blame for all the nonsense of the officiating.  Yes, we can rip the refs, but when the NCAA has to change the rules EVERY YEAR so they believe that fans will tune in for far more offensive outbursts which will increase ratings, the refs are really forced to call everything.  Maybe, just maybe, this will make the NCAA re-think their rules changes.  If not, they will then probably make it illegal for zone defenses.  
3.  The small conferences were "small."  None of the conferences such as the Ohio Valley (Jacksonville State), SoCon (East Tennessee State), Big South (Winthrop), etc. to name a few made any impact this year.  Conference USA, somewhat a former shell of itself when it had Cincinnati, Louisville, and Memphis at the same time, was the lone advanced winner.  Granted, I think that conference is better than what it is made out to be, but still not the same power it once had.
4.  The ACC outside of North Carolina was not as strong as we all thought.  I don't want to use the word "weak" here, but there were glaring holes on some of the top teams.  Louisville was a bit of a surprise, but there was inconsistencies on the offense and they just seemed to look worn down.  Virginia was a disaster offensively, though their scheme on offense made their defense look better than what it was.  Duke wasn't that deep (if you have to rotate 7).  Florida State just never really regained that start of the year when they rolled and Virginia Tech & Miami just do not have the talent.  
5.  The Big Ten and SEC, despite major down years still have quality teams and performed well.  3 from each conference still remain in the Sweet 16.  South Carolina and Wisconsin both are surprising ones, Florida and Purdue are the teams nobody wants.  Michigan has a head full of steam and Kentucky is Kentucky.  Of course, ACC fans will argue that having one month to show you're great doesn't negate the fact the conferences "underachieved" from November through February.  Can we use that same argument for bowl season in college football?
6.  With Grayson Allen out, Lonzo Ball is the new college basketball villain.  Sad part is Ball's issues really reside with his dad, running his mouth about how he could beat Jordan one-on-one.  The same guy who averaged 2 points at Washington State in his heyday against the greatest player ever?  Okay.  I get how Lonzo's daddy will support his son and only wants the best for him, but I think Steve Kerr is right in that he is only hurting his son.  You're going to see more people nit-pick at Ball's playing (in my eyes, he is good, but can make lazy passes, not really into a physical game, and more about the 3 than a bit of the fundamentals) just because people may not like him and it may cost him a bit.  But just imagine if UCLA wins it all and how his dad will pretty much say anything that can stick to a newspaper.
2017 Sweet Sixteen & Beyond Preview
EAST REGION: WISCONSIN VS. FLORIDA, BAYLOR VS. SOUTH CAROLINA:  Well, there is a 50% chance of an SEC team NOT named Kentucky being in the Final Four in this region.  Will it come to fruition?  Wisconsin showed they are a "built for March" squad, though it isn't the same team as 2015 and Florida has shown they are a defensively sound team who can light you up in the transition game like they did against Virginia.  Baylor seems to be the most athletic team and probably the most gifted team in the region so it is hard to go against them.  But South Carolina has great guard play and can drive to the basket.  So that game is probably the best game to watch in terms of athletics.  But if you want some physical battles, definitely Wisconsin vs. Florida should be the one to watch.  I pray the refs put the whistle away for that game.
My Elite Eight Match-up:  Florida vs. Baylor.  I think at this point, the deepest teams will move on and these are the deepest teams in the region.  I can see it be the other two real easy though.  
EAST REGION WINNER:  Baylor.  I like this team too much to not win.
WEST REGION: GONZAGA VS. WEST VIRGINIA, ARIZONA VS. XAVIER:  Outside of maybe the Kentucky/UCLA game, the Gonzaga vs. West Virginia is probably the best match in the Sweet 16.  The Zags have an overall excellent balance, but Northwestern really frustrated them down the stretch with their defense and the Bulldogs turned the ball over more than a few times.  It will also be interesting to see how well the Zags handle the physical defense of the Mountaineers.  I had this as a match in my bracket, but with Gonzaga narrowly winning.  After the first rounds, I am not so sure if I have them now.  Arizona hasn't looked overly impressive so far but has gotten the job done in the tournament.  Xavier, a 11 seed, has really smashed their opponents in Maryland and Florida State.  If Arizona doesn't get off to a fast start, Xavier could give them a run for their money.
My Elite Eight Match-up: West Virginia vs. Arizona.  How times change.  I think it may be just a bit too much for Gonzaga (though I can see them winning), but I do think Arizona steps up against the Musketeers.
WEST REGION WINNER:  Arizona.  It's lined up for them to win the region, though West Virginia could give them fits.
MIDWEST REGION:  KANSAS VS. PURDUE, OREGON VS. MICHIGAN:  I had Purdue down as that match in the first round that you could see a shocking upset, but I also thought if they weren't going to be bounced in the first, they would make a big run the rest of the way.  I am also a very strong believer in Caleb Swanigan, who is just a flat-out beast and can do it all.  I don't know if Kansas has an answer for him, despite all their talent.  On the other side, Michigan is playing with a head full of steam and just trucking.  Oregon is showing they're no fluke in the basketball world, but this match is going to be an interesting one.  I think Michigan's physical play gives them a slight edge, but it could go either way.  
My Elite Eight Match-up: Purdue vs. Michigan.  We get a Big Ten fight for the Final Four spot.  Just a good old-fashioned dogfight perhaps.  
MIDWEST REGION WINNER:  Purdue.  Maybe I am a softy, but I think nobody has an answer for Swanigan
SOUTH REGION:  NORTH CAROLINA VS. BUTLER, UCLA VS. KENTUCKY:  The only region to really hold serve (aside from Middle Tennessee and Wichita State in the 2nd round) as the top 4 are in.  Will the rankings be that way for the Elite 8?  I think North Carolina (and I have said a few times about their struggles) should be okay if they just play their game and avoid defensive lapses can take down a Butler team just through the depth.  The UCLA and Kentucky is the one everybody wants to see.  The Bruins beat Kentucky in Rupp earlier in the year, but you don't beat Calipari once and get away with it.  I think Kentucky will be ready the second go and will really try to make sure somebody else besides Ball beat them.  
My Elite Eight Match-up: Kentucky vs. North Carolina.  The two blue-blood teams in the nation for college basketball will have a rematch of a Kentucky shootout.  If North Carolina is dealing with injuries and their issues on the defensive side, it could be a long game for the Tar Heels against Kentucky and trying to find a way to stop Malik Monk (who went off for 47 in the first meeting).  I don't know if he goes for 47 again, but I do think Carolina has no answers for him.
SOUTH REGION WINNER:  Kentucky.  Wildcats have glaring holes, but I think they are the best overall team in the region.
So there you go, my new Final Four:  Baylor, Arizona, Purdue, and Kentucky.  I'm sticking to my guns when I said Arizona would win and still think that, but it may not be too easy.  We'll see what happens after next week!
-Fan in the Obstructed Seat