WEEK 7 AP TOP 25 PREVIEW AND PREDICTIONS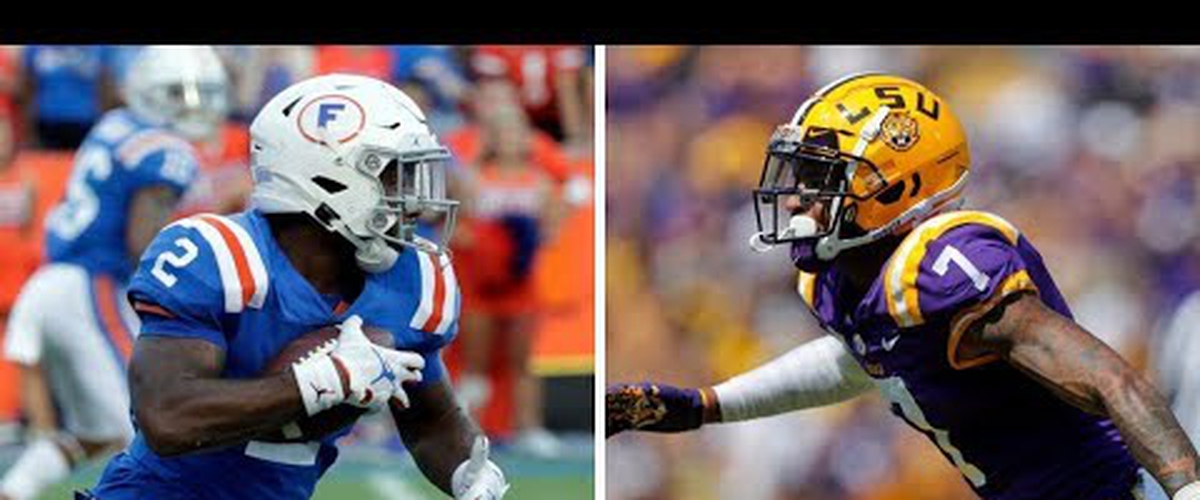 #20 VIRGINIA VS MIAMI
After trailing 35-14 early in the 4th quarter last week, the Canes ran off 21 unanswered to tie the game but wasn't able to pull off the comeback against a Virginia Tech team they outgained by 200+ yards. The difference a -5 turnover margin. Can Miami build on their fourth quarter success and can the Cavaliers move past their second half meltdown two weeks ago in South Bend?
Canes get to .500 and get their first ACC win 31-30
COLORADO VS #13 OREGON
With a 93.7% chance to win according to ESPN's FPI Oregon should cruise to victory, but Colorado is a good team with good offensive weapons. Last week Oregon got off to a slow start but was able to prevail, not sure they can afford another slow start. Are the Ducks feeling the pressure of being the Pac-12's best chance at the CFP?
Ducks win a nail biter 27-24
#16 MICHIGAN VS ILLINOIS
Illinois' defense has not been good this year but the Wolverines' offense has been hit or miss all season. This is a game that Michigan should handle and probably will but will it be a dominating performance or just another a win is a win is win?
Michigan 38-10
FLORIDA STATE VS #2 CLEMSON
For a stretch in the early to mid 2010's the winner of this game was thought to be the winner of both the Atlantic Division and the ACC. Times have changed as Clemson has won the last four including the 59-10 beat down in Tallahassee last season. Clemson has had struggles on both sides of the football but mostly offensively. Will the right the ship or can Willie Taggart and the Noles get a much needed win for the program.
Clemson wins 45-34
SOUTH CAROLINA VS #3 GEORGIA
Will Muschamp is in his fourth season and finds himself in a familiar position, losing. With only 2 wins thus far this season and only favored to win 3 of the final 7 games remaining on the schedule Muschamp and the Gamecocks could have their 2nd losing season during his tenure and not reach a bowl game. Meaning they are a desperate team, but they are heading into Athens to play a Bulldogs team trying to get back to the National Championship game.\
Too much Bulldogs late 36-19
#6 OKLAHOMA VS #11 TEXAS
Jalen Hurts and the Sooners struggled on the road last week vs Kansas, but the talent gap proved to be too much. Texas is coming off a big win in Morgantown. The Sooners have lost the last three games vs Texas when the Sooners came in undefeated, will it be four?
Texas wins shootout 46-42
#23 MEMPHIS VS TEMPLE
The last time Temple played a ranked team at home was week 3 vs Maryland which the Owls won. Its been the Temple defense that has made them a quality opponent holding teams to under 300 yards of total offense while Memphis' offense averages over 450 yards of total offense, one has to give.
Temple pulls off the upset 36-33
#1 ALABAMA VS #24 TEXAS A&M
Texas A&M has underperformed this season and are holding on to their top 25 ranking for being in the SEC. Here's an opportunity to right the ship against the #1 team in the country. Can the Aggies score enough the points to beat the Tide.
Alabama rolls 52-31
MICHIGAN STATE VS #8 WISCONSIN
Storms continue to swirl around the Spartans off the field and the team has been inconsistent on the field. The defense will be in much better position considering this will be an old-fashion Big Ten matchup. The Spartans will focus their entire defensive game plan to stop Jonathan Taylor, no different than the badgers previous 5 opponents.
Michigan State pulls the upset 18-16
#25 CINCINNATI VS HOUSTON
Cincinnati finally got the signature win this season. They looked over matched week 2 in Columbus but looked the part at home last week vs UCF and now find themselves ranked but will it last?
Cougars upset Bearcats 28-27
TEXAS TECH VS #22 BAYLOR
Baylor is undefeated and ranked following a 31-12 win over Kansas St. Their first matchup after being ranked is vs a Red Raiders team that just knocked Oklahoma St from the top 25 last week, will Baylor be the second straight team this week?
Texas Tech wins 33-27
USC VS #9 NOTRE DAME
Throw the records out in a rivalry game and focus on what's at stake. What's at stake for the Irish? Only a spot in the College Football Playoff. With one loss the Irish needs help but two and their chances are virtually 0. For USC, its relevancy. They need a signature win and a road win in South Bend over a top 10 Irish team puts them where they want to be.
USC keeps it close but Irish win 24-20
#10 PENN STATE VS #17 IOWA
Iowa lost its first game of the season in Ann Arbor last week and turned the ball over 4 times. They will be much better at home this week, but the Penn St defense will be up for the challenge. Penn St's offense has been up and down from quarter to quarter this season. They will need to be consistent to pull off the big win on the road.
Iowa wins 10-9
LOUISVILLE VS #19 WAKE FOREST
When the season started this was not a matchup anyone was talking about and even with Wake being ranked no one is talking about it. Louisville is coming off their first conference win since 2017 after beating Boston College last week. Wake has also beat BC and UNC and should be more prepared for this big game.
Wake 34-27
#7 FLORIDA VS #5 LSU
As the Tigers get healthy on defense the defense should start to look more like Tigers defense of old. Joe Burrow will face the toughest defense of the season thus far and maybe the entire season. Death Valley at night is always a tough place to play but the Gators will up for the challenge. Did the Gators leave too much on the field last week vs Auburn?
LSU wins 28-26
#15 UTAH VS OREGON STATE
While everyone is holding onto Oregon as the only hope the Pac -12's last hope to get in the CFP, Utah remains in the conversation and winning games they should win is a must. Oregon St gives up over 450 yards of total offense per game and have given up at least 28 points in 4 of 5 games this season.
Utah rolls 38-10
HAWAII VS #14 BOISE STATE
Hawaii is 2-1 vs Pac 12 teams and have had two weeks to prepare for Boise St. They have no problem scoring points but have struggled defensively giving up just under 400 yards of total offense and just under 28 points per game. Boise still has an outside chance to crash the CFP party but staying undefeated is mandatory.
Boise holds off Hawaii 36-31