Washington Nationals Season Preview
? The Washington Nationals are coming off a very successful 2016 season. After failing to make the playoffs in 2015, the Nats hired Dusty Baker to get them back to the postseason. Baker did exactly that, guiding the Nationals to their third NL East title in the last 5 years. However, that would be the greatest extent of the Nationals' success last season, as they fell to the Los Angeles Dodgers in the National League Division Series. The Nats are yet to win a playoff series since their relocation to Washington, but 2017 looks to present another opportunity for the Nats to make a postseason run. They once again look like the potential favorite to win the NL East. I'll be breaking down the Nats roster headed into 2017 in 3 sections: the lineup and defense, the starting rotation, and the bullpen. I'll then break down their potential path to the postseason.
Lineup and Defense: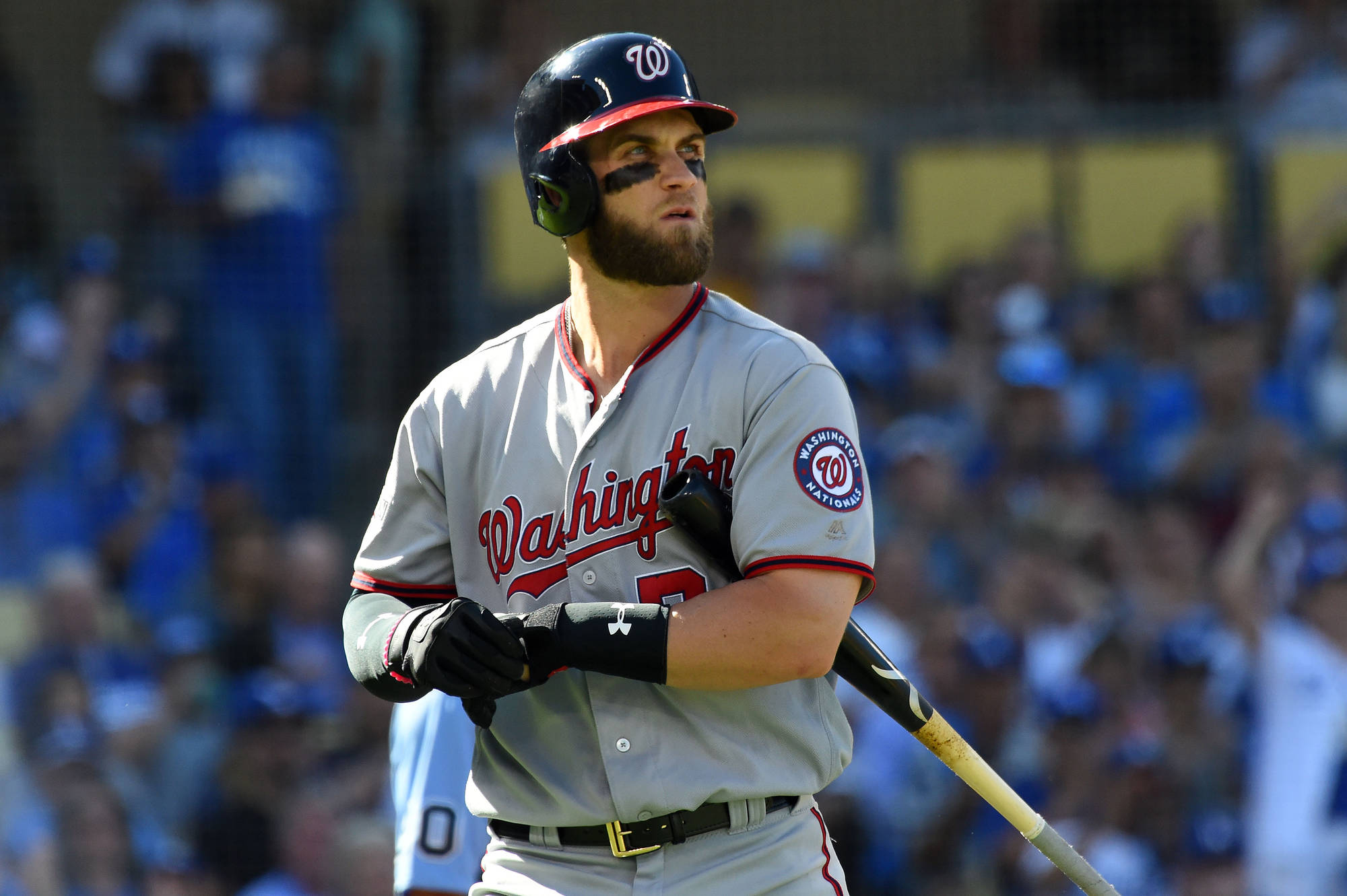 Jayne Kamin-Oncea-USA TODAY Sports
On paper, the Nationals should have one of the best lineups in the National League. However, as is the case with every team there are some question marks. Here is what the Nationals batting order and defense could potentially look like this year:
1. Trea Turner, SS
2. Adam Eaton, CF
3. Daniel Murphy, 2B
4. Bryce Harper, RF
5. Jayson Werth, LF
6. Anthony Rendon, 3B
7. Ryan Zimmerman, 1B
8. Derek Norris, C
I think the biggest question mark in this lineup, both offensively and defensively, is Derek Norris. The Nats chose not to retain Wilson Ramos after he tore his ACL for the second time late last season, and replaced him by swinging a trade with San Diego for Norris. Ramos was the best offensive catcher in baseball last year, so replacing him was already going to be difficult. Norris was an all-star in 2014 with the Oakland A's, but struggled in his two seasons in San Diego. Norris did hit 14 home runs in 2016, but he hit just .186 and had an on base percentage of .255. He posted a solid defensive WAR of 1.4, but the Nats are going to need him to rebound offensively. He doesn't have to completely replace Ramos' production, but hitting .186 simply will not cut it for the Nats. Jayson Werth and Ryan Zimmerman also represent question marks in the lineup. It will be interesting to see where each of them end up hitting in the lineup. Werth was solid in 2016, hitting .244 with 21 HR and 69 RBI, but he will be turning 38 in May, and he showed last season that his best days are behind him. Worth hasn't posted a positive defensive WAR since 2008, but the Nats have learned to live with that, and the eye test suggests that Werth's defense isn't really that poor. As long as he stays healthy and doesn't decline too steeply, he should be able to be the player the Nats need him to be. Zimmerman, on the other hand, had a nightmarish 2016. He was the healthiest he's been since 2016, but still only managed 115 games and hit just .218. A lot of that was just bad luck, as he hit the ball hard a lot but hit it right at defenders. Zimmerman has made the defensive transition to first base nicely, but it would be good for him to see some improved offensive production as he enters his age 32 season. The rest of the lineup looks exciting. Trea Turner was one of the most exciting players in baseball during his 70 game call-up, and is back where he belongs defensively at shortstop. He hit .313 and stole 33 bases during those 70 games, so it'll be fun to see what he can do over a full season. Daniel Murphy had an incredible first season with the Nationals, finishing second in the MVP vote, and will look to continue that success. He's still a defensive liability at times, but he makes up for it with his bat. Anthony Rendon and Adam Eaton are quietly two of the most under appreciated and underrated players in the game. Both are above average defenders that are good for a batting average around .280 and an on base percentage around .350. Those qualities will be extremely important to the Nats this year. Then there's Bryce Harper. Harper had a down year in 2016, hitting just .243, but still hit 24 HR with a .373 on base percentage. If Harper returns to anything close to his 2015 MVP form, he'll be a deadly force in the lineup. The Nats posses a lot of very good pieces in this lineup. They'll be solid, but nothing spectacular defensively, and if they reach their full potential offensively, this lineup will be amongst baseball's best.
Starting Rotation: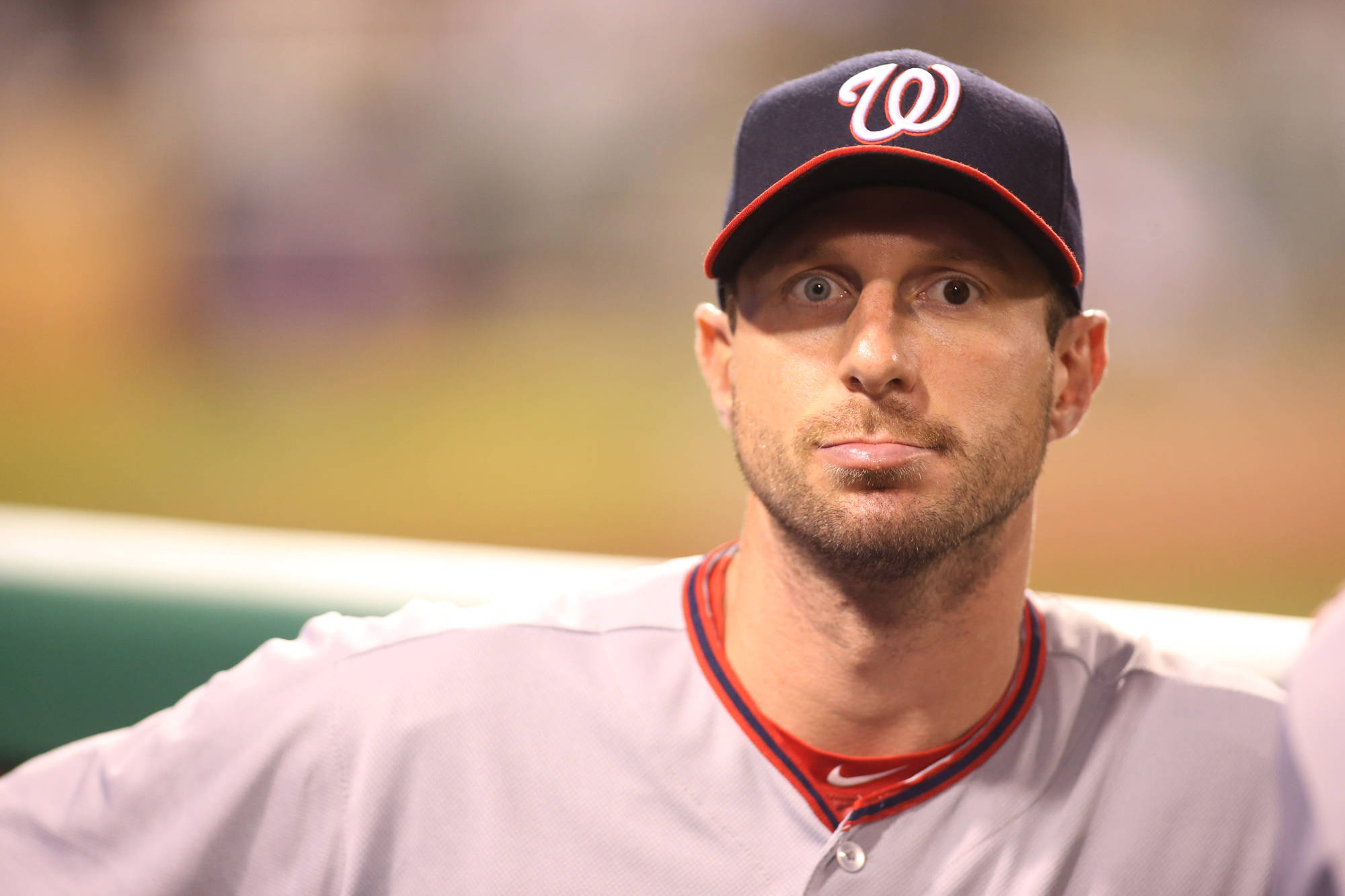 Charles LeClaire-USA TODAY Sports
The Nationals made no changes to their 2016 rotation during the offseason, although they did make a run at Chris Sale. Their rotation was amongst baseball's best in 2016, despite Stephen Strasburg's health issues. The rotation was anchored by Max Scherzer, who took home his second Cy Young Award in three years. Scherzer went 20-7 with a 2.96 ERA and led all of baseball in strikeouts. This is what the Nationals' rotation should look like this season, assuming everyone is healthy:
1. Max Scherzer
2. Stephen Strasburg
3. Tanner Roark
4. Gio Gonzalez
5. Joe Ross
The biggest question mark with this rotation is health. Strasburg missed significant time last year with a variety of issues, and missed the postseason due to an elbow injury. Ross also missed nearly half the season with shoulder inflammation. When Strasburg is healthy, the top three of Scherzer, Strasburg, and Roark is capable of going toe to toe with any trio of pitchers in baseball. Roark has to be one of, if not the most, underrated players in the game. He ranked 6th in all of baseball among starting pitchers in both ERA and WAR, yet is rarely mentioned as an upper tier starter. The fact that he's likely the Nationals' third starter in 2017 speaks to how good the top of this rotation is. Gonzalez struggled with a 4.57 ERA in 2016, but he's durable. In a rotation with multiple health question marks, durability is a valuable quality. No doubt he can't afford to get any worse, but you could do worse for a back end starter. Ross was inconsistent when healthy, looking like a future ace at times and looking like a middling fifth starter at others. In 105 innings, he had a 3.43 ERA, which is very solid for a 4th or 5th starter. He's also just 23, so there's a lot of room to improve. Again, if this rotation stays healthy, it has the potential to be scary good in 2017.
Bullpen: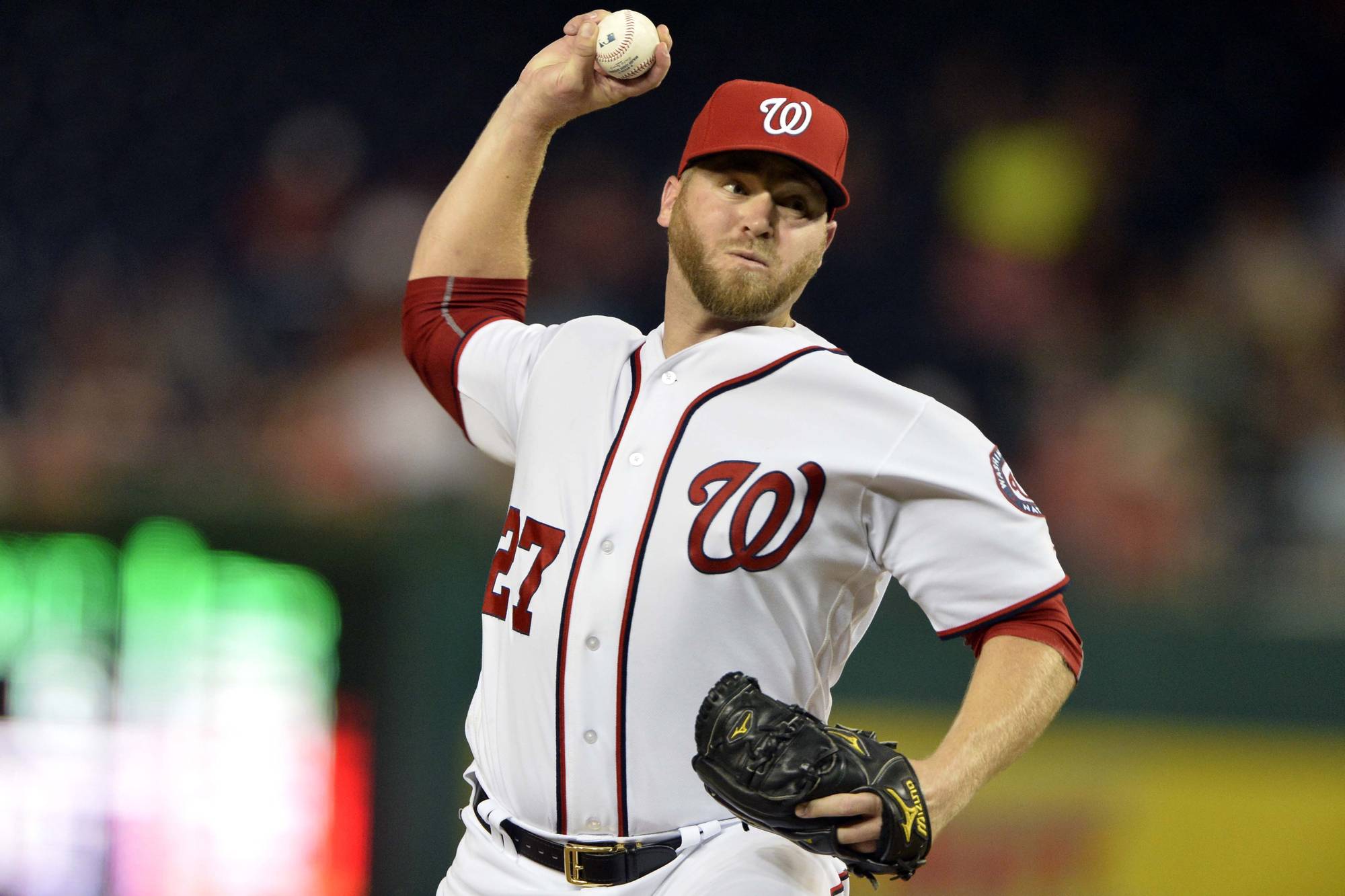 Tommy Gilligan-USA TODAY Sports
It seems like every year the bullpen is a major question mark for the Nationals, and that is no different heading into 2017, although the Nationals do return the core of a very talented unit. The Nats bullpen had the second best ERA in baseball amongst relief corps, and they also posted the sixth highest collective WAR. However, there is a big concern for the Nats headed into this season. They don't have a closer. Closer has always been a problem area for the Nationals, whether it be Drew Storen's utter inability to pitch in the postseason or Jonathan Papelbon's total meltdown. The Nats dealt for Mark Melancon at the trade deadline last season, but he left for San Francisco in free agency. The Nats made a run at Melancon, Kenley Jansen, and Aroldis Chapman in free agency, but lost out on all three and now head into 2017 with no clear answer. They've explored the trade market, and continue to have discussions with the White Sox about David Robertson, but it looks like they may have to go with an in-house option. On that front, it looks like it will come down to Blake Treinen and Shawn Kelley. Treinen has electric stuff, and he finally put it all together as a late inning reliever in 2016. He had a 2.28 ERA to go with 63 strikeouts in 67 innings. Treinen is a great roundball pitcher that the Nats used whenever they needed an out last year, so they may not want to stick him into the specific role of closer. Kelley was excellent in his first season with the Nats. Kelley had a 2.64 ERA and struck out 80 batters in just 58 innings working primarily as the Nats setup man. Kelley is a veteran more than capable of handling the 9th inning, but the issue here is durability. Kelley has had two Tommy John surgeries in his career, and the Nats made a concerted effort to reduce his workload last season. Elsewhere in the bullpen, the Nats have a solid group. Olivier Perez is a liability at times, but when he's pitching well he's a very effective LOOGY. Trevor Gott was the centerpiece of the Yunel Escobar trade, but was unable to make an impact last year. He'll get another shot to crack the roster this season and could potentially throw himself into the late inning conversation. Koda Glover was inconsistent in his rookie season but showed the ability to be an impact piece. The Nats signed veterans Matt Albers, Joe Nathan, and Vance Worley to minor league deals, and all three have the potential to make the major league roster. This is an intriguing group, but also probably one of the bigger weaknesses on the roster.
Path to the Playoffs: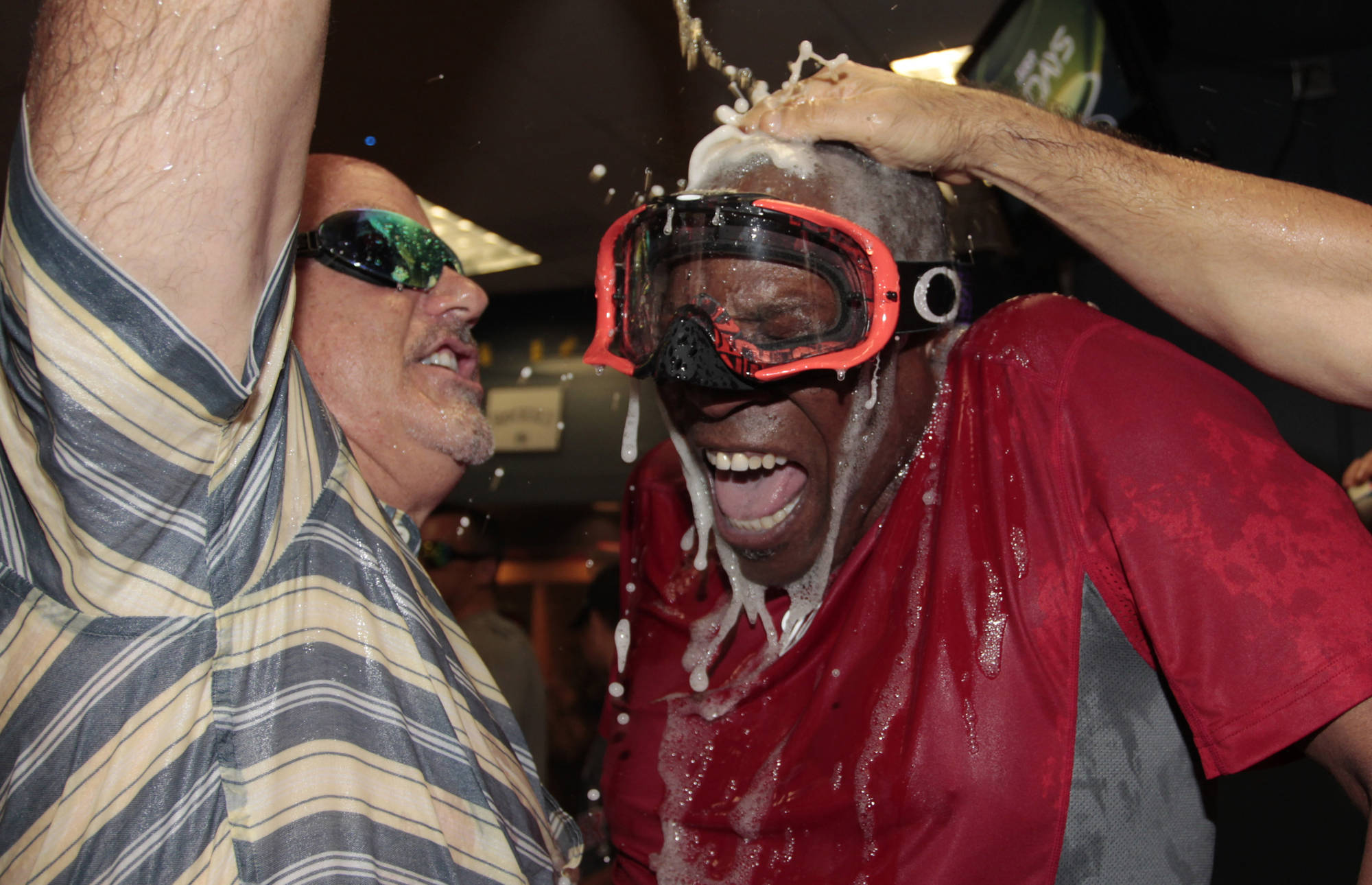 Charles LeClaire-USA TODAY Sports
Right now, both of the big win projection sites, Fangraphs and PECOTA, project the Nationals to make the playoffs. Fangraphs projects that the Nats will go 90-72 and win the NL East by 6 games. PECOTA projects the Nats to win 88 games and be the top wild card. I could see either one of these projections coming true. It all depends on whether or not the Mets stay healthy. If their group of young pitchers is able to stay mostly healthy, winning the division becomes much more difficult for the Nationals. If those pitchers struggle with injuries like they did in 2016, the path to the postseason is not a terribly difficult one. The Braves made some moves to be more competitive, but they aren't contenders yet. Without Jose Fernandez, the Marlins don't have much pitching and you never know if Giancarlo Stanton will be able to stay healthy. The Phillies are in a full rebuild. Expecting the Nats to make the playoffs is reasonable, but they'll still have to contend with the Dodgers and Cubs in October. It would be nice to see them win a playoff series, but I refuse to get my hopes up. All in all though, the Nats look good heading into the season. It should be another fun season in Natstown.
---