Patriot Talk: Week 1 Recap and Week 2 Prediction
Week 1: Patriots vs. Texans, 27-20 Win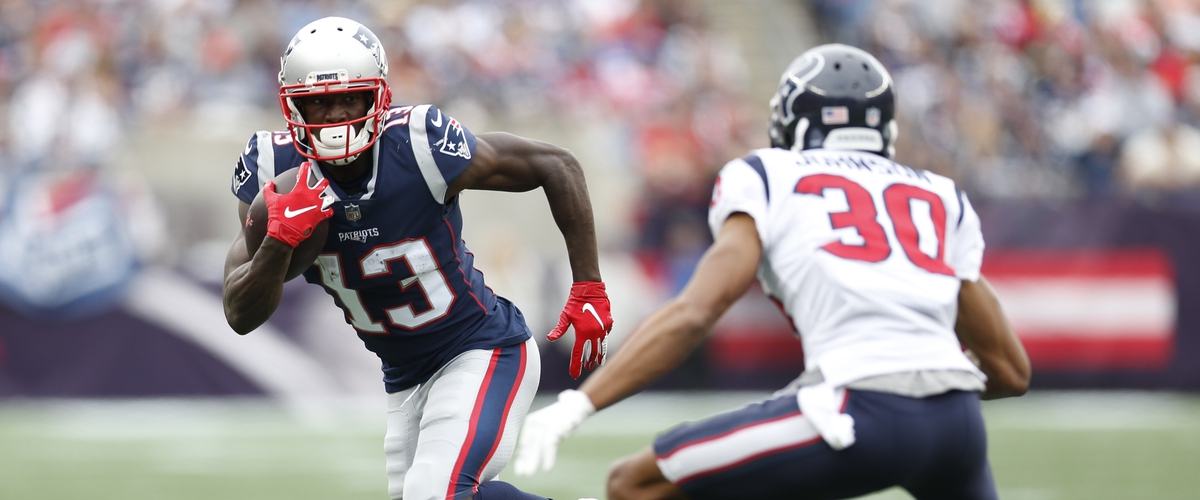 Heading into this week one matchup, the odds were against the Pats. Their receiving core was viewed as mediocre at best; Hogan didn't look good in camp, Cordarrelle Patterson has never been a top option at wide receiver, Phillip Dorsett hasn't found a groove in the league, and Riley McCarron has never played a snap of regular season football. Their running game looks solid on the surface, but rookie Sony Michel was ruled out, and Rex Burkhead's role was unknown as he just recovered from an injury. Defensively, it looks bad. Depleted secondary, after the loss of Malcolm Butler, with a side of a very thin linebacker group where the most impressive guy is a fifth round rookie. Their defensive line looks good, but the defense as a whole is barely a defense. Meanwhile, that Houston offense, led by Deshaun Watson, is poised for a huge year, and their defense is fully healthy, which consists of JJ Watt and Jadeveon Clowney.
It started off very slow for both teams, with the first quarter ending 7-3 NE. On the Pats first drive, they couldn't find a rhythm, and were forced to punt it away. On the Texans first drive, there was a miscommunication between Watson and Miller, causing a fumble in which Dont'a Hightower recovered. On that ensuing drive, Brady found Gronk for the 6 points, followed by a Gostkowksi extra point. 7-0 Pats. For the remainder of the first quarter, it was a defensive battle. Tom Brady threw an interception late, allowing for the Texans to get a field goal, but I could do nothing but admire the Patriots pass rush. They were all over Watson, causing a lot of turmoil. Great work by the defense, the offense just needs to go to work.
Second quarter picked up quickly, and it was fun to watch. The first score for the Pats came off a solid march down the field that involved a fourth down conversion, finished off by James White on a short pass play. 14-3 NE. Half way through the quarter, the Patriots weak secondary reared its ugly head. Missing tackles, allowing big yardage passing plays, a little bit of everything you don't want to see. Yet the Patriots only got off with a Texans field goal. Very lucky. 14-6 NE. The Patriots offense followed up with a three and out, and looking to swing the momentum, the Texans took a shot down field which resulted in a great read by Stephon Gilmore, who got the interception. Pats get the ball back, and what do they do with it? They take a shot down field to Gronk in double coverage and it is… caught? Well, doesn't matter now, because the initial ruling was a catch and the Pats already got the snap off for their next play, which disallows a challenge flag. Huge miss for the Texans, who should've immediately called timeout and gotten the call right. What happened after was all Brady to Dorsett, as he caught 4 passes in a row before scoring. Heading into halftime, it's a 21-6 lead for the Patriots.
The good times, however, stopped rolling. To kick off the second half, Gronkowski fumbled the football, which was recovered in stride by Tyrann Mathieu of the Texans. James Devlin, in an attempt to tackle Mathieu, drives his entire body into his own teammate, and free agent acquisition, Jeremy Hill's knee. HIll, who was having a really good game, was immediately ruled out. It's confirmed that he tore his ACL on that hit and is out for the season. Despite the turnover, the Texans failed to score, and the Patriots got the ball back and got a field goal for the three points. 24-6 NE. But the Texans refused to go down without a fight. The Patriots defense showed its mediocrity again, and the Texans got the Touchdown, thanks to Alfred Blue. 24-13 NE. The Patriots began a solid drive as the 3rd quarter wound down to zero's. The score remained 24-13.
To begin the fourth, the Patriots had a bit of momentum. Their running backs, James White and Rex Burkhead, were the main attractions to start, playing a big role in the drive. Side note, Brady got a hit a lot, and hard, on this drive. Despite putting together a pretty damn good drive, the Texans defensive line was too much and the Patriots settled for a field goal and the three points. 27-13 NE. The Texans wound up going 3 and out on their next drive, and that would seemingly end the game. But not so fast, Riley McCarron, a guy who impressed me a bit in Camp and played with the starters for most of Camp, muffed the punt, and the Texans got it right back. He was subsequently released by New England after one day. Cue the "You Had One Job" jokes. Anyways, the Texans got the football back, and unlike the first turnover, took full advantage. Deshaun Watson, in great field position, found Bruce Ellington across the middle of the field for the Touchdown. It is now a one score game, as the Pats only lead 27-20. But that would be all the Texans had left. Their final chance to tie was a Hail Mary that didn't reach the end-zone, and was knocked down by Jason McCourty.
Following the game, the Patriots placed Running back Jeremy Hill on Injured Reserve, and, as mentioned earlier, released Wide Receiver Riley McCarron. They went on to sign former first round pick, Wide Receiver Corey Coleman, as well as Wide Receiver Bennie Fowler Jr. To fill Jeremy Hill's spot at Running back, the Patriots signed Kenjon Barner. Coleman will likely serve as a depth guy, who won't see the field much, kind of like Phil Dorsett last season. Fowler Jr will be a special teams player for the most part, and a last ditch effort at wideout, kind of like McCarron. Barner won't have much of a role, but he has looked decent catching passes out of the backfield as well as picking up decent yardage on the ground, so he could be good for the Pats. Burkhead has also been diagnosed with a concussion, along with Sony Michel dealing with the same knee injury, which leaves just James White and Kenjon Barner at the running back position. In my opinion, the Patriots should sign free agent running back Orleans Darkwa. Last year with the Giants, Darkwa started in 11 games, getting 171 carries for 751 yards and 5 touchdowns. He shows a bit of promise, and with our current situation with 3 of the 5 guys the Pats had at the position to start the year down, we could seriously use him. To add a little bit more value, he caught 19 of 28 Eli Manning passes (67.9%), totaling 116 yards. He shows promise both in the rushing and passing game, and the Patriots should give him a shot. If not him, the Pats have preseason standout Ralph Webb on the Practice Squad, and can temporarily have him play a minor role, or even the new guy, Kenneth Farrow, also on the Practice Squad. The Patriots have options, it's only a matter of time.
For week 2, the Patriots take on the Jacksonville Jaguars, who won their week one contest 20-15 over the Giants. The thing about the Jaguars is that their defense is as good as they come, but their offense is mediocre at best. The Jags are most likely going to be without Leonard Fournette (hamstring) and will move forward with TJ Yeldon. Yeldon isn't bad by any means, but he is no Fournette. To go along with that, Bortles is as "meh" as a Quarterback comes. He isn't very good, the receivers aren't very good, and the rushing game won't be as good. That being said, the defensive line that shined last week for New England should have another good week. The secondary, especially Jonathan Jones (who didn't give up a single catch last week), should look good as well. As for the offense, I already explained that the Pats don't, or at least won't, have a rushing attack come week 2. That means, as usual, the game lies on the shoulders of the great Tom Brady. His receivers aren't good, but they have some insurance with the additions of Corey Coleman and Bennie Fowler Jr. Quick dive into the matchups, Jalen Ramsey will most likely rotate between covering Dorsett and Hogan, since the Pats don't have a clear number one guy. AJ Bouye will probably cover Cordarrelle Patterson, and here and there Hogan. For Gronkowski, the Jags have a guy by the name of Myles Jack. Jack is a big man, enough size to match closely to Gronk, as well as speed and unnatural athleticism. Add safety support over the top, and you have basically shut down Gronk, or as close as it comes to shutting down Gronk. I expect Brady and that offense to struggle mightily early, but the defense will stand tall. I predict that Brady will find holes for Gronk here and there, but not much. I expect Hogan to have a big game, as focus will likely shift to Dorsett at times, which will open him up. I also expect James White to be a big contributor in the passing game as well.
My prediction: Patriots-20 Jaguars-13