Patriot Talk: Week 9 Recap and Week 10 Prediction
NEvGB: 31-17 Win (7-2 Record)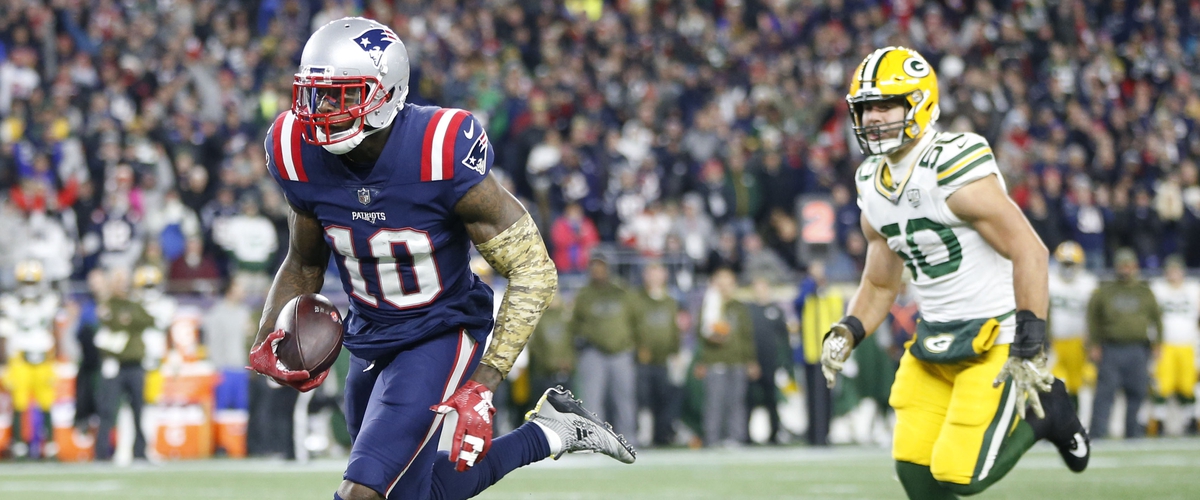 This was do or die for the Packers, who are slipping out of the Divisional title race, and a prove it game for the Patriots, who were rolling without TE Rob Gronkowski and rookie RB Sony Michel. Boy did they deliver defensively. For a team who has struggled with consistency on the D-side of the ball, they did everything right, and made Rodgers night difficult. The pressure was there, the coverage was spotty but solid, and the run defense did enough. The Patriots offense had missed drives, but woke up and put it away late, thanks again to the defense with clutch turnovers. Let's break it down.
Tom Brady went 22 of 35 passing, for 294 yards and a TD. Of his 13 incompletions, one was dropped, and one was thrown away. Brady went 2 of 5 for 62 yards on passes over 20 yards. Josh Gordon led the Patriots in receiving yards with 130 yards and a TD, including a 55 yard score that put the game away. As for running the ball, it was much better this week than last, especially for our new lead back Cordarrelle Patterson. Patterson finished with 11 carries for 61 yards and a TD, racking up 2 broken tackles in the process. James White finished with 12 carries for 31 yards and 2 TDs, and also had 6 catches for 72 yards, including a pass from Julian Edelman that went for 37 yards. The offensive line also had a great game, as only 3 linemen were beaten by a pass rusher. Ted Karras gave up the lone sack, while Trent Brown and David Andrews each gave up a hurry. It helps, however, that Brady threw the ball, on average, in 2.34 seconds, and finished as the least pressured QB per snap in week 9.
What a game for the defense, with Trey Flowers yet again shining. Flowers finished with half a sack and 7 hurries, while Clayborn had the other half a sack, and 3 hurries. Deatrich Wise had a better game in pass rush, as he finished with two QB hits and a hurry. Dont'a Hightower finished with 3 hurries, while Lawrence Guy and Keionta Davis each had 2 hurries. Devin McCourty, Kyle Van Noy, Elandon Roberts, and Adam Butler all had one hurry. To show how effective Clayborn really was, he finished the day with only 14 snaps to get the 4 pressures, while Flowers had 44 snaps to get his 8 pressures. In pass coverage, Jason McCourty put together a good game. He allowed 3 catches on 6 targets for 60 yards and 2 pass breakups. Jonathan Jones struggled, as he allowed all 5 targets to be caught, along with 47 yards and a TD. Gilmore continues to play well, as he allowed two catches on four targets, for 15 yards and a pass breakup, which saved a TD. Patrick Chung allowed the other passing TD against, as he allowed 4 catches on 6 targets for 43 yards. Gilmore is allowing an average of just 18.5 yards per game, since week 3, as well as not allowing a TD in that same span. Of the 60 yards Jason McCourty let up, 51 of them came on one play to Packers receiver Marquez Valdes-Scantling. Against the run, the Pats allowed 118 yards to 3 different runners, but no TDs. Flowers had 3 tackles for loss against the run.
Next week, the Patriots play the 4-4 Tennessee Titans. The Titans have a short week, coming off a Monday Night win over the Cowboys, but will be hosting the Patriots. After their win Monday, they snapped a 3 game losing streak, and are hoping to get back on track to chase down the Texans, who currently lead their division and have won 6 straight. The Titans have split the backfield with Dion Lewis and Derrick Henry, who combine for 639 rushing yards and 3 touchdowns. Marcus Mariota has rushed for 217 yards and 2 TDs of his own, which means the Pats have to contain him. Based on how well our pass-rush has played, especially Trey Flowers, I think the defense will build off of their great game against the Packers. Offensively, the Patriots should be getting Sony Michel back, which adds to their potential. If they keep Patterson involved in the run, and lower the workload for Michel, the rushing attack could be effective. Also, former Patriot Malcolm Butler has been one of the worst cornerbacks in the league this season, which means the passing game should find success. Expect Gordon to have a big night, and if Gronk is ready, I expect him to get a TD.
Prediction- 38-10 Patriots win