Patriot Talk: Week 4 and 5 Recap, Week 6 Prediction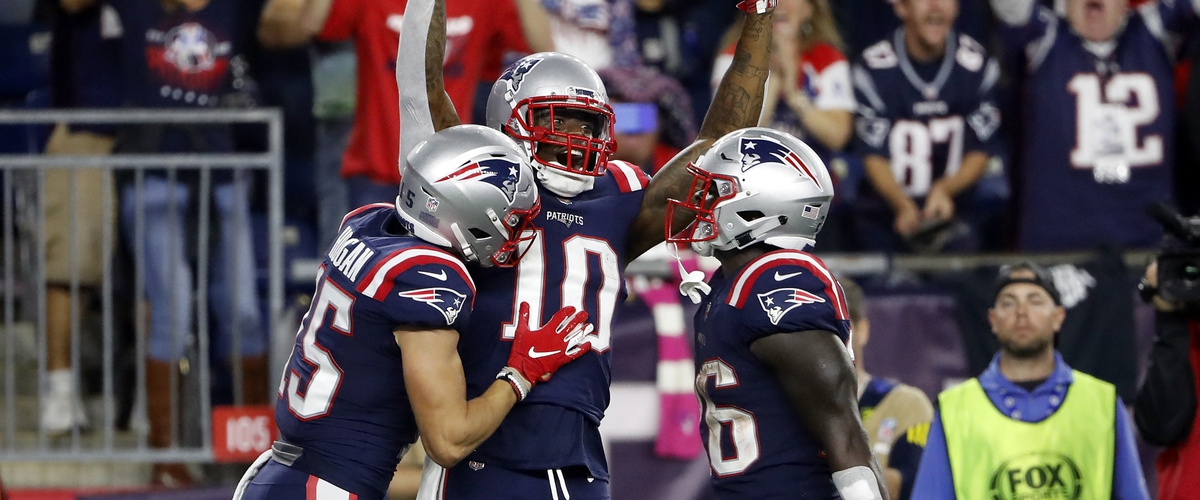 NEvsMIA: 38-7 Win (2-2 record)
NEvsIND: 38-24 Win (3-2 record)
I apologize for missing my week 4 recap and week 5 prediction, but to make up for it, I will combine week 4 and week 5 recaps and give you my week 6 prediction.
Week 4 against Miami in New England, I was nervous. I wasn't confident in the Patriots for the first time in my 17 years of life. But with Flowers and Chung back, as well as Josh Gordon making his return, they were sparked into life. The offense as a whole, in their final week without Edelman, looked new. Rookie running back Sony Michel carried the ball 25 times, rushing for 112 yards and a touchdown. James White ran out of the backfield as a passing option, recording 8 catches for 68 yards and a touchdown. Josh Gordon wasn't used much at all however, only catching 2 balls. But when he caught the ball, he powered through tackles for extra yards. He has a boatload of talent, and given time, could be one of the most effective receivers on the Patriots.
Defensively, they also looked solid. They didn't give up meaningful yardage, for the most part, allowing most of the total yards in garbage time. Undrafted Free Agent cornerback JC Jackson recorded his first career interception on the very first pass that went his way. New addition John Simon made an immediate impact, recording a sack in his Patriots debut. Adam Butler recorded the only other sack in this game. Dolphins lead running back Frank Gore only recorded 41 yards. No other running back on the Dolphins roster had over 3 yards. As for the passing game, Tannehill threw for 100 yards and no touchdowns, as well as an interception. Brock Osweiler was later thrown in, and he had an additional 35 yards plus their only touchdown.
As for week 5, the Patriots got yet another win, but it was closer. In Edelman's return, he caught the ball 7 times for 57 yards. But the standout player was, per usual this season, James White. He caught a team leading 10 receptions for 77 yards and a touchdown. Sony Michel ran the ball 18 times for 98 yards and a touchdown, very nearly totaling back to back 100 yard games and is finally showing his worth as a first round pick. Tom Brady hit two major milestones as well in this game, as he threw for his 500th touchdown pass to Josh Gordon. He became the third player all time to hit that mark. On that same play, he broke the record for most touchdown passes to different players, as Josh Gordon was the 71st player to catch a touchdown pass from Tom Brady. Brady wound up throwing for 341 yards in this game, and had his most effective week of this season, per my own advanced stat, effectiveness rating (26.647 ER in week 5).
Defensively, the Patriots were still effective. Andrew Luck did throw for 375 yards, but he also threw the ball 59 times, which is about 5 yards per pass. As for running backs, Nyheim Hines led the Colts backfield with just 45 yards, and was followed up by Jordan Wilkins, who had 39 yards. That's a combined total of 94 yards for the Colts. The Patriots also recorded two interceptions, being Jonathan Jones and Patrick Chung. They recorded 1 sack, which was split between Trey Flowers and Patrick Chung. Although based on stats, that number doesn't look very good, they hurried Andrew Luck fairly often. Trey Flowers hurried Luck four times, Adrian Clayborn hurried him 3 times and recorded a QB hit, Adam Butler, Danny Shelton and Kyle Van Noy all hurried Luck twice, while Dont'a Hightower, Elandon Roberts and Jonathan Jones all had one hurry.
Next week, week 6, the Patriots remain in Foxboro to take on Patrick Mahomes and the Kansas City Chiefs. The Chiefs defense has been putrid this year. They've dealt with injuries but they are one of the lowest ranking defensive units this season. As for their offense, Patrick Mahomes seems like the real deal. However, his numbers are steadily dropping off, as he is coming off his first game without a passing touchdown and his first ever interception (he threw 2 of those). Not just that, but his Passer Rating over the last two weeks, per Pro Football Reference, hasn't been higher than a 90, when he started off the first 3 weeks with no lower than 115.5. Also, here are his touchdowns thrown per week, in order: 4, 6, 3, 1, 0. He is trending in the completely wrong direction. As for the Patriots, their offense has just gotten Julian Edelman back, Josh Gordon could very well be comfortable enough to get more looks, which will allow for Gronkowski to get more opportunities for big plays. Not only that, but James White has been dynamite as a passing option out of the backfield, while Sony Michel has turned up his level of play tremendously over the last two weeks. Defensively, they need to get to Mahomes more often. They were hurrying Luck quite often last week, which forced him to throw an interception, but he isn't as mobile as Mahomes is. Mahomes has shown he isn't very easy to take down and gets very creative (he threw a pass with his left hand, he is a righty) and he can scramble, sort of like Russell Wilson but on a hot streak of sorts. There's also another guy that the Patriots need to watch for, however, and that's Kareem Hunt. Hunt is the most talented running back that the Patriots have faced over the last two weeks where they haven't allowed a lead back more than 50 yards. That won't be the case, and despite Hunt being relatively quiet, he can strike. It's going to be a shootout if the Patriots can't handle the Chiefs offense.
My prediction: 45-38 Patriots win