Week 1 Matchup Preview: Miami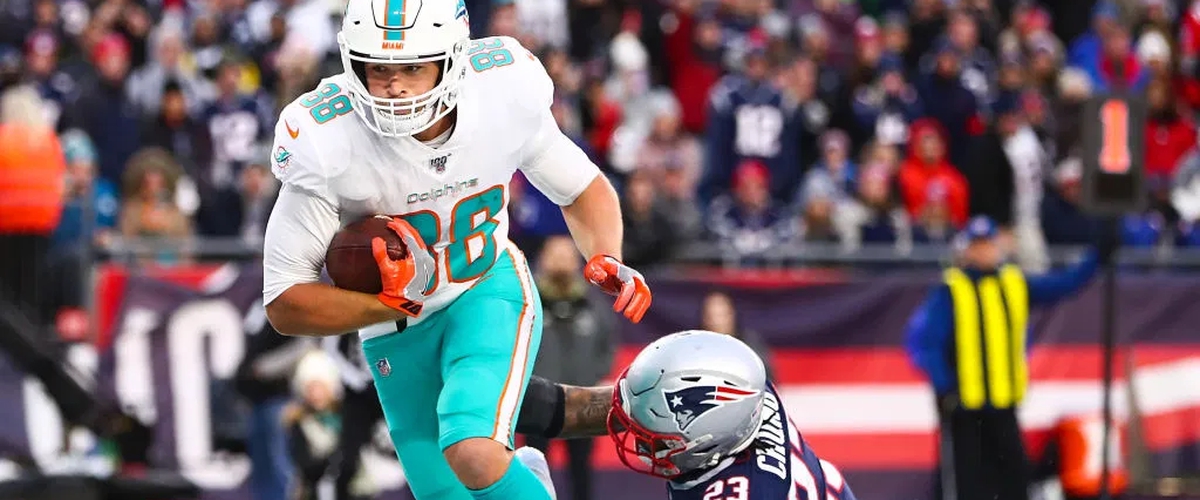 Week 1 for the New England Patriots starts with a familiar division opponent, the Miami Dolphins. The game will be held at home for the Patriots, the site of last seasons regular season finale loss to Brian Flores and company.
Last season: Week 2 in Miami - Patriots 43-0
Week 17 at New England - Dolphins 27-24
Miami Dolphins outlook: Nobody added more than the Dolphins did in the offseason, with plenty of players migrating south from New England to join Brian Flores. In addition to former Dallas CB Byron Jones, Miami added OLB Kyle Van Noy, OT Ereck Flowers, RB's Jordan Howard and Matt Breida, OLB Kamu Grieger-Hill and C Ted Karras. They also had 4 draft selections in the top 40, taking Alabama QB Tua Tagovailoa, OT Austin Jackson, DB Noah Igbinoghene and G Robert Hunt. All Miami did was add, add, add...with minimal damage lost.
I wouldn't call last seasons first meeting useless, but the personnel on both sides is significantly different. The Patriots had Antonio Brown and Tom Brady, winning 43-0. Brown had a touchdown, as did Sony Michel, Brady and James White. One takeaway would be that the Patriots running backs had success. However, Miami's defense is totally revamped, taking Elandon Roberts and Kyle Van Noy from Foxboro. Miami should be able to sniff out the run a little better this time around. Stephon Gilmore perfectly read a Ryan Fitzpatrick roll out to the right and returned his interception for six. Something to keep an eye on for Sunday.
In meeting number two, the Dolphins snuck out of Gillette with a 27-24 win. The Dolphins played a little reckless in this game, even trying a 4th down conversion with their punter throwing the ball downfield. The matchup of the day was WR DeVante Parker vs CB Stephon Gilmore. Parker had 8 catches for 137 yards, something I'm sure Gilmore will not forget going into the game this Sunday. Two other things that stood out were time of possession and 3rd down conversions. Miami controlled the clock, and New England was 3-9 on third down. Controlling the time of possession is a massive key to beating the Patriots, as it keeps Brady on the sidelines. Let's look ahead to this week and break down each positional matchup.
Quarterback: Cam Newton vs. Ryan Fitzpatrick
-This is probably the biggest wildcard of all positional groups this week. On one hand, you have someone in Cam Newton who has never played a snap for New England. He could come out firing, as he beat out Stidham and Hoyer very early in camp. However, he has had injuries the last few seasons. It will be interesting to see his arm strength in week 1. On the other side, you literally never know what Ryan Fitzpatrick you will get. He has definitely had some success against Bill and New England, so it would not be surprising to see him keep the Dolphins in this game. He could also throw 3 picks and we see Tua by halftime. Just because it is week 1 and we really have no idea what to expect, I'll call this one EVEN.
Running Back: NE: Michel, White, Burkhead, Taylor, Johnson. MIA: Howard, Breida, Gaskin, Laird, Cox
-The Patriots will be without Damian Harris for 3 weeks, arguably the best back in camp. They still have plenty of depth, relying on Michel between the tackles and White/Burkhead in the passing game. Michel was able to get 74 yards on the ground in the last matchup, and White found the endzone on a screen pass (big help on a block from Shaq Mason).
-Miami's leading rusher in the last game vs. New England was Patrick Laird, who is now at least 3rd on the depth chart. Adding both Jordan Howard and Matt Breida should reinvigorate the run game, something that did not do much damage before. Miami might have the bigger names, but the Patriots backs are proven to be a more productive group. Slight edge to the PATRIOTS
Wide Receiver: NE: Edelman, Harry, Meyers, Byrd, Olszewski
MIA: Parker, Williams, Grant, Ford, Bowden, Hollins, Perry
-If there is a glaring weakness on this Patriots offense, it is definitely at WR. Tight end could also be mentioned, but the Patriots are gambling at receiver this year. After Edelman, who turned 34 and has to stay healthy, the Patriots need to find a second option. Harry is seemingly the front runner, but injuries plagued his rookie year. It was surprising to see Meyers make the team, but maybe they see something that I don't. Byrd is your deep threat, having played a little with Newton before. You would hope Gunner shines in the kicking game this season.
-Miami gets the edge here mostly due to DeVante Parker. Like New England, the talent falls off after WR1. Parker gave Gilmore his lunch last year, something that cannot be ignored. It will easily be the most exciting thing to follow on Sunday afternoon. Ford had a decent game last year as well, but the Patriots strong secondary should be able to handle everyone but Parker. The edge goes to MIAMI.
Tight Ends: NE: Izzo, Asiasi, Keene
MIA: Gesicki, Smythe, Shaheen
-Another question mark for the Patriots going into the season. They spent two picks on tight end in the draft, something they hope pays off long term. It might take Asiasi and Keene a bit to get going, and Ryan Izzo is not the best placeholder for the starting job. Keene is versatile, so maybe he pops at some point. However, I am not expecting too much this week as Ben Watson only had 1 catch for 4 yards last time vs. Miami.
-Another spot on offense where Miami is a little stronger. Mike Gesicki is a legit pass catching threat, grabbing 4 catches and a touchdown last game. Without Patrick Chung, it will be interesting to see who gets the matchup. Replacing Chung is not easy, and it will be a true test off the bat. Targeting Gesicki this week is something I would do if I was Miami. EDGE: MIAMI
Offensive Line: NE: Wynn, Thuney, Andrews, Mason, Eluemenor
MIA: Jackson, Flowers, Karras, Kindley, Davis
-This group has to be the biggest win for the Patriots on the offensive side of the ball. Getting Andrews back is massive, and the Patriots interior should thrive this week. Right tackle is a bit of an issue, as it is tough to project how Eluemenor will hold up. We could see a rotation of sorts at that spot, but time will tell.
-All signs point to Miami starting two rookies on the line this week. While they both have potential, this week may be a tall task for Austin Jackson and Solomon Kindley. Old friend Ted Karras is the center, someone Bill Belichick knows very well. Ereck Flowers is a converted guard, and he is not very good. Lots of options for the Patriots front to attack this week.
EDGE: PATRIOTS
Defensive Line: NE: Wise, Guy, Butler, Simon, Winovich, Cowart
MIA: Sieler, Godchaux, Wilkins, Davis
-Lawrence Guy is a force on the Patriots defensive line, something that brings a lot of pressure to the young Dolphins OL this week. I would expect Guy, Wise and Winovich to show up early and often in the Miami backfield. No reason to think that this line won't have a big game.
-Miami has a solid player in Davon Godchaux, who could clog the middle and cause the Patriots some trouble. They also have Christian Wilkins, a 2019 top 15 selection. Aside from these two, the Patriots should hold up just fine. EDGE: PATRIOTS
Linebackers: NE: Bentley, Copeland, Uche, Jennings, Maluia, Calhoun.
MIA: Van Noy, Ogbah, Grugier-Hill, Roberts, Van Ginkel
-This one is an easy win for Miami until we see this New England group in action. Miami brings in two players who did very well in the Patriots system, joining their former defensive coordinator in Brian Flores. The Patriots are trusting Bentley to take over for Hightower (opt-out), which is a big promotion that he may not be ready for. Hopefully Uche and Jennings play big roles going forward, but week 1 is tough to gauge. EDGE: MIAMI
Defensive Backs: NE: McCourty (2), Jackson, Gilmore, Jones, Williams, Dugger, Phillips, Brooks
MIA: Jones, Howard, Rowe, McCain, Igbinoghene, Perry, Frazier
-Easily the strongest positional group for the 2020 New England Patriots. This group should be able to handle Miami's weapons this week, keeping in mind that Paker may have cracked the Stephon Gilmore code. I'm willing to bet Gilmore does not let Parker do the same damage as last year, and the Patriots will shut down the Miami passing game.
-Miami made a huge splash with Byron Jones, pairing him in a defensive backfield with Xavien Howard. Eric Rowe is not the best player in the world, but he jumped a Brady pass for 6 last year. He also spent time with New England, so he is familiar. EDGE: PATRIOTS
Special Teams: NE: No kicker, Bailey, Slater, Bethel
MIA: Sanders, Haack
-Only mentioning because the Patriots have no kicker on the 53-man roster. They seemed to whiff on 5th rounder Justin Rohrwasser, who clearly lost to Nick Folk. The Patriots will elevate Folk by Sunday. Patriots win this battle due to having the best gunner pair in the league in Bethel/Slater/ EDGE: PATRIOTS
Final Prediction: Offense might be hard to come by due to both offense's not being that good (yet). Factor in the battle of Flores vs. Belichick and this one has 20-17 PATRIOTS written all over it.
---