NCAA Pre-Season Top 25, Our #2 May SURPRISE YOU!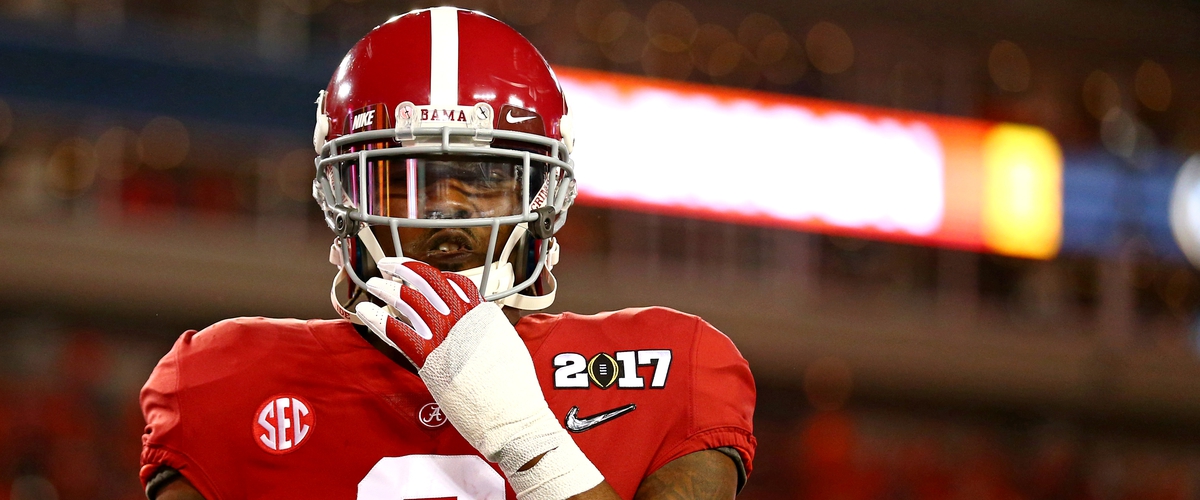 The college football season is almost among us and that means it's time for our preseason top 25, and here it is:
1) Alabama*
2) USC*
3) Ohio State
4) Florida State
5) Penn State
6) Clemson*
7) Michigan
8) Washington
9) Wisconsin
10) Oklahoma
11) Stanford
12) LSU
13) Oklahoma State
14) Georgia
15) Miami*
16) Florida
17) Auburn
18) West Virginia
19) Utah
20) Louisville
21) Boise State*
22) USF*
23) Kansas State
24) Virginia Tech
25) Tennessee
Breakdown by conference: ACC (5), American (1) Big 12 (4), Big Ten (4), Mountain West (1), SEC (6) & PAC-12 (4)
1) Alabama Crimson Tide-
No surprise here! The Alabama Crimson Tide finished last season with a heartbreaking championship loss to DeShaun Watson and the Clemson Tigers. But the Crimson Tide's roster is once again loaded as they brought in the number one recruiting class for the SEVENTH straight time, a recruiting class that brought in the #1 OT in Alex Leatherwood (6'6" 327 ILB), 5-star LB VanDarius Cowan (who flipped from Florida State) & shifty 5-star RB Najee Harris all players who can see real time in this already deep Alabama roster that's returning QB Jalen Hurts (who threw for 2,780 yards, 23 TD's, 9 INTS, while rushing for 954 yards and 13 TD's), WR Calvin Ridley JR (who caught 72 passes for 7 TD's), WR Cam Sims coming back from injury, RB Damien Harris (who rushed for 1,037 yards, 2 TD's and averaging 7.1 yards per carry), they're also bringing back a solid offensive line and elite level defense. Alabama will make the college football playoffs again and likely win the National Championship.
2) USC Trojans-
This pick might be an overreaction to USC's resurgence during the season last year when the Trojans' started 1-3, including a 52-6 ignominious defeat at the hands of the Alabama Crimson Tide. But after their 20-10 loss to Stanford, they made a change at the quarterback position and the results shocked everyone! Freshmen QB Sam Darnold lost his first game 31-27 versus Utah as Utah outscored USC 14-3 in the fourth quarter. After that, Sam Darnold and the USC Trojans went on to win nine straight games, defeating teams such as #4 Washington (at Washington), #21 Colorado, and capping off the season with a Rose Bowl victory over #5 Penn State, who many believed should've been in the College Football Playoffs. USC now has an elite level quarterback that they've been missing since the Mark Sanchez, Carson Palmer and Matt Leinart days.
The Trojans' will be a formidable team this year because USC's roster plus Sam Darnold equals wins!
6) Clemson Tigers-
The Clemson Tigers are fresh off a championship season, a season in which they were doubted and considered "frauds" after a bumpy start to the season where they only beat Troy by 6 (30-24), and had a stunning loss at home to Pittsburgh. But they persevered and defeated two quality opponents in #3 Ohio State (31-0), and #1 Alabama (35-21) to win the National Championship. But Clemson will take a step back this season despite having a loaded roster, simply because they don't have a quarterback after DeShaun Watson left for the NFL. They're currently having a quarterback battle between Kelly Bryant (JR), Zerrick Cooper (R-FR) & Hunter Johnson (FR). Bryant is likely to start opening day when Clemson plays Kent State, simply because he has a better grasp on the system than the other two freshmen quarterbacks, but I feel as the season wears on that Zerrick Cooper will see some serious time as the starting quarterback. Clemson will still be a formidable team, but won't make the ACC Championship game because I can't see them beating this year's Florida State squad without an experienced quarterback.
15) Miami Hurricanes-
Hurricane season is upon us! The Miami Hurricanes are slowly becoming relevant again. In their first season under Head Coach Mark Richt the Hurricanes were 9-4 (5-3 in ACC), not the best season but the Hurricanes also pulled in the 22nd ranked recruiting class for the class of 2017, and currently sit at #3 in this seasons class. The Hurricanes also play a very favorable schedule this season. I have them winning 9 games, but I can see them stealing one, and getting their first 10-win season in the last 14 seasons.
21) Boise State Broncos & 22) USF Bulls-
I am very high on these two group of five programs! They both have return veteran quarterbacks who've had success in Brett Rypien (Boise State) and Quinton Flowers (USF), both have top 25 offenses from last season (Boise State 21st and USF 11th), and both are group of five teams (schedules aren't as daunting). I ranked Boise State ahead of USF because Boise State will play quality opponents such as Air Force, @ Washington State, @ BYU and @ San Diego State. Meanwhile, the toughest team USF will face is Houston at home. And, if it came down to who the committee would put in, I strongly feel they'd take a 11-2 conference champion Boise State, over a 12-1 conference champion USF. I still feel even if USF goes undefeated that the committee would feel Boise State would deserve the New Year's' Six bowl game bid over USF because they played a tougher schedule as Boise State's schedule is currently ranked as the 79th toughest in the country and USF's schedule is currently ranked 23 spots behind them at 102nd in the country.
Article written by: Marcus Marshall
Twitter: @Perspectivespo
Youtube: Youtube.com/Perspectivesports