LA Lakers Preview 2016-2017
With the end of the Kobe era, the Lakers have officially moved onto the Coach Luke Walton era, entering the 2016-17 season. While this 17-65 ball club from a year ago will surely improve on its total win count, the goals coming into this year for Coach Walton and staff are far beyond wins and instead include developing a unit that is consistently putting forth effort on defense, developing team chemistry and cultivating young leaders who can handle the responsibility of leading this team from the bottom of the West to a playoff contender in a couple of years. Below is a rundown of the roster and what to expect from one of the youngest teams in the NBA.
Player Breakdown
D'Angelo Russell - PG #1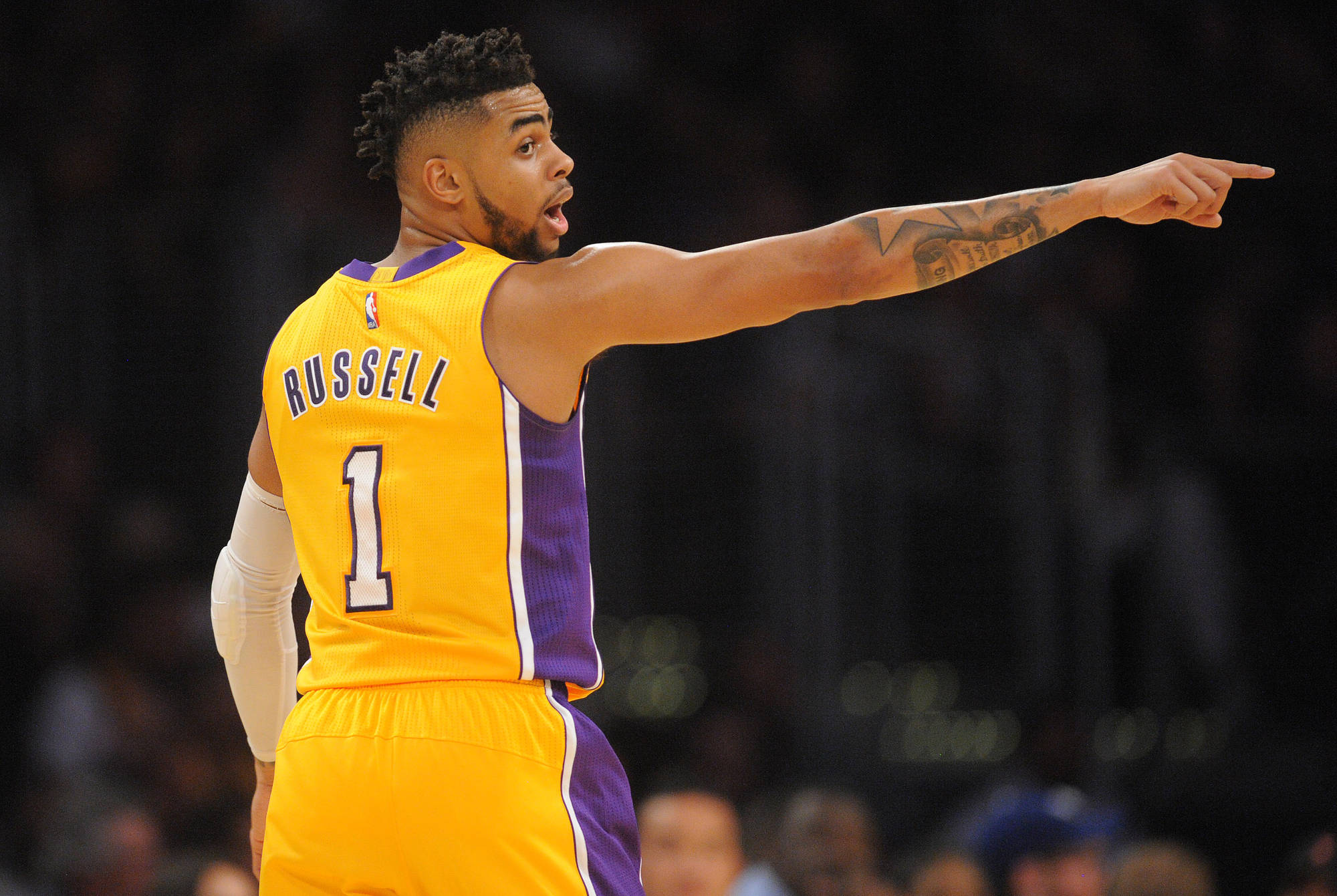 Gary A. Vasquez-USA TODAY Sports
After being selected no. 2 overall in the 2015 NBA draft, Russell's rookie campaign got off to a slow start, however by the end of the season, it was evident that he had gained confidence in his scoring ability averaging 15 points per game in the last two months of the season. Coming into his Sophomore year, it is vital for Russell to grow on the defensive end where he still has much room to improve from understanding the guards he's matching up against, to helping down low to rebound and understanding defensive rotations so he can offer help to teammates. In addition to improving on defense, Russell has a major growing curve in terms of taking a leadership role with the Lakers. Last year he was able to hide behind the greatness of Kobe in regards to leadership and accountability. Now with very few veterans on the team and the lofty expectations as a lottery pick, Russell has the opportunity to assert himself as the team leader.

Nick Young - SG #0
Kirby Lee-USA TODAY Sports
After a tumultuous second half of the season last year that saw him miss the last 17 games, Nick Young entered the preseason with a renewed commitment to the defensive side of the floor. With the Lakers showing no signs of resistance last year, Young was able to seize the starting role by rolling up his sleeves and committing himself to strong defensive play and challenging opponent's top offensive shooters. While many thought that Nick Young was one of the better offensive assets that the Lakers should send out of LA, given his overall transformation to commit defensively, Nick Young has proven to be more than just an offensive scorer starting in every game this season. As one of the best defenders on the team, Coach Walton will have a difficult time spreading minutes around between Young, Clarkson and Lou Williams, however, expect to see more of Swaggy P as long as he keeps providing effort defensively.

Luol Deng - SF #9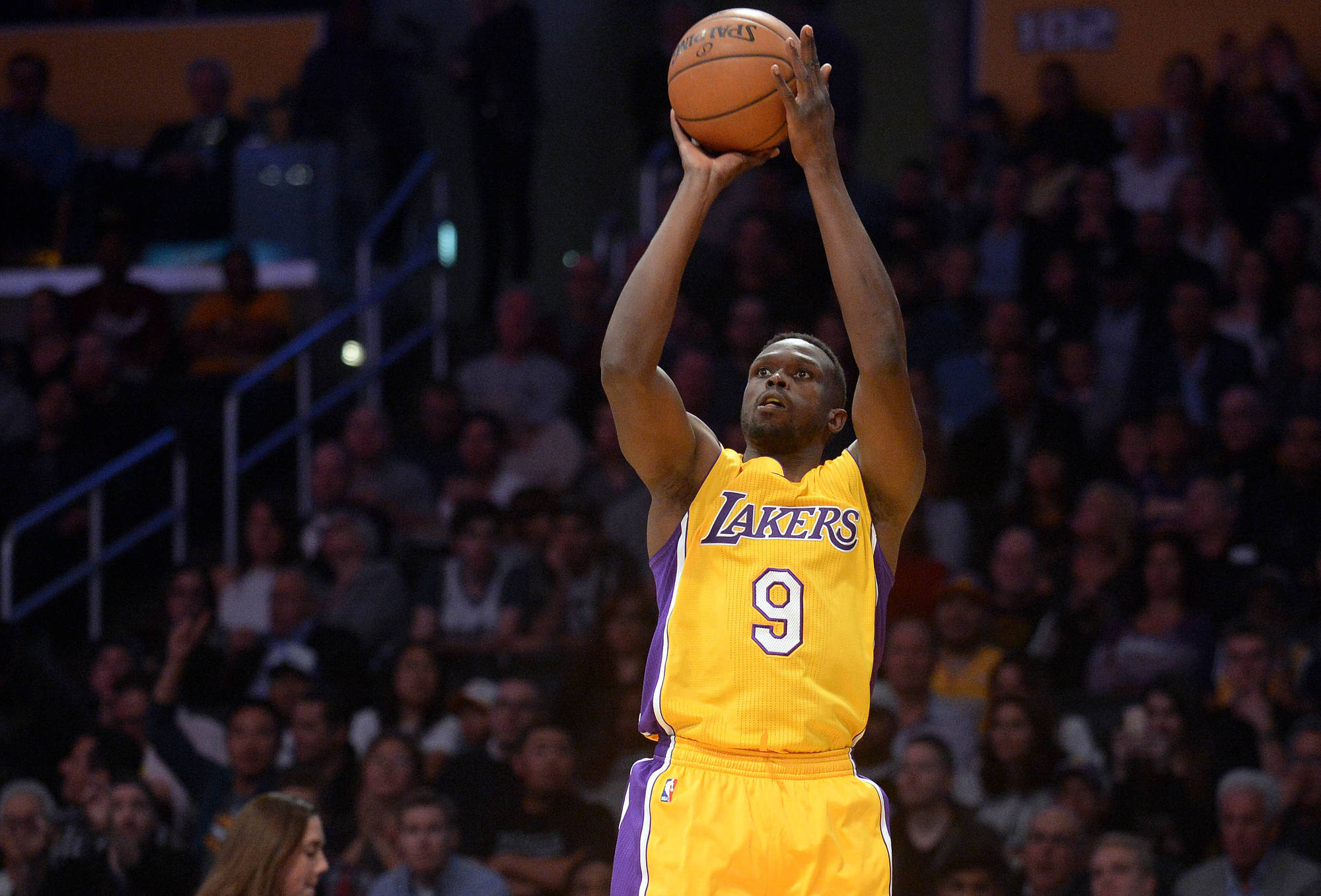 Gary A. Vasquez-USA TODAY Sports
A savvy veteran signed over the free agent period, Luol Deng fills a defensive void that was missing from the Lakers starting unit from a year ago. Throughout his career Deng has provided reliable defense and has been a positive force in locker rooms. With a roster full of young players, Deng's impact will be more than just another top player, but will serve as a mentor to show what it takes to have a long career in the NBA from watching game film, focusing on opponents tendencies and communicating defensively. While it would have been great for the Lakers to have acquired Deng in his prime, Luol is a welcomed site to a franchise in transition who will do good things on both sides of the ball.

Julius Randle - PF #30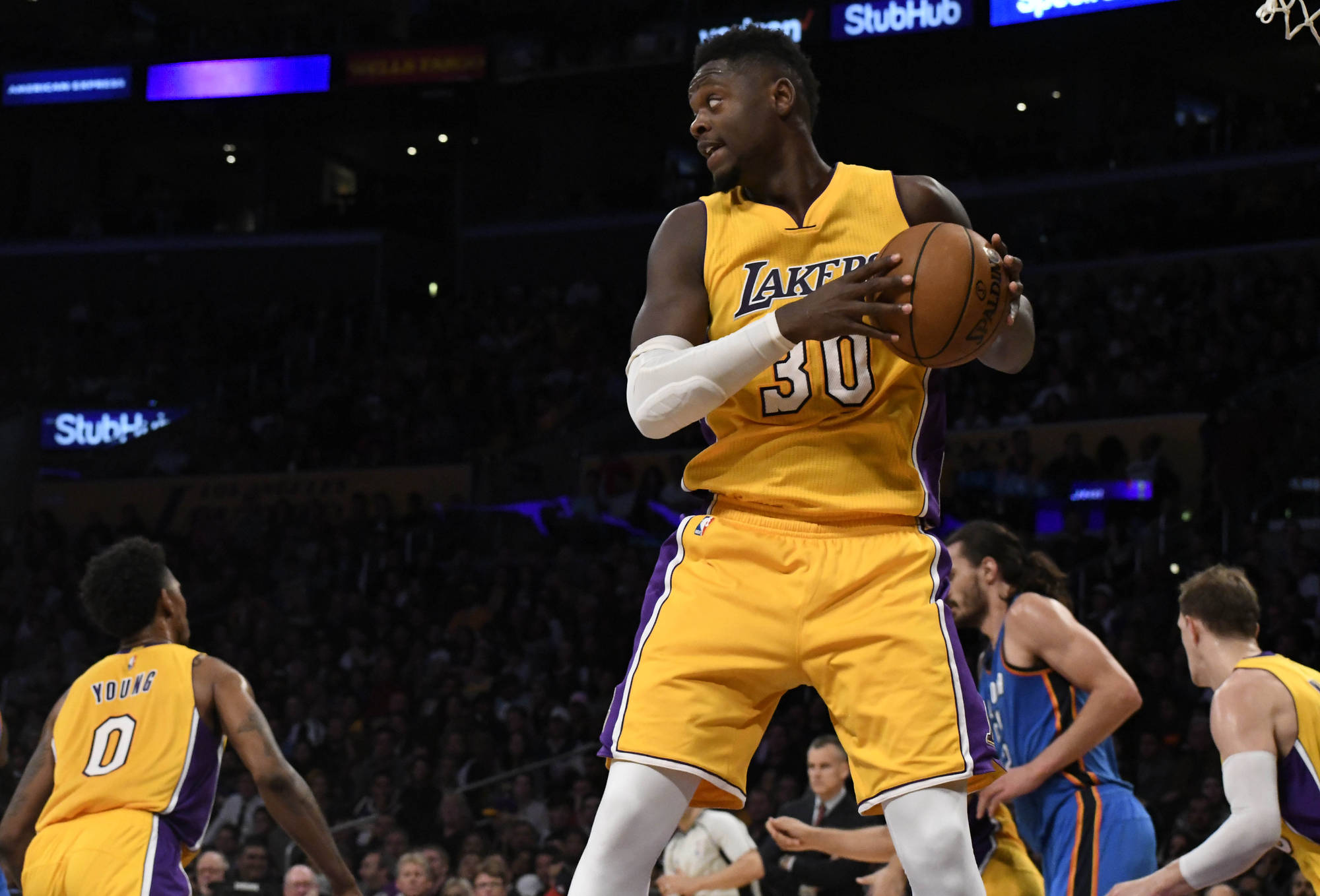 Richard Mackson-USA TODAY Sports
Julius Randle looks to pick up where he left off from his 11.3 points and 10.2 rebounds average from a season ago. Continuing to provide energy and effort on both ends of the floor, Randle looks to improve on his FG% where he shot a low .429 which is very low for a guy who scores close to the rim. In addition to improving in this area, a non-statistical area that Randle must improve on is keeping his composure when calls go against him. Randle had a tendency to force shots, commit fouls and lose his cool when he felt like the refs missed a foul or called a foul against him last season. As he matures and cements his role as the Lakers starting Power Forward, it will be important for Randle to just play ball and not worry about missed calls as he is an important player to this Laker roster.

Timofey Mozgov - C #20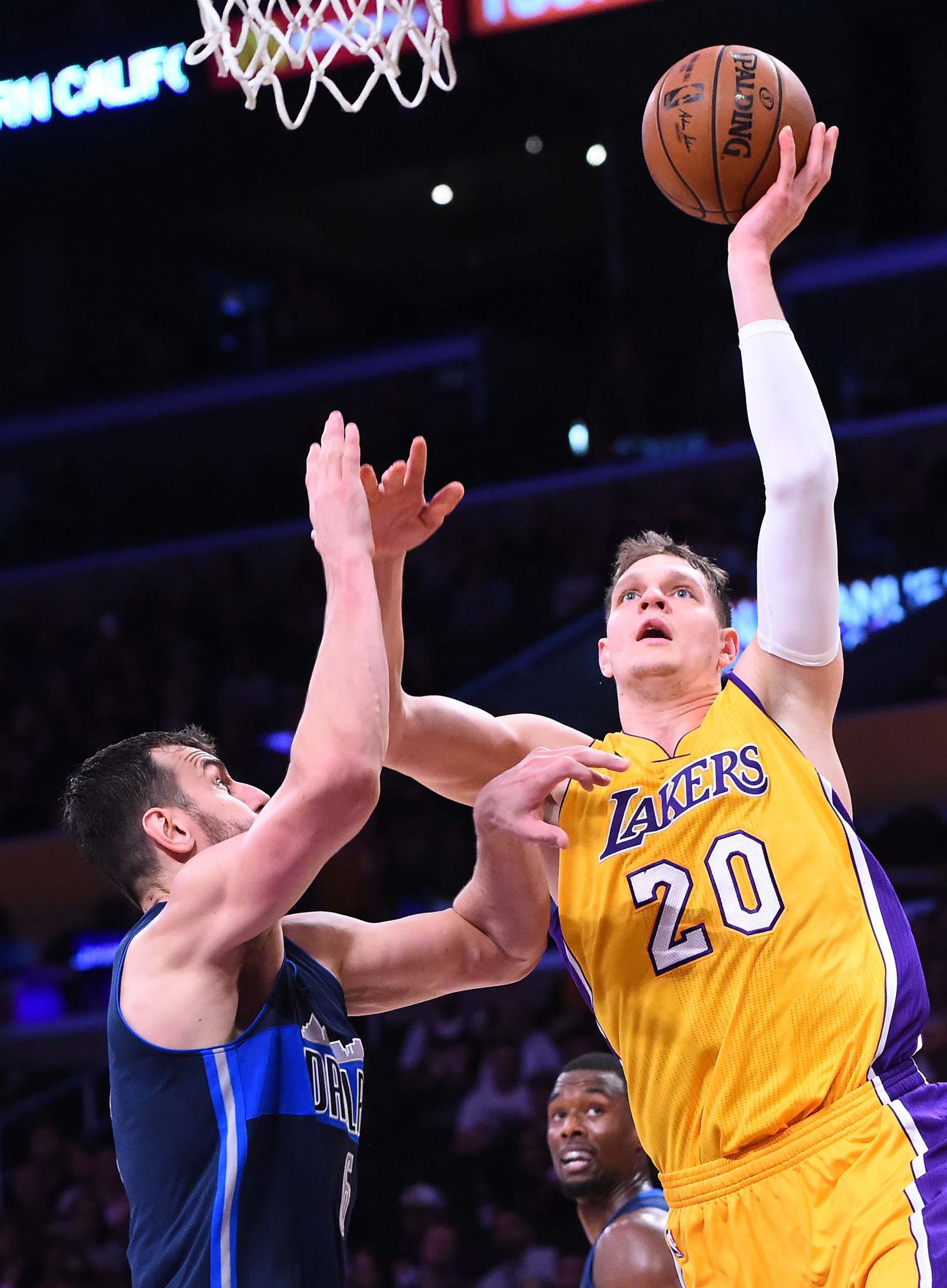 Jayne Kamin-Oncea-USA TODAY Sports
The big free agent signing in the offseason, Timofey Mozgov was jeered more than cheered when first announced as the Lakers first signing of the summer. While not a player that draws a lot of attention to himself, Mozgov has provided much improved production that the Lakers lacked previously when Hibbert was the starting Center from a year ago. More agile and able to run the floor, Mozgov has shown nice touch finishing around the rim and brings and added level of championship experience from his time in Cleveland with LeBron.

Jordan Clarkson - PG/SG #6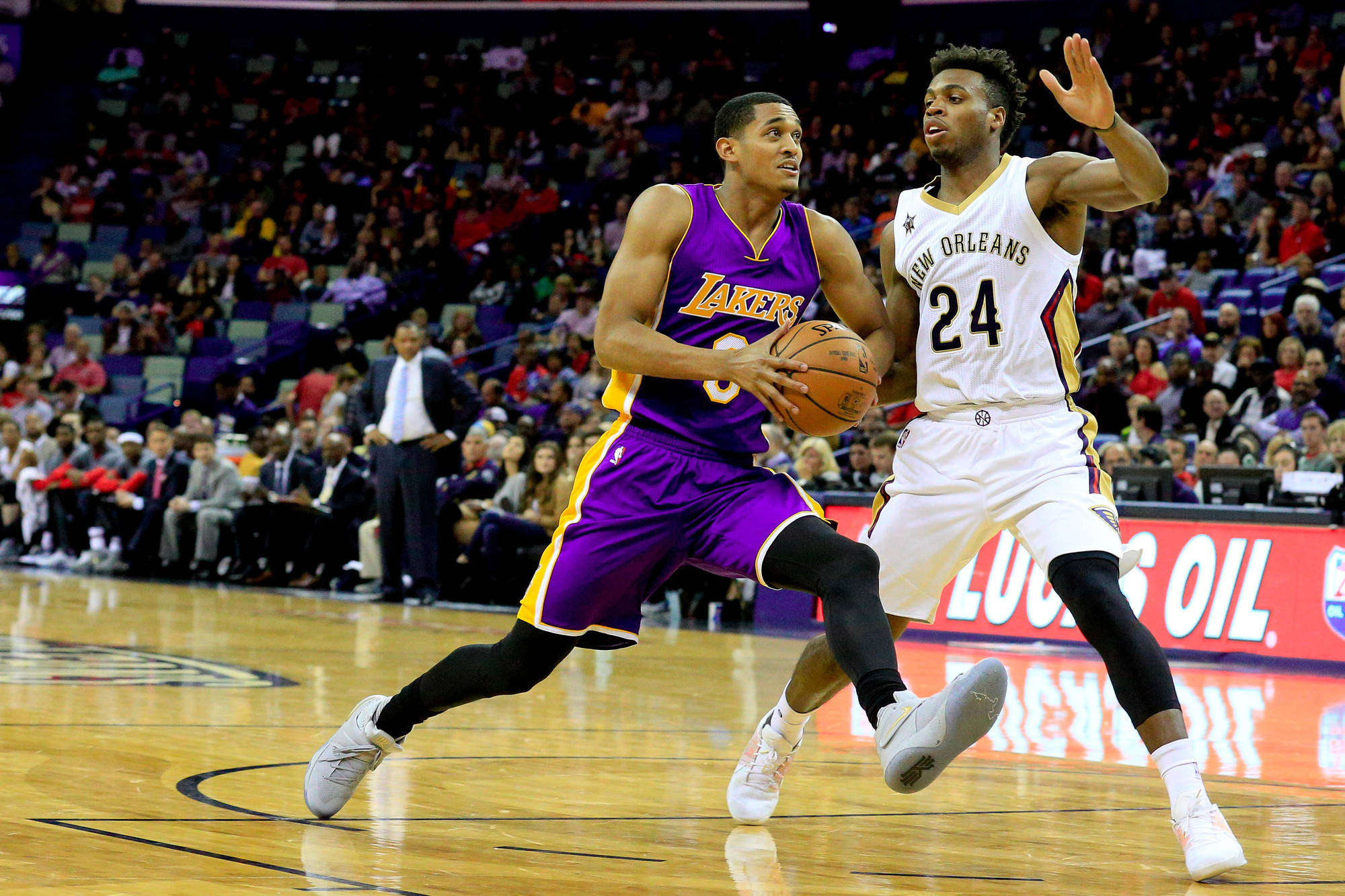 Derick E. Hingle-USA TODAY Sports
Clarkson experienced no Sophomore slump last season as he improved his scoring average from 11 points to 15 points per game. In addition to his uptick in points, Clarkson seemed to be one of the few bright spots from a disappointing Laker season, providing instant offense and energy whenever he was on the court. Having started 79 games, Coach Walton decided to move Clarkson to the 6th man role off the bench to provide a spark to the second unit. While Clarkson could have moped and been prideful for not being in the starting lineup, Clarkson continues to produce with a chip on his shoulder as he seems comfortable with his new role.

Lou Williams - SG #23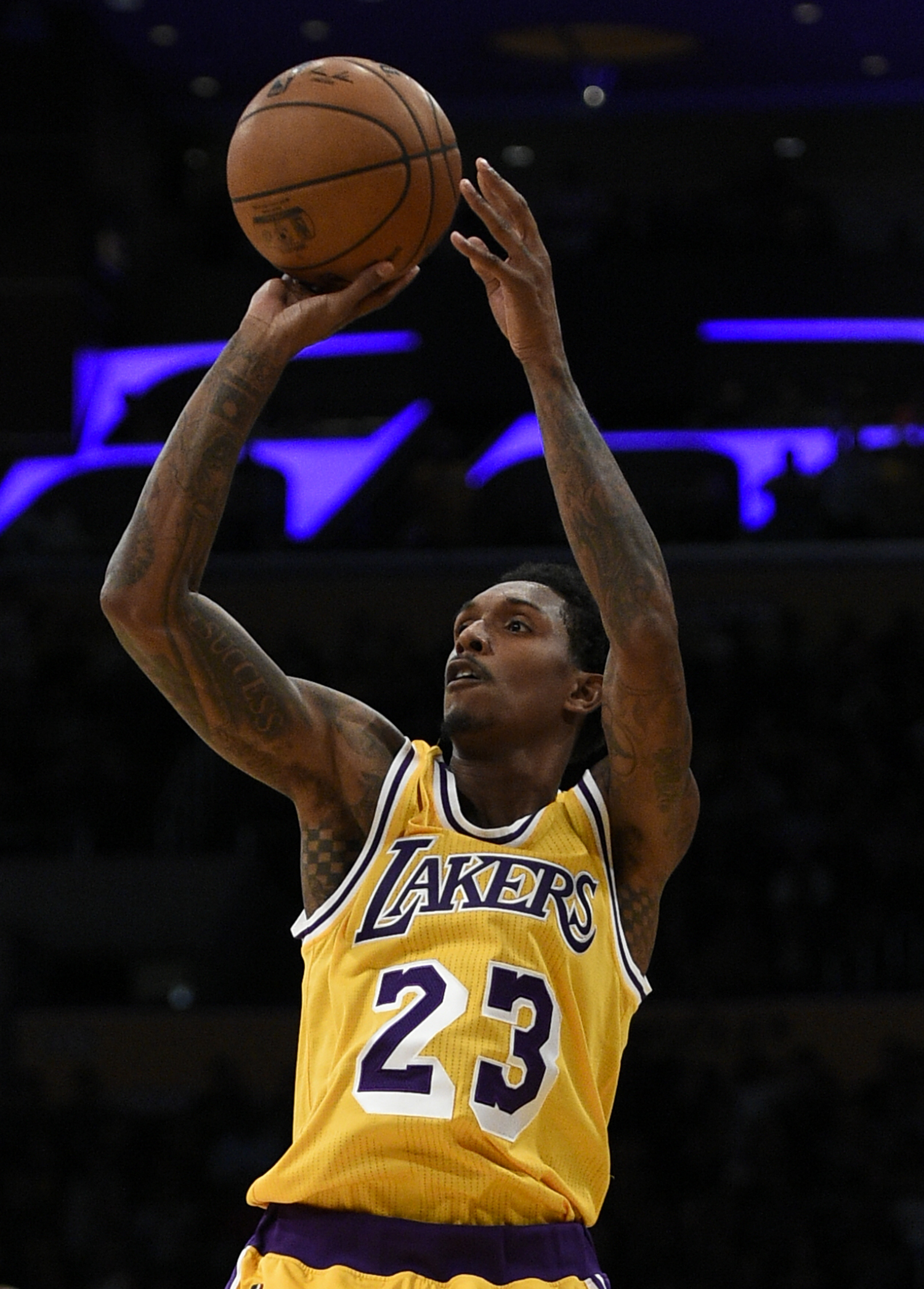 Kelvin Kuo-USA TODAY Sports
Entering his second season with the Lakers, Lou was originally brought in to be the instant offense off the bench. Known as a bonafide scorer, the role for Louis Williams seems to be a bit lost this season as the Lakers rotation at guards has become plentiful, between a resurgent Nick Young, and young core of Jordan Clarkson, D'Angelo Russell and Brandon Ingram the amount of playing time Williams will see throughout the season will fluctuate based on injuries, shooting slumps and the expectations to give younger players more minutes. No matter how many minutes Lou ends up playing, he will find a way to score and continue to get defenders on their feet as he converts four point plays.

Brandon Ingram - SF #14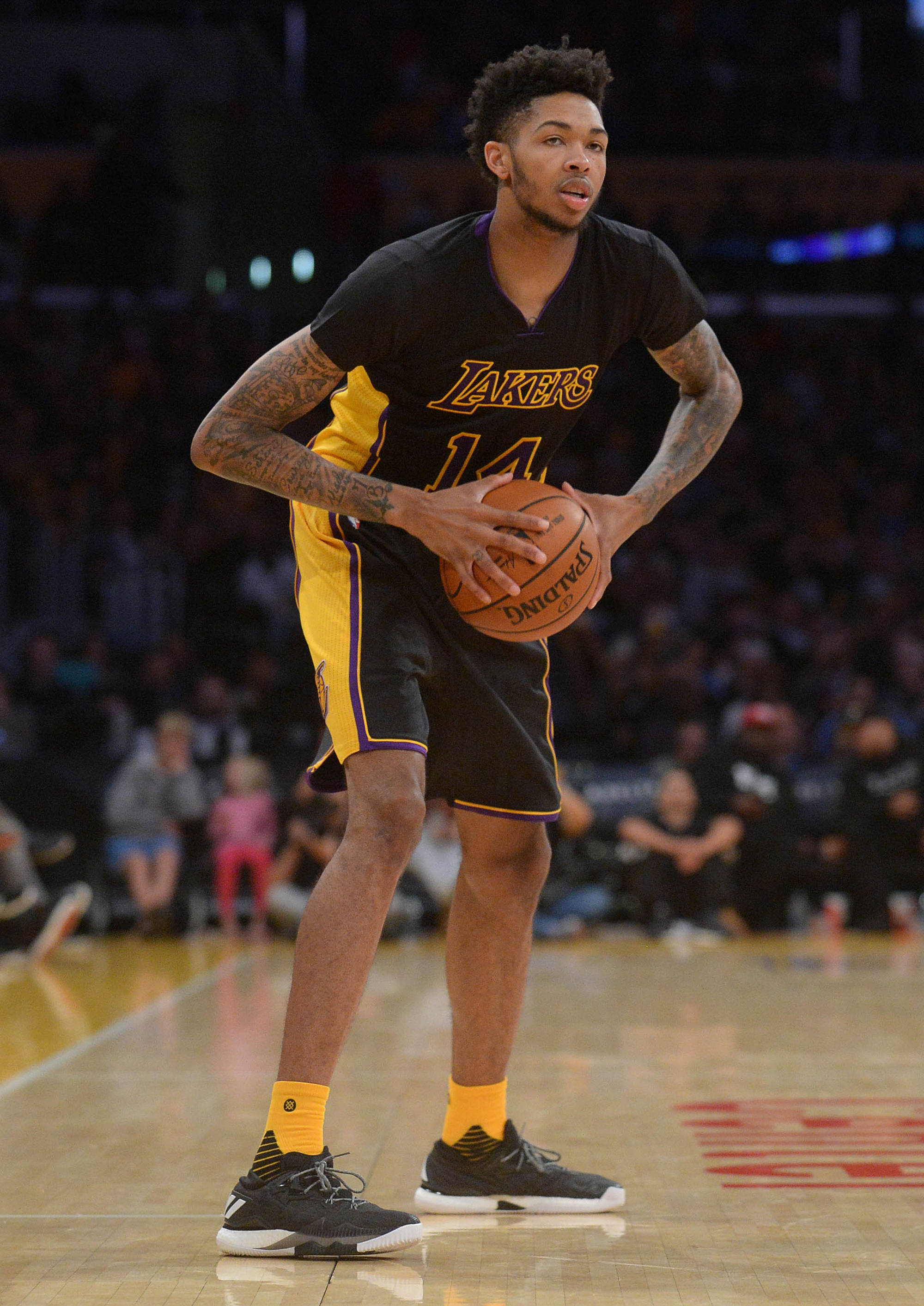 Gary A. Vasquez-USA TODAY Sports
With the no. 2 overall pick in the 2016 draft, the Lakers selected Brandon Ingram. While Ingram won't be an instant starter for the team at the beginning of the season, it is all by design as he will get to learn behind Luol Deng. Unlike most lottery picks, there is not a lot of expectations for Ingram to carry the Lakers organization on his shoulders, as he gets to share the burden with the likes of Russell, Randle and Clarkson. Look for Ingram to have increased minutes later on in the season. In the meantime, look for Ingram to pick his spots early on as a shooter and slowly gain the confidence to become a closer towards the end of games.

Larry Nance Jr. - PF #7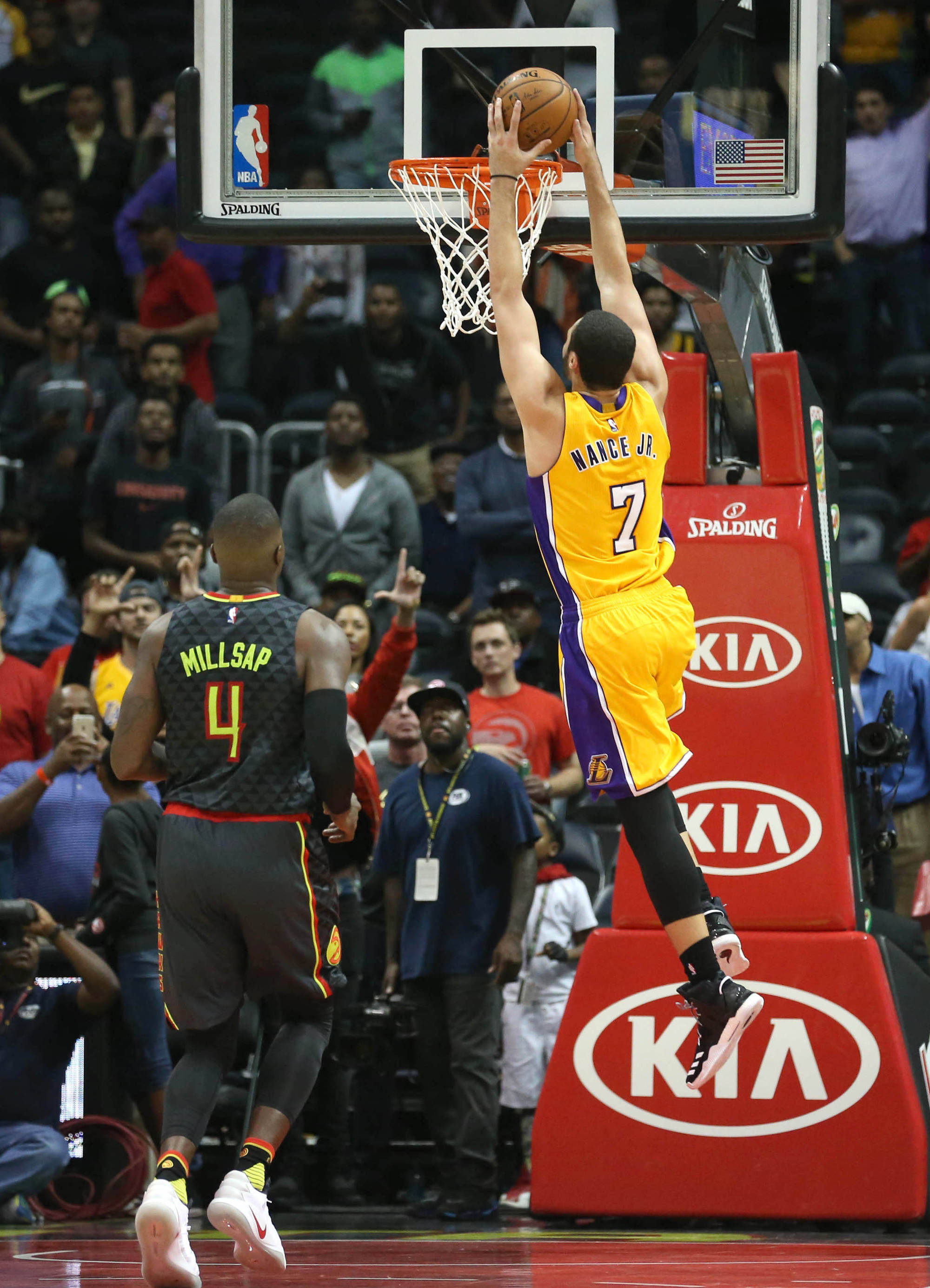 Jason Getz-USA TODAY Sports
Once competing with Randle for starting PF last season, it seems that Nance for the time being will be relegated to the backup power forward role as he continues to improve his understanding of the offense. Known for jumping out of the gym with his athleticism, Nance must continue to develop his jump shot and take it with confidence whenever left open. Additionally, on the defensive end of the floor he must use his athleticism to block and deflect shots and learn to box out and how to better communicate defensively on the pick and roll. It's important for Nance to not settle and help himself and Randle by continuing to improve his game.

Tarik Black - C #28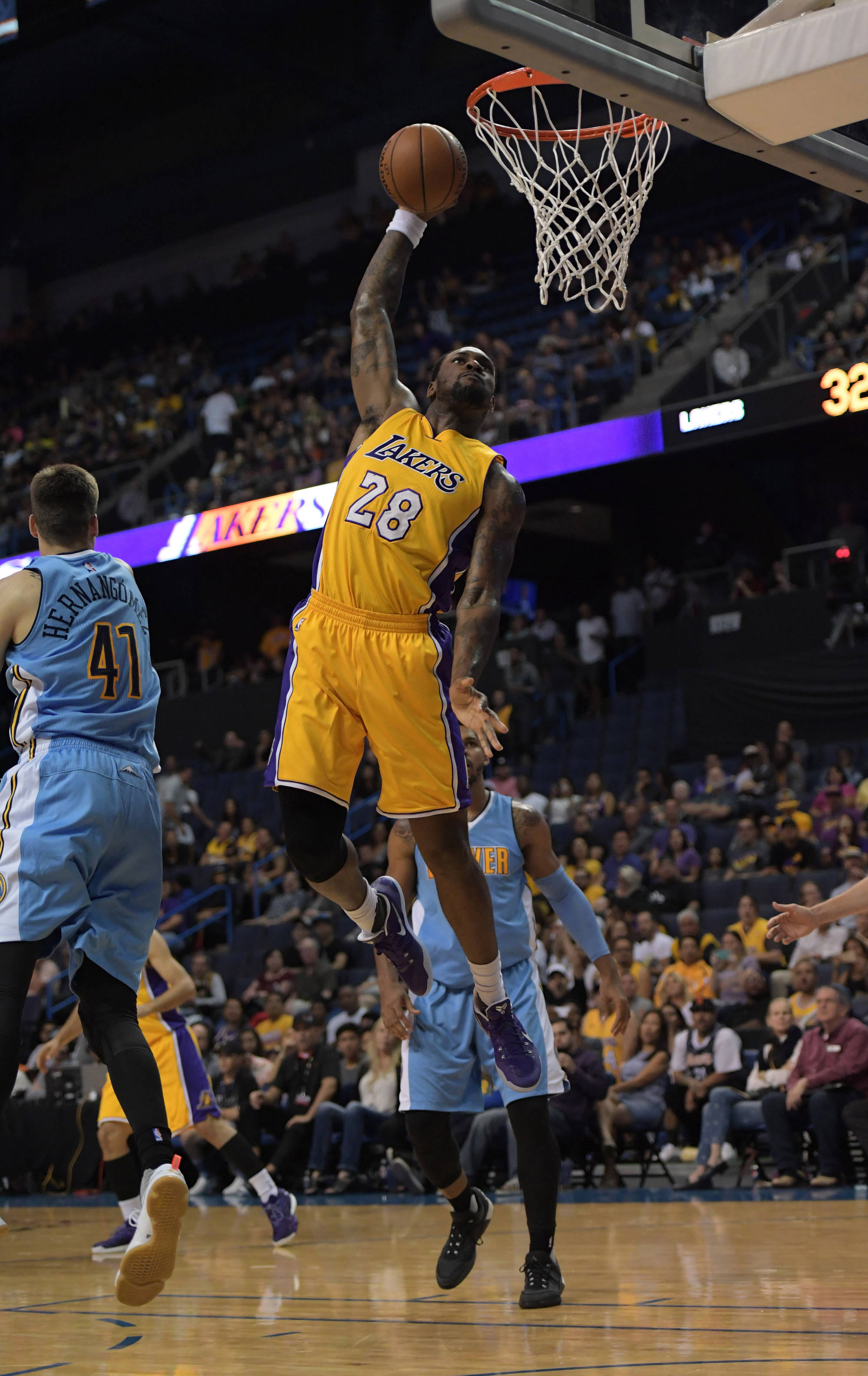 Kirby Lee-USA TODAY Sports
Stuck behind Roy Hibbert and Robert Sacre from a year ago, Tarik Black looks to enjoy an expanded role as the main backup to Timofey Mozgov. Black excels down low, often finishing with contact around the rim. An underrated asset that helps him finish underneath is his athletic ability. While Larry Nance Jr., gets all the hype for his spectacular dunks, Tarik Black has hops of his own as scene in the throw down above. In addition to his athleticism, Black is not afraid to body up opponents and fight for position for rebounding and finding space on the floor for an easy 2. Black needs to continue to work on his passing ability from in and out of the post as well as his free throw shooting if he ever wants to consider being a starter. As the main back up though, Tarik will offer needed energy and rebounding off the bench, and be a constant on the defensive end of the floor.

Jose Calderon - PG #5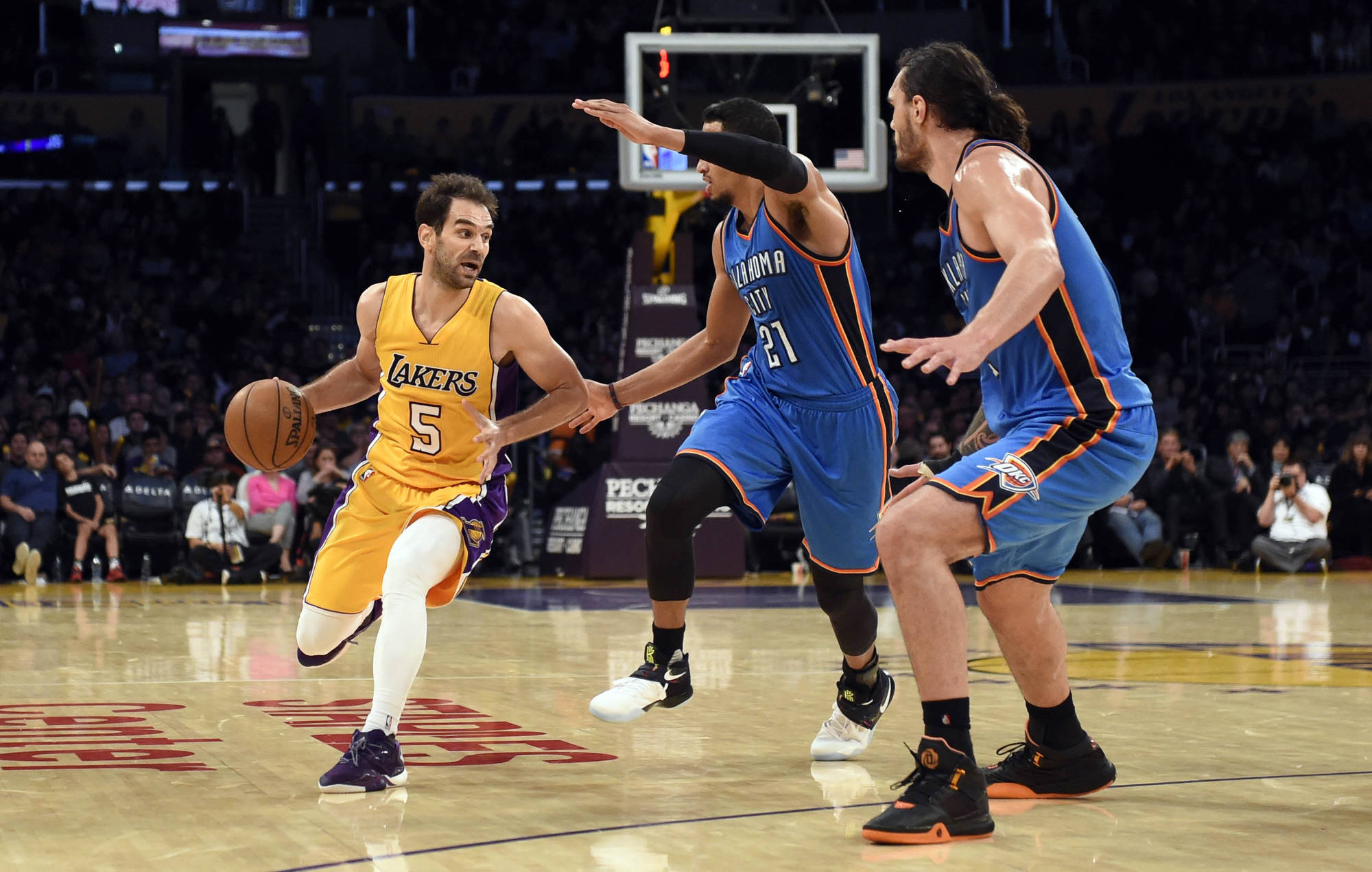 Richard Mackson-USA TODAY Sports
The addition of Jose Calderon in the offseason provides insurance if the Lakers were to go through stretches without D'Angelo Russell or Jordan Clarkson. Once a 12 points 9 assists type of player, playing 30 minutes a year, Calderon will be asked to take a backseat to Russell and Clarkson and at times Ingram as those three players each take turns at running the point throughout the year. At the age of 35, Calderon understands the expectations and role of the team as he serves as the experienced veteran to a ball club the needs to see and hear the experiences of players who have had long careers in the association. Calderon still has a bit left in the tank, and with condensed minutes, should be spry and ready to set up teammates or create his own shots off screens or spot up jumpers.

Marcelo Huertas - PG #4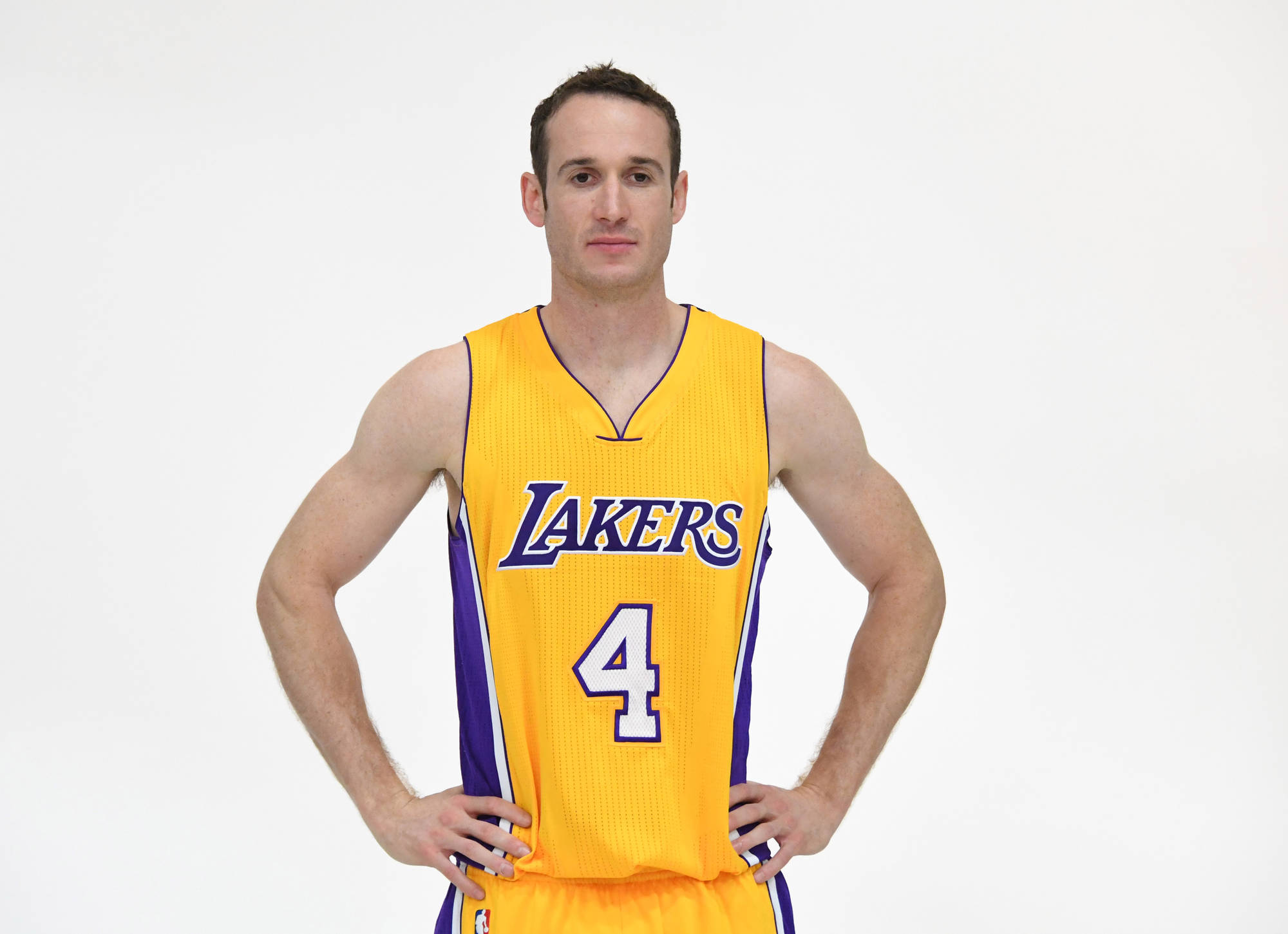 Kirby Lee-USA TODAY Sports
With a new clean look, it is good to see Marcelo back in the purple and gold. With a resigning in question after the Lakers picked up Calderon in the offseason, Huertas spot on the team looked to be in jeopardy. However after a solid last two months of the season that saw Huertas lead the team in assists per game with 5, Huertas played into the opportunity to earn a roster spot thanks to his past first mentality and style that fits a more fluid Luke Walton system. While it will be difficult for Huertas to find minutes on the court this season. Huertas will make his presence felt as he always garners opponents attention as you never know where the ball will travel next out of his hands.

Metta World Peace - SF #37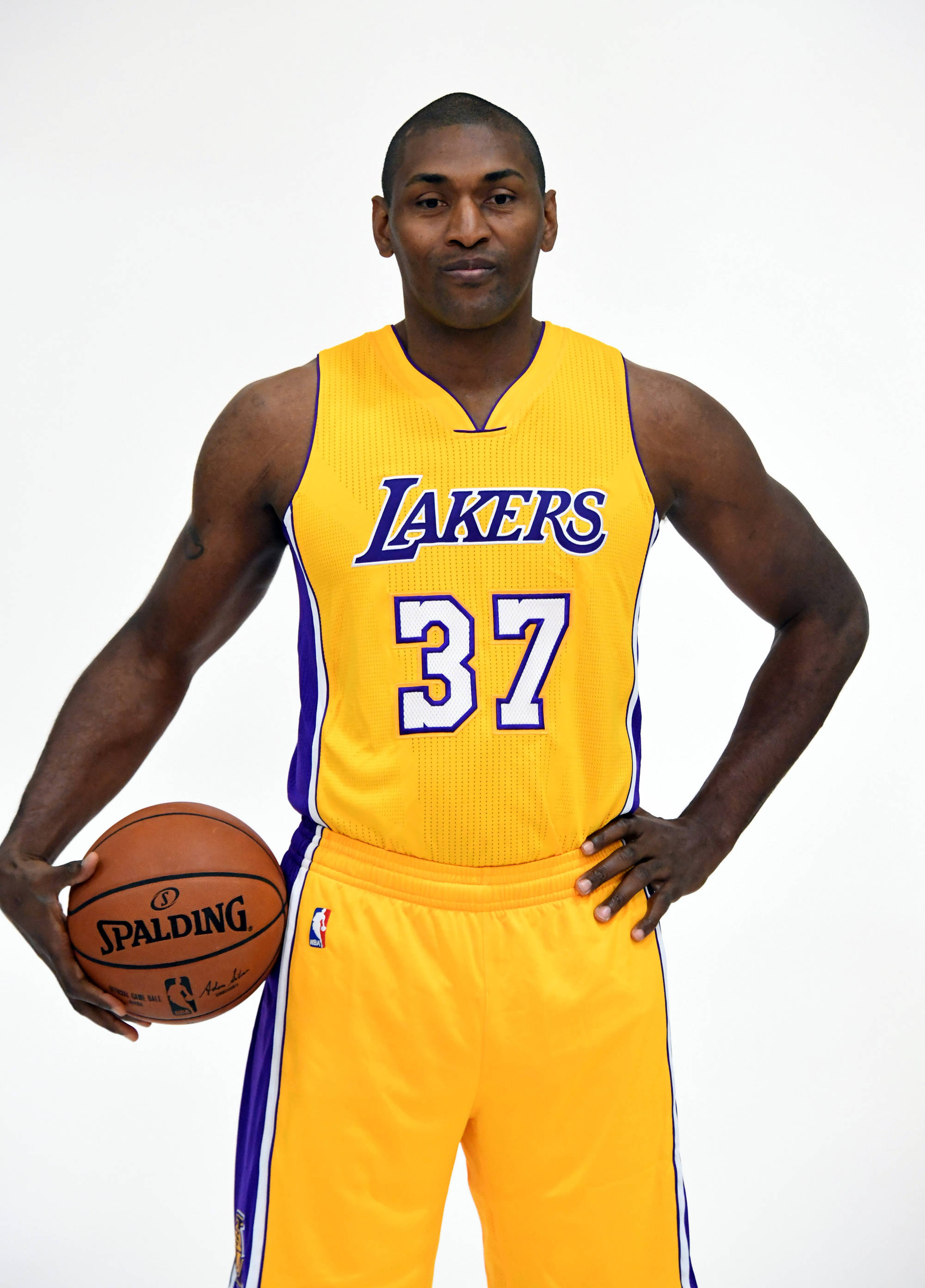 Kirby Lee-USA TODAY Sports
At 37 years of age, Metta World Peace is by far the oldest player on the team, even older than his coach Luke Walton at 36. Metta won't find much playing time this year, but could be called upon in small spurts for his defensive ability to show the youngsters how to play man to man defense and how to dictate the tone defensively. While ideally I think Metta is a better fit as a coach, it will be great for Metta to serve as a player/coach as he goes through the drills, retells memories of his championship teams and gets into players who aren't giving 100% as he has credibility as a former champion and Defensive Player of The Year.

Ivica Zubac - C #40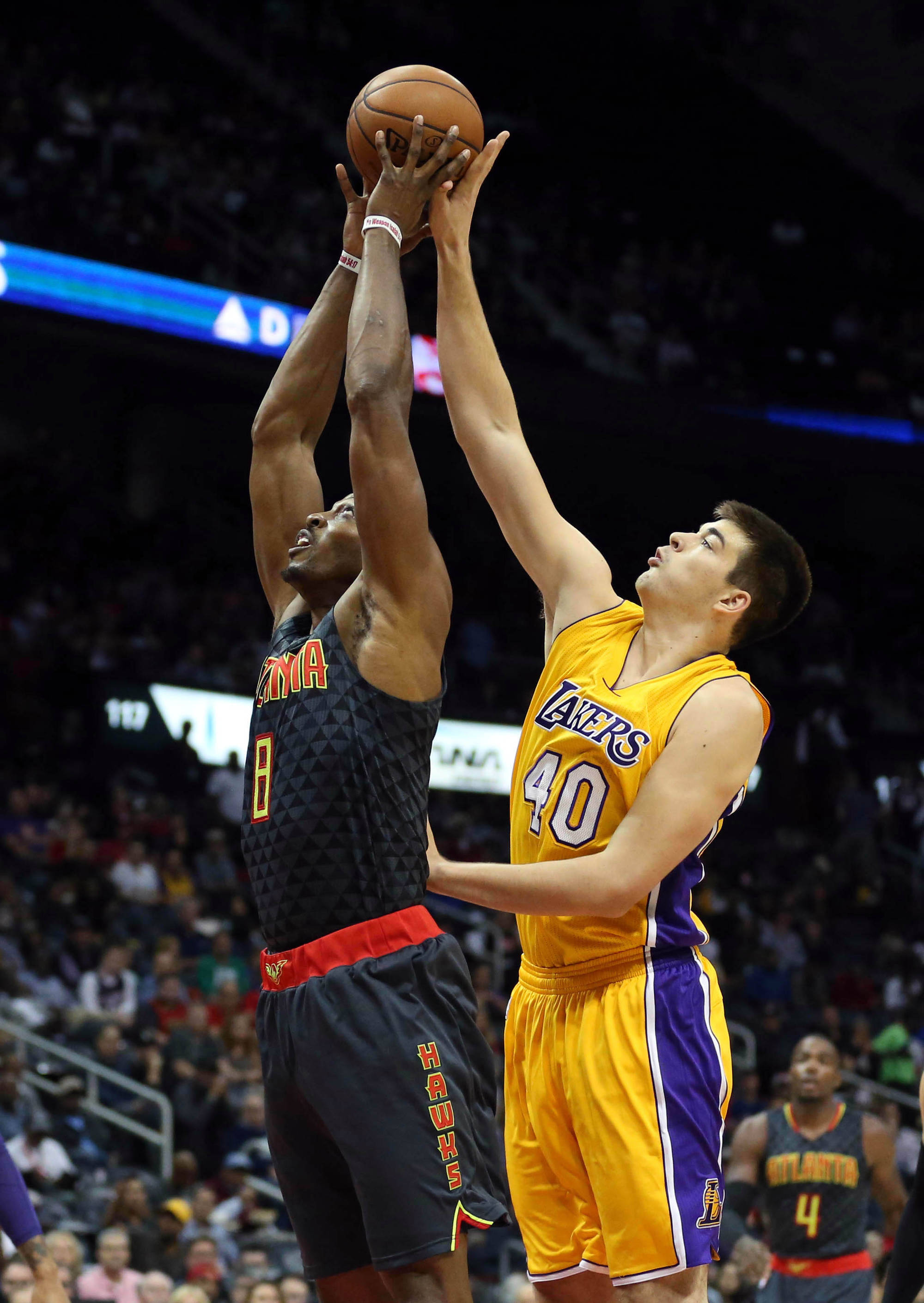 Jason Getz-USA TODAY Sports
Drafted as a development project, Ivica Zubca made his presence felt over the summer in his Las Vegas Summer League debut. Averaging the 2nd most blocks per game in the summer league, the Croatian product created havoc on the defensive side of the court altering opponents shots while showing touch offensively with a nice hook shot. While Ivica held his own over the summer, it will take some time for him to get used to the size of the centers he will be facing on a night in, night out basis. After assessing the competition he was used to playing against, Zubac will need to develop the lower half of his body to withstand the strength of NBA centers who know how to position their bodies in the optimal positions on the court. At age 19, Zubac possesses above average footwork when working from the low block and at 7'1" will only continue to improve as he continues to develop and understand the NBA game physically and mentally. While Zubac certainly created buzz over the summer when he was on the court, don't expect too much playing time unless injuries go down at the Center position for the Lakers.

Thomas Robinson - PF #15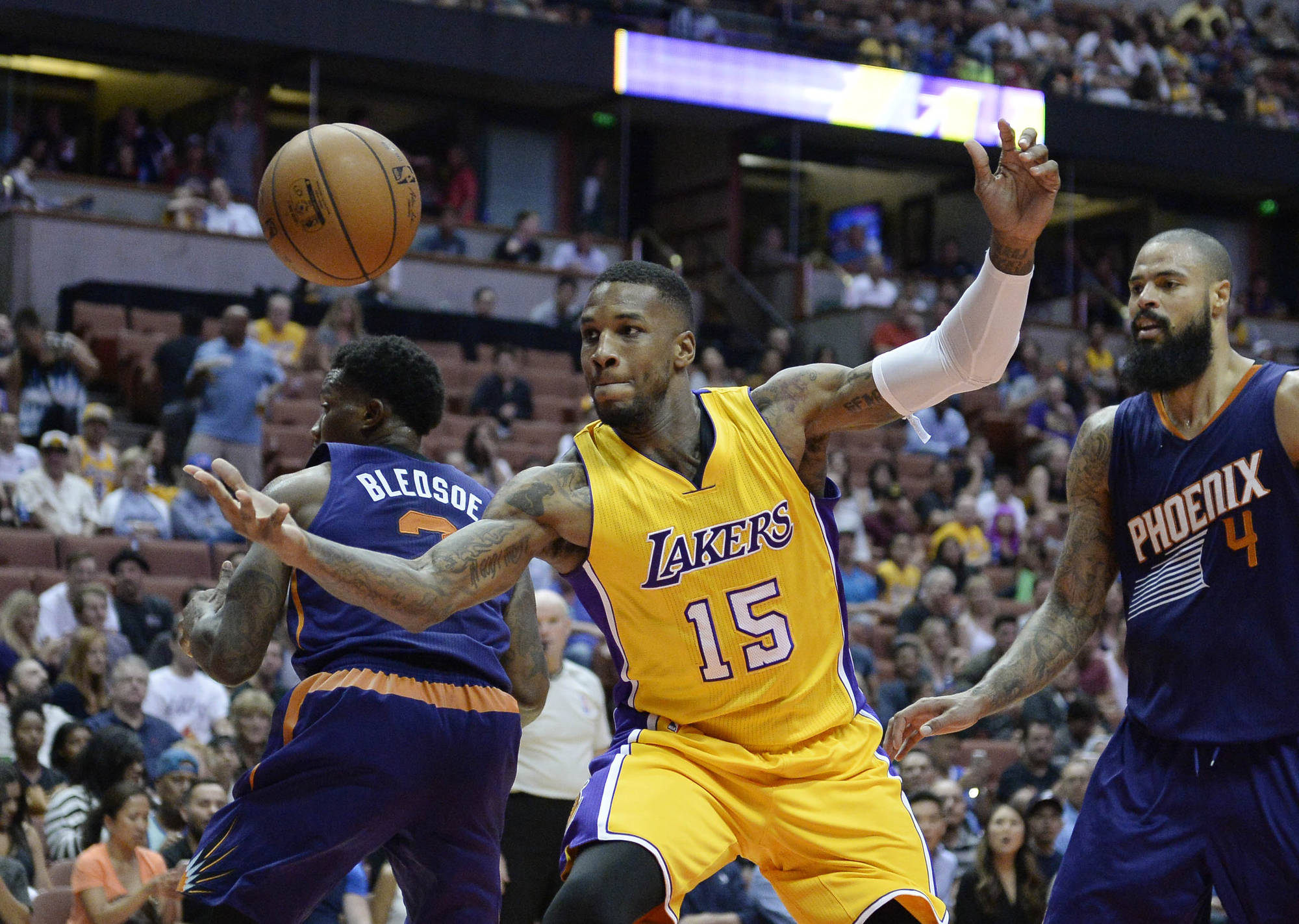 Richard Mackson-USA TODAY Sports
Surprise addition to the roster, Thomas Robinson will serve as the 3rd string power forward for the Lakers. A young journeyman, the Lakers will be Robinson's 6th NBA team in a little over 5 years since he first entered the league in 2012. Known for his energy off the bench, Robinson can be counted on for his defensive presence and energy who is willing to box out down low and do the necessary dirty work of making put backs and hustle back defensively. While his overall offensive skill set is still improving, Robinson isn't afraid to put the ball on the ground and attack the rim no matter who is in his way. While beyond this year, it is yet to be determined if Robinson will be back, for the immediate future he will make the most of his limited playing opportunities while he is on the Lakers.

Goals
While the 2016-2017 Lakers are on pace to win more games than a season ago, ultimately the number of victories at the end of the year won't be the most accurate barometer of the team's success. The goal is to lay the foundation of a winning culture which starts by taking the little things seriously. What Lakers management and Coach Walton should be looking at are the following indicators of improvement:
1) Do the Lakers play with the same level of focus and intensity no matter who their opponent is?
2) How do they respond to adversity whether that be injuries, a losing streak, or missed calls by the referees?
3) Who emerges as the leader of the team/is there a leader currently on the team under the age of 25?
4) Does this team have the will to care as much on the defensive end as they do on the offensive end?
5) Do players want to sacrifice their bodies by boxing out and crashing the boards?
These are some of the questions that hopefully be able to commit to as they continue their journey back to the top in the West.
---