Champions League & Europa League 2019/20 Preview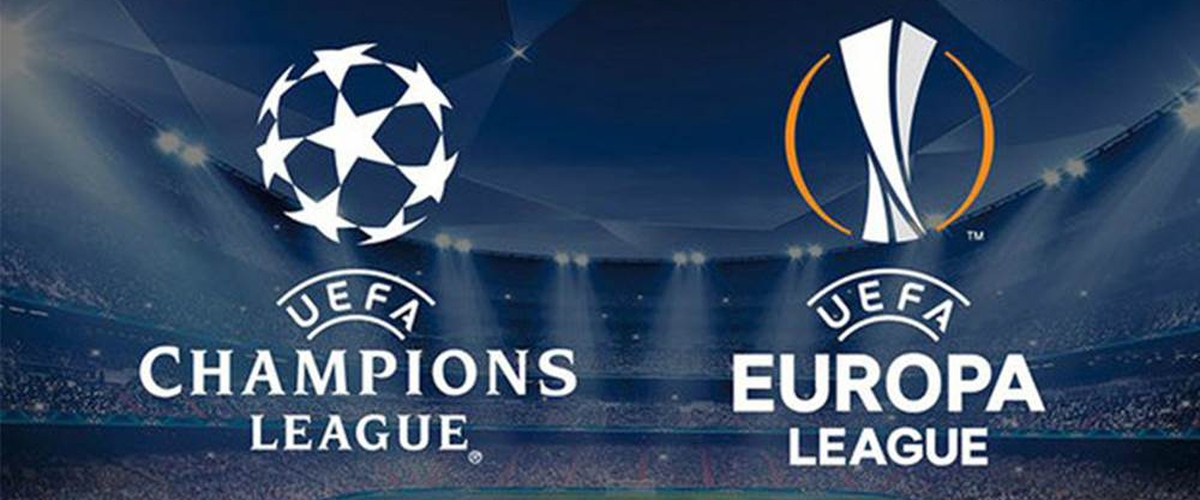 Europe's top club competitions take centre stage during August as the Champions League and Europa League are played to a conclusion.
Each tournament will have a revised format from the quarter-final stage, with all the games played as one-off ties in Portugal and Germany respectively.
Read on as we take a closer look at the some of the main talking points in both competitions and predict which clubs will lift the trophies.
City Handed a Tough Route to the Final
Manchester City, fresh from a reprieve from a potential European ban, will have to overcome a tough draw if they are to make it through to the final of the Champions League.
City lead 2-1 after the first leg of their round of 16 tie with Real Madrid and will rightly fancy their chances of completing the job in the reverse fixture.
Their likely opponents in the quarter-finals are Juventus, with the Serie A club expected to overturn a 1-0 deficit against Lyon in their tie.
Barcelona and Bayern Munich are also on course to reach the last eight and the winners of that tie would potentially meet City or Juve in the semi-finals.
Barca Have a Point to Prove
Barca will be eager to prove a point when the Champions League resumes after being beaten to the La Liga title by Madrid.
They drew 1-1 at Napoli in their first meeting and it would certainly be a major surprise if they failed to progress to the quarter-finals.
The Spanish side haven't lost at home in the Champions League since 2013 and should possess too much quality for the Serie A outfit.
However, things will get much tougher thereafter and Barca need to up their game if they are to make it all the way to the final.
Bayern and Juve Should Progress
Bayern are banker material to make it through to the quarter-finals after romping to a 3-0 victory over Chelsea in the first leg of their round of 16 tie.
The straight knockout format of the subsequent rounds may work in their favour and they could be tough to beat as the tournament progresses.
Juve are also expected to make it to the last eight, although they will need to recover from a 1-0 deficit against Ligue 1 side Lyon.
With Cristiano Ronaldo likely to be a man on a mission when the Champions League resumes, Juve will present a huge threat to whichever team they face.
Atletico and Atalanta Eyeing Semi-Finals
Atletico Madrid have already qualified for the last eight and are strongly fancied to defeat RB Leipzig to reach the semi-finals.
Diego Simeone's team will be tough to beat in one-off matches and look more than capable of making it all the way to the final.
Paris Saint-Germain are favourites to beat Atalanta in their quarter-final tie, but they have choked in this competition before and the Serie A side look a good bet to knock them out.
Atalanta are one of the most entertaining teams to watch in Europe and a meeting with Atletico in the last four would be an intriguing prospect.
United Aiming for Europa League Glory
Having demolished LASK 5-0 in their first meeting in the round of 16, Manchester United can already start to plan for the next stage of the Europa League.
İstanbul Basaksehir or FC Copenhagen shouldn't present United with too many problems in the last eight, but it could be a different story in the semi-finals.
Wolverhampton Wanderers, Sevilla and Roma are amongst their most likely opponents at that stage and each would provide a tough test.
Despite this, United are strongly fancied to make it all the way to the final and put the recent disappointment of losing out to Chelsea in the FA Cup firmly behind them.
Inter are United's Biggest Threat
Inter Milan are the biggest threat from the other half of the draw, although Bayer Leverkusen should also not be underestimated.
The Serie A side are expected to see off Getafe in their round of 16 tie to set up a mouth-watering quarter-final meeting with Leverkusen.
The winners of that tie would then be favourites to win a last four meeting with either Wolfsburg, Shakhtar Donetsk, Eintracht Frankfurt or Basel.
Both Inter and Leverkusen would be a difficult test for United, but the Premier League club should be good enough to lift the trophy.
Predictions: City and United won't have it easy in their respective competitions, but both are fancied to go on and claim the silverware.
City's biggest threat in the Champions League is likely to come from Atletico, with Diego Simeone's side appearing to have a favourable path to the final.
Sevilla may prove to be a stumbling block to United's hopes in the Europa League, but the Red Devils still look a good bet to win the competition.
---