Tom Brady's Coronavirus Passing Camps Should Upset Patriots Fans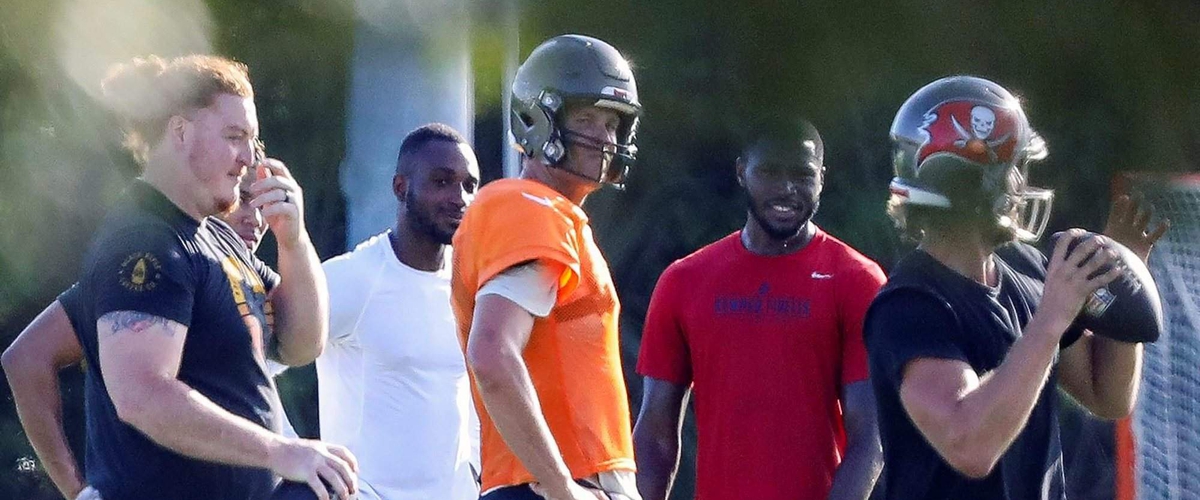 Ah yes, perhaps no other pro athlete has committed more social distancing sins during the COVID-19 pandemic than Tom Brady.
From getting thrown out of public parks, to walking into complete strangers houses, to hosting group workouts the star Quarterback has irked many in the medical field for not being more of a role model in the coronavirus crisis.
The latest reports of the quarterbacks workouts indicate that the groups he's been training with have been getting larger despite the fact the state of Florida is set to become the new epicenter of the pandemic and multiple people employed by the Tampa Bay Buccaneers, including players, have tested positive for the virus.
No, I'm not going to sit here and wag my finger at the greatest quarterback to ever bless the National Football League for acting irresponsibly and hosting a passing camp during the pandemic. I'm sure that Brady, with a net worth of $180 million dollars, has enough resources to make sure no one infected comes within a stones throw of those workouts.
What upsets me and what should upset all Patriots fans is this harsh truth.
He wouldn't do the same for you.
In Brady's last couple years with the Patriots organization, he put OTA's and passing camps on the back burner to focus on his family. Gone were the days where he was the first one in, last one out.
Now, it seems Brady's family is taking a backseat so Brady can go throw some passes to his new teammates.
And before you say, "well of course he's gonna put that extra effort, he's joining a completely new team." Let's not forget, the Patriots offense underwent a lot of changes after the Super Bowl loss to the Philadelphia Eagles at the end of the 2017 season.
It was that following offseason that Brady chose to not join OTA's for the first time in nearly a decade, and it came at a time where guys like Danny Amendola, Chris Hogan and Dion Lewis were on the out and all that were left from the dynamic Patriots offense were Julian Edelman, James White and a broken down Rob Gronkowski.
The Patriots offense started to struggle in 2018 and Brady became even more reliant on his familiar faces, something opposing defenses were quick to snuff out. To make matters worse any receiver that's ever played in Foxborough will tell you that they have the most complicated playbook in the NFL. Not having the man behind the offensive system there in April and May certainly showed in 2018 and 2019.
Now Brady has decided it is important that his new receivers see him outside of mandatory training camp.
This sudden change in priorities shows that the Brady-Belichick split was more of a divorce than either side makes it out to be.
Brady's absence from OTA's hasn't been the result of needing more family time, its been a result of a lack of excitement about the talent around him.
To some degree he has a gripe. Belichick hasn't drafted a receiver that made an immediate impact since Deion Branch, Brady had been forced to work with lesser talent then a lot of his fellow quarterbacks who always seemed to get shiny objects from their coaches at the draft.
However, the Patriots had catered to Brady in the middle of the year in each of the last two seasons, they traded for Josh Gordon in 2018 despite his troubled past and even brought him back in 2019 even after failing another drug test at the end of the previous year. In 2019, they brought in Antonio Brown (who lasted 10 days before he ran himself out of town) and they traded for Muhammad Sanu, who turned out to be a complete disaster, over Emmanuel Sanders because Brady preferred Sanu, The Patriots even went as far as to trade a second rounder for the former Falcon.
So Patriots fans, next time a tear drops from your eye when you see Brady post "LFG" and "No Excuses" on instagram just remember...he wouldn't do the same for you.