Do the Texas Rangers have the prospects to acquire Jose Quintana?
With the departure of Chris Sale and Adam Eaton, Chicago White Sox general manager Rick Hahn has had himself another busy offseason. This time around, it's in the form of wheeling and dealing instead of acquiring and resigning. According to Bob Nightengale of USA Today, the Texas Rangers have renewed their pursuit of current White Sox ace Jose Quintana.
This new piece of information has re-energized the Quintana talks for the first time in weeks. Texas arguably does not have the quality of prospects that the White Sox may be looking for, but never count out Rick Hahn when it comes to creating a 3 team trade.
Texas may only be pursuing Quintana to make Houston overpay for Quintana, or they might be legitimately interested in acquiring the southpaw's services. Either way, the big question that remains is whether or not Texas has the quality of prospects that the White Sox are looking for. Coming into 2017, Texas has only 2 top 100 prospects according to MLB.com. OF Leody Taveras (#55) and LHP (#56) Yohander Mendez headline Texas's minor league system. Along with other highly regarded young talent, (Gallo, Ibanez, Guzman) Texas may have to give up a huge chunk of their minor league talent that is already left to be desired. A Nomar Mazara or Martin Perez might be the headliner of a deal in order for Rick Hahn and company to budge on Quintana. Hahn has made it emphatically clear that the Sox are unwilling to budge on their asking price for Quintana.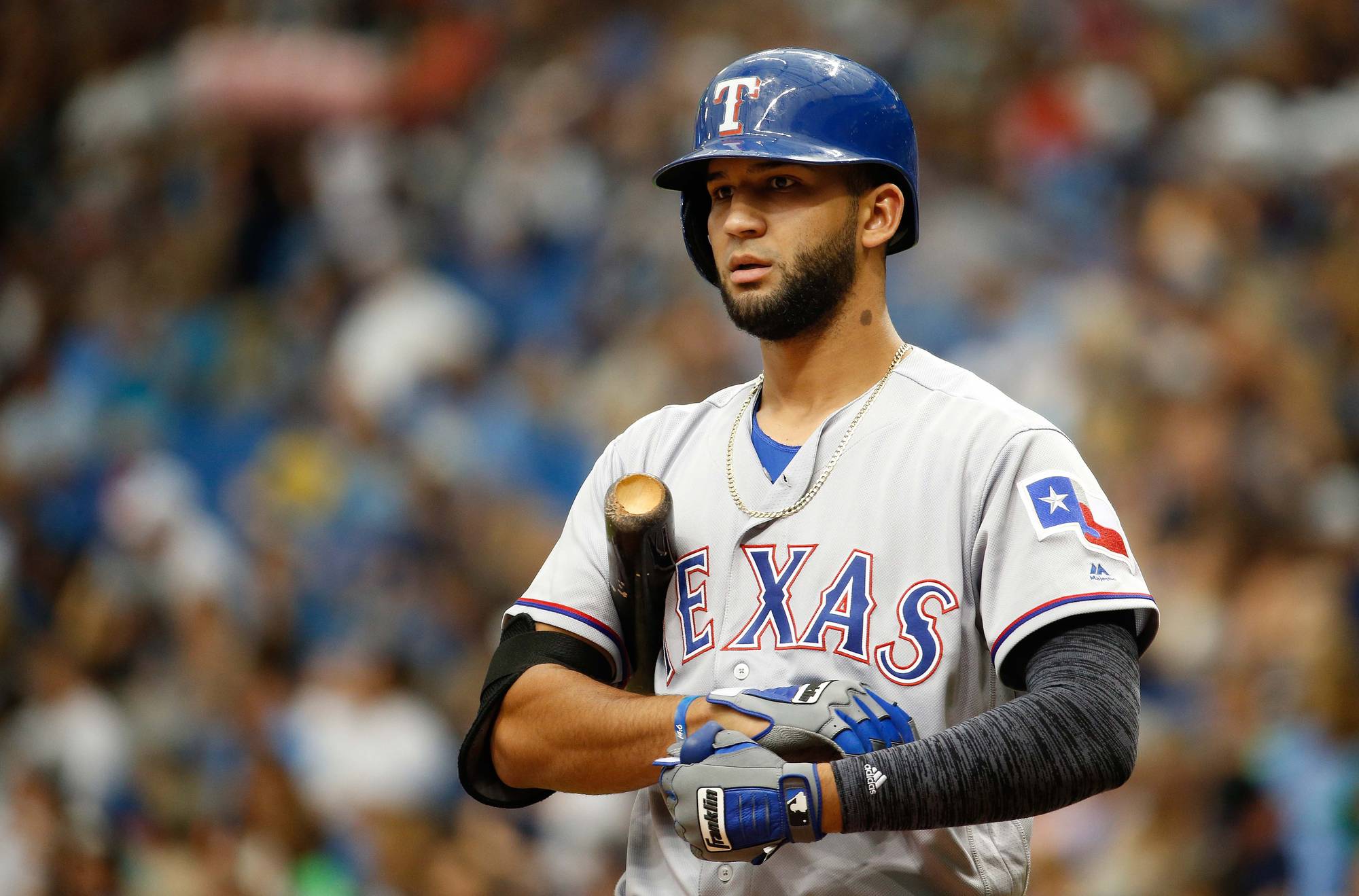 Nomar Mazara (left) could be the headliner in order for the Rangers to acquire Jose Quintana.
Kim Klement-USA TODAY Sports
Quintana is without a doubt the most valuable and talented pitcher available to acquire this offseason. After coming off his first all star campaign, Quintana, 28, has a career 3.41 ERA and a 7.39 K/9 rate. Not only has he been one of the more durable starters (200 IP over last 4 seasons) but he also possesses one of the game's friendliest contracts. Quintana is under control for 4 seasons with a vesting option for '19 and '20. He is set to make $7M this season, $8.5M for '18, and potentially $10.5M for '19 and '20. Quintana's contract might be doing the White Sox more of a disregard than anything else. With how valuable he is to begin with along with his contract on top of that, his asking price deservingly so should be as high as it is.
If Texas is to pull the trigger on a Quintana deal, I believe it would need to consist of either Mazara/Perez, and a handful of other prospects. This is what it might look like:
Texas Rangers acquire: LHP Jose Quintana
White Sox acquire: OF Nomar Mazara, LHP Yohander Mendez, OF Leody Taveras, and C Jose Trevino
It may seem like a lot, but durable starters with affordable contracts are a rarity in the game today. Texas would be acquiring a healthy starter in Quintana, (something Texas's rotation has lacked over the past few seasons) and a great number 3 in their rotation behind Yu Darvish and Cole Hamels. This move could put Texas over the top and make them division winners for the 4th straight season.
For the White Sox, this could give them even more pieces moving forward in their rebuilding process. A starting left fielder with power in a 21 year old Mazara, and Texas's #1, #3, and #19 prospects would put the White Sox into having the best farm system in the Majors.
A Quintana deal would benefit the Rangers as they could be potential World Series contenders for not only this season, but for the next 2-3 to come. As for the White Sox, this deal would give them even more pieces to build a bright future on the south side of Chicago.
---