Team LeBron vs. Team Stephen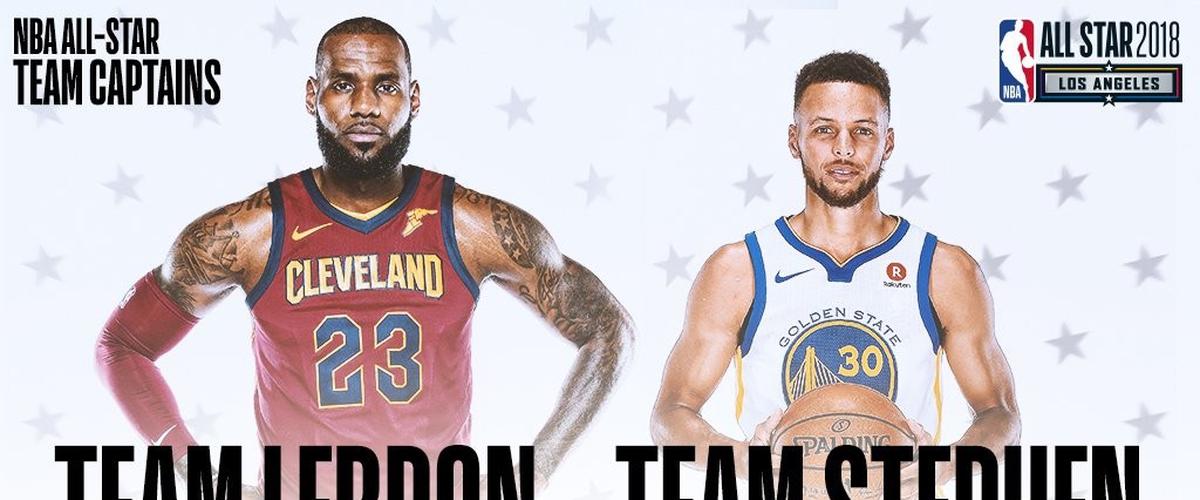 Intro
This season the NBA has made it fun this 2018 All-Star Weekend. This year the all-stars were selected for each conference, then the fun started. Cavaliers Small Forward LeBron James and Golden State Warriors Point Guard Steph Curry are the captains, and they drafted their teams from the all-stars.
Team LeBron
LeBron's starting lineup is powerhouse offensively. A surprising pick in Kyrie Irving, nine-time all-star Kevin Durant, four-time all-star Anthony Davis, the King himself, and Demarcus Cousins who recently tore his achilles heel. Off the bench their is the Wizards starting backcourt Bradley Beal and John Wall. They combine to average 44 points per game. Then there is Spurs star Lamarcus Aldridge, who averages 22 points per game with 9 rebounds as well. Then there is Pacers phenom Victor Oladipo, Knicks future Kristaps Porzingis, Cavs teammate Kevin Love, and last but not least, the reigning MVP Russel Westbrook. Overall in my opinion this team has outrageous energy, potential and skill.
Team Steph
Steph's starting lineup doesn't have as much size, but just as much skill. It is the Curry at the point, then James Harden, one of this years top MVP interpretation. Third there is Demar Derozan, one of the most underestimated 25+ point scorers. At the four there is the greek freak, Giannis Antetokounmpo. At the five there is the young process Joel Embiid. Off the bench there is Celtics bigman Al Horford, 2017 Defensive player of the year Draymond Green, Splash brother Klay Thompson, Trail-Blazers Point Guard Damian Lillard, Raptors Guard Kyle Lowry, T-Wolves bigman Karl-Anthony-Towns, and T-Wolves 2 Guard Jimmy Butler. Still, not as much size as team LeBron.
Conclusion
In conclusion, both teams will DOMINATE. But in the end, one team will prevail. And in my opinion, LeBron's team will prevail. He has so much skill, but the decider will be size and strength. This is my take on this years NBA all-star-game.
---