The Chicago Bulls need to make Clint Capela their top free agent priority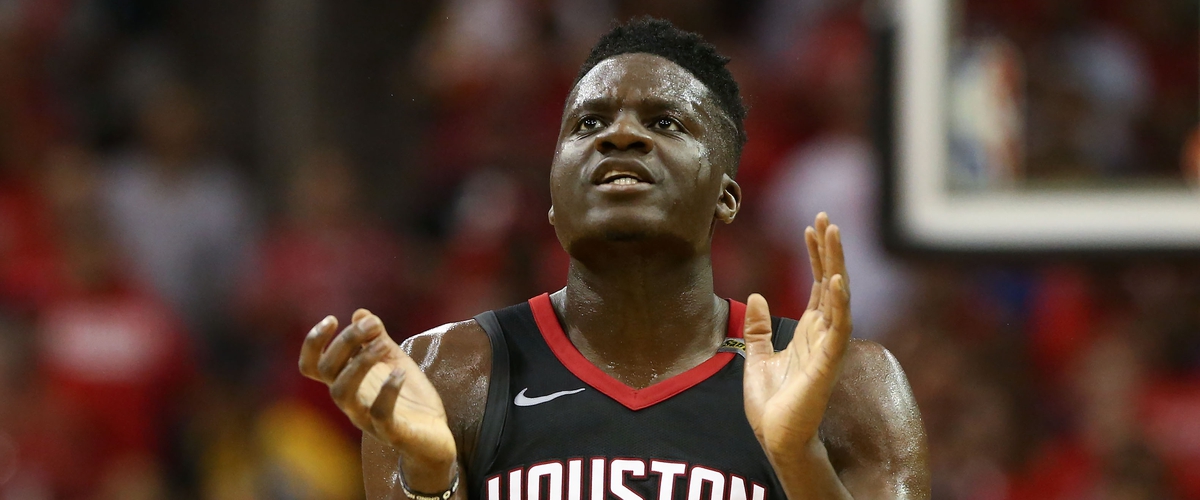 Don't get me wrong; I like Robin Lopez. His yesteryear back to the basket approach on offense, his willingness to stand up for any of his teammates, and of course, his Otto from Rocket Power afro that we've come to know and love. Unfortunately there are a few glaring holes in Lopez's game. His inability to play defense, lack of explosiveness on offense and below average management in the pick and roll are just things you come to expect when you watch Robin Lopez play basketball. With two years left on his 4 yr/$54 million contract, Lopez will be set to make around $14 million over the next two seasons. As the Bulls embark on their 2018-2019 season they will most likely make a run for a highly talented free agent. If the Bulls go the route of drafting a small forward in the upcoming NBA draft they will undoubtedly look to upgrade at center over the aforementioned Lopez. With around $27 million dollars in cap space to use as their disposal, the Bulls need to start and end their free agency tour with Houston Rockets center Clint Capela.
May 28th, 2018 may have been Clint Capela's final game as a Houston Rocket. He played extremely well as he dropped 20 points in 37 minutes on 90% (9/10) shooting. However, his efforts were not enough as the Rockets fell to the Golden State Warriors in Game 7 of the Western Conference Finals. His performance in Game 7 was indicative of the type of year he was having; the type of year that will make him one of the highly sought out free agents on this year's market.
The 24 year old center from Geneva, Switzerland entered the 2014 draft as an unknown commodity. His lack of size for his position and questionable offensive ability were answered when he was selected 25th overall by the Rockets. As Capela entered his first full healthy season with the Rockets in four years, he needed to show why he should be a starting center on one of the better teams in the Western Conference. With the addition of an unselfish and brilliant point guard of Chris Paul in Houston, Capela was able to play more within himself. His pick and roll's and ball screens became tighter, excellent play makers such as Paul and eventual MVP in James Harden got Capela the ball more down low as well. Capela became the third wheel on a very well oiled machine that not only had the best overall record in the NBA (65-17) but by season's end finished with historically great offensive numbers as well.
I guess the point I'm trying to make is Capela knows how to win. Yes having Chris Paul and James Harden alongside you doesn't hurt, but Capela contributed much of the success Houston had this year in his own right. Across the board, Capela set personal highs in almost every statistical category this season. He set new careers highs in: PTS (13.9), RPG (10.8), BLKS (1.9), FG% (65%), and MINS (27.5). Capela's 65% field goal percentage led the NBA. He also finished 5th in offensive rebounds per game (3.3) and 8th with total rebounds per game at 10.8. A breakout season could not have came at a better time for Capela.
Playing in a Mike D'Antoni style offensive is salivating to any player with an offensive game. This system much improved Capela's offensive capabilities. He played exclusively under the basket as he shot 80% from 5 feet or less. D'Antoni incorporated Capela more into his offensive repertoire as well. With the sharp shooters that Houston supplied on the wings, defenders all season long differed to them outside; leaving Capela wide open for the kill more times than not. A similar type of offensive scheme would be deployed if he were to be placed in a Bulls jersey this summer.
Chicago Bulls coach Fred Hoiberg has had to be patient since his arrival in Chicago back in 2015. Understandably so, Hoiberg has been under fire on some occasions for not getting the most out of his players and under performed with the rosters that had been given to him. The issue within the Bulls system is that they are slowly trying to address the need for more athletic talent. Capela, coming in at 6'10, 240 pounds, would be a god send for Hoiberg's offensive system. Hoiberg stresses the importance of getting out in transition and getting back on defense. With Capela slotted in, he covers both of those areas. As made previously stated by his ridiculous rebounding numbers Capela is an elite rim protector on both ends of the glass. His rebounding ability is an automatic upgrade from what the Bulls have received from Lopez (4.5 RPG) and on top of that, Capela's athleticism is far superior to any current Bulls big man. His quickness allows him to get back on defense quicker than let's say a Lopez, Bobby Portis, Noah Vonleh, or Omer Asik.
Capela's other underlying strength is his effectiveness in the pick and roll. Now that the Bulls appear to have a dynamic back court for years to come in Kris Dunn and Zach Lavine, their jobs can also become a bit easier with the help of Capela at the top of the key. Dunn established himself as a solid play maker and a fantastic finisher at the rim this past season. With Capela being the offensive threat that he is this allows Dunn more chances to get to the hole more effectively. There is also a extremely high probability that Dunn's assist numbers would increase as well with Capela being down low. Although Lavine is a solid isolation shooter, he could significantly increase his 3 point percentage with a great ball screener like Capela. Lavine's 34% from 3 last season can be improved upon if he allowed himself to get better looks. Capela's aloofness on his feet create added space for Lavine to shoot the rock. Other players on the Bulls roster such as Denzel Valentine, Jerian Grant and Bobby Portis would remain stagnant on the Bulls bench with Robin Lopez being pushed back to join that core. That could arguably be one of the deeper benches in the Eastern Conference when it's all said and done.
In recent memory, the Bulls have not been strangers when it comes to signing big free agent talent. Dwayne Wade, Pau Gasol, and Carlos Boozer had all signed with the Bulls this past decade. Veterans that were signed past their prime to try and help assemble first/second round playoff exits.
As the Bulls move into a new age of their franchise wouldn't it make sense to reel in a player who is about to run into the middle of his prime? The sources are here, the finances are here, and the future is now. All that's left is for Mr Capela to sign on the dotted line, get it done, it's the right move to make.
---