Cavs v Celtics ECF Game 1 Breakdown
What a game! (if you're a Cavs fan)
The Cavaliers have come to Boston and snatched away a strong 117 - 104 victory in Game 1 of the Eastern Conference Finals, showing no signs of rust.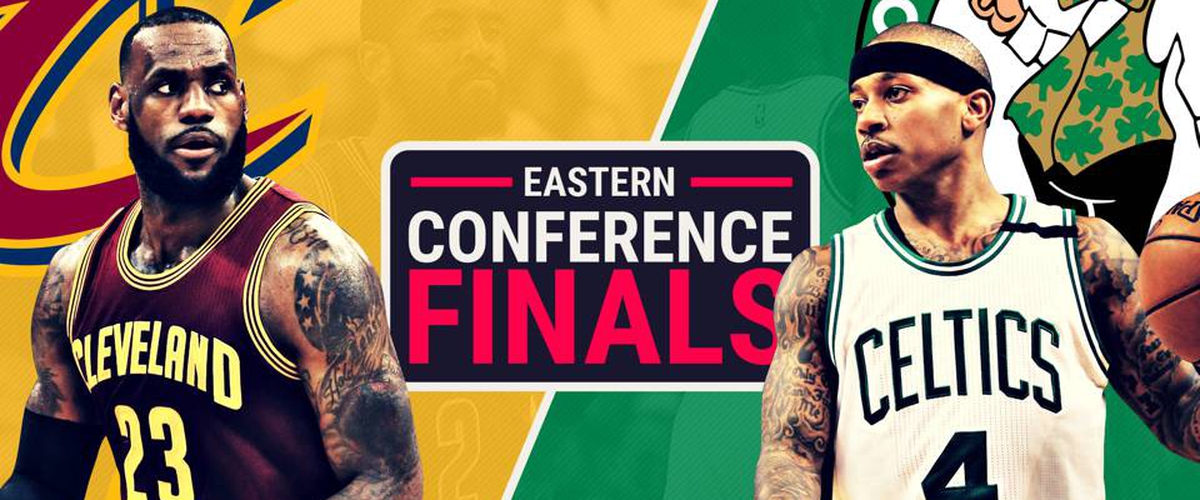 Early in the game both the Cavaliers and the Celtics struggled mightily with their three ball shooting, with the Celtics sitting at 1/10 and the Cavaliers on 1/7 at one point during the 2nd quarter and this continuing through the majority of the game, until late into the 3rd quarter the Celtics were able to rally from being down 28 in this game and go on a three point barrage from Jae Crowder and Avery Bradley to put them back within 17 entering the final period. This strong third period was sparked from the questionable antics of Marcus Smart, playing strong defense on Tristan Thompson and hindering his offensive rebounding capabilities, as well as starting some disagreements between the two teams, giving Boston a moral boost.
The Cavaliers also struggled from deep ending up shooting 11/31 total, with a spectacular night and display of hot-hand from Kevin Love being the only consistent player from deep hitting 6 of his 9 attempts leading to a 32 point showing and pulling in 12 rebounds as well. In the other front court positions Lebron put down 38 points, 9 boards and 7 assists; flirting with a triple double all night, and big-man Tristan Thompson came out aggressive being a real X-Factor for the Cavaliers that the Celtics had no answer to all night; scoring 20 points (7-7 fg, 6-10 ft) and stealing away 6 offensive rebounds to go.
As can be anticipated, the Cavaliers offense today was top heavy with their starters scoring 103 of their 117 points led by Lebron James who came out early for a dominant 15 points on 7/8 shooting in the first quarter alone. This continued through the 48 minutes with the Cavaliers bench being unreliable today with Korver, Deron and Shumpert shooting a combined 2/17, compared to the Celtics balanced team scoring with 6 players scoring in double digits, for 34 bench points in comparison to the Cavaliers 14. Lebron James reminded us all why he is consistently an MVP candidate, with the Celtics struggling all game to figure out how to hinder his strong cuts and unparalleled play-making; swapping around numerous players to defend him from Isaiah Thomas, Tyler Zeller, Al Horford all the way down to rookie Jaylen Brown. Unfortunately for the home team, none of these players seemed to really impact the performance of the four-time MVP.
Aside from what the statistics may look like at the conclusion of the game, rebounding was a real issue for the Celtics; the end game stats may say that they only retrieved 4 less than the Cavaliers, and even 1 more offensive one, but this was not the tale of the tape. Plenty of those rebounds; especially their offensive ones, came during 'garbage time' of the game in the late 4th when the Cavaliers put on deep bench players Derrick Williams, Dahntay Jones and even the birthday boy himself; Channing Frye who was restricted to the bench for most of this game only playing for just over 3 minutes, due to the standout performance from Tristan Thompson and Ty Lue's smart decision to keep taking advantage of his hustle. All game the Cavaliers were scoring second chance buckets from Thompson's unrelenting rebounding, which Cleveland rarely failed to convert the second time.
Unfortunately, unlike should be expected in home playoff games; the Celtics bench players didn't particularly step up in a necessary way to really provide a strong impact. Fresh off the back of his 26 point magnum opus, Kelly Olynyk only scored 2 points on a layup in the final minutes of the game after 5 failed attempts, while Jaylen Brown and Gerald Green put in a solid 10 and 11 points respectively, with Brown also being the Celtics leading rebounder in a mere 20 minutes with 9, 4 of which being offensive.
Looking forward, there's a lot for the Celtics to try and improve on, such as finding a specific defender to pin on Lebron James on the drive, keeping slower forwards and even Thomas out of Cleveland's deadly pick and roll, try and resolve rebounding issues as well as increasing shooting percentage. Quite a large list of things that can be improved, and quite difficult to do exactly that. Whereas, the Cavaliers will look ahead to Game 2 with the intention of replicating today's performance, and hoping that they have a significantly improved three point shooting night, which could really make the following games absolute blowouts.
I released a podcast yesterday discussing my predictions and analysis on this series on numerous media platforms, if you're interested give it a listen and follow my Instagram, I'll also list below. Go Cavs!
Instagram: ruff_valruff
Soundcloud: https://soundcloud.com/theruffdraft
Youtube: https://www.youtube.com/watch?v=hedde2QOPA0
Podomatic: https://www.podomatic.com/podcasts/theruffdraft/episodes/2017-05-16T23_32_10-07_00
Castbox: https://castbox.fm/app/castbox/feed/Ruff-Draft-aba009b0298e7e991757ac396c4bc19fec3da254?country=us
or search for 'Ruff Draft' on the phone app