College Football Predictions: 2018-2019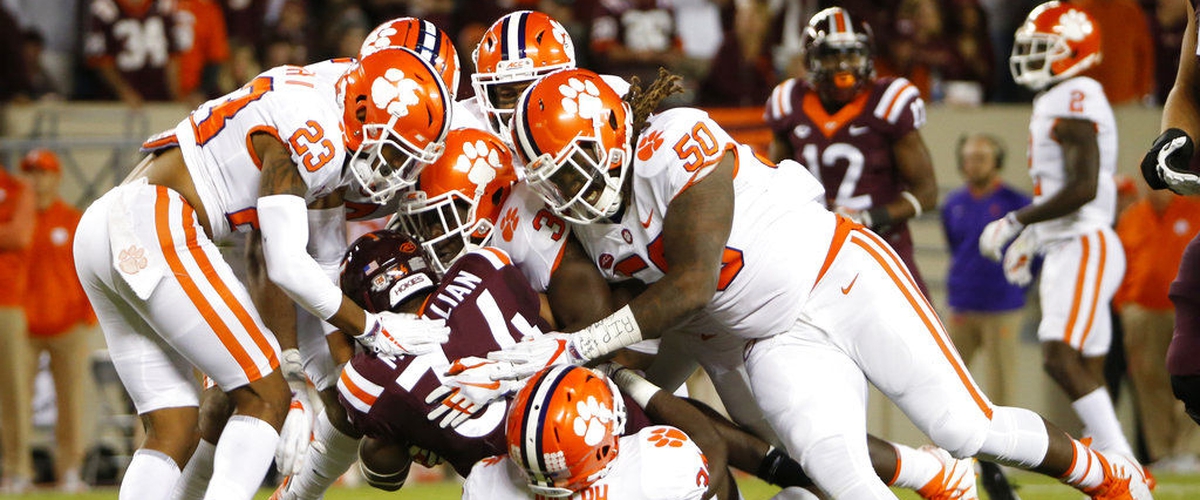 College football has finally returned. This holiday comes with the time-honored tradition of prognosticating how the season will turn out. All 129 FBS teams are represented in this article, from playoff contender Alabama to perennial basement dweller UConn, with each receiving an overall record and a conference record prediction. First up, the American Athletic Conference.
Note: Overall records are listed first, followed by conference records.
American Athletic Conference
East
1. UCF (10-2, 7-1)
2. USF (9-3, 6-2)
3. Temple (8-4, 5-3)
4. Cincinnati (6-6, 4-4)
5. East Carolina (4-8, 2-6)
6. UCONN (2-10, 0-8)
West
1. Houston (9-3, 7-1)
2. Memphis (8-4, 5-3)
3. Navy (8-5, 4-4)
4. SMU (6-6, 4-4)
5. Tulane (5-7, 3-5)
6. Tulsa (2-10, 1-7)
Conference Championship
UCF def. Houston
Explanation
Even though Scott Frost has departed UCF for Nebraska, he leaves behind a solid foundation for new Head Coach Josh Heupel. The return of McKenzie Milton is key to the Golden Knight's success this season. Last season, Milton was one of the nation's best quarterbacks. He passed for 4,037 yards and 37 touchdowns and led UCF to an undefeated season. He, coupled with a young and talented receiving corps led by Dredrick Snelson, UCF's passing offense should still be high-flying like last year.
Challenging for the East crown, just like last year, is USF. Replacing quarterback Quinton Flowers is a tough task, but doable. Blake Barnett, who is on the third school of his collegiate career, will be handed the reigns this season. He has experience in the Power 5 after once being a member of both Alabama and Arizona State, after being a five-star recruit in high school. USF also touts one of the better defenses in the conference and should be a tough out for anyone this season.
In the West, it's all about Houston. The Cougars have a rising star in D'Eriq King at quarterback and an established star, and projected top-five pick, in Ed Oliver at defensive tackle. Houston has to reload at offensive skill positions. The top five pass catchers from last season have departed as well as Duke Catalon, the Cougar's top rusher from last season. Houston added a number of transfers to help Oliver out on defense. Ole Miss transfer Deontay Anderson and Notre Dame transfer Nick Watkins join the defensive backfield this fall. Former 4-star recruit Isaiah Chambers transferred in from TCU to line up with Oliver on the defensive line.
As for second place in the West, it's between Memphis and Navy. Navy returns Malcolm Perry at quarterback but has to endure a grueling schedule which includes crossover games against UCF and Temple as well as trips to SMU and Cincinnati. Memphis is dealing with heavy losses offensively and should take a step back. Gone are second-round draft selection Anthony Miller, as well as the No. 2 receiver Phil Mayhue, starting tight end Doroland Dorceus, and quarterback Riley Ferguson. Defensively, there's too much youth and too many departures to keep up with the high flying offenses in this conference. The Tigers will lost their grasp on the AAC West crown.
Atlantic Coast Conference
Atlantic
1. Clemson (12-0, 8-0)
2. Florida State (9-3, 6-2)
3. N.C. State (8-4, 5-3)
4. Boston College (6-6, 3-5)
5. Louisville (5-7, 3-5)
6. Syracuse (6-6, 3-5)
7. Wake Forest (5-7, 2-6)
Coastal
1. Miami (11-1, 7-1)
2. Georgia Tech (8-4, 5-3)
3. Virginia Tech (8-4, 5-3)
4. Duke (6-6, 3-5)
5. UNC (6-6, 3-5)
6. Pitt (3-9, 1-7)
7. Virginia (4-8, 1-7)
Conference Championship
Clemson def. Miami
Explanation
Dabo Swinney has done a great job recruiting at Clemson, and it's evident this season. Most teams would kill to have one potential first round draft pick on their defensive line. Clemson has four: Christian Wilkins, Austin Bryant, Clelin Ferrell, and Dexter Lawrence. In addition, their defensive backfield is among the best in the conference. They return two starting corners and both safeties. Their linebacking corps returns in its entirety besides Dorian O'Daniel. Even if you do manage to score points on Clemson, they'll outscore you anyway. Kelly Bryant is the quarterback for now, but if Trevor Lawrence gets his shot this fall, Clemson could be elevated to an unbeatable level. Tavien Feaster and Travis Etienne are a vicious two-headed monster at running back. Deon Cain and Ray-Ray McCloud are gone from the receiving corps, but Tee Higgins looks to be next in the long line of great receivers from Clemson.
Florida State should see a rebound from last season under new Head Coach Willie Taggart. Deondre Francois is back after missing all last year with a knee injury. Cam Akers established himself as one of the best running backs in the country last year and will join Francois in the backfield. The Seminoles have just three returning starters on defense, but the combined recruiting powers of Jimbo Fisher and Taggart have restocked that side of the ball.
The Coastal Division is Miami's to lose. After a fun season in 2017 filled with fun props and huge collisions, the Hurricanes are without a doubt hungry for more. Malik Rosier is back for his senior season, and Ahmmon Richards is healthy. Defensively, the Hurricanes hope to be just as imposing as last season. Even with some question marks on the line, Miami should do just that. Shaquille Quarterman and Michael Pickney return to a loaded linebacker corps while Jaquan Johnson and Michael Jackson will hold down the secondary.
Big Ten
East
1. Ohio State (11-1, 8-1)
2. Michigan (10-2, 8-1)
3. Penn State (9-3, 6-3)
4. Michigan State (8-4, 5-4)
5. Rutgers (5-7, 2-7)
6. Maryland (3-9, 2-7)
7. Indiana (4-8, 1-8)
West
1. Wisconsin (12-0, 9-0)
2. Iowa (10-2, 7-2)
3. Purdue (7-5, 5-4)
4. Northwestern (6-6, 4-5)
5. Minnesota (7-5, 4-5)
6. Nebraska (5-7, 2-7)
7. Illinois (2-10, 0-8)
Conference Championship
Ohio State def. Wisconsin
Explanation
The Big Ten is essentially in the same condition as last year. The East division is loaded with potential champs while the West is just Wisconsin and a bunch of teams that are close to making that next step.
Ohio State's offense should be fun to watch this year. For the first time since Cardale Jones, Ohio State has a pocket quarterback in Dwayne Haskins. Haskins, coupled with a terrifying running back duo of Mike Weber Jr. and J.K. Dobbins and a bottomless supply of talented receivers, makes this the conference's most potent offense. Defensively, Nick Bosa and the rest of the Buckeye defense should be just as vaunted as they always are.
After a disappointing 2017 campaign and an utter inability to beat rivals or win bowl games, the pressure is on for Jim Harbaugh to perform well this season. It helps to have former five-star recruit Shea Patterson under center. Receiver Donovan Peoples-Jones should take a step forward this season with consistent and competent quarterback play. The defense should not only be the best in the conference, but one of the best in the nation. They return eight defensive starters, including Rashan Gary, Devin Bush, and Lavert Hill. If the offense picks up steam behind Patterson's arm, this Wolverines team will be hard to stop.
As for the third spot in the East, it's a toss up between Penn State and Michigan State. Michigan State has the better quarterback in Brian Lewerke and the better running back in LJ Scott. Miles Sanders, a former five-star recruit, is Penn State's replacement for Saquon Barkley but is nowhere near as accomplished as Scott. As for Penn State, they're not even starting the best quarterback on their roster. Tommy Stevens is the better player. The Nittany Lions created a depth chart position specifically for him named the Lion and have utilized him in unique situations. But, you can't argue with success, and Trace McSorley has had plenty. Penn State gets the nod over the Spartans thanks to a roster more accustomed to success than Michigan State.
In the West, there are some fun teams to watch, but none of them quite stack up to Wisconsin yet. Jeff Brohm has done wonders at Purdue already, turning them from a Power 5 afterthought into a bowl team in just one year. They return two quarterbacks who saw action last season, and Brohm plans to use both interchangeably. As he continues to get his own players in and implement his system, the Boilermakers will only get better.
Northwestern's year to shine was last year. They finished 10-3 and won a bowl game. In that bowl game, quarterback Clayton Thorson suffered a torn ACL which hindered his offseason development. It also doesn't help that running back Justin Jackson is no longer there to lean on. The Wildcats lost significant numbers in the defensive backfield and defensive tackle Tyler Lancaster. Northwestern reached their peak last season and will need time to rebuild to win 10 games again.
Wisconsin remains the gold standard in the West. Ten starters return from last season's 13-1 squad. Included in those returning are three preseason All-Americans: running back Jonathan Taylor, offensive lineman Beau Benzschawel, and offensive lineman Michael Deiter. The Badgers may have the best offensive line in the nation with a Heisman candidate running back. Wisconsin was hit hard by graduation on the defensive side of the ball, however. Only three starters return on the defensive side of the ball. The linebacking corps should be fine with the return of T.J. Edwards, Ryan Connelly, and Andrew Van Ginkel. How the new defensive backfield progresses will tell the story of how the Badgers perform this season.
Big 12
1. West Virginia (11-1, 8-1)
2. Oklahoma (10-2, 7-2)
3. TCU (9-3, 7-2)
4. Texas (8-4, 6-3)
5. Iowa State (7-5, 5-4)
6. Oklahoma State (7-5, 4-5)
7. Kansas State (5-7, 3-6)
8. Baylor (5-7, 3-6)
9. Texas Tech (4-8, 2-7)
10. Kansas (2-10, 0-9)
Conference Championship
Oklahoma def. West Virginia
Explanation
West Virginia is the epitome of Big 12 football this season. They have a gunslinger quarterback in Will Grier, an exciting wide receiver corps led by 2017 second team All-American David Sills, and a complete lack of defensive presence. Grier and Sills aren't alone in the offensive attack. Grier has a solid offensive line in front of him and running back Kennedy McKoy should take a step forward this year. There isn't much to say about the defense, however. They return just four starters to a unit that allowed 31.5 points per game last season. West Virginia had better hope Grier stays healthy all season, as he will win or lose them every game this year.
Oklahoma looks to be good once again this season. They're loaded a wide receiver, led by Marquise Brown and CeeDee Lamb. Rodney Anderson is back to wreak more havoc from the running back position, but the quarterback position remains a question mark. Kyler Murray showed flashes of greatness during his stint at Texas A&M, but will that translate to his game today? He certainly has the weapons around him to make a big impact before he leaves for Major League Baseball after the season.
Texas is finally making strides towards being a competitive team in the Big 12. Head Coach Tom Herman is starting to get his recruits into the program. Sam Ehlinger is primed for a breakout season at quarterback and the Longhorns should have the best defense in the conference. Their lack of elite weapons on offense lands them at fourth on the list for now, but they should be higher in the coming years.
C-USA
East
1. FAU (10-2, 7-1)
2. Marshall (9-3, 7-1)
3. MTSU (5-7, 4-4)
4. FIU (5-7, 4-4)
5. Old Dominion (6-6, 4-4)
6. Western Kentucky (4-8, 3-5)
7. Charlotte (2-10, 1-7)
West
1. North Texas (8-4, 6-2)
2. Southern Miss (8-4, 6-2)
3. Louisiana Tech (7-5, 5-3)
4. UAB (7-5, 5-3)
5. UTSA (5-7, 4-4)
6. Rice (2-10, 1-7)
7. UTEP (1-11, 0-8)
Conference Championship
FAU def. North Texas
Explanation:
No surprise here. In just one season, Lane Kiffin turned FAU from an afterthought into a favorite to be the Group of 5 major bowl representative. The Owls are reloaded, too. First team All-American Devin Singletary returns to the backfield after amassing 1,918 rushing yards and 32 touchdowns in his sophomore season. Kiffin will have to replace his starter at quarterback, as Jeff Driskel announced this offseason he was retiring from the game. The battle for the starting spot is still raging between "Last Chance U" star De'Andre Johnson and Oklahoma transfer Chris Robison. Regardless of who wins out, the offense will still be run by Lane Kiffin. The Owls will be just fine.
Marshall looks to be the main threat to dethrone the Owls in 2018-19. They return 17 starters this season from a team that finished 8-5 last year. Unfortunately for the Herd, one of the five starters they have to replace is their quarterback. Chase Litton is gone, leaving behind no obvious starter to take his place. Wagner graduate transfer Alex Thomson looks to be the favorite. If Thomson gels quickly with this experienced team, the Thundering Herd could be a team to watch.
In the West, North Texas reigns supreme thanks to one of the deeper receiving corps among Group of 5 teams and quarterback Mason Fine. Last season, as a sophomore, Fine threw for 4,052 yards and 31 touchdowns. Now, the Mean Green aren't anything overpowering on defense, but a passing game that electric will win you plenty of games in the C-USA.
Louisiana Tech is a favorite to challenge in the West behind a stout defense and emerging star quarterback J'Mar Smith, but Southern Miss gets the nod thanks to scheduling. Despite losing Ito Smith, the Golden Eagles should be fine thanks to quarterback Kwadra Griggs. If the defense steps up, they have winnable big games with both Louisiana Tech and Marshall at home.
Independents
Notre Dame (10-2)
Despite the departure of Josh Adams and a lot of talent on the offensive line, the Irish found a way to reload. The Irish will turn to a two-man system for their ground game in 2018. Dexter Williams is the speed back while the 220 lb. Tony Jones Jr. will bring the power. How the Irish fare this season will hinge on the development of quarterback Brandon Wimbush. If he and the offense can get some points on the board, they should be just fine. Notre Dame is fortunate,with nine returning starters on defense, including Julian Love and Drue Tranquill. Mike Elko took a job with Texas A&M this offseason, but Clark Lea is his protégée and inherits plenty of talent to ease into his first year at the helm of the defense.


UMass (7-5)
It hurts to lose a talent like tight end Adam Breneman, but the UMass offense should be just fine. Andrew Ford is back under center after throwing for 2,924 yards and 22 touchdowns last year. To make matters better for the Minutemen, seven of the top eight pass catchers from last season return. While the offense is enjoying a plethora of returning players, the defense is not. Expect to see a lot of UMass shootout games this season.


New Mexico State (7-5)
2017 was memorable for the Aggies as they qualified for and won their first bowl game in program history. Receiver Jaleel Scott was a big reason for their success, an he must now be replaced. Running back Jason Huntley rushed for 435 yards and caught for another 363 last season. He returns, along with decent experience at receiver. Defense should be a strength for New Mexico State. They return nine starters on defense from a quad that finished a respectable 69th in defensive S&P+ last season.
Army (6-6)
The Black Knights have to replace their quarterback and a good portion of their offensive line. The one position Army does return talent at is ball carrier, whether it be fullback or slot back. Fullback Darnell Woolfolk returns for his senior season after rushing for 812 yards last season. Andy Davidson enters his fourth season at slot back with 1,588 rushing yards to his name. Army's defense strength lies within the linebacking corps, but doesn't extend much further than that. This is still a bowl team, but they won't see nearly the amount of success they did last season.


BYU (4-8)
Somehow, Tanner Mangum is still in college. He has 5,158 passing yards to his name as he enters his final year of eligibility. Mangum is joined in the backfield by his best weapon and perhaps the best name in college football, Squally Canada. Canada rushed for 710 yards as a junior last season. Mangum has a young group of receivers to throw to this season, all of whom got plenty of experience last season. The Cougars also return experience on the defensive side of the ball, headlined by edge Corbin Kaufusi and linebacker Zayne Anderson. The Cougars are still trying to put the pieces together after a 4-9 record last year, and shouldn't be much better this season.


Liberty (3-9)
Hard to say much about a team that is making the jump from FCS to FBS. Returning starters haven't consistently played FBS talent. The Flames do have a few matchups with FCS schools as well as two shots at New Mexico State. Expectations should be low for their inaugural season.

Mid-America Conference
East
1. Buffalo (9-3, 7-1)
2. Ohio (9-3, 6-2)
3. Miami (OH) (5-7, 4-4)
4. Bowling Green (4-8, 3-5)
5. Akron (4-8, 3-5)
6. Kent State (1-11, 0-8)
West
1. Northern Illinois (9-3, 8-0)
2. Toledo (8-4, 6-2)
3. Eastern Michigan (6-6, 5-3)
4. Western Michigan (6-6, 4-4)
5. Ball State (5-7, 3-5)
6. Central Michigan (2-10, 1-7)
Conference Championship
Buffalo def. Northern Illinois
Explanation
The West division is essentially Northern Illinois and then everyone else. Toledo is reloading after losing Logan Whiteside and many other scoring options on offense. Eastern Michigan is on the come up but is left scrambling for a new quarterback. Northern Illinois is home to a terrifying defense led by edge Sutton Smith. On offense, Marcus Childers showed developed well last season and will be protected by one of the better offensive lines in the conference.
The East division was the toughest choice here. The decision between Buffalo and Ohio could go either way. Ohio is at a disadvantage because of trips to Northern Illinois and Miami (OH). Buffalo has the best wide receiver in Group of 5 in Anthony Johnson and a potentially dynamic signal caller in the 6'7" Tyree Jackson. Buffalo is also home to a new dynamic playmaker on defense named Khalil. Khalil Hodge is a roving linebacker that earned All-MAC First Team Defense. This team is ready to take the next step and secure a MAC championship.

Mountain West Conference
Mountain Division
1. Boise State (10-2, 7-1)
2. Utah State (8-4, 6-2)
3. Wyoming (7-5, 5-3)
4. Colorado State (4-8, 3-5)
5. Air Force (3-9, 2-6)
6. New Mexico (2-10, 0-8)
West Division
1. Fresno State (9-3, 7-1)
2. San Diego State (8-4, 6-2)
3. UNLV (7-5, 6-2)
4. Nevada (5-7, 2-6)
5. Hawaii (4-8, 2-6)
6. San Jose State (1-11, 0-8)
Conference Championship
Boise State def. Fresno State
Explanation
There are four legitimate challengers for the Mountain West crown, and three of them play in the West division. UNLV will have an exciting offense with threats like quarterback Armani Rogers and running back Charles Williams. The Rebels are lacking on defense, which will hurt against teams like San Diego State, which was top ten in total defense last season.
Somehow, San Diego State continues to reload at the running back position. Juwan Washington scampered for 759 yards last year, despite playing behind 2018 first-round draft pick Rashaad Penny. With that said, their dynamic ground game won't be enough to keep pace with the defending West division champs.
Jeff Tedford has led a fantastic turnaround at Fresno State, turning a 1-11 team in 2016 into a 10-win team in 2017. The revamped Bulldogs will continue to flex their muscles against Mountain West opponents. Marcus McMaryion threw for 2,726 yards last season and has his two favorite receivers KeeSean Johnson and Jamire Jordan back for this season. Coupled with the prolific passing game is a stingy secondary led by safety Mike Bell.
Wyoming should be the stiffest competition to Boise in the Mountain division. Utah State finishes with a better conference record solely thanks to cupcake crossover games against San Jose State and Hawaii. Wyoming enters the post-Josh Allen era with no apparent heir. Wyoming is dangerous because of their defense, led by safety Andrew Wingard and edge rusher Carl Granderson.
Aside from a possible setback to Wyoming, Boise State stands alone in the Mountain division. Led by quarterback Brett Rypien, who has thrown for 9,873 yards and 22 touchdowns in his three-year career, leads the Broncos as one of the better Group of 5 teams in the country.
Fresno State gets the better of the Broncos in the regular season, but Boise State will reign supreme in the Mountain West once the conference championship rolls around.

Pac-12
North
1. Washington (12-0, 9-0)
2. Stanford (9-3, 6-3)
3. Oregon (9-3, 6-3)
4. Washington State (7-5, 4-5)
5. Cal (5-7, 3-6)
6. Oregon State (1-11, 0-9)
South
1. USC (10-2, 7-2)
2. Utah (9-3, 6-3)
3. Arizona (9-3, 6-3)
4. Colorado (5-7, 3-6)
5. UCLA (4-8, 2-7)
6. Arizona State (4-8, 2-7)
Conference Championship
Washington def. USC
Explanation
Wow. Is Washington absolutely loaded this season or what? It can be argued that they have the best defensive line, offensive line, and defensive backs in the conference. Couple that with a quarterback who has started for the past three years in Jake Browning and a running back who has rushed for more than 1,300 yards in all three of his collegiate seasons in Myles Gaskin, and you have a shoe-in for the Pac-12 crown.
Stanford stands as the greatest challenge to Washington in the North division. Yes, Oregon has Justin Herbert, but Stanford has preseason Heisman favorite Bryce Love and a very talented offensive line. Stanford's schedule is tough, with trips to Oregon, Notre Dame, and Washington, but they are still talented enough to emerge as the second-best team in the North.
In the South, it's a toss up between USC and Utah. The Trojans are starting freshman JT Daniels at quarterback, but he'll have an easy transition into college football with good depth returning at running back, wide receiver, and on the offensive line. USC also just happens to have the best defensive player in the conference in linebacker Cameron Smith. With five other returning starters joining Smith, the Trojans should be just fine defensively.
Arizona is a popular pick for second in the South because of their electrifying quarterback Khalil Tate. If Louisville is any example, having a great quarterback doesn't exactly equal wins as the Cardinals lost nine games in two seasons with Heisman winner Lamar Jackson. Utah is a much more balanced team, led by running back Zack Moss, who rushed for 1,173 yards last season. Quarterback Tyler Huntley needs to work on accuracy after throwing 10 interceptions compared to 15 touchdowns last season. Utah's strength defensively should be in their defensive line, led by Bradlee Anae, who recorded seven sacks as a sophomore.

SEC
East
1. Georgia (11-1, 7-1)
2. Missouri (10-2, 6-2)
3. South Carolina (8-4, 5-3)
4. Florida (7-5, 4-4)
5. Kentucky (6-6, 2-6)
6. Vanderbilt (5-7, 2-6)
7. Tennessee (3-9, 0-8)
West
1. Alabama (12-0, 8-0)
2. Auburn (9-3, 7-2)
3. Mississippi State (9-3, 5-3)
4. Texas A&M (8-4, 5-3)
5. LSU (6-6, 3-5)
6. Ole Miss (7-5, 3-5)
7. Arkansas (4-8, 0-8)
Conference Championship
Alabama def. Georgia
Explanation
Perennial powerhouse Alabama wins the SEC once again, no surprise there. Despite heavy losses to the draft, recruiting czar Nick Saban has another revamped roster ready for a run at the National Championship. Once they make the decision to start Tua Tagovailoa at quarterback over glorified running back Jalen Hurts, this team goes from scary to downright terrifying. The Tide has two running backs with the last name Harris. Either Damien or Najee Harris could be the starting tailback anywhere in the country. The defense is full of future NFL players, as it typically is.
Georgia has a quarterback controversy of their own on their hands. Incumbent starter Jake Fromm must worry about the No. 2 overall recruit from the 2018 recruiting class Justin Fields. Beyond that, the Bulldogs should reload quite nicely at running back with D'Andre Swift. With a solid offensive line and a stout defense, Georgia is primed for another run at the playoffs.
The biggest challengers to Georgia in the East are South Carolina and Missouri. The Gamecocks have an electric receiver in Deebo Samuel and an experienced quarterback in Jake Bentley. As for the Tigers, they are home to rocket-armed quarterback Drew Lock. Missouri gets the edge over South Carolina because they're more talented on the offensive line and at running back. Both teams could use vast improvements on defense and will need to score a lot of points to win ball games.
In the West, Auburn is an exciting team to watch. Expect more Iron Bowl fireworks like we've seen in recent years. Quarterback Jarrett Stidham and receiver Ryan Davis are essentially carrying the offense after the departure of Kerryon Johnson and most of the offensive line. Unfortunately for the Tigers, they catch Georgia in crossover play this season.
As for the rest of the West, a team that could be surprisingly successful is Ole Miss. Despite their complete lack of a defense, their offense is one of the most exciting units in the conference. Quarterback Jordan Ta'amu showed last season that he can sling the pigskin, and he has no shortage of options. The Rebels have the best receiving corps in the country this season, without question. D.K. Metcalf, A.J. Brown, and Damarkus Lodge headline what should be a high-flying air attack.
Sun Belt
East Division
1. Troy (9-3, 7-1)
2. Georgia State (7-5, 6-2)
3. Appalachian State (8-4, 5-3)
4. Georgia Southern (3-9, 2-6)
5. Coastal Carolina (2-10, 1-7)
West Division
1. Arkansas State (10-2, 7-1)
2. Louisiana-Monroe (6-6, 5-3)
3. Louisiana (5-7, 4-4)
4. South Alabama (4-8, 4-4)
5. Texas State (1-11, 1-7)
Conference Championship
Arkansas State def. Troy
Explanation
The Sun Belt has finally implemented a championship game, but the two teams that will qualify are hardly new faces. Troy and Arkansas State were two of the best teams in the conference last season. Troy pulled off an enormous upset over LSU and Arkansas State had the Player of the Year in defensive lineman Ja'Von Rolland-Jones and offensive player of the year in quarterback Justice Hansen.
Hansen is back to lead the Red Wolves. Last season he threw for the ninth most yards in FBS with 3,967 yards. He returns targets like Justin McInnis and Kendrick Edwards to help solidify the Arkansas State passing attack. The high powered offense is contrasted by a weakened defense after the departure of Rolland-Jones, but should still return enough talent to get the job done.
Most of the action in the Sun Belt will take place in the East division. Appalachian State and Troy are the incumbent powers, but Georgia State is a team to watch.
Troy won the East last season and look to do the same again. The departure of quarterback Brandon Silvers is a massive blow to the Trojan offense. Kaleb Barker takes over under center and has experienced targets to ease him into it. Deondre Douglas caught for over 600 yards last season and Louisville transfer Traveon Samuel brings a dose of athleticism to the receiving corps. Defensively, Troy returns two first-team all-conference players in edge rusher Hunter Reese and cornerback Blace Brown.
The decisions between Appalachian State and Georgia State boiled down to who's defense can hold up best. Both the Mountaineers and Panthers have a bonafide star on offense. Jalin Moore has rushed for more than 1,000 yards the past two seasons for Appalachian State. Penny Hard, in his two healthy seasons, has amassed 2,230 receiving yards and 16 touchdowns for the Panthers. Georgia State gets the nod over Appalachian State defensively thanks to their large number of young, talented players. Senior cornerback Jerome Smith will lead a defense comprised mainly of sophomores who amassed solid playing time as freshmen last season. Senior linebackers Chase Middleton and Michael Shaw will command over the front seven. This healthy mix of senior leadership and promising young talent will lead the Panthers to a breakout season.
College Football Playoff
Semifinals
1. Alabama
2. Clemson
3. Washington
4. Ohio State
Alabama def. Ohio State, Clemson def. Washington
Championship
Clemson def. Alabama
As good as Alabama is this year, Clemson became my favorite to win it all when defensive linemen Christian Wilkins and Austin Bryant decided to return for their senior year. Regardless of who starts at quarterback, either Kelly Bryant or Trevor Lawrence can get the job done. Clemson is on a collision course with a National Championship this season, and I feel bad for whoever gets in their way.